I hope you enjoy reading the blog post.
If you want to chat now about your matchmaking search, click here.
8 Best London Matchmakers & Dating Agencies [2023 Edition]
Hiring a bespoke introduction service is a great investment in your love life. When you hire the right one, there's no easier way to meet high-quality, compatible singles in London. But which London matchmakers are worth considering?
Our team of matchmaking experts has created this comprehensive guide to help singles in London find the best matchmaker. With our experience in the industry dating back to 2009, we're well acquainted with the major players. We've written over 200 reviews of matchmaking services, leveraging our comprehensive knowledge of the industry and understanding of what clients value most.
Start here - with 8 of the best matchmaking agencies in London!
Founded in 2011 by Rachel Vida MacLynn, Maclynn has a team of international matchmakers offering services throughout Europe, USA, and Asia. It is headquartered in London and also has offices in New York, Los Angeles, and New Jersey.
Originally known as Vida (no relation to VIDA Select, another matchmaking service included in this list), this bespoke service rebranded to Maclynn globally in 2022.
Clientele
Maclynn focuses on matchmaking for high net worth, high achieving individuals.
Cost
Matchmaking packages start around £18,000. Contracts typically last for 12 months, although they can be tailored depending on the client's needs.
What To Expect
This London matchmaker's process starts with a "compatibility profiling session". During this conversation, your matchmaking learns about you and your lifestyle, relationship and life goals, and partner preferences. Next, you'll discuss tactics and dating strategies.
Then the matchmaking begins, typically within a few weeks of joining. You'll be presented with candidates hand-picked by your matchmaker for your approval.
Matches come from Maclynn's database of 17,000+ "Open Members", and the team also scouts in your city or internationally depending on your package level. The Open Member database is invite-only. Having your profile included there does not come with any guarantee of meeting a paying member.
When there is mutual interest in meeting, your matchmaker can help arrange the date.
Maclynn also offers dating coaching and relationship counselling.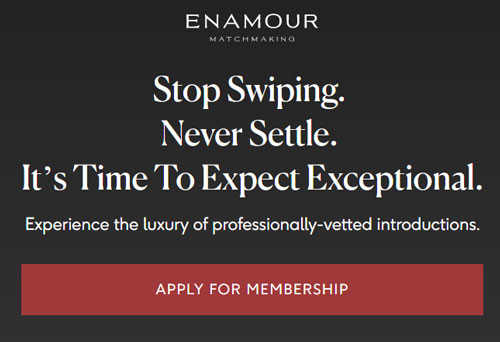 Like Maclynn, Enamour caters to highly successful professionals looking for a curated matchmaking experience.
Clientele
For over a decade, Enamour's matchmaking team has been helping successful and discerning professionals meet their ideal partners.
Cost
Matchmaking packages start at $20,000 USD for 6 months of service, and can be tailored to fit each client's search requirements. 
What To Expect
As a client, you'll be paired with a dedicated matchmaker. She'll get to know you and your ideal partner preferences, working with you to build a compatibility profile.
The team at Enamour places significant emphasis on relational psychology during the screening process, delving into the essence of compatibility when hand-picking your potential matches.
Potential matches are selected from Enamour's exclusive invite-only database, and the matchmaking team also employs a fusion of AI & recruiting tech to identify highly compatible, eligible singles from a range of sources.
After each date, there will be a chance for mutual feedback, which enables your matchmaker to further refine the search process as required.
In addition to bespoke matchmaking, Enamour also offers personal styling, dating coaching, and other complementary services.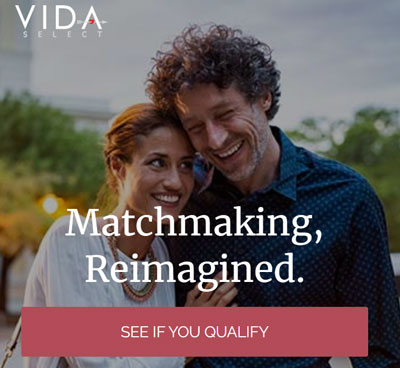 Founded by Scott Valdez in 2009, VIDA Select is an elite matchmaking service headquartered in the US that helps singles find their perfect match anywhere in the world.
And when it comes to London singles, VIDA Select's matchmakers aren't limited to an internal database. Instead, your matchmaking team will be selecting high-quality, compatible singles from the UK's biggest dating pool.
Clientele
VIDA Select caters to successful, intelligent and relationship-minded CEOs, investors, consultants, business owners, etc.
Cost
VIDA Select's matchmaking packages start at just $1095 USD per month for Basic matchmaking services. Premium matchmaking services start at only $1695 USD per month. Elite options begin at only $2595 USD per month.
The cost is highly reflective of how many hours it should take to find highly compatible matches for you every month, taking into account your match criteria, scope of search, etc.
What To Expect
Potential clients start by answering a few screening questions online, then scheduling a complimentary phone consultation. The next step is choosing which membership package is the best fit.
VIDA Select's matchmakers use the latest tech to access a nearly limitless pool of London singles, so you'll never have to "settle" for meeting matches who don't fit all your criteria. You're in control of who you meet, and you can base your decision off of full profiles, including photos.
VIDA Select stands apart from other high-end matchmaking services in another regard as well - no contracts. Instead of signing a 6 month, 12 month, or even longer contract, VIDA Select clients pay monthly. No need to worry about 'hold' time!
And since you're not paying up front for an entire year or more of service, if you end up meeting someone incredible in the first month of service - as clients often do - you're not paying for search time you don't need.
VIDA Select also offers dating coaching, image consulting, and personal styling.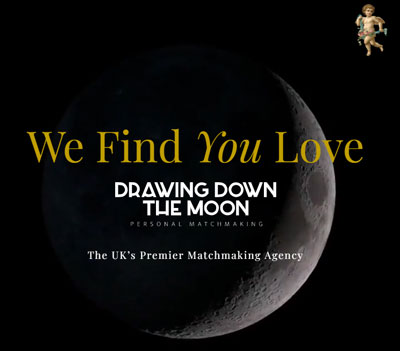 Founded in 1983, Drawing Down The Moon is one of the longest-running matchmaking services in the UK. Gillian McCallum, an ex-headhunter who specialized in international corporate recruiting, is the current CEO. She's also the driving force behind niche dating site Love And Friends.
Clientele
This boutique matchmaking service helps singles living in London and the South East, and McCallum says 75% of DDM's clients are referrals. Client ages range from 20 to 70s, and they typically have an active client database of 800 - 1,000 members at any particular time.
Cost
Matchmaking packages start at £10000+ inc vat, with a minimum contract length of 6 months.
What To Expect
Interested singles can take the first of applying online, followed by an in-person interview with one of Drawing Down The Moon's professional London matchmakers. Not everyone who applies is accepted, as McCallum says they attempt to keep the gender ratio of male/female clients as balanced as possible.
If you're accepted as a member, you'll be introduced to other London singles in their database. While they predominantly match London singles, Drawing Down The Moon can also work with affiliated matchmakers in the US and abroad if you're interested in a global search.
Drawing Down The Moon also offers date coaching and image consulting.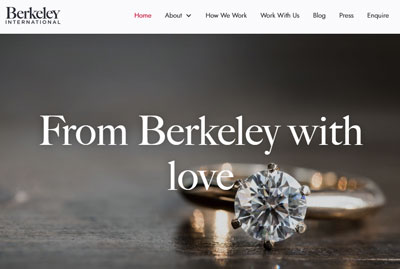 Mairead Molloy started this bespoke introduction agency in 2001 for people who want a custom tailored matchmaking experience. Berkeley International is headquartered in London's Berkeley Square, with 13 other offices across Europe as well as one in New York and Melbourne.
Clientele
A wide range of affluent singles from their early 20s to early 80s who are looking for a significant relationship.
Cost
Matchmaking packages range from £15,000 - £100,000+ for a year's worth of services.
What To Expect
Membership contracts run for a year, and within that time frame you'll get unlimited introductions. All the date details are arranged for you, and you'll be meeting with singles pulled from Berkeley International's database or scouted by the matchmaking team.
After each date, you can go over any feedback you have with your matchmaker.
How much Berkeley International will cost you depends on how customized you want your matchmaking package to be. As she told Business Insider,
"It all depends on how discrete you want us to be, how much travelling you want me to do, how much of my team you need. The more tailored you want it — the more we charge. A lot of people need to be hand held and we'll look after them from start to finish."
As many as half of Berkeley International's membership travels to meet their matches. They have a "Nylon" service (New York to London) that flies clients back and forth on chartered jets.
Berkeley International also offers Image consulting and concierge dating services.
Susie Ambrose got the idea for her elite matchmaking service after realizing how difficult it was for clients in her psychotherapy practice to find dates they considered worthy of a serious relationship. The name Seventy Thirty comes from a statistic she read saying successful people work 70% of the time, and spend the remaining 30% socializing.
Founded in 2001, they are headquartered in Knightsbridge, London, and work with a network of matchmakers across the globe.
Clientele
High net worth singles in their 30s to 60s who have the means to travel frequently to meet their matches.
Cost
Matchmaking packages start at £12,000 plus VAT.
What To Expect
Seventy Thirty has approximately 2,000 members in its international database, with a couple hundred who are actively seeking love at any given time. If you decide to purchase a membership, you can expect to meet matches living all over the world.
Not unsurprisingly given her background as a psychotherapist, Ambrose says relationship psychology is the foundation of her matchmaking service. She analyzes each client's characteristics, emotions and lifestyle, and uses that insight as a place to start finding matches with long-term relationship potential.
Unlike the others on this list, Kelleher International isn't headquartered in London. This elite matchmaking service, founded in 1986 by Jill Kelleher, is based in the US. While the headquarters are in California, they do have a presence in London.
Clientele
Kelleher matchmakers limit how many clients they'll work with at a time, so they're fairly selective. According to their website, they work with "successful and elegant" clients seeking the same qualities in an ideal partner.
Cost
Matchmaking packages start at $30,000 USD for a local search, and can range over $300,000+ for a wider scope. Contracts vary in length and typically span 1 to 3 years.
What To Expect
How much your matchmaking service costs depends mostly on how many cities you'd like your matchmaker to include when she's pulling matches from the Kelleher database.
The least expensive option includes only London singles, while if you'd like to extend the search country-wide you'll pay at least $45,000 (USD). Want to meet matches anywhere in the world? That runs at least $150,000 (USD). Having your matchmaking scout for singles outside the confines of their database will add to the price as well.
No matter which matchmaking package you decide on, your contract includes a year's worth of 'hold' time.
Whenever a potential match is located, your matchmaker will provide a description to each half. Provided there is mutual interest in meeting, you'll receive contact information to make arrangements for the date. You're also expected to check in with your matchmaker afterward with an update.
One of London's most exclusive dating agencies, Gray & Farrar was founded by Virginia Sweetingham in 1993, with headquarters in the Mayfair area. They also have offices around the world, including Hong Kong, Paris, Los Angeles, New York, Singapore, Monaco and Geneva.
Clientele
Successful, affluent singles living in London or other large cities within their network.
Cost
Matchmaking packages cost £15,000 - £100,000+ for a year's worth of services.
What To Expect
At around 2,000 singles, Gray & Farrar's database isn't large. But what it lacks in size it makes up for in quality, at least according to Sweetingham.
As a member, you'll be introduced to some of those elite singles. Contracts run for 12 months, with the price depending mostly on the scope of your search. The "Club" membership only includes matches from the internal database.
If you purchase a more expensive "Private Commissions" package starting at £100,000, Virginia Sweetingham's daughter Claire will also search for matches beyond the database.
All product and company names are trademarks™ or registered® trademarks of their respective holders. Use of them does not imply any affiliation with or endorsement by them.
Why Choose VIDA Select?

Since 2009, thousands of clients have discovered true love thanks to VIDA Select's fresh, modern approach to matchmaking – which has finally thrown blind dates and long-term contracts out the window. This isn't your grandmother's matchmaking!
Instead of working with a single matchmaker using a small rolodex of potential partners, VIDA Select's matchmaking team taps into the world's largest database of available singles. We'll quickly identify the matches who check all of your boxes so you can finally experience true chemistry. Are you ready to become our next success story? Schedule your complimentary consultation now by clicking the button below!
Get Started Now