I hope you enjoy reading the blog post.
If you want to chat now about your matchmaking search, click here.
Can NYC Matchmaker Maria Avgitidis Find Your True Love?
If you're thinking about hiring Agape Match, it makes sense to do a little recon on its founder Maria Avgitidis first.
Avgitidis launched her NYC matchmaking service at the young age of 23, but made her first match a lot earlier than that. As she told Elle, she was 5, and it was during recess.
Her natural proclivity for matchmaking isn't surprising, since it runs in the family. Three previous generations were matchmakers in Greece and Asia Minor.
So can this 4th-generation Greek matchmaker help you find your soulmate in New York? Keep reading these Maria Avgitidis reviews to find out!
From the boutiques to the big industry players, we've reviewed over 200 matchmaking services. Our insight comes from more than 14 years of first-hand industry experience, comprehensive research, real customer reviews, and a deep understanding of the matchmaking landscape.
Meet This Elite NYC Matchmaker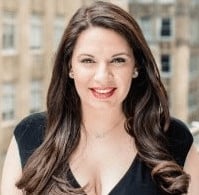 Before founding Agape Match in 2008, Avgitidis put her Master's in Global Affairs to good use. She briefly worked for the US Embassy in foreign commercial service, and also in Athens for the Olympics.
She'd dreamed of becoming a diplomat, but in the end her love for matchmaking won out. While at a wedding she was approached by a couple single guys who said they'd heard she "knows everybody and could get them a date."
When they offered her money to set them up, the seed that grew into Agape Match was planted. Since then, she's not only grown her reputation as an elite matchmaker within the Greek community, she's also popular with NYC, New Jersey, and Boston singles as well.
Agape Match was named Matchmaking Agency of the Year in 2016 by the US Dating Awards, beating out respected finalists like Lisa Clampitt and Michelle Jacoby.
Avgitidis was also nominated for Best Matchmaker in 2012, 2013, and 2014 at the iDate Awards.
She's also one of the founding members of the Matchmaker's Alliance, a professional network of matchmakers and dating coaches that spans the globe.
And when it comes to date coaching, Avgitidis offers her clients that as well. Her VIP 12-week program includes coaching sessions, a dating behavior/history assessment, an online dating profile makeover, image consultation, and a mock date.
Need dating advice?
You'll also find plenty of her dating tips online, as she's often quoted as an expert by various media outlets.
For instance, she dispensed some of her best dating advice for NYC singles, courtesy of Harpers Bazaar:
Ditch your earphones. Grocery stores, Starbucks, and the subway are no earphone zones, you need to look available and ready to talk.
Her go-to place for meeting high-quality singles? Whole Foods.
If I were single, I would just go to Whole Foods every day, and pick up a man. There's so many good looking men there, and you know they have a good pay check or else you can't shop there.
Maria Avgitidis's Matchmaking Process
Agape Match clients range in age from 25 to 65. As she told Elle, 80% of her clients are men, 20% women - and they all tend to be college-educated professionals looking for a committed relationship.
Potential clients meet with two matchmakers initially, and the interview lasts around 90 minutes. As Avgitidis said in an interview, having two matchmakers ensures the most comprehensive solution:
That way it's kind of the yin and yang of matchmaking.
The team will assess whether date coaching or matchmaking (or perhaps both) is best, and prepare a contract for services. Avgitidis says she only takes on clients whom she believes have at least a 90% chance for a successful outcome.
As far as your matches go, you'll be introduced to compatible singles from her database, or with people she finds via her Matchmaker Alliance connections.
Before each date, which is arranged entirely by the matchmaking staff, you'll check out a short profile. No pictures, though - it's a good, old-fashioned blind date. After each date, you'll give (and receive) feedback on how the introduction went.
How Much Does Hiring Maria Avgitidis Cost?
Having a profile included in the Agape Match database is free. If you happen to match the "ideal partner" criteria for a paying client, you'll be invited to come in for further screening and a possible introduction. Of course, there's no guarantee you'll ever be introduced to anyone.
For a matchmaker to do an active search on your behalf, you'll need to become an Agape Match client.
Matchmaking service packages start around $15,000. You'll get a minimum of 6 introductions over 6 months of "active search" time.
If you find yourself in a relationship with a match that lasts longer than 6 months, you'll also pay an additional $5k "success fee."
Date coaching packages start around $9,500 and are available in long or short term programs. When you successfully complete a date coaching program, you'll be given "VIP" status in the database. In other words, matchmakers will consider your profile before checking out the pool of free members.
Maria Avgitidis Reviews
She's gotten a lot of great press, including being named one of Manhattan's most exclusive matchmakers by Observer. Avgitidis was also profiled by Thrillist, and named one of the best matchmakers in NYC by Time Out.
Clearly, she's onto something with her approach to matchmaking! For an in-depth review of Agape Match, check out this article.
As far as local review sites go, she's got a 4.5-star rating on Yelp.
In the recommended reviews, clients like this one appreciated the time she took getting to know them, and most importantly, what type of person they're looking for:
Others praised her date coaching:
There were 2 negative reviews as well, but neither was from someone who had actually tried the matchmaking service.
Maria Avgitidis's matchmaking service also had good reviews on Google, resulting in a 4.9-star ranking.
As on Yelp, some clients thought they benefited from her coaching and dating advice:
And this client started a serious relationship with a woman he met through Agape Match:
The handful of negative Google reviews were all from people who hadn't signed up for the matchmaking service.
So is Maria Avgitidis the best NYC matchmaker for you? She certainly has a lot of good press.
But as a boutique matchmaker, she only works with a limited amount of clients at a time, and her database isn't as extensive as what you'd find at larger matchmaking services.
Consider how you feel about blind dating...
Remember, Agape Match doesn't include photos in the profiles you'll review.
She shared the reason why in an interview with Thrillist:
Maybe you're comfortable letting her be the judge of who you would find attractive, or maybe you'd rather make that decision yourself. After all, you're the one who's going to be spending time and money on the date!
If you'd rather be confident you're about to meet someone you'll be physically attracted to, why not consider a matchmaking service like VIDA Select?
Not only do you get to review a full profile - multiple photos included - of high-quality singles, you're in full control of which ones you meet!
We'll only schedule dates with the matches you approve - no more wasted time or money, not to mention the frustration that often comes when a blind date ends up being a disappointment.
With VIDA, you're only meeting incredible singles that excite you - and who are excited to meet you!
Want to learn more? Click here to schedule a quick, free, and low-key conversation with one of our matchmakers.
If the idea of unlimited matches carefully selected from the largest pool of New York singles in existence intrigues you, why not find out more right now?
All product and company names are trademarks™ or registered® trademarks of their respective holders. Use of them does not imply any affiliation with or endorsement by them.
Why Choose VIDA Select?

Since 2009, thousands of clients have discovered true love thanks to VIDA Select's fresh, modern approach to matchmaking – which has finally thrown blind dates and long-term contracts out the window. This isn't your grandmother's matchmaking!
Instead of working with a single matchmaker using a small rolodex of potential partners, VIDA Select's matchmaking team taps into the world's largest database of available singles. We'll quickly identify the matches who check all of your boxes so you can finally experience true chemistry. Are you ready to become our next success story? Schedule your complimentary consultation now by clicking the button below!
Get Started Now