I hope you enjoy reading the blog post.
If you want my team to just do your online dating for you, click here.
Match Boost Explained [What It Costs & If It's Worth It!]
Boosting your Match profile is one of the simplest ways to maximize views and be seen by users quickly. But it doesn't guarantee an increase in matches or higher quality options – just more visibility.
You're already paying to use Match, so it's no surprise you're wondering if paying even more for a Match Boost is worth it. For most singles, the answer is "yes."
This short Match Boost guide answers all the most common questions users have about this premium feature:
And at the end, you'll get 3 expert tips to make your profile Boost worthy!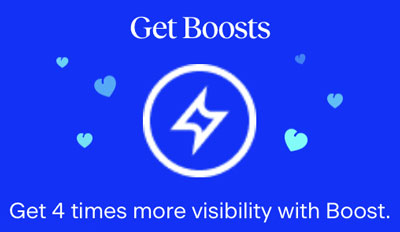 What Is Match Boost?
Boost is a premium feature that proactively promotes your profile to other users for a set period of time. It works on the same premise as a Spotlight on Bumble or a Boost on Tinder.
On the Match mobile app, you can access the feature by tapping on the profile icon and scrolling down to "Get Boost."
If you're logged into Match online, click on the profile icon in the upper right of the menu bar. Then select "Boost."
In both cases, the credit card you have linked to your Match.com account will be charged. But if you're using the online version, you also have the option to pay via Paypal.
When you make the payment, one Boost session will be activated immediately. So timing is everything. The best time to use a Match Boost is coming up, so keep reading!
How Does Match Boost Work?
Once you've completed the purchase, your Boost starts right away. Your profile will be included in the top 6 results of other users who are looking for someone like you.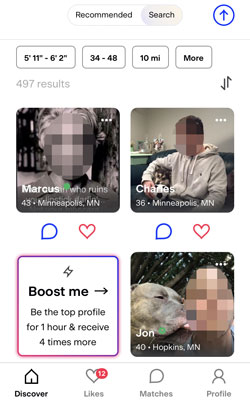 In the event the number of Boost results exceeds the 6 available spots, Match's website says it will randomly pick which profiles will be promoted to that user.
As the Boost is running, you can keep track of how long you have left on the special "Boost Dashboard" that pops up right below the main menu. You can also review photos of the Match members your profile is being promoted to.
Once your Boost is concluded, you'll get an Activity Summary. It's sent to whatever email you have associated with your Match.com account.
The email includes helpful stats like how many times your profile appeared in searches, and also highlights some of the users who saw it. This summary email is a great way to determine if Boosting your profile was worth it, and if it's something you'd consider doing again.
You can even launch another Boost straight from the email - just click the "Go Again" link.
How Long Does A Match Boost Last?
Each Match profile boost lasts for 60 minutes, and you can track how much time is left using the Boost Dashboard.
You can purchase as many Boosts as you want, but can only use them one at a time. If you decide to buy them in multipacks to get the quantity discount, keep in mind they expire in 90 days.
Don't forget to use them before the expiration date, because Boosts are non-refundable. Once purchased, the remaining Boosts in your multipack are tracked on the Match Home screen under Profile Power Ups.
How Much Does A Match Boost Cost?
When you purchase a single Boost, they cost around $5.99 each if you buy them via the app. In some markets, they're slightly cheaper, around $4.99 each, if you buy them via Match's website.

If you plan to use multiple Boost sessions, the multipacks will save you money.
The individual price drops to around $4.00 each when you purchase a multipack of 5, or around $3.00 each when you spring for the multipack of 10. (Pricing may vary depending on location.)
Match Premium users also get a monthly Boost included in the membership. Match Standard users do not.
Is A Match Boost Worth It?
In most cases, yes - a Match Boost is worth it. This popular dating site claims members who use a Boost get 4x more visibility, and that can be a huge competitive advantage.
The best way to see if it's worth it for you is give one a try, and see if you make any meaningful connections as a result.
You'll want to check out those profile tips that are coming up, because the better your profile is, the more successful your Boost is likely to be.
What Is The Best Time To Boost On Match.com?
Match.com has said their busiest times are Sunday and Monday nights, with the magic hour between 8 and 9 pm. Boosting your profile during this window could pay off in more matches.
Early evening can be another good time to boost your profile on any dating app, when people are unwinding after the work day.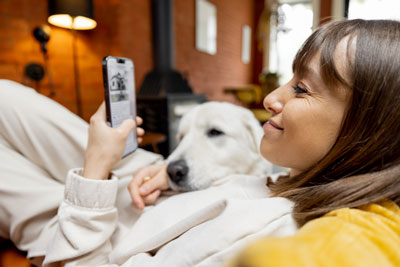 Inclement weather is a great time for heightened profile visibility as well. Snowstorms in particular tend to put singles into a swiping frenzy.
3 Expert Tips To Make Your Match.com Profile "Boost Worthy"
You're spending money to promote your profile on Match, so it makes sense to invest a little time in making it the best it can possibly be first.
#1: Mind The Format
If you've been on any dating app for more than a minute, you already know your primary profile photo has a starring role. But on Match in particular, how it displays in the search results can have a huge impact on your results.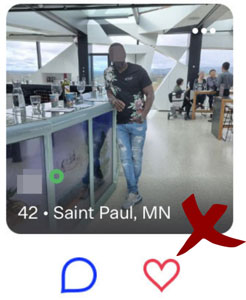 A photo cropped to traditional headshot proportions is generally going to look best. Full body shots zoom out so far it's hard to see your face - and without strong eye contact, it can be hard to feel an instant connection.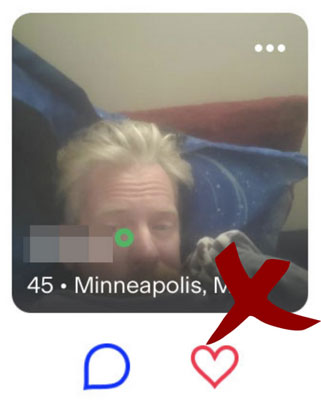 If the picture ends up cropped in a strange way, like cutting off the lower half of your face, or worse, not showing your face at all, she'll likely think you don't care very much about your dating profile.
And, as the logic goes, if you don't care how you present yourself to the total strangers you're hoping to meet, how much thought and effort are you going to put into the dating process? It's not a good look.
These expert dating photo tips will help you select a truly Boost-worthy primary photo!
#2: Have A Robust Profile
Match profiles have multiple sections, ranging from an "About Me" style summary to Interest badges and "Trending Topic" profile prompts.
It's a good idea to fill out all of these sections, because you never know what tidbit of information will spark a potential match's interest.
When you're deciding what to write about in your profile, start with the interests and hobbies you'd like to have in common with your match. Also include details that help you illustrate attractive qualities you possess, like physical fitness, ambition, a sense of humor, etc.
Most people love traveling, movies, music, good food, etc. You can stand out by being specific. What movies do you like? Where do you enjoy traveling? Where do you dream of visiting? What song makes you dance like no one's watching? What is one food you couldn't live a week without?
Don't forget to include why these answers are important to you!
The Trending Topic profile prompts like "I feel like my best self when…" make it easy to share a personal story or anecdote that highlights one of your best features.
Your profile is meant to grab someone's attention and hold it. For more advice on exactly how to do that, check out these Match.com profile tips!
#3: Avoid These Mood Killers
Before you Boost your Match profile, give it a once over to make sure you're not making these common profile mistakes:
Including overused and cliched lines like "Just ask", "I'll tell you later" or "I'll come back to this." Dating apps are all about marketing yourself effectively and instantly. If you want her to ask you questions or respond to a message, you've got to spark her curiosity first.
Skipping the spell check. Good grammar and proper spelling go a long way toward making a favorable first impression, especially if she's on the fence about tapping that "like" button. In one memorable Plenty Of Fish study, the dating giant revealed 58% of singles think bad grammar is worse than bad sex.
Relying on a list of adjectives. When your profile consists mostly of words you use to describe yourself, it gets boring fast. And without the context of actually knowing you, they're not very believable, either. Offering up some "proof" is much more compelling. There's nothing wrong with calling yourself adventurous, but it's far more powerful to share what makes you adventurous and let her draw that conclusion on her own.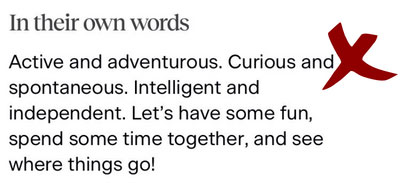 Want To Attract Better Matches Without Boosting Your Profile?
Crafting the perfect Match.com profile isn't easy, but it's necessary if you want relationship-worthy singles to notice your profile. And that's just half the battle - you not only have to attract them, you've got to keep their attention long enough to move things off the app.
A profile boost will get more eyes on your profile, but the rest is up to you. Or, let the dating experts at VIDA Select handle all your online dating for you! From profile creation and photo selection to swiping and messaging, it's all in expert hands.
You just enjoy all the first dates with high-quality matches.
Want us to do your online dating for you?

Hey, I'm Ally, VIDA Select's Director of Matchmaking.
We take all the frustration, hard work and hassle out of modern dating!
Imagine your very own Dream Team of highly skilled dating experts searching for the very best local matches, sparking their interest, and arranging all the dates for you.
Wouldn't it be nice to finally stop swiping and start dating higher quality matches so you can meet someone special?
We've helped thousands of singles just like you since 2009, and we're ready to make you our next success story!
What are you waiting for? Take the next step now…
See If You Qualify