I hope you enjoy reading the blog post.
If you want my team to just do your online dating for you, click here.
Match Highlights Feature Explained: Cost & How It Works!
Want a shortcut to your most compatible matches? That's exactly what the Match Highlights feed is all about. Keep reading to find out exactly how it works and how much it costs!
Match.com Highlights Explained: Table of Contents
What Are Match Highlights?
Match Highlights are profiles the algorithm has deemed highly compatible based on your preferences and the types of profiles you've interacted with in the past.
The feature is designed to help you find your most compatible matches with greater ease and efficiency, and it's similar to how the site featured Top Picks (AKA "Free Picks") in your Discover feed.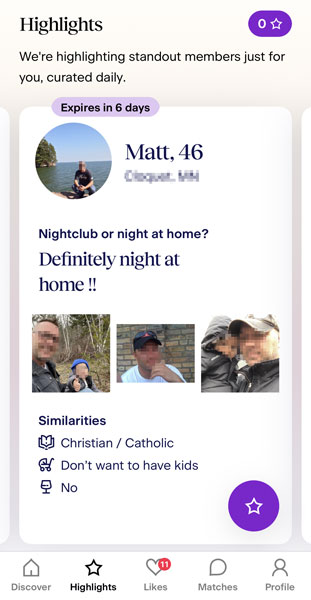 But the Highlights feature has a few key differences, which you'll learn more about coming up next.
As the name suggests, the each Highlights profile displays a few key tidbits of information in a card view:
The user's first name, age and location
One Topic prompt answer
Three photos
Many dating apps have a similar feature, including Tinder's Top Picks, Hinge's Standouts, and OkCupid's Cupid's Picks.
How Do The Highlights Work For Match.com?
Match curates the Highlights feed daily, and each profile will stay in the Highlights queue for a max of 7 days. You'll see how many days a profile has left in the purple banner at the top.
During that 7-day window, you have two options: pass or send a Super Like. There is no way to just "like" Highlights on Match. If you're intrigued, you have to Super Like them.
In a bid to encourage you to check out someone's entire profile before you make a decision, there is no way to pass on a profile from the Highlights preview screen using Match's mobile app. You have to tap on it to reveal the full profile, and only then will the X button appear.
Once you've Super Liked or passed, that Highlight will disappear from the Highlights feed.
To access Match Highlights:
Log in to your Match account.
If you're using Match online, click on the Highlights star icon located in the top navigation bar.
Browse through the curated list of profiles, and don't forget to interact with the ones that catch your eye!
Is The Match Highlights Feature Free?
It's free to check out the profiles in your Match Highlights feeds. But remember, you have to Super Like any Highlights match - there is no "regular" like option.
Match Premium members receive one Super Like each week as a perk, but otherwise you'll need to purchase them. Super Likes cost between $1.66 and $3.00 each, depending on how many you get at once.
Match Super Likes Cost* (2023)
5 Super Likes - $15 ($3.00/each)
12 Super Likes - $30 ($2.49/each)
30 Super Likes - $50 ($1.66/each)
*Cost may vary by location
How To Become A Highlight On Match
Match Highlights is a handy feature, with several key benefits:
Increased Compatibility: The algorithm prioritizes compatibility, so you'll spend less time sifting through profiles that don't align with your interests and values.
Time-Saving: The curated list of Highlights saves you time and effort by presenting you with a streamlined selection of potential matches.
Enhanced User Experience: Anything a dating app can do to make it easier to find genuine connections is a good thing.
So it's only natural to wonder how you can increase your chances of being shown to someone else as a Highlights pick.
Here are 3 ways to get featured as a Match Highlights profile:
Get Focused On The Details
The more information you provide on your profile, the better the algorithm can identify compatible matches. The more compatible matches you have, the higher the odds you'll be showcased in the Highlights feature.
Use all the different badges that Match offers to display your hobbies and interests, and make sure to fill out all the particulars like your relationship intent, exercise habits, etc. All these details display on your profile and some will be shown as "Similarities" if you're featured as a Highlight.
Commonalities can make you seem more attractive to a potential match, so don't miss out on opportunities to connect.
Add Topics To Your Profile
Each Match Highlights card showcases one Topic answer - so you'll need to fill out at least one if you want to be featured.
To add a Topic to your Match mobile profile:
Tap the Profile icon
Tap the Edit icon
Tap "Add Topics"
Select the prompt you want to answer
To add a Topic to your Match online profile:
Click the Profile icon in the top menu bar
Select "Me" from the drop down list
Scroll to the Topics section and click the Edit icon
Select the prompt you want to answer
Choose a prompt where your answer can reveal an aspect of your personality or lifestyle you think will be attractive to the type of singles you want to date.
For example, if you travel often and you'd like to find someone to explore the world with, answer the "Beach or Mountains" prompt like this would be effective: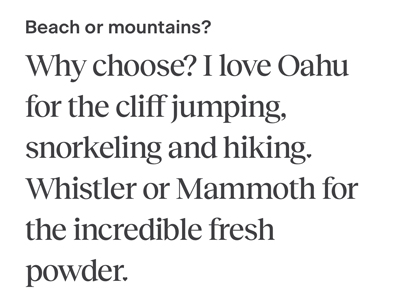 For maximum impact, keep your Topic answer short and punchy - that will display the best in the Highlights card.
Round Out Your Photo Lineup
If you're on the app, Match.com Highlights profile cards show a total of 4 photos - your primary pic, then three from your lineup. If you're using Match's website, the Highlights card doesn't show your primary photo.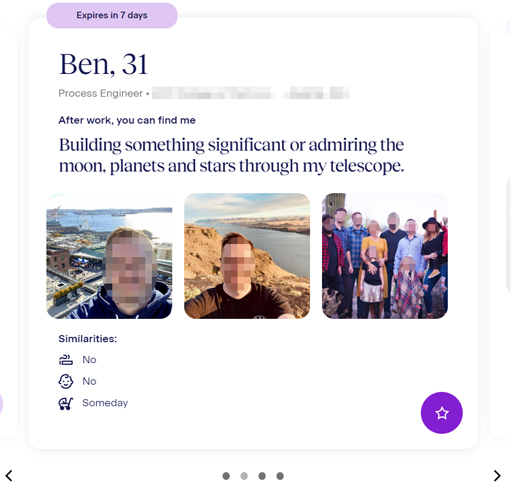 This is online dating, so you already know it's important to look good in all your dating photos.
But you need to go the extra mile when it comes to Match Highlights, because there's a Super Like on the line. All your pics need to entice potential matches to hit that purple star.
The best way to do that is by not only looking good, but also displaying a peek into your lifestyle. If all your photos are posed and boring, you're not sharing any compelling details about what spending time around you might be like.
On the other hand, a lineup that shows off your hobbies, interests and fun activities is a lot more intriguing.
And when it comes to your primary photo, go for a "headshot" rather than one that shows more of your body.
Focusing on your face makes it easier to spark a connection via eye contact, and it also projects confidence.
Curious About Match Highlights Because You Want To Meet More Compatible Singles?
VIDA Select can help! VIDA's team of modern dating experts can optimize your Match.com profile, do all the swiping for you based on your "ideal partner" criteria, and handle all the messaging too.
We'll even arrange all the first dates with highly compatible singles who are eager to meet you. It's the easiest way to get better matches, go on better dates, and find the relationship you're dreaming of!
Discover how VIDA's modern matchmaking service works by going here.
Want us to do your online dating for you?

Hey, I'm Ally, VIDA Select's Director of Matchmaking.
We take all the frustration, hard work and hassle out of modern dating!
Imagine your very own Dream Team of highly skilled dating experts searching for the very best local matches, sparking their interest, and arranging all the dates for you.
Wouldn't it be nice to finally stop swiping and start dating higher quality matches so you can meet someone special?
We've helped thousands of singles just like you since 2009, and we're ready to make you our next success story!
What are you waiting for? Take the next step now…
See If You Qualify