You're here, so you're probably wondering, "Should I sign up for Match?"
Since you can check out local singles for free on dating websites and apps like Plenty Of Fish and Facebook Dating, it makes sense to do a little research first.
This Match.com review has everything you need to decide if you should sign up!
You'll also get a Match.com promo code and free trial coupon that includes full benefits, so you can give the site a test drive without spending a cent!
Pros And Cons Of Match
PROS:
Match launched way back in 1995, so it's one of the oldest and most popular paid online dating sites out there, with millions of active users all over the world.

The

fee helps weed out

who aren't serious about meeting someone, and

are generally looking for

.

Match is owned and operated by

Match Group

, which means you can expect a quality user experience as far as the site and mobile app are concerned.

You can access safety features like "Date Check-In" on

Match's mobile app

.
CONS:
Many women in their early 20s aren't willing or able to pay money for online dating. If you're looking for a younger woman, a free site like OkCupid or app like Tinder or Coffee Meets Bagel might be a better bet. The majority of people who use Match are 30-49 years old, with 50+ being its fastest growing demographic.
Only paid members can read, send, and receive messages. Non-subscribers can't read or send any messages on Match.
VERDICT:
Is Match worth it? If you're 28+ and looking for your next girlfriend, Match is one of the best places to start your search. 
And if you're dating over 50, it is hands down the best site for you. Match attracts high-quality women with professional careers in droves. The monthly fee cuts down on the number of fakes and flakes so you spend more time talking to Match subscribers who are serious about actually meeting someone.
How Much Does It Cost To Join Match?
There are two plans available as a paid subscription: "Basic" and "Bundle." Here are how the membership fees compare:
The biggest difference between the two subscription levels is whether or not you'll know when (or if) your match has read your message.
Technically you can use Match without paying, but you'll be limited to these "Match Members" features:
As you can see, if you want to actually communicate with anyone you'll need to pay for the privilege.
If you think Match.com is too expensive to risk 'buying before trying,' take advantage of the free 3-day trial code below. 
If you're not sure which promo code is the best deal for you, take a peek at this side-by-side comparison.
Ala Carte Match Features
You can pay separately for additional features to "enhance" your subscription. Except where noted, prices depend on your subscription length and other factors.
Profile Boosts
Match users can also pay a little extra for profiles "Boosts." Each Boost will push your profile to the top of local users search results for a full hour, which Match claims results in 3x more views and messages.
Each Boost costs $3.99, or they can be purchased in packs of 5 for $2.99 each, or packs of 10 for $2.49 each.
Match Phone
This extra feature generates a new phone number that's forwarded to your phone, so you can talk, text, and message Match users without revealing your "real" phone number.
Highlighted Profile
This feature is exactly like it sounds – a colored box makes your profile stand out in search results.
First Impressions
New members will see your profile first.
Private Mode
With this feature activated, you can browse profiles anonymously.
Match Events
This is a way to meet members in real life, at activities like happy hours, nature walks, cooking classes and wine tastings. Prices vary per event.
Match Search Features
This popular dating site makes it easy to search for and filter your matches. You can even save your search criteria to run the same search again.
You can sort your matches by categories like age, distance, number of photos, newest first, last activity, etc. Sorting them by last activity is a great way to make sure you're messaging users who are active on the site.
Match's search filters are also simple to use, and you can use criteria like education, kids (or wanting them), body type, how often they exercise, and even their astrological sign, if you're into that.
PRO MESSAGING TIP: Use the "Interests" filter to find singles who share an interest in sports, hobbies, and even pets.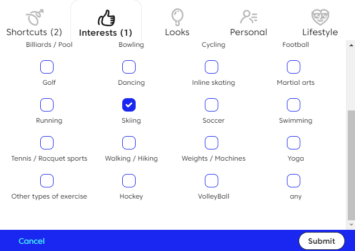 Then, send a keyword-specific copy and paste icebreaker to all the matches in your search results who intrigue you.Because you're mentioning a shared interest, your message will have a personalized feel. And not only will each woman think you took the time to read her profile, you'll also save a ton of time!

Here is an example of a copy and paste message you could send to any women who list "Skiing" as an interest:

How Match Works
Creating a Match account via the online dating site is easy – enter your email, create a password, select your birth date, enter your first name, and you're in. 
(Thinking about trying the Match dating app? This Match Mobile review walks you through the user experience!)
The first step in the set up process is selecting what type of relationship you're looking for, on a spectrum of "just browsing singles" to "long-term relationship."
Then you'll provide all your particulars, like height, body type, relationship status, political views, kids, etc.
While in most of life honesty is the best policy, fudging your stats a little will help you appear in more search results. (More on that here.)
When specifying religion, if you even remotely identify as Christian, (i.e. you're more agnostic now but come from a Christian background) it's not a bad idea to select that as your religion. Surveys have shown Christian men get 20% more messages.
If politics are important to you, make sure to specify your views – 98% percent of people who responded to Match's Singles In America study found they were looking for someone willing to discuss politics.
You'll have the opportunity to choose up to 5 interests and sports you enjoy, and it's important to select a few.

Having a specific hobby in common can help forge a connection with potential matches, so you don't want to miss an opportunity by skipping it.
Next, you'll have the opportunity to describe your ideal partner. To set your matching criteria, simply click on each category and adjust the settings accordingly: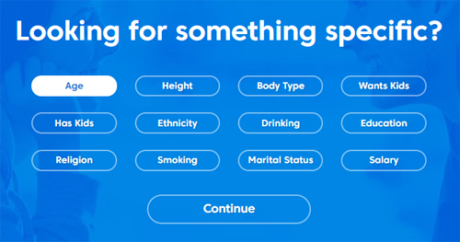 Next is the most important section of all – the "About You" essay.
How To Shine In Your Match Profile
The star of your Match profile is the "Essay" section, which has a minimum of 100 characters. This is where you'll really want to spend some time, because women who are looking for a serious relationship will definitely be reading it.
Competition is fierce, so keep your summary positive by focusing on your most attractive traits.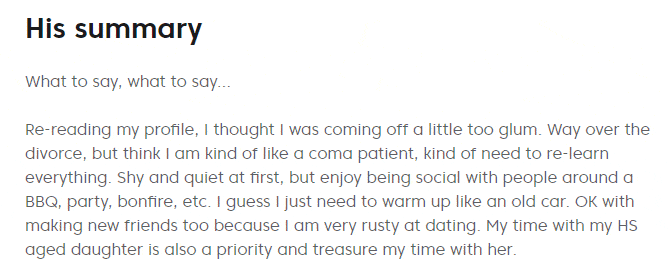 Check out this these essential tips on how to nail a Match.com profile, and use this easy formula when writing yours: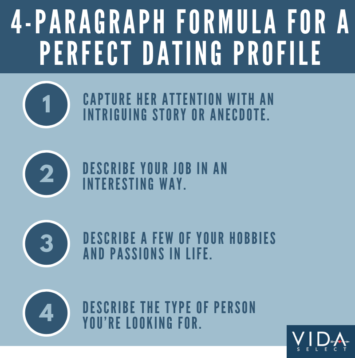 Match also has "Topics," which are 150-character-or-less snippets that you write in response to a prompt. There are 70+ to choose from, and you can answer up to 3 of them.

Answering them is important because little tidbits of interesting information help build attraction. She wants to imagine spending time with you, so let her know you're a fun, socially active guy.
With your profile out of the way, it's time to upload your pictures. She checks out yours as closely as you scrutinize her photo lineup, so choosing strong photos is essential.
Our Ultimate Guide to Online Dating is packed with tips on how to double your attractiveness online, so give that a skim before selecting your final photo lineup.
Here are a few photo pointers that will help you right now:
Go with a range of 3-7 photos. Less than 3 and she won't get a well-rounded picture of your personality, but at the same time, very few people have 8+ photos they look equally attractive in. Don't skip the photo completely – Match allows women to filter their search results for only guys with photos, and she wants to know what you look like.
Ask your female friends for feedback. For the most part, guys can't give you the type of feedback you need on your photos, since they're not looking at them from a "want to date you" perspective.
Keep your photos consistent with your profile text. You want your photos to reinforce what you say in your profile, and vice versa. For instance, if you paint yourself as a rock-climbing, kitesurfing, daredevil type but your photos are all of you chilling out with a book and a beer, she's going to doubt your honesty.
Upload your photos – and boom, you're done! Now you're ready to start messaging women…
Meet The Best Women On Match – The Easy Way!
Finding your ideal partner on Match requires an investment – and not just in terms of paying for the subscription.
You also need to invest some serious time into your profile, photos, and messages to have a chance of attracting the type of incredible women you want to date. If you're not sure how to shine online, or you simply don't have the time to keep up with all that online demands, why not bring in a team of professional to do it all for you?
VIDA's dating experts can write your profile, screen your matches, and send expertly written messages to the attractive women you select! All you do is show up for the dates.
Click here to learn more!