I hope you enjoy reading the blog post.
If you want my team to just do your online dating for you, click here.
Match Super Like: Desperate Or Effective? [Plus 2023 Cost!]
You can tell someone you're *really* into them by using Match's Super Likes. But do Super Likes really work or do people find them super creepy?
Keep reading to find out when and how to use this feature, plus how much it will cost you!
Match Super Like Table of Contents
The Difference Between A Like & A Super Like On Match
When you use the heart icon to "Like" someone, they'll receive a notification in their "Likes You" feed that you're interested.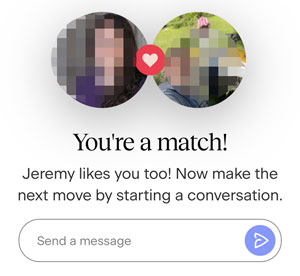 When mutual "Likes" are exchanged, a pop up window gives you the chance to send a message and get the conversation started.
But when you Super Like someone, your profile also gets priority placement in their Recommended Matches sequence. Having your profile highlighted there could be an advantage if the object of your interest is a popular user with a crowded "Likes You" feed.
And there is one other big difference between a Like and a Super Like on Match - the price tag. Free users can Like profiles, but only Premium users have access to the Super Like feature.
In fact, if you're not one, you won't even see the purple star that lets you Super Like someone.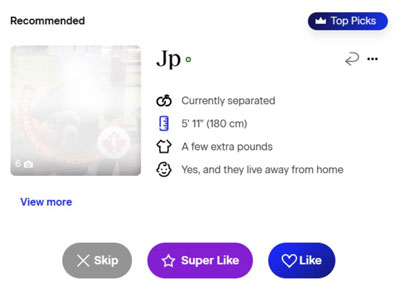 The purple Super Like star appears for Premium users in the Discover section where you can review your Top Picks and Recommended Matches. You can also click on someone's profile in your search results to Super Like them on Match.
How Much Do Match Super Likes Cost?
Premium subscribers on Match get a weekly Super Like included with their membership.

Match Premium prices vary by location, but you can plan on spending anywhere from around $20 to $40 per month depending on the membership length:
Match Premium Cost 2023*
3 months - $37.99/month
6 months - $23.99/month
12 months - $21.99/month
*Cost may vary by location
No Super Likes come with the Standard-level subscription, so if it's a feature you'd like to unlock you'll have to pay the extra few dollars more per month for Premium access.
If you want to use more than one Super Like per week, you can purchase additional ones starting around $3 each when you buy 5. The more you buy, the less expensive they are per use:
Match Super Like Cost 2023*
5 Super Likes - $15 ($3.00 each)
12 Super Likes - $30 ($2.49 each)
30 Super Likes - $50 ($1.66 each)
*Pricing may vary by location
They never expire, so you can use them anytime after purchase.
How Do I Know If Someone Super Liked Me on Match?
You will be notified when someone Likes or Super Likes you. This notification is revealed in your "Likes" section.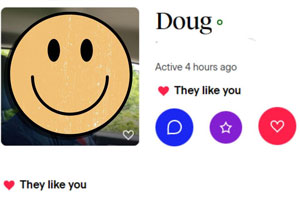 When You Should Use Match Super Likes
As with Bumble's Superswipes and Tinder's Super Likes, users have mixed feelings about their effectiveness. On the plus side, some singles enjoy the confidence boost they get from receiving a Super Like on a dating app.
And there's always the scarcity principle to consider: people attach more value to things that are scarce. Since Premium users only get a limited quantity as a benefit, as the theory goes the recipient would appreciate being chosen to receive one all the more.
But there is an argument that Match Super Likes can come across as desperate, especially if the person using the feature didn't put a lot of effort into polishing up their profile. If your profile isn't up to par, sending a Super Like could be perceived as a last ditch effort to get noticed.
So when should you send a Super Like on Match? It may work in your favor if you live in an area with a lot of other users and you think the person you're interested in likely gets a lot of attention.
Priority placement in the Recommended Matches feed combined with popping up in their "Likes You" feed should get you noticed faster than just sending a regular Like would.
That being said, you want to make sure your profile is the best it can be to avoid that whiff of desperation.
And on that note, here are…
3 Ways To Make Your Match Profile Super Likable
Racking up the likes on any dating app gives you a boost of confidence, and getting Super Liked feels even better - especially when it's from someone you're definitely interested in connecting with.
For that to happen, you need a profile that stands out in all the right ways. Start with these 3 Match profile tips, and watch those Super Likes roll in!
#1. Don't Be Shy When It Comes To Eye Contact
Eye contact is a natural component of nonverbal communication that's often used to demonstrate romantic attraction - and it's just as powerful in a dating app photo.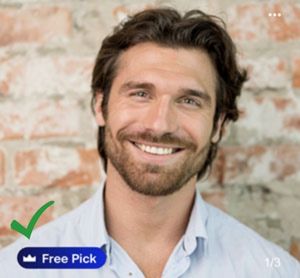 Locking eyes with your potential partner, even though it's via a screen, projects confidence and helps establish an instant connection.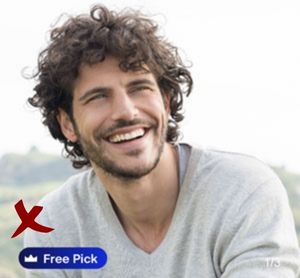 For that reason, choosing a primary photo where you're wearing sunglasses or looking away from the camera isn't ideal.
#2. Opt For A Simple Background
The first photo in your lineup can make or break your chances with a potential match, so here's another tip on choosing the best one: pay attention to what's going on in the background!
A group of neuroscientists found "a strong negative correlation between cognitive workload and attraction." In other words, the harder someone's brain has to work to figure out what's going on in the frame, the less attractive they're likely to find you.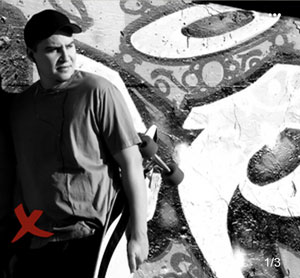 If something in the background is competing with you, it's distracting to the brain - and your perceived attraction level takes a hit.
Stick with a background that doesn't have a lot of visual clutter for your primary pic.
#3. Don't Skimp On Your Bio
Since it's a dating site you have to pay for to use effectively, Match tends to attract singles looking for relationships on the "serious/committed" end of the spectrum. For that reason, having an incomplete profile typically works against you.
A perceived lack of effort can give the impression you don't care how you present yourself, and which isn't generally an attractive quality in a dating scenario.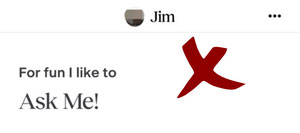 Match profiles offer several ways to share information and glimpses of your personality, like profile topics, interests and lifestyle badges. Not taking advantage of those opportunities might result in missed connections.
Match topics are similar to Hinge or Bumble prompts: you add a short answer to whatever statement or question you choose from the menu of options. On Match, you can display up to 3 answers.
The trick is choosing topics that let you share meaningful, attraction-building information. For instance, for the "Beach or Mountains" topic, don't just give a one-word answer. Not only is it boring, it doesn't provide any insights into why you chose that answer.
Bad:

Better:
Best: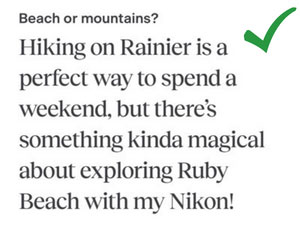 You can pack a lot of interesting tidbits into 150-characters or less! In this example, the specific details included let potential matches know you enjoy hiking, imply you're physically fit enough to tackle Mt. Rainier, and share that you enjoy photography.
Way more effective than just writing "Mountains" right?
Optimizing Your Match Profile Sound Like Too Much Work?
Let VIDA Select's team of dating experts do it for you! And it doesn't stop there, because VIDA can manage all your dating apps and swipes for you. Swiping, creating your profile, choosing your photos… even writing all the back and forth messages!
Every aspect of modern dating, handled by experts so you can enjoy the best part: going on better dates!
Want us to do your online dating for you?

Hey, I'm Ally, VIDA Select's Director of Matchmaking.
We take all the frustration, hard work and hassle out of modern dating!
Imagine your very own Dream Team of highly skilled dating experts searching for the very best local matches, sparking their interest, and arranging all the dates for you.
Wouldn't it be nice to finally stop swiping and start dating higher quality matches so you can meet someone special?
We've helped thousands of singles just like you since 2009, and we're ready to make you our next success story!
What are you waiting for? Take the next step now…
See If You Qualify