I hope you enjoy reading the blog post.
If you want to chat now about your matchmaking search, click here.
Who Is The Best Matchmaker In Maryland? [6 Great Options]
Plenty of companies offer personalized matchmaking service in Maryland - but which matchmaker will get the best results for you?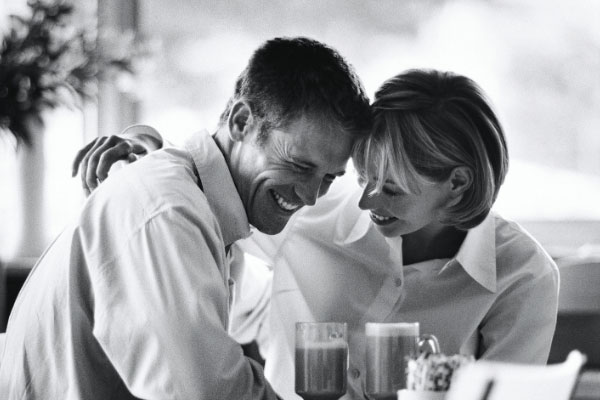 Our team of matchmaking experts created this comprehensive guide to help you answer that question!
Our expertise comes from 14+ years in the industry, our understanding of what clients value most in a matchmaking service, and our commitment to providing comprehensive and insightful reviews.
We've reviewed over 200 matchmaking services, from the major players to the small independents.
That's why we're confident this list of the 6 best matchmakers in Maryland will help you narrow down your options. And keep reading to the end for some crucial advice you need to read before signing a pricey contract!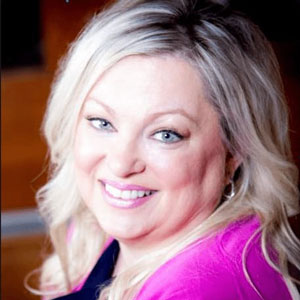 Before starting her Maryland-based matchmaking service, Susan Trombetti owned a private investigation company.
While she's no longer chasing down 'cons and criminals', she said helping people find true love is much more rewarding - and she considers herself a "relationship investigator."
Clientele
An elite matchmaker, Trombetti works with affluent, successful men as well as celebrities.
Cost
$7,500 - $250,000+/commitment outlined in contract
There's no fee for women to include their profile in her national database, but there's also no guarantee of being paired with a paying client.
Men have several membership options, all of which start with a paid consultation. This meeting costs $550 if it's in person, or $350 if it's over the phone or video chat.
If you're a guy between 21 and 32 years old, you may qualify for Trombetti's "Exclusive Introductions" package. The price varies per client, but it's generally less than the $7,500 starting price for the other membership packages.
The "VIP Platinum" memberships can range over $250,000, with the price varying according to your search criteria.
If her matchmaking services aren't budget friendly for you, there's a $4,000 "Bachelor Party" option. It's a one-time event where her matchmaking team will select singles for you to meet, and will be present during the party to facilitate those introductions.
What To Expect
Paying clients will be introduced to Maryland singles in Trombetti's national database. Once you've met each match in person, you'll be asked to provide feedback and discuss how the date went. That will not only help improve the quality of the next match, but you'll also be able to get any dating coaching you may need along the way.
Contract Required
Yes
Additional Services
Trombetti offers a range of services, from dating "boot camps" to a background investigation on your current partner.
Founded In
2011
Further Reading
Michelle Jacoby was matchmaking for her circle of friends long before she started doing it professionally, and she also brings her experience in sales and PR to her DC-based matchmaking service.
This native Washingtonian is also a co-founder of the Matchmaker's Alliance, and works with singles in Maryland, DC, and Virginia.
Clientele
A "boutique" style matchmaker, Jacoby typically only works with 15-20 paying clients at a time, usually successful, professional men. Women can apply to join the database of singles for free, but may or may not ever be matched with a client.
Cost
$15,000+/ 1-year contract, plus 6 months of "hold" time
What To Expect
As a paying client, you'll be matched with some of the 5,000+ singles in the DC Matchmaking database, or Jacoby will use her connections in Annapolis and Baltimore to find suitable introductions.
Clients receive unlimited matches, and any dating coaching Jacoby feels necessary throughout the duration of the contract.
Contract Required
Yes.
Founded In
2009
Additional Services
Dating coaching
Further Reading
Leora Hoffman has been in the matchmaking industry for nearly 3 decades. An attorney specializing in family law, she worked in the DC Attorney General's office for 12 years until deciding to devote all her time to her matchmaking company in 2015.
Clientele
Hoffman specializes in finding love for 'baby boomers' in Baltimore and DC.
Cost
Varies per client, 1-year contract
Cost varies, as packages are individually tailored. Contracts include 12 months worth of "active" search time, which must be used over the course of 2 years.
You can have a profile listed in her database at no charge, however you may not be matched with anyone.
What To Expect
As with any traditional matchmaking service, Hoffman will introduce you to singles from her database she feels are a good fit. However, she does have some "membership guidelines" clients agree to follow, such as not texting prior to meeting in person, and agreeing to meet with each match at least twice before deciding not to see them again.
Contract Required
Yes
Founded In
1989
A professional photographer for over 40 years, Kimberly Simonetti is a master at networking. Her service is based in Towson, but MatchPro works with singles through the D/M/V area as well as Florida's West Coast. Simonetti is a Certified Matchmaker and a Matchmaking Alliance member.
Clientele
Simonetti works with "upscale" men and women seeking a "life partner" in both Maryland and DC.
Cost
Varies, but the upper tier package is around $8,000 per internet reviews. Potential clients may be offered either a 6- or 9-month membership. Both include the ability to pause your contract for a specified period of time, and fees vary depending on what is required for each client's search.
TThe MatchPro offers four different membership packages, two of which are traditional matchmaking. The dating coaching package does not include active matchmaking, but does include image consulting.
Inclusion in the MatchPro database is free, however that does not include any active matchmaking. If you want a matchmaker to vet potential matches on your behalf, you'll need to purchase a service package.
What To Expect
Members are matched with other members, and Simonetti also works with other matchmaking companies and online services to find suitable introductions. All of the date details will be arranged, and your matchmaker will follow up with a phone call afterwards to obtain feedback and to also let you know if there's mutual interest in seeing each other again.
Members can also attend MatchPro single's events.
Contract Required
Yes
Additional Services
Dating coaching, online dating assistance
Founded In
2015
Further Reading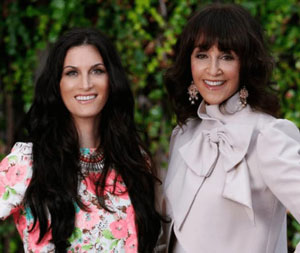 One of the East Coast's most well-known matchmaking duos, Janis & Carly Spindel are based in New York, but also help singles in Baltimore find their perfect match.
Clientele
This luxury matchmaking service works with affluent men looking to meet women who embody the 4 "B's": beauty, brains, body and balance.
Cost
$25,000 - $1,000,000, 1-year contract
Women typically aren't taken on as paying clients. Instead, they can pay between $250 and $1,250 for a screening interview to have a profile placed in the Serious Matchmaking database. The fee is paid whether or not they're accepted into the database, and inclusion isn't a guarantee of getting matched with a paying member.
Men can choose from a broad range of membership packages, and spend between $25,000 and $1,000,000 depending on whether they want to work with Carly or Janis.
Paying clients are guaranteed 12 introductions over the course of the year in accordance with NY law.
If you don't want to sign a matchmaking contract, you can opt instead for a "Flash Match" event. It's a one-time gathering where you'll meet 6 pre-screened women.
What To Expect
Becoming a Serious Matchmaking client starts with an initial consultation, during which you and your matchmaker will select the membership level that suits you best. You'll then be matched with women from their database, and provide feedback after each introduction.
Contract Required
Yes. Contracts include both a signing and a finder's fee. The fees are the same amount, but can vary by client. It starts at $65,000.
The signing fee is paid up front, the finder's fee is essentially a "success bonus" - it's only paid if you start a long-term relationship with one of your matches. That includes dating for 12 months, moving in together, or becoming engaged.
Founded In
1993
Further Reading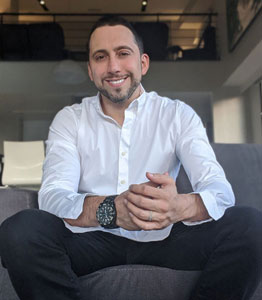 Whether you want to meet singles in Maryland, DC, or Virginia, VIDA Select's elite team of modern matchmakers can help.
Clientele
Successful, career-minded men and women who are looking for "The One."
Cost
VIDA Select offers a range of matchmaking packages, all paid by the month. Factors like the complexity of your "must have" list help determine the cost, as packages are highly correlated with the number of hours that the VIDA team should devote to your search.
Clients can choose from 3 different levels of service. Basic packages start at $1095/month, while Premium packages start at just $1695/month. Elite options begin at $2595/month.
What To Expect
The first step to finding your perfect match is a short, complimentary phone call to find out if you're a good candidate for VIDA's exclusive matchmaking service.
If it seems like a good fit, your dedicated matchmaker will get to work finding highly compatible singles who check every single box on your "must have list."
You'll then be able to accept or decline each match based on a full profile, so you can walk into every date confident that you're about to meet someone incredible.
Membership packages are all paid by-the-month, and include unlimited matches.
That means you can date at your pace, taking all the time you need to see if a promising relationship pans out. You don't have to worry about "hold" time, or paying for active search time you don't end up needing - paying as you go means you're not locked into a contract!
VIDA clients typically meet someone amazing within 3 months, so why not see if you qualify?
Contract Required
No
Additional Services
Dating coaching, image/style consulting, pro photography
Founded In
2009
Before You Select A Matchmaker In Maryland, Read This!
You're already searching for Maryland matchmaking service reviews, so that's a great start. But you'll want to look beyond Yelp and Google, and check out sources that conduct independent investigations in response to consumer complaints.
For instance, the Maryland Attorney General's Office is a good place to look for fraud allegations. And the Better Business Bureau will issue a "pattern of complaint" warning about businesses whom customers frequently lodge complaints against.
Local news channels often get involved at that point, like when WBAL TV 11 reported on the warning the Better Business Bureau of Greater Maryland issued about Maryland Matchmakers.
A BBB representative warned potential customers that clients of Maryland Matchmakers complained that they were:
"… being pressured to make a decision to sign a contract on the spot. People are also unable to cancel or get a response from the company directly. They can't get refunds. They're just not getting the service that they paid for. It's a lot of money. We're talking thousands of dollars. Anywhere from $4,000 to $20,000 is what our reports show."
Know What To Ask Before You Commit
Asking the right questions before signing a contract can help prevent frustration later on, because once the ink has dried it's difficult if not impossible to get your money back.
These are 5 crucial questions you should ask any matchmaking service you're thinking about using: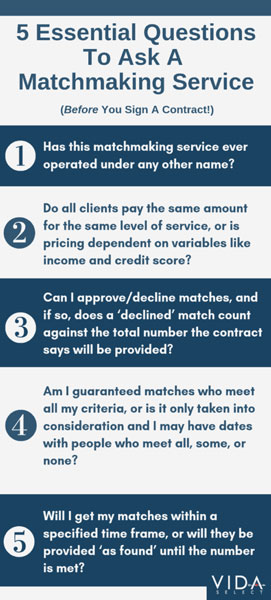 Put some thought into what answers you want to hear, because there's no real right or wrong response - what matters is that your expectations are in line with theirs.
If you're not sure about risking a lengthy contract, consider hiring a matchmaking service like VIDA that allows you to pay monthly.
That way, you can test out the service, stop, pause, and resume service as needed, and you're not paying up front for matchmaking services you won't need if you meet your ideal partner sooner rather than later.
In fact, VIDA's average client stops service after the first few months to explore a promising relationship - why not see what our elite matchmakers can do for you?
Click here to find out more!
All product and company names are trademarks™ or registered® trademarks of their respective holders. Use of them does not imply any affiliation with or endorsement by them.
Why Choose VIDA Select?

Since 2009, thousands of clients have discovered true love thanks to VIDA Select's fresh, modern approach to matchmaking – which has finally thrown blind dates and long-term contracts out the window. This isn't your grandmother's matchmaking!
Instead of working with a single matchmaker using a small rolodex of potential partners, VIDA Select's matchmaking team taps into the world's largest database of available singles. We'll quickly identify the matches who check all of your boxes so you can finally experience true chemistry. Are you ready to become our next success story? Schedule your complimentary consultation now by clicking the button below!
Get Started Now