I hope you enjoy reading the blog post.
If you want to chat now about your matchmaking search, click here.
3 Best Melbourne Matchmakers & Dating Agencies [2023]
Looking for the best matchmaking services in Melbourne? These 3 Melbourne matchmakers are definitely worth considering!
Given that she launched what turned into one of Australia's longest-running introduction agencies, it's no surprise Yvonne Allen has been called the "Matriarch of Matchmaking." She works with singles in both Melbourne and Sydney.
Clientele
Her core clientele are "educated business professionals," typically in their 30s+ and looking for a long-term relationship.
Cost
$8,400 to $15,000+
Contract Required
Yes. The length can vary per client, but is usually 6 or 12 months.
What To Expect
Yvonne Allen and her team of professional Melbourne matchmakers generally only work with 150 or so clients at once, actively finding matches for both men and women. The matchmaking process starts with an initial consultation, which costs around $175.
You'll meet with a "Partner Search Consultant" and go over your answers to your application questions. Allen has a background in psychology, and focuses not only on what type of partner you're seeking, but also what you're bringing to the table.
Once you've signed on, you'll be meeting Melbourne singles from her database. Every member has access to Allen's website, where they'll find biographical details and a description of each potential match. Usually you won't see photos prior to the date, though.
You can accept or decline each potential match online, and whenever both halves of a pair accept the match, you'll receive contact info so that you can schedule a meeting. Members are encouraged to see each other at least twice, and you can expect feedback after the meetings from your matchmaker.
Founded In
1976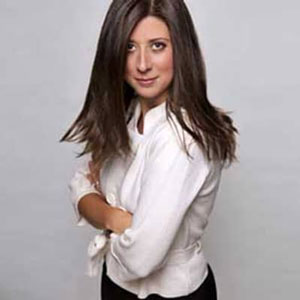 Nicknamed Australia's Millionaire Matchmaker, Trudy Gilbert makes frequent media appearances and has written a book on matchmaking. She studied psychology, and has a degree in Social Science and Policy.
Starting a matchmaking service was the perfect way to combine her love for being around people with her entrepreneurial spirit, and she's been an executive matchmaker for over 10 years.
Clientele
Gilbert's dating agency typically attracts business owners and other professionals ages 30-65 who are seeking a serious relationship.
Cost
$5,000+
Contract Required
Yes - 1 year.
What To Expect
The process is fairly straightforward for potential clients - fill out an online application, then have a brief phone interview for screening purposes.
The next step is an in-person consultation where you'll discuss the membership and sign a contract.
Elite Introductions members can generally expect to meet between 8 and 10 Melbourne singles over the course of the year-long membership. You'll be introduced to singles from the Elite Introductions database, and then check in with your matchmaker after each date.
Founded In
2005
Further Reading: Elite Introductions International reviews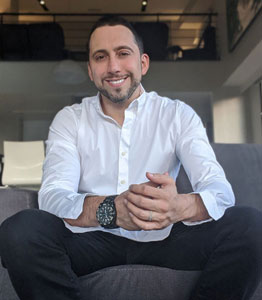 Looking for the easiest way to meet Melbourne's best singles? Thanks to VIDA Select's unique blend of modern tech, intuition, and data analysis, the average client meets someone with long-term potential after only 11 dates!
Clientele
VIDA Select's elite matchmaking service is custom-made for busy professionals, generally in their 30s to 60s.
Cost
VIDA Select has a variety of matchmaking packages available, all paid by the month. There are 3 levels of service offered: Basic, Premium and Elite.
Basic packages start at $995/month, Premium packages begin at only $1595/month and Elite package options start at $2395/month. Package pricing is highly correlated with the total number of hours that will be utilized each month for your search, taking into account your list of "must haves," dating locations, etc.
What To Expect
Like the other high-end matchmakers in this guide, Valdez is selective about who he brings on as a client. The process starts with a quick phone screening, followed by a more in-depth, complimentary interview.
VIDA Select offers a range of matchmaking service packages, all of which come with unlimited matches. And instead of paying the entire membership fee up front, clients just pay on a month-to-month basis, and can stop or pause service as needed. No long-term contracts needed.
Your matchmaker will take your list of perfect match "must haves" and select highly compatible Melbourne singles from Australia's largest dating pool.
You'll receive a detailed profile, including photos, of every potential match for approval - which means you can look forward to dates with incredible people who have true relationship potential.
Intrigued? Click here!
Founded In
2009
You Don't Want Any Australian Matchmaker - You Want The Right Matchmaker!
No matter which Melbourne dating service is on your radar, making the best investment starts with asking the right questions. And that needs to happen before you sign a contract!
While that may seem obvious, if you've never hired a matchmaking service before you probably don't know what to expect, or what aspects of the service are crucial to ask about before committing to a membership.
You'll want to prepare a list of questions ahead of time, and ask them during your initial consultation. Here are 5 questions you absolutely need to ask any potential matchmaker: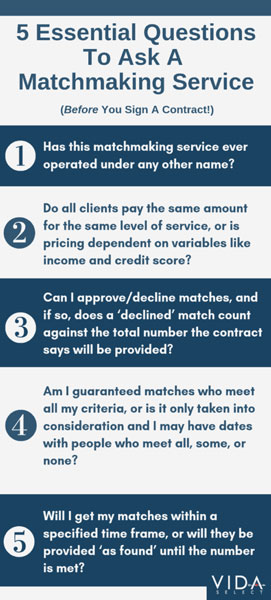 Those questions are a great starting point, as it will give you an overview of what to expect. That's crucial, because if you're going to sign a contract, you are also more than likely going to pay for the entire membership, up front.
That can give some people pause, as it's basically a "site unseen" investment - you haven't gotten a taste of what working with the matchmaker will be like, or if they can produce results. Refunds are rare in the matchmaking industry, so you want to spend your money wisely.
One of the advantages of selecting a dating agency like VIDA Select is being able to pay for matchmaking services by the month, rather than all at once. That way, you can see the service in action, and then decide whether or not you want to continue another month.
It all starts with a free, confidential consultation - so why not click here and see if VIDA Select is right for you?
All product and company names are trademarks™ or registered® trademarks of their respective holders. Use of them does not imply any affiliation with or endorsement by them.
Why Choose VIDA Select?

Since 2009, thousands of clients have discovered true love thanks to VIDA Select's fresh, modern approach to matchmaking – which has finally thrown blind dates and long-term contracts out the window. This isn't your grandmother's matchmaking!
Instead of working with a single matchmaker using a small rolodex of potential partners, VIDA Select's matchmaking team taps into the world's largest database of available singles. We'll quickly identify the matches who check all of your boxes so you can finally experience true chemistry. Are you ready to become our next success story? Schedule your complimentary consultation now by clicking the button below!
Get Started Now