I hope you enjoy reading the blog post.
If you want to chat now about your matchmaking search, click here.
Who's The Best Matchmaker In Montreal? [2023's Top 6 List!]
Not sure who is the best matchmaker in Montreal for you? Keep reading for short reviews on 6 of the best Montreal matchmakers!
From the small boutiques to the big industry players, we've reviewed over 200 matchmakers and their services. Our insight comes from comprehensive research, real customer reviews, and a deep understanding of the matchmaking landscape gleaned from over 14 years of first-hand industry experience.
You'll also get some valuable information at the very end of the article, including 5 important questions to ask any dating agency you're considering!
One of Montreal's longest-running matchmaking services, Intermezzo Montreal has been around for over 20 years. Joan Sawaya-Paiement bought the company in 2013, and has been working on expanding it ever since.
Before becoming a matchmaker in Montreal, she spent two decades as an executive at the Montreal Stock Exchange, and she also has a degree in psychology.
Clientele
Successful men and women of all ages who want to find a serious relationship. According to Sawaya Paiement, millennials make up around 20% of her client base.
Cost
Starts around $1,800 for the basic membership package.
Contract Required
Yes
What To Expect
Singles interested in Intermezzo Montreal's services will first meet with one of the professional matchmakers at the Outremont office. You'll go over the fees and process, which takes around 60 to 90 minutes.
Intermezzo Montreal cost depends directly on how many introductions you'd like, which matchmaker you want to work with, and if you want to meet Montreal singles from outside their internal database.
Part of the onboarding process involves taking psychometric tests and providing personal information. That information is used to create your profile for the database.
Next, you'll review a description of each potential match and decide whether or not you want to meet them. You'll arrange all aspects of the date, and check in with your matchmaker afterward.
Additional Services
Dating coaching
Founded In
1995
Further Reading
Prior to becoming a personal matchmaker, Susan Alper worked for over 15 years in the fashion industry. In addition to traditional matchmaking services, she also offers her clients lifestyle and dating advice.
Her elite matchmaking service is headquartered in Westmount Quebec. She also works with affiliated matchmakers around the world.
Clientele
Entrepreneurs, executives and other professionals seeking a serious relationship.
Cost
Varies per client
Contract Required
Yes
What To Expect
Susan Alper takes a slightly different approach to matchmaking. In addition to trying to find your ideal match, she also focuses on lifestyle coaching. The cost of her matchmaking services varies per client. It depends on factors like how much coaching she feels you need, and what type of people you're interested in meeting.
The initial consultation costs around $150, and after putting together a custom membership package you'll be meeting Montreal singles from within her database, or found via her network of affiliated matchmakers.
Additional Services
Lifestyle and image consulting
Founded In
2007
This boutique matchmaking service helps single men in Montreal, Toronto, Vancouver and New York City find love. Natacha Noel also founded "Match Parfait," which provides matchmaking services for professional women in their 20s to 50s. Both services are headquartered in Montreal.
Clientele
Successful "upscale" men seeking serious relationships.
Cost
$10,000 - $25,000+
Contract Required
Yes
What To Expect
A boutique matchmaker, Natacha Noel claims to only work with men who are in the "top 5%" of their field. Potential clients meet with her personally for a "discovery session" where she'll get to know you, your background and your relationship goals.
Membership packages are tailored for each client, and start around $10,000. You'll be meeting some of the 5,000 or so Montreal singles in her database, on her Match Parfait client roster, or from "open houses" where she invites candidates to screening events.
You'll sign a contract for either 6 months or 1 year of matchmaking services, including unlimited matches. The price depends on how much "hold" time you'd like, if you're interested in the "VIP Scouting" service (i.e. meeting singles from outside the Absolute Bachelor's Club database), and if you want to meet singles from the US as well.
Women can join the Absolute Bachelor's Club database without paying for matchmaking services, provided they pass a 2-hour screening via Skype, which costs $250.
Additional Services
Dating coaching
Founded In
2013
Further Reading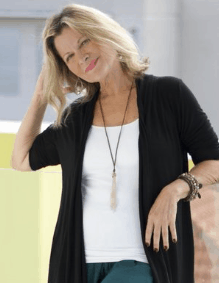 Leslie Wardman's elite matchmaking service is headquartered in the United States. She also has offices in Mexico, the UK and Montreal.
Clientele
Ambiance clients are both men and women, typically professionals in their 30s-60s.
Cost
Ambiance matchmaking packages begin at $25,000 and can range over $100,000. The final price varies in part by the scope of your search. Ambiance offers local, national, and international matchmaking services.
What To Expect
A boutique-style matchmaker, Wardman generally works with around 20 clients at any given time. Potential clients go through a screening process. If they pass they'll be matched with compatible people from the 10,000 or so singles in the Ambiance database.
When evaluating a potential pairing, Wardman and her team ensure each match is compatible with the client's "ideal partner" criteria, and vice versa, before planning the first date.
Contracts typically include 12 months of active matchmaking, and up to 12 months of "freeze" time. You can generally expect to meet 1-2 matches each month throughout the duration of your membership, unless you elect to pause it temporarily.
Founded In
2002
Further Reading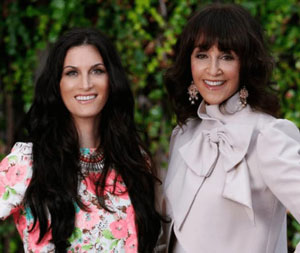 Millionaire matchmaker Janis Spindel calls New York City home, but her team has a presence in Montreal as well.
She's been a matchmaker for over 25 years, and her daughter Carly Spindel, now the Vice President of Serious Matchmaking, joined the family business in 2009.
Clientele
Serious Matchmaking's paying clients are predominantly uber-successful, affluent men looking to meet beautiful, intelligent women.
Cost
$25,000 - $1,000,000+
Serious Matchmaking has a signing fee for new clients that starts at $65,000 and is paid up front. There is a finder's fee of the same rate due if you're in a relationship with a match for 12 months, or you begin living together or get engaged.
What To Expect
Like many of the Canadian matchmakers in this guide, the Spindels are boutique matchmakers - meaning they are selective about whom they choose to work with, and work with a limited number of clients at once.
Most women choose to join the Serious Matchmaking database and be eligible to match with male clients. The screening process involves a fee of $250 to $1,250, depending on how the interview takes place.
For men, the Serious Matchmaking cost depends on which matchmaker they want to work with, and other factors such as how wide of a net you'd like them to cast. Men are guaranteed to meet at least 12 singles pulled from the Serious Matchmaking database. The introductions happen over the course of 12 months.
If you don't want to sign the year-long contract, you can choose to meet up to 6 Montreal singles at a mixer event held for you. Called the "Flash Match" package, the price starts at $6,000.
Contract Required
Yes
Founded In
1993
Further Reading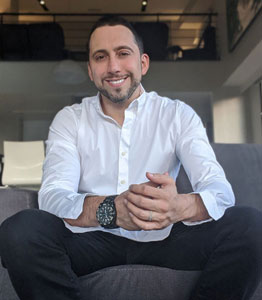 Like Janis Spindel, Scott Valdez's matchmaking service is US-based but can help Montreal singles find their perfect match. Clients can also benefit from expert dating and style coaching as well.
Clientele
Clients include entrepreneurs, high-level executives, investors, millionaires, and other successful professionals, typically in their 30s to 60s.
Cost
The price of your matchmaking service highly reflects the number of hours every month that should be devoted to the search for your perfect match.
VIDA Select offers 3 levels of matchmaking service and a range of packages to accommodate the number of cities you'd like to search in and the complexity of your "ideal partner" criteria.
Basic matchmaking packages begin at $1095 for each month you'd like service. Premium packages start at only $1695 a month, and Elite packages begin at $2595 a month.
Contract Required
No
What To Expect
Montreal singles interested in VIDA Select's elite matchmaking services can start by scheduling a quick, free and low-key consultation to see if the service is a good fit on both sides.
Potential clients can select from a range of options, all of which include unlimited introductions. Thanks to the latest tech, VIDA Select matchmakers aren't limited to searching a small, internal database.
Instead, you'll meet high-quality, amazing people selected from Montreal's largest dating pool - and you can pre-screen each and every match after viewing photos and a profile!
You can look forward to meeting people who match all your "must have" criteria - no more frustrating blind dates or having to compromise on qualities you're looking for in a partner.
On average, clients stop service after 11 dates because they've met someone with true relationship potential. That's generally within two or three months, and because you pay only for each month you want service, you can stop at any time!
Additional Services
Style/image consulting, dating coaching, photography/retouching,
Founded In
2009
In The Market For A Matchmaker In Montreal? Ask The Right Questions!
Unlike VIDA Select, most professional matchmaking services require a long-term commitment. Clients sign a contract that can span anywhere from 3 months to 2 years or more. Or it specifies a set number of introductions but doesn't stipulate when you'll get them.
VIDA Select clients just pay as they go, for each month they'd like to meet new people. But matchmaking services that use contracts almost always require the entire fee up front, before the search for compatible matches even gets underway.
That means you could be spending thousands or tens of thousands of dollars before you've even got a taste of what working with your matchmaker will be like!
When hiring a matchmaking service, asking a lot of questions during your initial consultation isn't just a good idea - it's crucial. You're considering making a sizable investment, so you don't want any disappointing surprises down the road.
Here are 5 examples of questions to ask any matchmaker in Montreal you're thinking of selecting: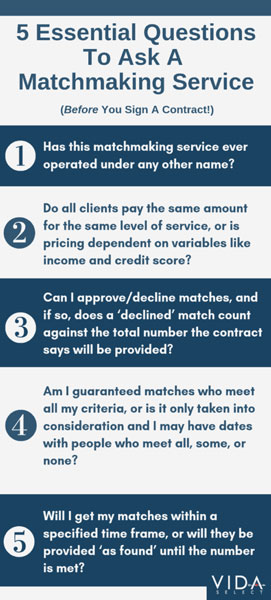 Start thinking now about what answers you'd like to hear, and use that as a guide for crossing services off your short list.
And if you've already decided that locking yourself into a long-term, non-refundable contract is a risky proposition, why not give VIDA Select a call right now?
Our matchmakers work their hardest to find your perfect every single month. And if you're not totally satisfied with the results, simply opt not to continue! It's that easy!
All product and company names are trademarks™ or registered® trademarks of their respective holders. Use of them does not imply any affiliation with or endorsement by them.
Why Choose VIDA Select?

Since 2009, thousands of clients have discovered true love thanks to VIDA Select's fresh, modern approach to matchmaking – which has finally thrown blind dates and long-term contracts out the window. This isn't your grandmother's matchmaking!
Instead of working with a single matchmaker using a small rolodex of potential partners, VIDA Select's matchmaking team taps into the world's largest database of available singles. We'll quickly identify the matches who check all of your boxes so you can finally experience true chemistry. Are you ready to become our next success story? Schedule your complimentary consultation now by clicking the button below!
Get Started Now