I hope you enjoy reading the blog post.
If you want to chat now about your matchmaking search, click here.
Meaningful Connections Review: Best NY Matchmaking Service?
Want to know more about Fay Goldman's NYC matchmaking service?
This Meaningful Connections review has all the information you're looking for – from how the process works to how much it costs and real customer experiences.
Our team of dating experts has put in countless hours to research and analyze over 200 matchmaking services. We've been putting together reviews that are backed by our 14+ years of hands-on industry experience.
Meaningful Connections Review Table of Contents:
Let's jump in!
What To Expect As A Meaningful Connections Client
Matchmaker Fay Goldman founded Meaningful Connections back in 1998, specializing in matchmaking for elite singles in New York City. From her Midtown East office, she works with a range of ages, usually people in their mid-20s and up who are "realistic and looking for a relationship."
"Everyone has their own personal trainer and health coaches, so it's a natural thing to use a matchmaking service as well."
With a team of 4 matchmakers, Meaningful Connections also offers dating coaching to clients. As Goldman explained in an interview, the coaching can be valuable because "They may be doing something that's not working for them on a date, and they're just not aware of how they're coming off."
The process starts by filling out a contact form on the website, followed by a questionnaire covering everything from what attracts you to a romantic partner to your life goals, ambitions, and dating obstacles.
Goldman says she uses those answers to guide the hour-long "heart to heart" conversation she has with every client. As she explained to the New York Times,
"I meet everyone on my own. You really have to listen to what someone's telling you. Don't set them up with the complete opposite just because you need to make a match."
Armed with all that information, Goldman and her team then pull compatible matches from the Meaningful Connections database for you to meet.
After the date, you can check in with the matchmaking team to give and receive feedback.
How Much Does Meaningful Connections Cost?
Like many elite matchmaking services, Meaningful Connections doesn't mention the price of the packages on the website. Goldman says the service can be tailored to fit a client's criteria.
Based on a few Meaningful Connections reviews, you can generally expect the price tag to start in the several thousand to $10,000+ range for a year's contract.
Women have the option to join the Meaningful Connections database of singles for around $500. But keep in mind this option involves no proactive matchmaking.
Candidates in the database are only considered as potential matches for paying clients if they happen to fit the right criteria. If you don't purchase a service package, you may never be contacted by a matchmaker.
To give you an idea of what you may expect to spend, let's take a quick peek at what a few other elite NYC matchmaking services charge:
Enamour offers white glove matchmaking packages that include local, national, or international searches from within their highly curated, invitation-only database of singles. Enamour's team also uses recruiting technology and an extensive network of scouts to search far beyond the database.
Enamour packages start around $20,000 for 6 months.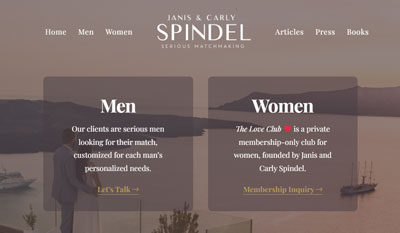 Serious Matchmaking, helmed by Janis and Carly Spindel, can cost anywhere from $25,000 to $1,000,000 depending on which matchmaker you sign up with and the level of service you want. The Spindels can accommodate anything from a local to an international search.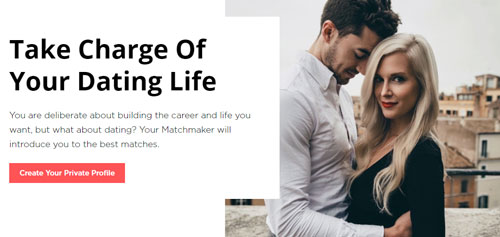 Three Day Rule, a national service with a presence in New York City, charges anywhere from $5,900 to $18,000+ depending on how many matches you want to meet and the type of service you want.
Now that you've got a ballpark idea of how much it costs to hire a matchmaker in New York City, let's take a look at what clients had to say about their experience with Fay Goldman and her team!
Meaningful Connections Reviews
On Yelp, Meaningful Connections garnered a 2.8-star rating, based on a handful of recommended reviews.
The two 5-star reviews were both from clients who reported meeting someone special via her service:
The remaining reviews were a mix of 1 and 2 star reviews. Two women were upset they had paid for inclusion in the database but were never actually matched with anyone:
The other Meaningful Connections complaint was from a woman who had paid for matchmaking services but wasn't happy with the quality of the two men she met:
Yelp's currently not recommended Meaningful Connections reviews are all 5 stars.
On its Google Business profile, Meaningful Connections has 4.7 stars based on 6 reviews, although none are recent.
This client was impressed with the first match he met through the service:
This client also reported a positive experience in his Meaningful Connections review:
The sole 3-star review was from a client who said she found the quality of her matches to be comparable to those she got online:
A representative of the service responded to the Yelp review saying that they couldn't verify the reviewer's identity. The reviewer addressed the different name in an update to the original review.
Meaningful Connections has a listing with the Better Business Bureau, but it is not rated, nor does it have any reviews or complaints to date. The service has not yet been reviewed on Trustpilot.
Is Meaningful Connections The NYC Right Matchmaking Service For You?
New York singles have a veritable buffet of NY matchmakers to choose from, with some even specializing in matchmaking for millionaires. Fay Goldman has been in the industry for more than 2 decades, so she clearly has a process that works for her.
But is her approach the best fit for you? One thing to consider when you're thinking about hiring any traditional matchmaking service is where your matches come from.
Many boutique services primarily pair you with other clients, or with singles who applied to be in their database. And while that's not necessarily an issue, keep in mind that compatibility has to flow both ways for a match to work out in the long run.
When any matchmaker is primarily relying on an internal database of singles dating in any one location, it's difficult - if not impossible - to consistently pair up truly compatible people. The numbers simply aren't there to make it happen each and every time.
That's why one of the most common complaints you'll read in online reviews for matchmaking companies is meeting people who don't really align with what you're looking for in a partner.
Many high-end matchmaking companies, like Enamour, proactively scout beyond the internal database.
And VIDA Select, a service for NYC singles to also consider, uses a modern approach to leverage the largest source of eligible matches there is! That means you'll be meeting people who are truly relationship worthy - and they're excited to meet you, too.
VIDA also offers pay-as-you-go monthly packages, rather than the long-term contracts that are common in the industry. That means you can start, stop, or pause your service as needed. If you meet your ideal partner right out of the gate, you don't have to worry about paying for search time you don't need.
Go here to see if VIDA is right for you!
All product and company names are trademarks™ or registered® trademarks of their respective holders. Use of them does not imply any affiliation with or endorsement by them.
Why Choose VIDA Select?

Since 2009, thousands of clients have discovered true love thanks to VIDA Select's fresh, modern approach to matchmaking – which has finally thrown blind dates and long-term contracts out the window. This isn't your grandmother's matchmaking!
Instead of working with a single matchmaker using a small rolodex of potential partners, VIDA Select's matchmaking team taps into the world's largest database of available singles. We'll quickly identify the matches who check all of your boxes so you can finally experience true chemistry. Are you ready to become our next success story? Schedule your complimentary consultation now by clicking the button below!
Get Started Now