I hope you enjoy reading the blog post.
If you want to chat now about your matchmaking search, click here.
Midwest Matchmaking Review [2023 Cost, Process & More]
Trying to decide if Midwest Matchmaking and Courtney Quinlan have what it takes to find your soulmate? From cost, what to expect and more, this Midwest Matchmaking review has all the details you need to decide if this boutique service is the right fit for you.
Midwest Matchmaking Review Table Of Contents
Courtney Quinlan's Midwest Roots
Quinlan became a professional matchmaker in 2006, coming onboard a local dating service after graduating from the University of Nebraska. As she shared in an interview with VoyageKC, she knew matchmaking was her "forever career" - but she also realized she wanted to do things her own way.
She launched Omaha Love in 2009, headquartered in Omaha. As the name implied, she specialized in helping singles in and around Omaha.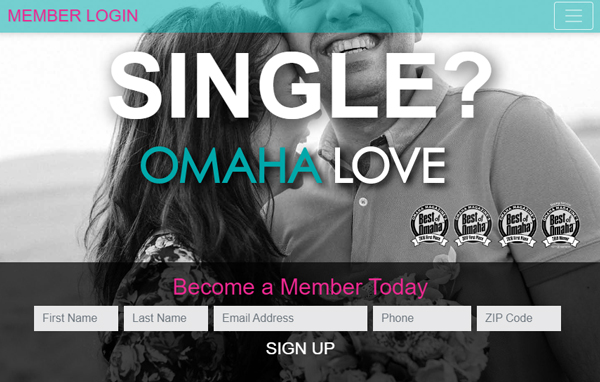 As the service grew, Quinlan began receiving interest from singles further and further away. In 2017, the company rebranded to Midwest Matchmaking to reflect its larger regional presence. In addition to Nebraska, Quinlan's service now helps singles in St. Louis, Des Moines, Minneapolis, and Kansas City as well.
In addition to matchmaking, Quinlan also offers dating coaching for both clients and non-clients. During these one-on-one sessions with a "Love Coach," you'll work on developing personal skills for successful relationships.
Quinlan also dispenses dating advice via her Instagram account. For instance, here are her top tips on avoiding online dating burnout:
A Peek At The Midwest Matchmaking Process
This Midwest matchmaker specializes in helping busy professionals find long-term, committed relationships. Her clients range in age from early 20s to mid-80s, with her largest bracket being clients in their 30s to 50s.
In an interview with KC Women's Magazine, she explained that her service gives clients "the exposure to the quality of men/women that they are currently lacking."
Potential clients start by filling out a short form on their website. You'll then be contacted to set up the initial consultation.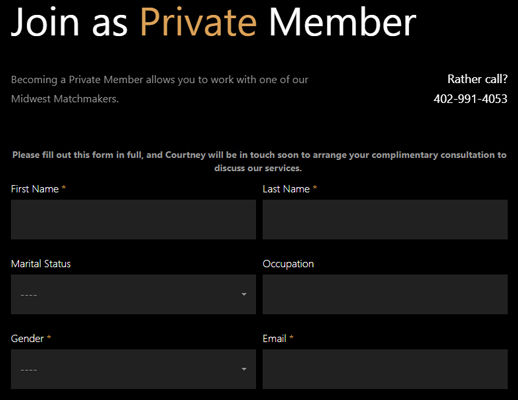 During this first appointment, you can share what type of singles you're hoping to meet. You'll also learn about their membership options, cost, etc. (More on cost coming up!)
If you decide to hire this boutique matchmaker, you'll be matched with other clients as well as with singles who have a profile included in the Midwest Matchmaking database. After reviewing a profile and a photo, you can accept or pass on each match as it's presented to you.
On her Instagram account, Quinlan said she advises clients against being too specific with a physical "type".
"I don't really ask my clients too much about what they find attractive or if there are certain physical traits they are drawn to. My years of experience have shown me that relationships are built on shared values and goals, which boost compatibility."
When both halves of a pairing say "yes", Quinlan and her team arrange the date and time for the date. It's up to you and your match to decide if you'd like to meet in person or via video, and where you'd like to meet.
Quinlan said she typically suggests cocktails or coffee for in-person dates, and video dates when matches live over an hour apart from each other. But ultimately, those details are up to you.
You'll both receive a post-date survey where you can provide feedback. At that point you can decide to go on a second date, or request your next match.
Midwest Matchmaking Cost
Quinlan's matchmaking service offers 2 membership options: Passive and Private.
A passive membership is free, but you'll only have a profile included in the database. Quinlan and her team won't be proactively searching for matches on your behalf, so you'll only be contacted if your profile happens to be compatible with a paying client's specifications.
For a proactive search done on your behalf, you'll need a Private membership. There are several levels available, with contracts of varying lengths. 
A 6-month membership starts around $1,800 and a 12-month membership starts around $3,600. Several factors affect the cost, including the level of service you want, and if you want to browse the database on your own or have a matchmaker select profiles for you. 
Having your profile kept private in the database requires a larger investment, as does working directly with Quinlan. At the "Platinum" level of membership, Quinlan's team will scout outside of the Midwest Matchmaking database for compatible singles.
There are no guaranteed number of matches during the course of your contract. Paid members are promised "active matching", but you'll receive them one at a time, as they are identified.
Curious what previous clients have to say about their Midwest Matchmaking experience? Let's take a look at some matchmaking service reviews…
Midwest Matchmaking Reviews
This Nebraska matchmaking service is accredited by the BBB, and has an A+ rating. There are 3 customer reviews, resulting in a 4 out of 5 star rating.
Two of the reviews are 5-star, with this client writing that he was happy with the quality of matches he met: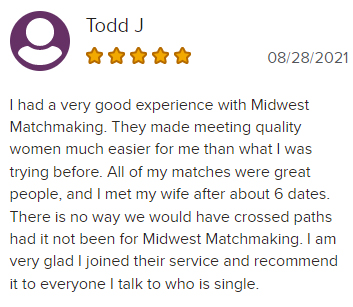 The remaining review was 2-star, from a client who wasn't happy with the matches she received: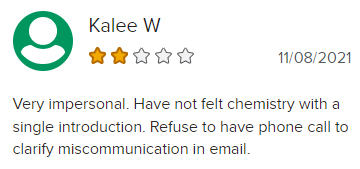 There were also 3 BBB complaints for Midwest Matchmaking closed within the last 3 years, however no further details were available on the site.
Midwest Matchmaking has far more reviews on Google, with a 4.4 rating:
Many reviewers like these two reported a positive experience: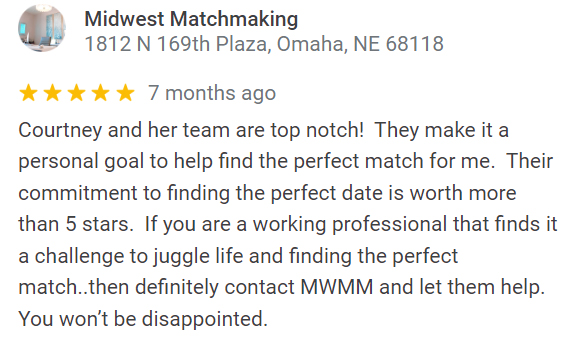 Fellow matchmaker Michelle Jacoby, founder of DC Matchmaking, left a glowing Google review of Courtney Quinlan's service:

But there were a handful of negative Google reviews for Midwest Matchmaking and Courtney Quinlan. For example, this reviewer expressed frustration with the matching process: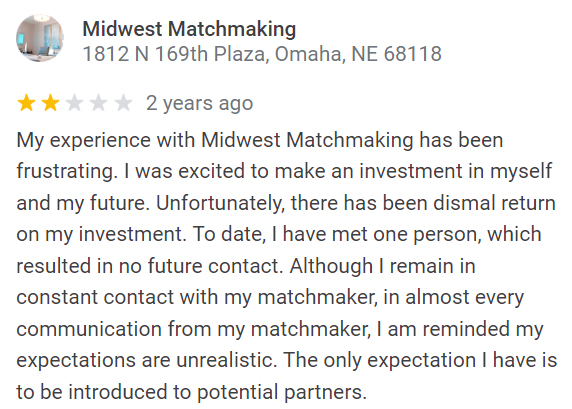 Midwest Matchmaking has no Yelp reviews, however there were several reviews under its former name: Omaha Love. Omaha Love has a 2.5 star Yelp rating, based on 3 reviews.
The first was 5-star: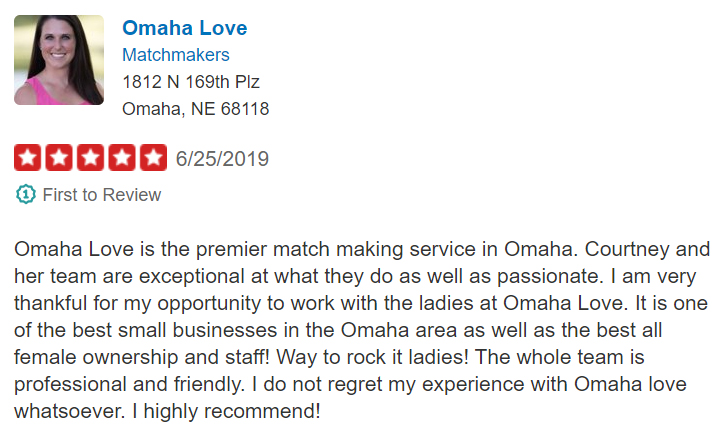 The other two Omaha Love Yelp reviewers gave the service a single star:
Reviews can provide helpful insights, and how a company responds on a review platform can be an enlightening peek into their approach to customer service. But reviews also need to be considered with a grain of salt.
When you're considering which matchmaking service to hire, it ultimately comes down to how you feel about certain aspects of the service. Budget is a consideration, as is where your matches will come from.
Some services, like Midwest Matchmaking, count scouting outside of their existing database as a premium perk. That means your package will be more expensive if you want to cast a wider net.
And while your soulmate might have signed up for the same service you chose, keep in mind that compatibility has to flow in both directions. That's why making quality matches requires an extensive database, and if the matchmaker you end up hiring doesn't have one, you may end up meeting matches who are available rather than compatible.
If you're looking for a matchmaking service with an extensive reach, consider VIDA Select! Thanks to a modern approach, VIDA's matchmakers have access to the largest pool of eligible singles there is.
That means you can look forward to better first dates with singles who check all your boxes. As a client, you'll get to approve all your matches based on a profile and photos. And here's another way VIDA stands out from the competition - no long-term contracts!
VIDA offers matchmaking packages on a pay-as-you-go basis, so you won't have to commit to 6 months to a year of service you may not end up needing.
Want to learn more about VIDA Select? Go here!
All product and company names are trademarks™ or registered® trademarks of their respective holders. Use of them does not imply any affiliation with or endorsement by them.
Why Choose VIDA Select?

Since 2009, thousands of clients have discovered true love thanks to VIDA Select's fresh, modern approach to matchmaking – which has finally thrown blind dates and long-term contracts out the window. This isn't your grandmother's matchmaking!
Instead of working with a single matchmaker using a small rolodex of potential partners, VIDA Select's matchmaking team taps into the world's largest database of available singles. We'll quickly identify the matches who check all of your boxes so you can finally experience true chemistry. Are you ready to become our next success story? Schedule your complimentary consultation now by clicking the button below!
Get Started Now