I hope you enjoy reading the blog post.
If you want to chat now about your matchmaking search, click here.
Meet Mimi Lee [Is My Top Matchmaker Right For You?]
Thinking about turning to My Top Matchmaker to find someone special? For such a personal endeavor, it makes sense that you're curious about its founder, Mimi Lee.
Our team of experts has reviewed 200+ matchmakers, diving into their services, processes, success rates, and client reviews. We've been in the industry since 2009, so our reviews are not only built on comprehensive research, but also our first-hand experience and insights.
Keep reading to learn about how Mimi Lee got started in the matchmaking industry, her philosophy on finding love, her best dating advice, and more!
Mimi Lee Review Table of Contents
Let's dive in!
Meet Florida Matchmaker Mimi Lee
Florida native Mimi Lee has been in the industry for decades. In the late 1990s, she decided to make her way to Los Angeles. While there, Lee had the opportunity to work for Patti Stanger, a renowned matchmaker and founder of the Millionaire's Club.
During her time in California, Lee's experience working with Stanger ignited her passion for bringing people together and ultimately drew her back to her cherished home state.
Lee set her sights on establishing a matchmaking service that would cater to the unique needs of singles in her community. Her goal was to develop a more accessible approach to matchmaking, especially in terms of cost.
In 2014, Lee's dream became a reality with the launch of My Top Matchmaker.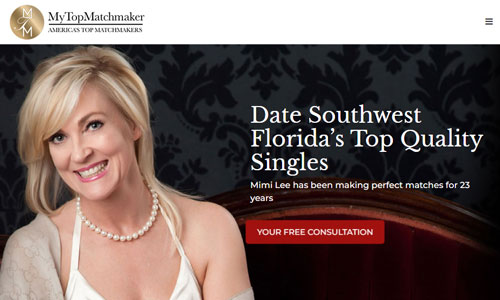 Matchmaking is not just a business for Lee. She describes it as a lifelong passion.
"It's the only industry I have been working in my whole life, and I have always been passionate about seeing singles turn into couples."
The client base at My Top Matchmaker encompasses a broad age range, spanning from singles in their 40s to 90s. With offices in Sarasota and Naples, Lee and her team help people across Southwest Florida, including the following cities:
Naples, Marco Island, Bonita Springs, Estero, Ft Myers, Cape Coral, Sanibel Island, Captiva Island, Punta Gorda, Port Charlotte, Englewood, Northport, Venice, Nokomis, Osprey, Sarasota, Longboat Key, Siesta Key, Lakewood Ranch, and Bradenton.
Mimi Lee's Matchmaking Philosophy & Process
Lee combines her industry experience with an intuitive approach she says is at the center of her matchmaking process.
"I pride myself on making matches using my 24 years of industry experience. I trust in my female intuition when making successful matches."
It all starts with meeting Lee for a complimentary consultation, where you'll describe your dating journey, lifestyle, and desired qualities in a partner.
Lee shared in an interview that this consultation is vital, allowing her to learn about someone's background to effectively market them moving forward.
Or as she puts it,
"I have a knack for understanding the optimal way to best promote a client's story to other clients."
With her extensive experience, Lee says she has developed a profound understanding of human connections and compatibility. Moreover, she feels she has a natural talent for reading people and making them feel comfortable—which she says is an indispensable element in her process.
When asked about the qualities needed to make someone a good matchmaker, she explained it this way:
"I've always been social and I'm good with people. I'm able to help them feel comfortable when they first come in. But it's on-the-job training. There's no way you can get a college education for this."
Becoming a client of My Top Matchmaker means you'll sign a contract and undergo a comprehensive screening, which includes background checks and drug testing. Upon successfully passing the screening, you'll be added to her database of singles.
Next, you'll have an in-depth interview with Lee, which can last over two hours. She says spending the extra time with clients allows her to better utilize her intuition and industry knowledge when it's time to make matches.
Lee finds joy in witnessing the transformation of her clients as they discover the possibilities of a fulfilling relationship. However, she recognizes that many of her clients approach her with past experiences that have left them jaded or disheartened in their search for love.
As she shared with Coastal Breeze News,
"Many singles become pessimistic about the opposite sex after divorce and failed relationships. Others suffer from the loss of a spouse and find it hard to replace the union they felt. I truly enjoy the spirited work I do in giving new life, optimism, and romance to bring spring in each client's step, one date at a time."
As a client, you'll be matched with other singles in the database. And according to My Top Matchmaker website, new clients can expect to receive their first match within 1-2 weeks
If both parties are interested, the My Top Matchmaker team will arrange the date. Following each one, you can provide feedback to Lee, who also provides dating advice as needed.
Want a sneak peek? Here are 3 first date tips she shared with Sarasota Magazine!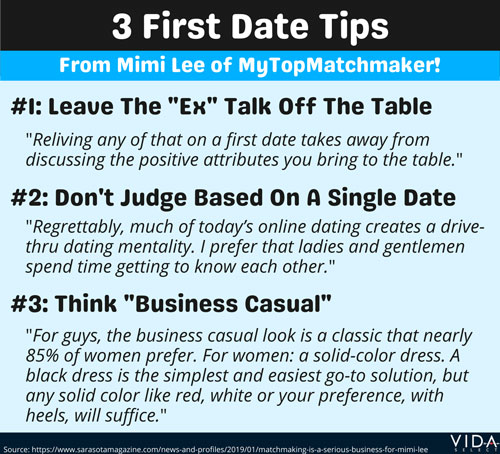 For a more in-depth look at Mimi Lee's service, including what former clients have to say about their experience, check out our My Top Matchmaker review!
How Much Does It Cost To Hire Mimi Lee?
My Top Matchmaker does not disclose pricing on their website, but based on online reviews, it appears that services start around $5,000.
The cost of your matchmaking packages takes into account factors like your match criteria and the number of dates you're looking for.
Let's take a quick look at how that stacks up to other Florida matchmaking services, so you can get a ballpark estimate of what you can expect to spend.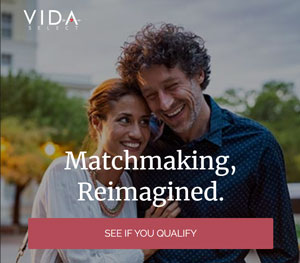 VIDA Select is a modern matchmaking service that leverages the biggest pool of eligible Florida singles there is. Basic matchmaking packages start at only $1095 per month, with Premium packages starting at just $1695 per month. Elite services begin at just $2595 per month.
Because service is pay-as-you-go, there are no long-term contracts. The cost of your package highly correlates with the number of hours that your search will require each month, given your matching criteria, locations you want to search, etc. Want to discover more about VIDA Select? Go here!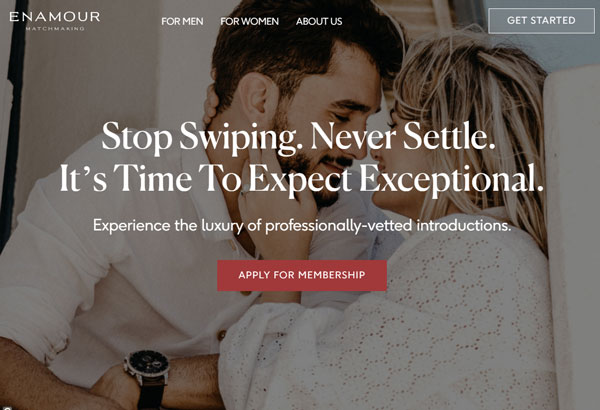 Enamour offers matching from within its exclusive, invitation-only database. But the matchmaking team also takes your search far beyond it, utilizing both recruiting technology and a network of scouts to identify highly compatible Florida singles for you to meet. Matchmaking packages start around $20,000.
To learn more about Enamour, go here!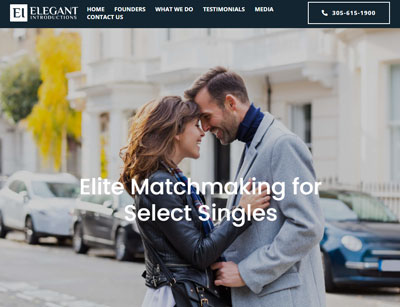 Elegant Introductions is another matchmaking service with a strong presence in South Florida. Helmed by psychologist Dr. Nancy Gold Zimmer and community leader Barbara Black Goldfarb, Elegant Introductions has been helping successful professionals find love since 2013.
Matchmaking starts at $15,000, with the cost depending on the scope of your search and other facts. To learn more about these Florida matchmakers, check out our Elegant Introductions review!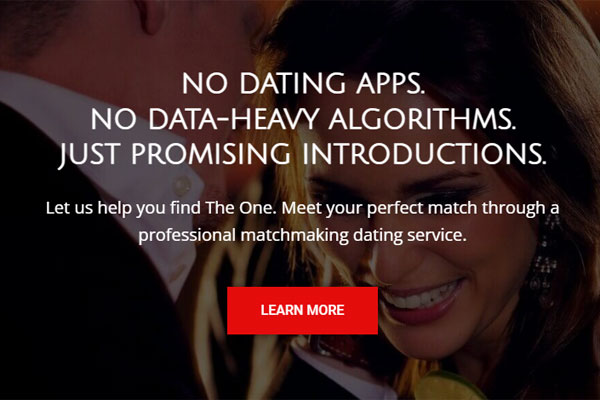 A national service with offices in Florida, LUMA Luxury Matchmaking is another option that might be on your radar. Founded by April Davis and headquartered in Minneapolis, LUMA offers services in select areas across the US.
Packages range from $2,800 to $100,000, with the cost depending on how many matches you want, the scope of your search, etc.
To learn more, check out our LUMA Matchmaking reviews!
Budget is a big factor when it comes to deciding which matchmaking service to hire, but you'll also want to consider aspects of the service like where your matches come from.
The deeper the dating pool, the higher the odds of a successful pairing. Compatibility has to flow both ways, and consistently pairing people that fit each other's criteria can be difficult - if not impossible - when working from a limited database.
If you're still not sure which service is the best fit for you, put this handy guide to hiring the right matchmaking service on your reading list. It's packed with helpful insider's tips plus questions you'll want to ask during your initial consultation!
All product and company names are trademarks™ or registered® trademarks of their respective holders. Use of them does not imply any affiliation with or endorsement by them.
Why Choose VIDA Select?

Since 2009, thousands of clients have discovered true love thanks to VIDA Select's fresh, modern approach to matchmaking – which has finally thrown blind dates and long-term contracts out the window. This isn't your grandmother's matchmaking!
Instead of working with a single matchmaker using a small rolodex of potential partners, VIDA Select's matchmaking team taps into the world's largest database of available singles. We'll quickly identify the matches who check all of your boxes so you can finally experience true chemistry. Are you ready to become our next success story? Schedule your complimentary consultation now by clicking the button below!
Get Started Now