I hope you enjoy reading the blog post.
If you want to chat now about your matchmaking search, click here.
Naples Singles Reviews [The Cost, Events, Complaints, & More!]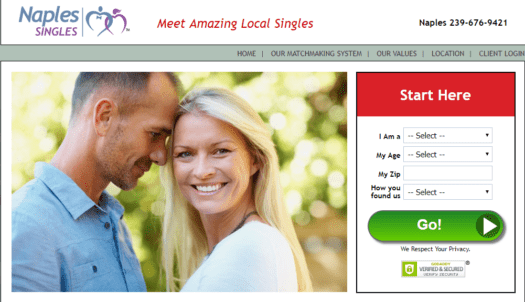 Frustrated with the Naples singles scene? Hiring a matchmaking service is one of the most efficient ways to finally meet your perfect partner. But committing to the wrong one can be a costly mistake.
With over 14 years of firsthand industry experience, our team of matchmaking experts has reviewed 200+ services, delving into their operations, cost, success rates, and customer experiences. These reviews are built on extensive research and a keen understanding of the matchmaking landscape.
Check out these Naples Singles reviews, and see if they're the right Florida matchmakers for you!
A Matchmaking Franchise
Naples Singles has a local office - they're in the Beachway Professional Center at 3301 Bonita Beach Road.
But the same company who runs Naples Singles also owns matchmaking websites all over the country, including Maryland Matchmakers, Boston Matchmakers, and Connecticut Dating:
In addition to a similar appearance, all of the matchmaking websites follow the same general process. To learn more about how they operate, you can call the local number or you can fill out their contact form:
As the fine print says, they respect your privacy - but what does that actually mean? You may want to take a peek at their Privacy Policy to find out.
You'll find paragraphs like this one:
And this one:

So in essence you're giving them authorization to provide (translation: sell) your contact info to third party providers, so you may notice a rise in hyper-targeted internet advertising and telemarketing calls.
So what else happens when you tap "Complete?" You'll be directed to fill out a questionnaire filled with common questions most matchmaking services will ask, like these: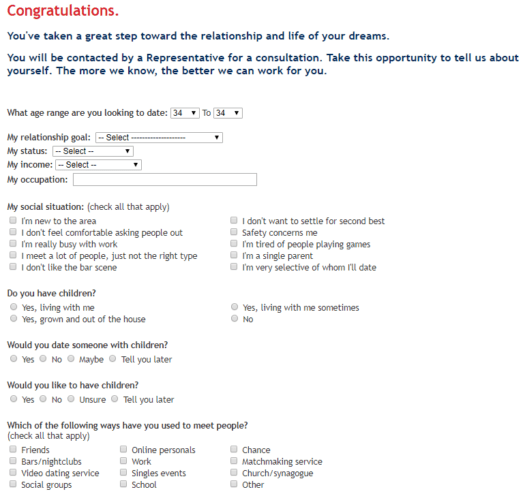 You can either complete the form online, or just wait to cover the information over the phone when your matchmaker gets in touch to set up the face-to-face office consultation.
You'll likely find you'll have to wait until then to find out answers to your "big" questions, like membership options and price tag.
How Much Does Naples Singles Cost?
Cost is not mentioned on the Naples Singles website. Nor is it mentioned on any of the matchmaking websites owned by the same parent company.
Prices don't seem to be set, as they vary from client to client. That means you could be able to get the final number down a little, if your negotiation skills are up to par. Other factors that could affect your membership price include your credit and current finances, contract length, and how many matches you'd like.
Based on Yelp reviews and a WINK news story, you can expect to spend between $1,500 and $6,000. No matter what the final number ends up being, it will be documented in your contract.
Make sure you completely understand what you're committing to by signing it. Once your 3-day "right to rescind" has elapsed, you're not eligible for a refund.
Naples Singles Reviews
There don't seem to be a lot of online reviews for this Florida matchmaking service, but the available ones aren't great.
This dating agency was the subject of a WINK news investigation. It revealed that the parent company, Romance Pros International, had 9 complaints lodged against it with the state's Attorney General's office.
It also uncovered that Romance Pros International sites in Florida and Virginia, including Naples Singles, Tampa Singles, Sarasota Singles, DC Singles and Virginia Singles, had accumulated more than 60 BBB complaints among them.
In 2012, Romance Pros International had to pay over $21,000 in restitution and fees to customers, and it was ordered to comply with the state's Deceptive and Unfair Trade Practices Act, including:

But in 2017, customers were still unhappy with the matchmaking service, and contacted the WINK Call To Action team.
All 3 of the Naples Singles Yelp recommended reviews are 1 star. One reviewer felt they couldn't fulfill their end of the contract, but wasn't able to get a refund:
Another reviewer was able to get a refund within 3 days of signing up, and felt like the matchmaking service in general was very "unprofessional:"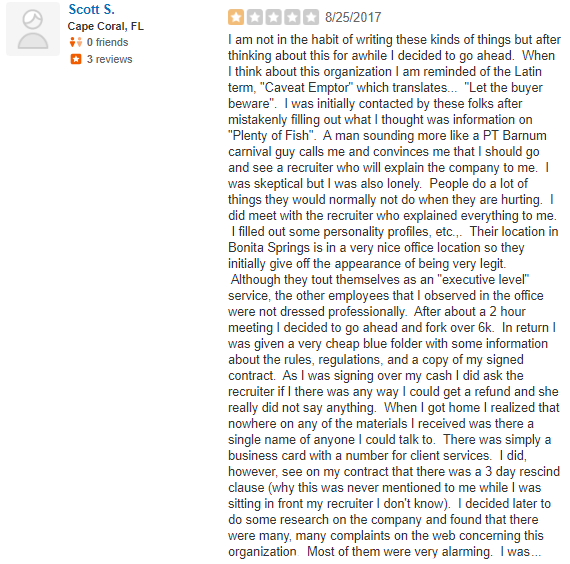 There are also a handful of Naples Singles reviews on RipOff Report. Including this one from a client who was frustrated with the low-quality matches:
So do all these negative reviews automatically mean you're doomed to the same fate if you sign up with Naples Singles? Of course not.
You may end up meeting your soulmate through them, you may not. There's no way to predict that.
But you may want to do some research on the parent company and make up your own mind before locking yourself into a contract.
Or, maybe you'd feel more comfortable hiring a matchmaking service that doesn't even use them?
The Risk Free Way To Meet The Best Naples Singles
With VIDA Select, you pay each month for unlimited matches.
Our pricing structure is straightforward. There are 3 levels of matchmaking service offered: Basic, Premium and Elite. Package prices are highly correlated with the number of hours that should be used each month in the search for your perfect partner.
Clients who have a complex list of compatibility criteria or who want to search for matches in multiple locations may want to choose a package with more monthly hours.
Basic packages start at $1095 a month, and Premium matchmaking packages begin at only $1695 a month. Elite options start at just $2595 per month.
No long-term contracts - you can stop/start your service according to your schedule. And you get to pre-approve all your matches, before you meet them!
You'll review a full profile, including photos, of every high-quality match your dedicated matchmaker hand selects for you. That means you're getting ready for every date with the confidence that you're about to meet someone who matches *all* your ideal partner criteria.
With the unlimited potential of the largest pool of eligible Naples singles at their fingertips, VIDA's matchmakers often find their clients a "perfect match" by the third month of service!
Ready to leave the Naples singles' scene behind for good?
Click here to schedule your free, 20-minute phone call with an elite matchmaker right now!
All product and company names are trademarks™ or registered® trademarks of their respective holders. Use of them does not imply any affiliation with or endorsement by them.
Why Choose VIDA Select?

Since 2009, thousands of clients have discovered true love thanks to VIDA Select's fresh, modern approach to matchmaking – which has finally thrown blind dates and long-term contracts out the window. This isn't your grandmother's matchmaking!
Instead of working with a single matchmaker using a small rolodex of potential partners, VIDA Select's matchmaking team taps into the world's largest database of available singles. We'll quickly identify the matches who check all of your boxes so you can finally experience true chemistry. Are you ready to become our next success story? Schedule your complimentary consultation now by clicking the button below!
Get Started Now