I hope you enjoy reading the blog post.
If you want to chat now about your matchmaking search, click here.
Nebraska Dating Reviews (Cost & Real Customer Experience!)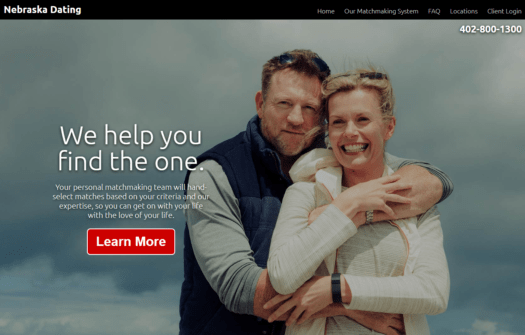 Starting to think finding your perfect match in Omaha has turned into a needle/haystack situation? No wonder you're searching for Nebraska Dating reviews!
A dating agency hand-selects highly compatible singles and arranges for you to meet them. That's a lot less work than combing through that proverbial haystack yourself.
But is Nebraska Dating the right matchmaking service for you?
Keep reading for all the info you need to make an informed decision. At the end you'll even learn about another affordable matchmaking option that just may be your ticket out of singledom!
Are They Affiliated With Other Matchmaking Websites?
Yes - Nebraska Dating is owned by the same business that runs similar matchmaking websites all across the US, like Detroit Singles and Ann Arbor Singles.
In addition to a similar appearance, all the sites share the same general process. Prospective clients can click on "Learn More," then provide some basic info:
Notice how you're agreeing to the privacy policy by submitting the form?
It makes sense that a prospective matchmaker needs to know how to contact you. But here's what else happens with all your personal contact details:
When you tap "Finish," you're simultaneously authorizing them to provide (probable translation: sell) your phone number, email, etc. to direct marketing companies. So in addition to a call from your matchmaker, your phone will probably ring with sales offers too.
Submitting the form will bring up a questionnaire filled with questions like these about your previous relationships and current circumstances:
You can hold off on completing it, though, and just go through the questions when a Nebraska Dating matchmaker calls to schedule your initial consultation. That's always done in person, at their offices: 18017 Oak St, Omaha NE 68130.
If you become a paying client, you'll be matched with other Nebraska singles in the database. They use a "Mutual Agreement Matching" method, meaning both halves of the match must agree to meet each other before contact details are swapped.
If both people say "yes," that counts as a match. It's on you to arrange the actual date, and you're both encouraged to provide feedback to your matchmaker afterwards.
How Much Does Nebraska Dating Cost?
None of the matchmaking websites under the same ownership as Nebraska Dating list pricing - likely because it's not a fixed "menu" of membership options.
That's good, in that you can try to negotiate a slightly better price, or take advantage of any current "last minute" specials that may pop up.
But the non-silver lining is you may have to steel yourself against some *very* motivated sales people. You won't find out the price tag until you're talking one-on-one with your matchmaker at their offices.
According to various Nebraska Dating BBB complaints, the price tag is in the "thousands of dollars" range. Clients on Pissed Consumer reported paying anywhere from $2,000 to $6,000.
Whatever the final cost of your Nebraska Dating membership ends up being, make sure you take a hard look at the contract before uncapping your pen.
According to this response to a BBB complaint, the matchmaking service fees are non-refundable:
You also want to ensure you're both on the same page when it comes to exactly what this matchmaking service is - and is not - promising to deliver:
So what do real customers have to say about their experience with this Omaha matchmaker?
Nebraska Dating Reviews
On Yelp, Nebraska Dating has a total of 3 Yelp reviews, all 1 star.
Two of them are currently recommended, and both reviewers felt the staff they met with during the initial consultation seemed "angry":
The not currently recommended review was from a client who didn't think the matchmaking service was worth it:
Better Business Bureau Reviews
You will find some positive Nebraska Dating reviews with the Better Business Bureau, where they have an overall B+ rating.
Of the 3 positive reviews, one client ended up engaged to a match and couldn't be happier:
Another happy client found her experience with this Nebraska matchmaking service rewarding, and had high hopes:
And the final positive reviewer thought giving feedback to his matchmaker was the key to success:
But other customers weren't so happy with their experience. Two of them posted negative reviews on the BBB website, and 10 customers lodged complaints.
One Nebraska Dating review was from a client who felt her matches were low quality:
The other negative review was from a client who also felt she was matched with men who didn't fit her criteria:
Several of the Nebraska Dating complaints, like this one, were from clients who felt subjected to high pressure sales tactics and ended up not being happy with the quality of the people they met:
Another customer complained about the poor customer service, lack of quality matches, and being paired with another member who wasn't actually single:
And this customer thought what her matchmaker promised during the initial consultation never materialized:
Pissed Consumer
The 20+ Nebraska Dating complaints on Pissed Consumer brought up many of the same issues. Complaints include high pressure sales tactics, matches that didn't fit the client's specified "ideal partner" criteria, and lack of matches:
Should you use internet reviews as your sole determining factor when deciding whether or not to hire this Omaha dating agency? Of course not.
Give them a call, even meet them in person, and see whether or not the service "feels" right to you.
You can even bring up some of the issues raised in these reviews, and see how your matchmaker responds. It's important to ask all the important questions up front, before committing yourself to a contract. You want a full understanding of the matchmaking service you'll be receiving.
If you're not sure how to choose the best matchmaker for you, check out this article for some expert advice.
And in the meantime, why not consider a matchmaking service like VIDA Select that offers reasonable - and consistent - pricing and doesn't require a contract?
How To Meet The Best Singles In Omaha…
With VIDA Select, you don't have to worry about wasting your time (not to mention your money) on dates with people who aren't the type of person you're looking for. How can we promise that?
It's easy - you pre-approve every single match! And you get unlimited matches, which means you'll never have to "settle."
It's matchmaking on your schedule - the pay-per-month format means you pay only for the time you want service, and you can stop/start it whenever - and why ever - you want.
Intrigued?
If you want to work with a matchmaker who can dive into Omaha's single largest pool of eligible singles, give VIDA a call.
It's 100% confidential and free, and it only takes 20 minutes of your time to see if VIDA is right for you!
Click here to schedule your complimentary consultation today!
All product and company names are trademarks™ or registered® trademarks of their respective holders. Use of them does not imply any affiliation with or endorsement by them.
Why Choose VIDA Select?

Since 2009, thousands of clients have discovered true love thanks to VIDA Select's fresh, modern approach to matchmaking – which has finally thrown blind dates and long-term contracts out the window. This isn't your grandmother's matchmaking!
Instead of working with a single matchmaker using a small rolodex of potential partners, VIDA Select's matchmaking team taps into the world's largest database of available singles. We'll quickly identify the matches who check all of your boxes so you can finally experience true chemistry. Are you ready to become our next success story? Schedule your complimentary consultation now by clicking the button below!
Get Started Now