I hope you enjoy reading the blog post.
If you want my team to just do your Bumble for you, click here to chat with me.
No Bumble Matches? 8 Tips Explode Your Match Rate & Queue!
Tired of swiping, swiping, swiping - and still getting no Bumble matches?
This is the article for you. VIDA's dating experts have been using Bumble daily since it charged onto the dating scene back in 2014. That's hundreds of thousands of hours spent using this popular dating app, swiping, messaging, and arranging dates for our clients.
And here's the best part - we track the effectiveness of everything we do, so these 8 tips and field-tested and data-backed.
Ready to send your Bumble match rate soaring, and push your profile to the front of the queue?
8 Ways To Get More Bumble Matches
#1. Give Your Photos A Facelift
If you're getting no matches on Bumble, subpar photos are one of the most common reasons. The good news is you can fix that relatively easily by tweaking your photo lineup.
According to the app's internal data, Bumble users get more matches if they:
Have 4 or more photos in your lineup

Smile and make eye contact in your pics

Are the only one in your first Bumble photo
Those photo tips come straight from the data crunchers at Bumble, but science can also help you get more matches.
Here are 3 easy ways to instantly look more attractive and stand out in her Bumble match queue:
Photo Tip #1: Wear something red.
Research has shown both men and women find that color irresistible.
Photo Tip #2: Pose with a dog.
Posing with your pup instantly makes you seem more attractive - and relaxed, approachable, and generally happier with life. That's a lot of bang for your buck in one quick photo!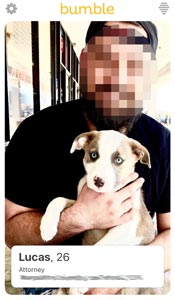 Even better - you get the same results, even if you have to stage a picture with a friend's pooch. If getting instant attraction points isn't enough, it also gives her excellent fodder for her first message.
Photo Tip #3: Hide the alcohol.
People tend to equate visible alcohol with lower intelligence, so consider treating your Bumble lineup like Prohibition is still a thing and rethink the drinking photos.
And when it comes to choosing which profile picture gets the #1 spot, there are 5 mistakes guys commonly make.
Mistake #1: Making your primary Bumble pic a group shot.
Don't make her guess which guy she's swiping right on.
Mistake #2: Leading with a selfie.
Unless you practice often, getting a flattering angle in a selfie is difficult. As a result, they often look forced and awkward, especially if you're not in an interesting environment.
Mistake #3: Wearing sunglasses or anything else that inhibits eye contact.
Eye contact is one of the best ways to spark a connection with a potential match, so don't miss that opportunity in your primary photo.
Mistake #4: Choosing a poor quality image.
Nothing screams "I put no effort into how I present myself" louder than selecting blurry, poorly lit, low-quality photos for your profile.
Mistake #5: Relying on "Best Photo" to choose it for you.
Bumble's Best Photo setting continually rotates the first 3 photos in your lineup into the primary position, automatically giving the #1 spot to the most right-swiped.
But here is the thing about relying on that feature to determine your primary pic. If all three of the photos it is testing are weak options, it's not doing your profile any favors. Or boosting your match rate.
If you do use this feature, make sure you're giving it 3 compelling photos to work with.
Want even more photo advice? These online dating photo tips will help you improve your lineup even more.
#2. Let Strangers Choose Your Lineup
When it comes to choosing your most attractive dating photos, you aren't the best person for the job. Sure, you can probably determine whether or not you look good in a particular photo, but first impressions go deeper than that.
Because you're intimately familiar with your own appearance, as are your friends, it's impossible to see yourself like a stranger on Bumble does.
You need to use profiles where you look attractive, but also trustworthy and competent.
And research has shown that strangers are much better at choosing photos where you nail all three traits. If you're not getting any matches on Bumble or any other dating app, it's worth it to get some independent feedback on your photo choices.
Use a site like Photofeeler to gather unbiased feedback, and choose photos that appeal to the masses. Gathering photo feedback is a good idea even if you're just using Bumble BFF or Bizz rather than dating - why not look your best online?
#3. Start Swiping Both Ways
Men tend to consistently swipe right on apps like Tinder and Bumble, then decide which matches they're actually interested in later. Women, on the other hand, tend to be more selective and only swipe right on the profiles they're actually interested in.
Guess which strategy works better?
Turns out being selective is the way to go.
A recent study revealed that men on Tinder typically "like" a high number of profiles, but only had a 0.6% match rate. Women liked a fewer number of profiles overall, and had a 10% match rate.
The algorithm rewards Bumble users for interacting with the app in a positive, mindful way. Many have speculated that if you consistently swipe right, your profile gets flagged.
Once that happens, the Bumble rating system pushes your profile toward the bottom of her card stack. That means when she's swiping through the pool of local singles, your profile shows up towards the end, if it ever shows up at all.
You can boost your Bumble rating by doing things like:
Checking the app daily
Swiping right only on the matches you're truly interested in
Responding to messages
Tweaking your profile and photo lineup every once in a while
#4. Seal The Deal With Your Bumble Bio
Bumble bios are short - but you can cram a lot of attraction into 300 characters or less. If she's on the fence based on your photos, an engaging bio could be the difference between her swiping left or right.
She'll almost certainly check out your bio before deciding whether you're worthy of a conversation, so let her know you're taking this dating app seriously by filling out the bio.
If you don't consider yourself the writing type, try sprinkling some emojis into your profile, like this:
Emojis are an eye-catching way to instantly convey information, so they're well suited for dating apps.
For even more Bumble profile examples that will boost your match rate, give this article a quick read.
PRO TIP: According to Bumble, adding a Badge increases your chances of matching with someone by 70%.
You can add Badges to your profile by tapping on the edit profile icon, then filling out the information you'd like to display in the Basic Info section:
#5. Add Some Bumble Prompts
If you haven't already, pick a few Bumble prompts from the list of 30+. You can use up to 3, and your answers will be displayed in between your photos.
These prompts (which Bumble used to call Move Makers) are a perfect way to feature an attractive tidbit of information that you couldn't fit in your bio.
Mention a hobby, your adorable puppy, the latest trip you went on - anything that lets her know you're a fun guy to hang out with could give your match rate a needed boost.
For expert advice on how to choose the best Bumble prompts to answer, go here.
#6. Check Your Filters
Bumble filters make it easy to pre-screen potential matches. But that can be a double-edged sword.
One of the Bumble Premium features is unfettered access to all the filter options. If you get too picky your match rate might suffer simply because you're not seeing as many profiles.
The app allows you to set a filter to where you can see potential matches who are out of that parameter if needed, which is a good way to ensure you're not missing anyone interesting.
#7: Go Through Profile Verification
Speaking of filters, Bumble users looking for meaningful connections can see only verified profiles with the swipe of a toggle.
Since free and Bumble Boost users get one advanced filter for free, verification status could be a popular choice.
Verifying your profile is simple. Just tap the Verify button in your own profile (or the blue verified badge of another user). You'll be prompted to take a selfie mimicking the pose you're shown in the photo.
This selfie is never shown to other Bumble users, so you don't even need to worry about looking good when you do it.
#8. Make A Fresh Start
If your Bumble match rate is low or non-existent, you may want to delete your Bumble account and start from scratch with a stronger array of photos.
To completely delete your account, follow these steps:
Delete your Bumble account by tapping on "settings" then "delete account."
Next, delete the app from your phone.
Delete the app from within your Facebook settings.
Download and install Bumble.
Bumble will give you a warning message when you're asked to confirm the delete, so proceed at your own risk. If you're really worried, wait a few days before recreating your account. But from what we've seen, it seems to be an empty threat.
If you upgraded to Bumble Boost or Premium, make sure to cancel your subscription via the App Store or Google Play first, as deleting your Bumble account won't prevent it from auto-renewing.
If you don't want to delete your account entirely, you can do a "soft reset" by simply uninstalling the app. Then go to your Facebook settings and remove the Bumble permissions, then reinstall Bumble.
While the details of the Bumble attractiveness algorithm are a closely guarded secret, word on the street is the most right-swiped profiles pop up first in the match queue. So if you didn't put a lot of effort into your profile the first time around, you're probably not raking in the "likes".
Start with a clean slate, and this time put the effort in with strong photos and an intriguing bio. Sure, it's work - but if you want matches, you've gotta put in some time.
Go From No Bumble Matches To Amazing Bumble Dates
If you don't have the time or the specialized knowledge it takes to make your Bumble profile right-swipe worthy, there's a simple solution.
Bring in reinforcements and watch your match queue explode.
The modern dating experts at VIDA Select know what it takes to match with the most desirable local women on Bumble - and any other mobile dating apps you use.
You're not just hiring a dating expert. You're hiring a team of Bumble strategists. We know what works best on the app, from your dating photos to your bio. Our professional writers will even handle the messaging for you!
There is no better way to meet your ideal partner, so why go at it alone? To find out how VIDA can finally match you with your ideal partner, schedule your confidential consultation today. Just click here to get started.
Want us to do your online dating for you?

Hey, I'm Ally, VIDA Select's Director of Matchmaking.
We take all the frustration, hard work and hassle out of modern dating!
Imagine your very own Dream Team of highly skilled dating experts searching for the very best local matches, sparking their interest, and arranging all the dates for you.
Wouldn't it be nice to finally stop swiping and start dating higher quality matches so you can meet someone special?
We've helped thousands of singles just like you since 2009, and we're ready to make you our next success story!
What are you waiting for? Take the next step now…
See If You Qualify