I hope you enjoy reading the blog post.
If you want my team to just do your Tinder for you, click here to chat with me.
No Tinder Matches? Fix Your Profile Problem In 5 Steps
If you're swiping til the cows come home with no Tinder matches to show for it, you already know there's a problem.
The good news is you can fix it - in 5 easy steps!
How do we know this works? We know because these are the same effective strategies we use on behalf of the countless clients we represent online. Our team has been logging into Tinder daily since the app launched in 2012, setting up profiles, swiping, and sending messages.
We track the effectiveness of everything we do, so you're about to get proven strategies, tips and tricks that will help use Tinder successfully.
Let's proceed to Step 1!
Step #1: Overhaul Your Tinder Pictures
If you're consistently striking out in the match department, take a long hard look at your Tinder photos. Chances are they suck - and it's a Tinder mistake a lot of guys make.
If you're guilty of any of the following Tinder photo sins, swap them out ASAP:
Bathroom mirrors.
Women tend not to like the whole "smart phone + bathroom mirror" equation. Especially if you're shirtless.
If you want to show off your abs, do it in a setting that makes sense - i.e. the beach. Avoid bathrooms in general, especially if it's not even yours. Fluorescent lighting does you no favors, and snapping pics in a public john is kinda creepy.
Low quality images.
If your photo is blurry, dark, pixelated, etc., chances are you're turning her off. Choose photos that are clear, well lit, and generally show you at your best.
If possible, only use pictures taken with a decent camera. The higher quality the camera is, the more attractive she'll think you are.
The Bro Fest.
If your primary photo looks like a frat party, chances are she'll pass. Not only is it annoying to have to guess which guy you are, but you're also setting yourself up for failure if your friends are better looking than you are.
Hey, look at my truck!
Avoid car pics or photos of any other inanimate object.
Nothing screams "I'm insecure" more than relying solely on the cuteness of your dog or badassness of your vehicle for right swipes. You should always be front and center in your own photo.
Zzzzzzzzz.
If your Tinder pics are a lame snoozefest, she's probably not going to swipe right.
The majority of singles want to see pictures of your daily life, but make sure they're visually interesting. (Spoiler alert: 5 selfies in a row is not visually interesting).
She's going to imagine what it's like to hang out with you as she's scrolling through your pictures, so show her what an intriguing, multi-faceted guy you are.
When you're putting together your lineup, use at least 3 photos.
That will get you 6x more matches than only using a single picture. We have tons more tips for choosing your best online dating photos, but here is a quick list of photo "DOs" to get you started:
Include at least one full body photo - she wants to know what all of you looks like.
Use some photos taken outside, they boost your response rate.
Avoid photos taken with flash - the harsh light makes you look older. Take pictures during the "golden hour" instead - those magical 60 minutes just after dawn and prior to sunset where the light is universally flattering.
Keep it classy. Yes - even on Tinder. The majority of women find overtly sexual pictures to be a huge turn off.
Step #2: Catch Her Eye With Your Tinder Bio
Lots of guys skip the bio section on Tinder, preferring to let their photos do all the talking. But leaving the "About Me" section blank is a mistake - guys who have a bio get 4x as many matches as those who don't. If you've got no matches on Tinder, a blank bio is likely one of the culprits.
Think about it as a chance to connect with her, in 500 characters or less. If she's on the fence about your photos, an attention grabbing bio might get her swiping right.
Mention your occupation, because that's something the most potential matches want to know.
No matter what you do for a living, make it look good on paper - the majority of women said "occupation/intelligence" was one of the most desired traits they're looking for in men on Tinder.
At the end of your bio, channel your inner marketing guru and tell her what to do next by giving her a "Call To Action" prompt. This could be something like "Message me and I'll take it from there" or "Swipe right or get left".
Inject some humor into your bio - surveys have shown a sense of humor is a highly sought after trait in a man. We've got funny Tinder profile examples right here, but here's one you can check out right now: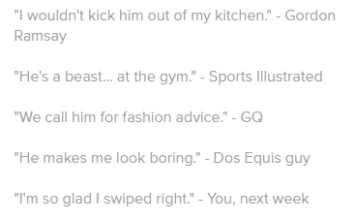 Tinder has claimed you're 3x more likely to match with someone you've "super liked." As an added bonus, the ensuing conversations last 70% longer.
Whether or not that's accurate, there's no question that a Super Like conveys that you're interested. And if you have no Tinder matches now, what have you got to lose?
Regular users get one Super Like per day, so make sure you use it consistently. Upgrading to Tinder Gold gets you an additional 5 Super Likes every week, which may be worth it if you live in a highly populated area with lots of attractive local women.
And Tinder Plus allows you to undo your swipes, so you can do this nifty Super Like hack:
Like her in the usual way. If you match, great! You saved a Super Like.
If you don't match, "rewind" the swipe, then Super Like her.
Step #4: Give Yourself A Boost
Tinder now allows you to "Boost" your profile, which makes it the top profile in your area for 30 minutes. According to the app, the increased exposure results in 10x the profile views, which should result in more matches for you.
Tinder Gold users automatically get one free Boost each month. Both upgraded and regular users have the option to buy as many Boosts as your wallet allows.
Here are how the Tinder Boost costs break down (although price may vary in your location):
If you live in a populated area, boosting your profile can pay off big time. Of course, make sure you've followed steps 1 & 2 first - no sense wasting your investment on a subpar profile, right?
Step #5: Examine Your Swiping Patterns
Now that you know how to fix your Tinder mistakes, take a long, hard look at how you interact with the app.
Are you one of those guys that swipes right each and every time, figuring you'll just message the matches you're actually interested in?
Tinder hates that - and it likely affects your internal ranking (formerly called your Elo Score) in a negative way.
Tinder's algorithm analyzes your swiping preferences, among other things. But when you "like" everyone, the only thing it learns about you is you're either a bot, or you have no standards.
Either way, that type of behavior is not going to be rewarded with the high-quality matches.
You need to start making a conscious decision about which singles you swipe right on - in other words, if you didn't have them before, you need to set some standards, stat.
And then, once you've started matching with people - send a message. Tinder's algorithm keeps track of that, too. You can use one of these great Tinder openers, so no excuses.
You may be tempted to just delete your Tinder account as a way to reset your Elo score, but Tinder has started cracking down on that type of thing and you may have to link it to a new Facebook profile and phone number.
Why Not Bring In A Tinder Expert?
If you're chronically low on matches, why not unleash the power of a Tinder expert?
The average Tinder user checks the app 10+ times a day, and spends an average of 90 minutes each day endlessly swiping in hopes of gaining some matches.
That's a ton of time spent with little to no return on your investment. If Tinder were your part-time job, you'd be filing for unemployment.
Pretty frustrating, right? But it doesn't have to be that way - with a Tinder expert in your corner, you can go from Tinder zero to Tinder hero overnight.
From photo selection to messaging, we've got you covered. We do the tedious, time-consuming part - you just show up for all the dates! Intrigued?
Click here to find out more!
Want us to do your online dating for you?

Hey, I'm Ally, VIDA Select's Director of Matchmaking.
We take all the frustration, hard work and hassle out of modern dating!
Imagine your very own Dream Team of highly skilled dating experts searching for the very best local matches, sparking their interest, and arranging all the dates for you.
Wouldn't it be nice to finally stop swiping and start dating higher quality matches so you can meet someone special?
We've helped thousands of singles just like you since 2009, and we're ready to make you our next success story!
What are you waiting for? Take the next step now…
See If You Qualify