I hope you enjoy reading the blog post.
If you want my team to just do your online dating for you, click here.
Nomad Dating Apps: 4 Great Options For 2023!
Digital nomad dating apps can make finding your perfect partner a lot easier because everyone you'll match with is on the same page when it comes to lifestyle.
Our team of experts has been helping singles with their online dating since 2009. We've spent thousands and thousands of hours optimizing profiles, swiping, and messaging on behalf of the clients we represent - and we know how to choose the dating sites and apps that best align with their dating goals.
So whether you're brand new to location-independent dating or a seasoned remote worker, here are 4 dating apps for nomads worth trying out:
Let's dive in!
#1: Fairytrail
Launched in 2019, Fairytrail caters to anyone who embraces location-independent dating. Over 90% of its users are (or want to be) digital nomads, expats, frequent travelers or remote workers.
As founder Taige Zhang explains in an interview, users match with people all over the world and can even book a trip through the app.
We allow you to actually skip that first offline date, have it over a video call, and then go on an amazing adventure, that you want to go on anyways, with the person you like.
Fairytrail Essentials:
Per the app's internal data, the majority of users are ages 25 to 29, with 18 to 24 years old the next largest segment.
60% of Fairytrail users are women.
Users are mainly based in the US. Other countries where users call home include Australia, Canada and the UK.
Compared to some other options, Fairytrail has a much smaller user base.
How This Nomad Dating App Works
Fairytrail uses familiar Disney characters to stand in for the personality types used to match people.
Each of the 16 characters are based on a Myers-Briggs or Enneagram personality type.
For instance Jasmine from Disney's Aladdin represents the ESFP and ESTP personality types, and Enneagram Type 2. You'll also find a list of character traits to help you decide, and a link to a free online personality test.
In the Discover section, you can browse through profiles the app's AI have determined are compatible with your personality. As with most dating apps, you can "Like" or "Pass" on each one.
And when you tap that "Like" button, here's where things get a little different.
When two people have expressed interest in each other, both are presented with an identical list of 12 adventures. You select the adventures you'd like to go on, and so does your match.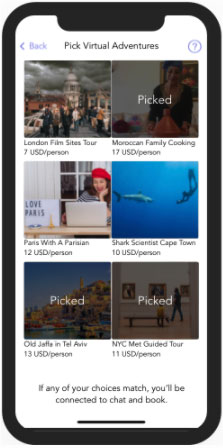 In order to *stay* matched with that person, you need to have at least one choice in common. If you don't, the match disappears from your feed. You can choose up to 5 options for free, or pay for more "Picks."
Users do have the option to turn off the "Travel Matching" feature, however both people need to do this in order to skip that step.
Whenever you choose the same adventure (or both have that setting toggled off and match by default), you can start exchanging messages or video chat. If the two of you really hit it off, you can purchase tickets for the adventure you both selected through the app.
How Much It Costs
Fairytrail costs $2.99 to join, which is one of the ways the app tries to screen out bots and scammers. Browsing profiles is about all you can do after paying the entrance fee.
To access the other features, including messaging, you'll need to select a premium membership. Depending on how many profiles you want to see at a time, it costs around $13.99/month to $49.99/month.
For a full rundown on this dating app for digital nomads, check out this Fairytrail review.
#2: Nomad Soulmates
Nomad Soulmates started out as a Facebook group specifically for "location independent" singles. As it grew in popularity and members started forming offline friendships found their perfect nomad partner, talk of turning it into a dating platform began.
As co-founder Aline Dahmen explains in an interview, a nomadic lifestyle can be a lonely one.
At some point, we all have this longing to be part of something or a community. We want to have a partner who is excited about sharing this type of lifestyle.
The app is still in beta testing, and as the site advises it's a "work in progress." But given the platform is dedicated to people who truly believe in the digital nomad lifestyle, it could be worth your time to be an early adopter.
Nomad Soulmate Essentials:
The app's beta version launched in February of 2022, so the user pool is small but growing. You may also want to join the Facebook group.
Unlike Fairytrail where you'll find users who "aspire to be'' digital nomads, Nomad Soulmates is geared toward people who are already living the remote worker lifestyle.
Profiles are still reviewed manually, so you may spend some time on a waitlist.
How This Nomad Dating App Works
The Nomad Soulmate dating app is still in its infancy, in fact right now unless you're already in the Facebook group it's invite only. But that doesn't mean you can't sign up and get on the waiting list.
Once you've downloaded the app, you can create your profile. In the app store notification, the app's founders advise that you "really take the time to put together a quality profile; this is how you will get the best results."
They also point out that "our community wants quality over quantity."
After your profile has been approved, you can set your preferences and begin matching. Functionality is similar to other dating apps - once you've matched, you can exchange messages.
How Much It Costs
Currently you can sign up with Nomad Soulmates for free and use all of its features. However there are plans to add a premium membership at some point.
#3: TourBar
An international social networking and dating platform, TourBar has been around since 2014 and claims to have over a million members worldwide.
Founded by Vasily Petroff, the app's mission is to help solo travelers find a compatible travel companion or local guide.
In an interview, he explained that finding the right person is more important than the route you take:
A suitable companion is 80% of the success of any trip… Each traveler can choose a guide on the basis of personal attraction.
He believes the other advantage to this approach is discovering your destination's 'hidden gems':
Local people know much more about sights, secret wild beaches, authentic cafés, and old markets, so they can act as a guide on your journey. Thus, you will see much more than what is written in the tourist booklet.
TourBar Essentials:
Per the app's founder, 84% of women who use TourBar are under 35, while 74% of male users are over 30. Men tend to outnumber women on the site.
60% of women on the app are from developing countries, while the same percentage of men on the app are from the US, Europe, and the Middle East.
While not always the case, the women on the app tend to be the guides, with men traveling to visit them.
How This Nomad Dating App Works
TourBar has a somewhat lengthy verification process, which the app employs to discourage scammers. It includes photo verification, submitting a mobile verification code, and uploading a form of photo ID that includes your name and birthdate.
Once you're up and running, you can add a trip to your profile and start searching for a compatible companion or guide. You can include details about your trip, including specific places you want to visit, activities you want to try, etc.
Or, you can use the regional search function to see who's interested in visiting your area.
How Much It Costs
TourBar lets you sign up and browse profiles for free, but to send messages and use other advanced features you'll need to pay for an upgrade. Depending on your area, a 1-month membership costs around $29.99.
#4: Miss Travel
Miss Travel isn't specifically a nomad dating app, but it is for anyone who wants to combine dating with travel.
The app's founder is Brandon Wade, who also owns online dating platforms Seeking and WhatsYourPrice.
In an interview, Wade shared how Miss Travel is different from his other online ventures.
So many businessmen travel overseas alone and don't have the money or the time to meet someone. They are willing to spend money because they want the company of a beautiful woman. And there's the possibility that they might fall in love.
But Miss Travel isn't just for businessmen. It's a platform where anyone can find a travel companion, with the unique twist that you can pay for the trip entirely, get your trip paid for, or split the cost.
MissTravel Essentials:
This travel dating site launched in 2012.
Women using the site tend to be in their 20s, while men are typically older.
Compared to the other nomad dating apps on this list, there isn't as much emphasis on profile verification. Users are only required to verify via an email link.
How This Nomad Dating App Works
Travel is the ultimate goal of this dating platform, and there are two main types of members: "generous members" who want a traveling companion and "attractive members" who want to travel for free. But you'll find singles who want to split the costs too.
When you're creating your profile, you can describe a trip that you want to take and indicate what payment arrangements you're interested in. You can also browse through profiles of other users and see if you're interested in traveling with them.
Potential connections are made by tapping the "ask to join" button on a proposed trip.
Unlike Fairtrail, you and your potential travel partner must make all the actual arrangements offline, you cannot book anything directly through Miss Travel.
You can also set your criteria and browse profiles just like a non-travel dating site, and message people who pique your interest.
How Much It Costs
Basic features like setting up your profile and browsing trips are free. For men, premium features like unlimited messaging and private browsing start around $59 for one month (prices may vary). There's a slight price break for purchasing a 3 or 6-month membership.
Nomad Dating The Easy Way
These 4 dating apps for nomads get you over the first hurdle - connecting with matches who share - or at least understand - your lifestyle. But that doesn't mean the online dating process is any easier.
You still need a profile that stands out and makes potential matches want to learn more about you. And if you've used mainstream dating apps like Tinder and Bumble, well… you already know how frustrating messaging can be.
Meeting the right type of person takes time, effort and energy - and you're likely putting a lot of all three into running your business while exploring the world. If you don't have a lot of bandwidth left for managing dating apps, why not let the experts at VIDA Select do it all for you?
From creating a compelling profile to screening your matches and handling all your messaging, VIDA Select has everything covered.
Find out how it all works here!
Want us to do your online dating for you?

Hey, I'm Ally, VIDA Select's Director of Matchmaking.
We take all the frustration, hard work and hassle out of modern dating!
Imagine your very own Dream Team of highly skilled dating experts searching for the very best local matches, sparking their interest, and arranging all the dates for you.
Wouldn't it be nice to finally stop swiping and start dating higher quality matches so you can meet someone special?
We've helped thousands of singles just like you since 2009, and we're ready to make you our next success story!
What are you waiting for? Take the next step now…
See If You Qualify