I hope you enjoy reading the blog post.
If you want my team to just do your OkCupid for you, click here.
OkCupid Basic & Premium 2023 [Is Upgrading Worth It?]
If you're reading this right now, you likely just came from a page that looks something like this: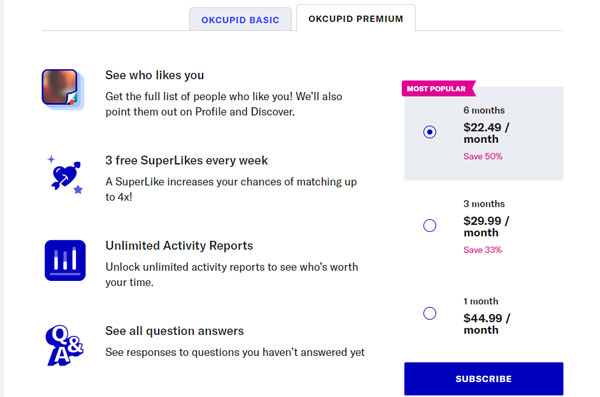 And you're wondering… is OkCupid Basic or OkCupid Premium worth the extra investment?
We'll explain the difference between the two membership levels, which used to be called "OkCupid A-List." And you'll learn when it makes sense to upgrade.
Then stick around for some tips on how to use all those bells and whistles to boost your response rate and score more dates with the type of singles you want to meet most.
Table of Contents
Let's start with how the two premium OkCupid subscriptions compare.
OkCupid Basic VS OkCupid Premium
To help decide if upgrading OkCupid is worth it, take a look at what perks come with each level of membership: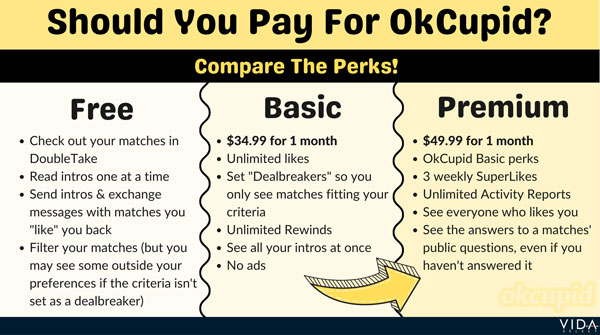 OkCupid's popularity stems in part from the fact it's totally usable for free. You can browse for matches in the various Stacks within the DoubleTake section, like a limited number of profiles daily, and message your matches.
The dating platform also offers two pay-per-use match feeds: Popular and New People. You don't have to be a Basic or Premium user to check out profiles there, but you will need to pay $1.99 to unlock each one for 7 days.
Like most dating apps, OkCupid has a double opt-in format. When two people exchange likes, you can then exchange messages. Sending the first message on OkCupid also requires you to verify your profile. And the person will only see your "intro" if they return your like.
Upgrading includes perks that make narrowing down your match pool a lot faster.
When You Should Pay For OkCupid
OkCupid is one of the better free dating sites out there. That being said, paying for the premium version can make for a better experience in some cases. Take a look at when you should (and shouldn't) pay for OkCupid.
Paying for OkCupid Basic is worth it if…
You're in your early 30s to mid 40s and you live in an area with a lot of OkCupid users. This age range is OkCupid's largest demographic, so you'll likely have a ton of potential matches.
The "Dealbreaker" feature allows you to screen out any of the search criteria you're not willing to compromise on, which can save you a ton of time when screening matches.
If you're using OkCupid for free and not getting the results you want, OkCupid Basic could save you quite a bit of time and frustration. Especially if you follow all the advice at the end of this article!
Paying for OkCupid Premium is worth it if…
You want to instantly match with people who intrigue you, rather than scrolling through the Stack feeds.
Seeing how a particular match answered different questions can give you valuable inspiration when writing your intro, too. The most popular OkCupid users get flooded with intros, so having one that stands out gives you a competitive edge.
Don't bother upgrading if:
You live in a sparsely populated area. If there aren't a lot of users in your area, you probably won't need the paid features to find people who intrigue you. Stick to using OkCupid for free, or if you're not getting good results there switch to a free location-based dating app like Tinder or Bumble instead.
It's also likely not worth paying for OkCupid if you don't log on very often. Instead of paying a monthly fee for a dating site you don't have time to check frequently, spend the money on a dating service instead. You'll go on dates with interesting, attractive people without the hassle of having to find them yourself.
How To Use The Paid Perks To Your Advantage
Upgrading your membership is the easy part. If you really want to meet the most attractive singles on OkCupid, you need to take full advantage of the paid features.
OkCupid Profile Boosts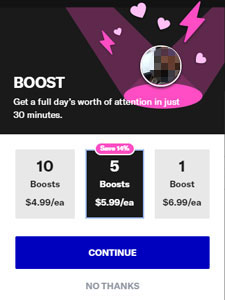 An OkCupid Boost promotes your profile for 30 minutes.
It's a simple numbers game - the more users who see your photo, the better. If she likes what she sees, she's going to check out your profile. And if she's interested enough to do that, she's way more likely to respond to your message.
Here are 5 tips for maximizing your profile boost potential:
Choose a primary profile pic that's taken with a decent camera. The better the camera, the more attractive she'll find you.
Make sure the picture wasn't taken with a flash - the harsh lighting adds 7 years to your perceived age.
Opt for an outdoor setting. According to photography website Snappr's data analysis, you'll get more messages.
That same study revealed vertical shots showing the left side of your face was ideal.
Don't hide your eyes behind sunglasses! Multiple research studies have found eye contact is particularly important in dating photos.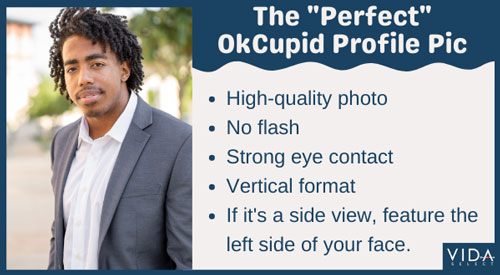 OkCupid SuperLikes
Premium members get 3 free weekly SuperLikes, while free users only get 1. The advantage of sending a potential match a SuperLike is that your profile will appear in their SuperLikes stack. As you can deduce from the name, that's a feed which only contains profiles of users who SuperLiked you.
Since those are a limited commodity and cost money to purchase more, your profile may be closer to the top of the heap than it would be in her Discover of Likes You feeds.
Popular Feed
OkCupid's ranking system determines your popularity in part by how many "likes" you get compared to other users in your area. If you're rated highly on the attractiveness meter, you'll likely see hotter potential matches (and they'll see you). You'll also get featured in the pay-to-unlock "Popular" Stack.
Your primary profile picture has the most impact, but you'll want to optimize your profile text as well. Check out these OkCupid profile examples, and make sure yours can stand up to the competition!
It's worth your time to check the app or log on to the dating site daily. Stack Be discriminating with your "likes" - don't just swipe right on everyone. And respond to your messages.
Dating platforms reward users who interact often and meaningfully with more exposure and prominent placement, plus you'll get featured in the "Online" Stack while you're browsing.
Unlocking A Match's Public Questions Answers

Knowing a person's answer to a question can come in handy in a couple different ways.
You can boost your match percentage by answering the questions the same way they did, assuming it's not an issue you feel particularly strongly about.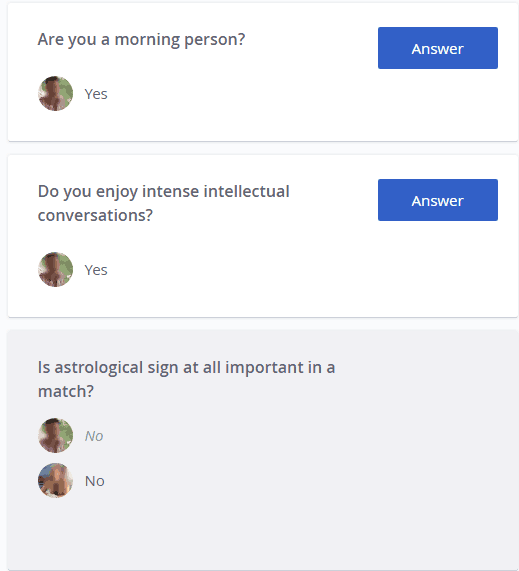 You can also use those answers to send targeted icebreaker messages. For instance, let's say your match answered yes to the question "Does music have a big influence on your life."
You can safely assume they would enjoy responding to a music-related icebreaker like this one:

Having an arsenal of "situation-specific" icebreakers ready to fire off at a moment's notice will save you a ton of time in the long run. This OkCupid messaging hack works with the keyword/interest search as well. To find that, tap on the "Questions" option in the menu bar.
There's lots of proof that copy and paste messages really work, so why not try one right now?
Seeing Who Likes You On OkCupid
This feature gives you the most bang for your buck, which is why it's only bundled into a Premium membership.
This list is a goldmine of opportunity. She's already expressed interest by "liking" you, so if you're feeling it too, send her a message. Copy & paste messages will save you a ton of time, since you can send one like this to any woman who catches your eye:

Get The Most Out Of Your OkCupid Upgrade
Upgrading to OkCupid Basic or Premium unlocks a ton of features that will help you connect with the best singles in your area. Of course, you'll want to make sure your profile, photos, and messages are up to the challenge, and our OkCupid Guide is packed with expert tips!
Or you could bring in a virtual dating assistant to handle everything for you.
VIDA's team of modern dating experts know exactly what works and what doesn't on OkCupid, and we've been finding the perfect matches for singles just like you since 2009.
There's no faster or easier way to meet interesting, attractive people on OkCupid or any other dating app you want to use. All you do is show up for the dates!
Sound intriguing? Click here to get started today!
Want us to do your online dating for you?

Hey, I'm Ally, VIDA Select's Director of Matchmaking.
We take all the frustration, hard work and hassle out of modern dating!
Imagine your very own Dream Team of highly skilled dating experts searching for the very best local matches, sparking their interest, and arranging all the dates for you.
Wouldn't it be nice to finally stop swiping and start dating higher quality matches so you can meet someone special?
We've helped thousands of singles just like you since 2009, and we're ready to make you our next success story!
What are you waiting for? Take the next step now…
See If You Qualify