I hope you enjoy reading the blog post.
If you want my team to just do your online dating for you, click here.
OkCupid vs Match vs eHarmony - Which Is Better For You?
With a full buffet of online dating sites right at your fingertips, narrowing down your options can be tough. When it comes to OkCupid vs Match vs eHarmony, you probably don't have time to effectively manage all three of them. You've already got a full-time job, you don't want finding a girlfriend to turn into a part-time gig.
You want to meet attractive women fast, and if you don't have a virtual dating assistant to do all the hard work for you, starting with a popular dating site makes sense. The bigger the user pool the better your odds, right?
In terms of name recognition, these are three of the biggest sites out there. Knowing how they stack up against each other will help decide which online dating site is the best fit for you: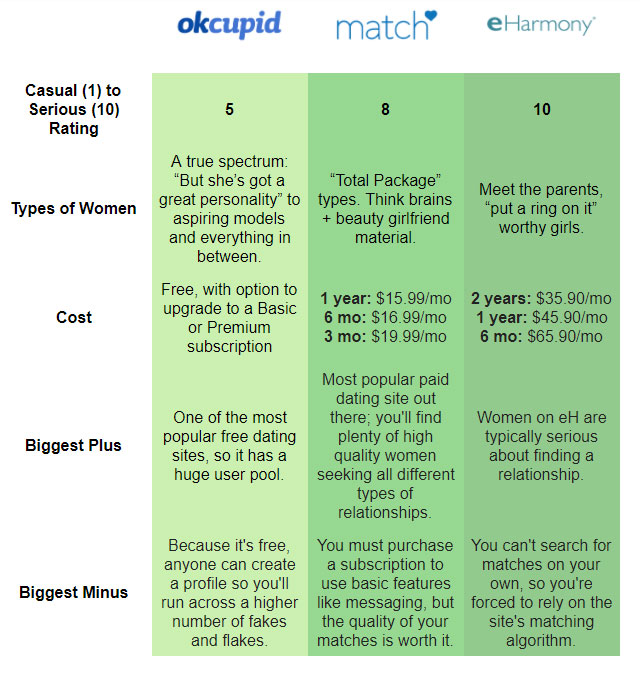 Give OkCupid A Shot If You're...
In your lower to mid-20s and/or seeking more casual relationships. While you'll find women looking for everything from a one-night stand to a husband on OkCupid, it definitely has the least serious vibe of the three sites.
PRO TIP:
OkCupid's user base is way more relationship-minded than Tinder. However, if you're 28+ years old, looking for your next girlfriend and you're only signing up for one site at this time, Match.com is probably your better bet. Click here to skip down to that section.
OkCupid is especially popular with online daters in their mid-20s to early 30s, although you'll find women of all ages using it. It's truly a melting pot of different types, ranging from artistic hipsters to ambitious professionals.
This dating site shows you a match percentage on each person's profile, which can help you screen your daily matches in seconds.
It's free to use, with the option of upgrading to a paid subscription. There are two levels available:
OkCupid Basic (formerly named A-List Basic)
Unlimited "likes"
Specifying search criteria as a dealbreaker
Reviewing all intros at once (icebreaker messages from potential matches)
No ads
Upgrading will set you back $34.99 a month, or slightly less if you commit to a 3 or 6-month membership.
OkCupid Premium (formerly named A-List Premium)
All Basic features
3 weekly SuperLikes
Seeing all the users who have already 'liked' your profile
See how other users answered their public questions (before you answer)
This level starts at $44.99 for a 1-month membership going down to $22.49/month if you buy a 6-month subscription.
Whether or not you pay to upgrade, you'll want an eye-catching profile that makes even the most attractive women want to meet you. Check out this article jam-packed with OkCupid profile examples and tips!
Give Match.com A Shot If You're...
In your late 20s or above and looking for your next girlfriend. Match is one of the most trusted names in the online dating business, and they have the huge user pool to prove it. While Match.com does charge a monthly fee, that can work in your favor by weeding out some of the fake profiles and women who aren't really serious about meeting people in person.
Match.com also calculates a match percentage for each profile, so you can see at a glance how compatible the two of you might be.
You have two options for your paid subscription, a "premium plan" and a "standard plan." Here is how the two compare:

The biggest difference between the two is a premium subscription includes read receipts for your messages and a monthly profile boost.
Save some money on your Match.com subscription right now with this limited-time promo code, then get the most out Match with these tips and tricks.
Give eHarmony A Shot If You're...
Looking for a committed long-term relationship, and firmly believe that a personality test and matching algorithm is the best way to make sure you and your future wife are compatible.
The short version: Here at VIDA, we rarely recommend eHarmony for our clients or daters in general.
Here's why: Not only is the setup process tedious and time consuming, but once you're up and running, you don't even have the ability to search for your own matches. Instead, you have to really on the site's algorithm to present you with a slow stream of matches selected based in part on the answers to your personality questions.
Despite what their numerous commercials would lead you to believe, eHarmony's algorithm has not been proven to be superior at producing better matches.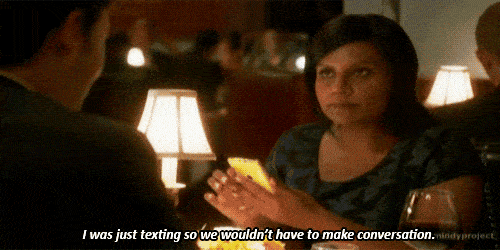 eHarmony's Algorithm
With their massive marketing budget, hiring a team of outside researchers to prove they are truly #1 in the long-term match department would not be a problem. But they've never done it, most likely because their algorithm isn't all it's cracked up to be.
In fact, studies have shown that online dating algorithms are poor predictors of long term compatibility, simply because there's no way for a dating site to quantify factors that lead to successful long-term relationships such as chemistry, communication skills, ability to handle emotional and financial stressors, etc.
And the icing on the cake... According to our internal data, it takes significantly more time to line up a date on eHarmony than it does on Match or OkCupid.
You're better off spending your time (and money) on a site like Match.com that allows you to freely search for matches using whatever criteria is most important to you. With that said, if you're considering joining multiple sites and you're very serious about finding The One, eHarmony does attract some beautiful, intelligent, like-minded women.
Although creating a profile is free, you have to pay for a subscription to do just about anything else on the site, including seeing what your matches look like. As a free member you can see each match compatibility score, but not their photos.
There are three plans available, with the main difference being the length of your membership. Signing up for 6 months starts at $65.90 a month.
It's worth it to pay attention to eHarmony's sales, as you can often save quite a bit if you wait to upgrade.
If you decide to give eHarmony a whirl, here are 3 ways to boost your response rate.
Finding The Right Mix Of Dating Sites & Apps Is Just The Beginning...
To successfully find the partner of your dreams, it's best to choose a mix of dating sites and apps. For instance, going with a free, wildly popular app like Tinder, Bumble or Hinge gives you access to a wide variety of singles. Then throw in a paid dating site to make sure you're reaching singles who are as relationship-minded as you are.
But that's just the start of your dating journey. Your online dating strategy needs to encompass how you present yourself online to attract the type of singles you want to meet. The right bio, photos and messages are essential, because if you're not your 'best self' you may not get an edge on the competition.
Why struggle to figure everything out yourself when you could simply enlist the help of VIDA's dating experts? Imagine - everything done for you, so all you need to focus on is meeting your incredible matches!
See how it all works here!
Want us to do your online dating for you?

Hey, I'm Ally, VIDA Select's Director of Matchmaking.
We take all the frustration, hard work and hassle out of modern dating!
Imagine your very own Dream Team of highly skilled dating experts searching for the very best local matches, sparking their interest, and arranging all the dates for you.
Wouldn't it be nice to finally stop swiping and start dating higher quality matches so you can meet someone special?
We've helped thousands of singles just like you since 2009, and we're ready to make you our next success story!
What are you waiting for? Take the next step now…
See If You Qualify