I hope you enjoy reading the blog post.
If you want my team to just do your online dating for you, click here.
OkCupid vs Match [Which Is The Best Dating Site For You?]
Both OkCupid and Match are part of Match Group, which means they're both good dating sites. But how do they compare to each other?
From 2023 cost to premium features and more, this OkCupid vs Match guide has all the details you need to decide which one is the best choice for you!
Let's start with the biggest difference...
OkCupid vs Match: Cost & Premium Features
While you can download the app, create a full profile and browse through profiles for free on both dating sites, that's where the freebies end on Match.
Match requires a premium subscription to exchange messages, something you can do for free on OkCupid.
But before you leap to a decision based solely on the free/not free angle, consider this:
Free dating sites tend to attract a higher number of people who simply aren't as invested in the online dating process, meaning a higher percentage of message exchanges may not lead to "real life" dates.
Because there's no fee associated with messaging, you're also more likely to encounter fake profiles, escorts, scammers and the like.
Here is a handy comparison of what you can do on each site without paying for a subscription: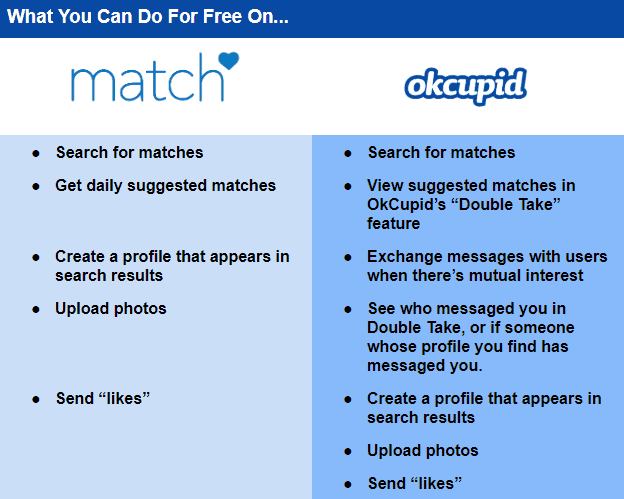 Of course, if you want to actually meet anyone from Match you'll need to upgrade in order to send messages.
A "Standard" subscription to Match.com costs around $21.99/month when you sign up for 3 months. The price may vary depending on your area.
Match Standard Cost 2023
3 months - $35.99/month
6 months - $21.99/month
12 months - $19.99/month
*Price may vary by location
Features include:
Send & receive messages
See who has checked out your profile
See who has "liked" your profile
For a few dollars more each month you can upgrade to the "Premium" Match subscription:
Match Premium Cost 2023
3 months - $37.99/month
6 months - $23.99/month
12 months - $21.99/month
*Price may vary by location
You'll get these 2 additional features:
Message read receipts
Monthly profile boost
OkCupid is a fully functioning free dating site, meaning you don't need a paid subscription to move things off the site.
But that being said, OkCupid does offer two levels of premium membership that includes features that can make finding someone special a lot easier.
Basic costs between $34.99 and $17.49 per month, and includes these features: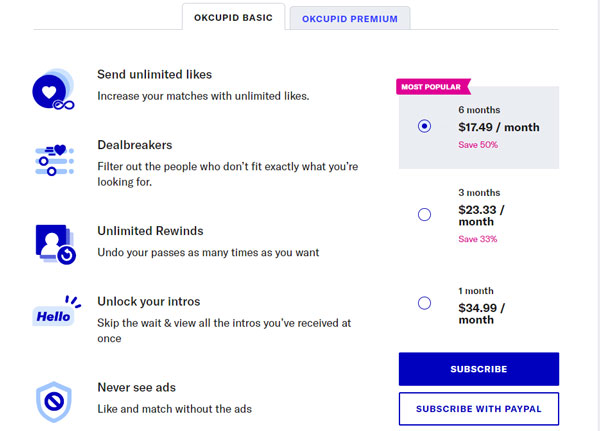 Premium costs between $44.99 and $22.49 per month, and includes all the Basic features plus: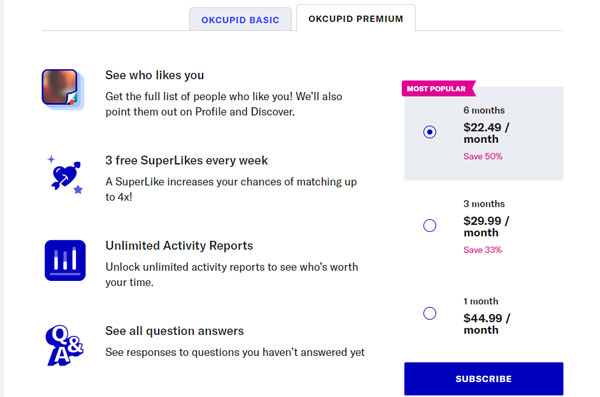 Pricing can be market dependent, so you may pay a little more or a little less. Just interested in the numbers?
Comparing cost is a bit of an apples/oranges situation, since one is a free dating site and the other isn't.
Both dating sites are worth the price of a subscription, but Match edges out OkCupid if you're seeking a serious, long-term relationship since the associated costs help weed out online daters who aren't.
OkCupid vs Match: Ala Carte Features
Ala carte features are ones that you can purchase without signing up for a membership.
Boosts
Both dating sites offer a profile boost, which means you can make your profile one of the most viewed in your area for an hour. Theoretically, that increased visibility will lead to more messaging opportunities.
OkCupid lets you purchase Boosts à la carte:
Match's top-tier premium membership includes a free monthly boost, or you can purchase them à la carte as well:
Match wins this battle - it's cheaper to boost your profile on Match no matter what quantity you purchase them in.
Super Likes
Both Match & OkCupid have a "Super Like" feature. As the theory goes, a Super Like is more powerful than a regular Like, because they are more limited in quantity.
A Match Super Like costs $3.00 when you buy 5, and you'll also get 1 free one each week as a Match Premium subscriber.
OkCupid gives Premium members 3 free weekly SuperLikes, and anyone can buy them starting at $3.49 each when you buy 2.
Private Browsing
If you want to be more discreet while online dating, both sites have an option for that.
On OkCupid, it's called Incognito Mode. On Match, it's called Private Mode. Both of them work essentially the same way - your profile is only visible to people you've expressed interest in.
On OkCupid, you subscribe to Incognito Mode, with the cost depending on the subscription length:
$9.99/month for 1 month
$7.99/month for 3 months
$4.99/month for 6 months
On Match, Private Mode has a flat rate of $9.99 per month. You can also go "Undercover" for 24 hours at a time, meaning you can browse profiles without anyone knowing you checked them out. That costs $1.99 per use.
This one is a draw - it costs the same for a month's worth of privacy. You can read more about private profiles and using dating sites discreetly here!
Coaching
This is one useful feature Match offers that OkCupid doesn't - free advice and coaching for premium subscribers, courtesy of "AskMatch."
The Match app will connect you via phone with a certified Match dating coach, and according to CEO Hesam Hosseini you can ask just about anything:
A lot of people ask about their dating profile. Everyone's curious how they're doing. So we give you feedback, we give tips on your profile and photos. But a lot of the conversations are about IRL dating.

People might say, 'Hey, I'm on date three, and I don't know how to approach the conversation of where this is going.' Or, 'We had a first date and he's sending me this cryptic text, what do I do?' So whatever question you have, our dating coaches are available.
OkCupid vs Match: Messaging
On Match, you can send anyone who intrigues you a message (assuming you're a premium member).
But on OkCupid, you can only freely exchange messages if you and the other person have already "liked" each other.
But you can send what's called an "intro" on OkCupid, which will be visible before they've liked you.
To send an intro on OkCupid follow these steps:
"Like" the person's profile from either Double Take or Match Search/Discover
The "Like" button will change to a "Message" button
Tap the "Message" button
Add your introductory message
When that person views your profile, they'll see your first message at the same time.
OkCupid will promote you to anyone you've sent an introductory message to by moving your profile up in their Double Take section or elsewhere on the site as they're browsing.
If that person expresses interest in you by "liking" you back, the messaging platform is then accessible on the "Conversations" page and you can converse just like you would on Match.
But if they don't "like" your profile, you're out of luck. You can only send one intro to each person, so make sure it's a good one!
Revealed: The Opening Line No Woman Can Resist! [Access Now]
Match wins the messaging battle, since mutual interest isn't a factor - you can message anyone who intrigues you.
OkCupid vs Match: Users
OkCupid is particularly popular with daters in their 20s to early 30s, although you'll find singles 35+ as well. It draws people looking for an entire spectrum of relationships from casual sex and hookups to marriage and everything in between.
And when it comes to sexual orientation and gender identity, it's one of the most LGBTQIA inclusive dating sites out there.
Because it's not a free dating site, Match tends to attract a slightly older crowd, with people actively seeking a long-term relationship. Almost half of Match users are between 30 and 49 years old, and it's growing increasingly popular with singles over 50 as well.
That means if you're younger and interested in dating around, OkCupid is probably a better bet. If you're looking for a committed relationship, you'll likely be happier with the quality of singles you'll meet on Match.
OkCupid vs Match: Dating App
Both OkCupid and Match have a dating app that's free to download and easy to use.
The same restrictions apply here as on the desktop versions - for Match, you'll need a paid subscription to message but you can create a profile and browse profiles without one.
You can download Match mobile for Android and iOS. It's got a 3.5 rating on the App Store, and solid 3 stars on Google Play.
OkCupid is also available for both iOS and Android, and it has a slightly better rating on both platforms. The App Store rates it a 4.3, and Google Play a 3.9.
In terms of gender ratios, OkCupid has a slightly higher percentage of women using the app:
User engagement on both apps is just about equal, with roughly half of users checking in daily: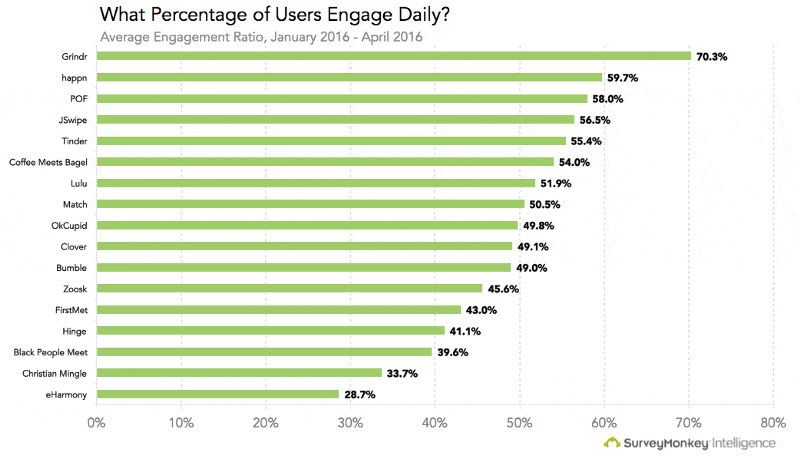 But the Match app has a slightly higher churn rate, meaning the percentage of users who download the app but don't return the following week: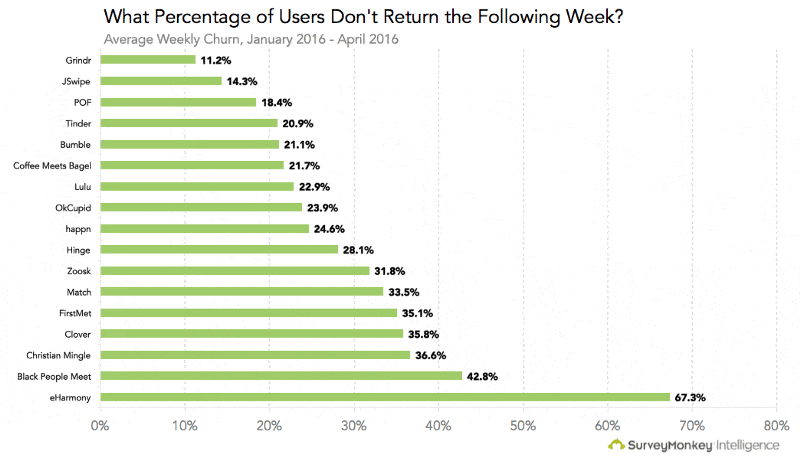 All things considered, OkCupid's dating app has a slight edge over Match mobile.
OkCupid vs Match: Profiles
These two dating sites take a slightly different approach to profiles.
On OkCupid, your profile consists of 9 different main sections, with the ability to add more if you'd like. For each section, you can choose which prompt you'd like to answer from a list of 5 or 6.
For example, here are the prompts you can choose for the "About Me" section: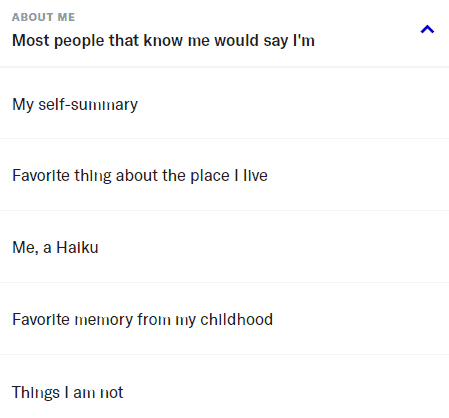 Other sections include Aspirations, Traits, Talent, Needs, Hobbies, Moments, Secrets and Dating. You can add additional prompts for topics such as Books, Cooking, Travel, Movies, Music, TV Shows, etc.
There are also a series of "Match Questions" you can answer to help determine how compatible you are with other singles:
The Match Percentage score is meant to help you decide how well a match's personality and dating goals align with yours, and it also partially determines who your profile is suggested to as a daily match.
How you answer questions is important, since it has the potential to affect your match quality.
Need profile help? Check out these 19 great OkCupid profile examples for guys!
Match.com also displays a Match Percentage, and it helps determine whose daily matches your profile pops up in. Answering questions and fully completing your profile is the best way to keep that score as accurate as possible.
On Match, profiles have a main "About Me" section. You'll also need to choose 3 "Topics" from a list of 50+. Each Topic answer has a 150-character limit.
Here are some examples of Match Topics:
Not sure what to write in your Match profile? Follow these 4 easy steps, plus find out which Match Topics are the best ones to answer!
Want To Save Time And Get More Matches?
If you're still not sure which dating site to try, check out these detailed Match.com and OkCupid reviews.
You'll also find plenty of expert help with everything from your photos and messages to your profiles in our Ultimate Guide To OkCupid and Ultimate Guide To Match.
But whichever route you go, keep in mind the average user spends 77 minutes a day on dating apps - just on profile browsing alone.
You'll also need to come up with response-worthy conversation starters and keep up the momentum on all your message exchanges… and that's after you've created a profile that generates some action!
You thought you were signing up for a dating site… but you're basically signing on for a part-time job!
And it can be a frustrating experience, unless, of course, you outsource all that profile creation, swiping and messaging to a highly effective team of modern dating experts.
With VIDA, you can meet incredible, compatible singles - without having to put in all the effort. You jump straight to the dates! To learn more, click here.
Want us to do your online dating for you?

Hey, I'm Ally, VIDA Select's Director of Matchmaking.
We take all the frustration, hard work and hassle out of modern dating!
Imagine your very own Dream Team of highly skilled dating experts searching for the very best local matches, sparking their interest, and arranging all the dates for you.
Wouldn't it be nice to finally stop swiping and start dating higher quality matches so you can meet someone special?
We've helped thousands of singles just like you since 2009, and we're ready to make you our next success story!
What are you waiting for? Take the next step now…
See If You Qualify