The 5 Biggest Online Dating Mistakes Women Make (& Quick Fixes!)
You probably get plenty of messages on dating apps. But when they're not from men you actually want to meet, dating apps like Hinge, Bumble, and Tinder get frustrating fast.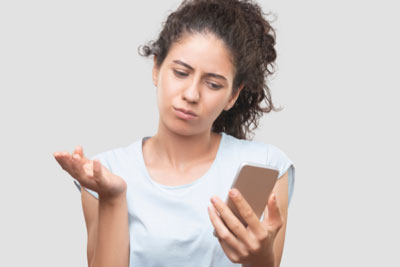 If you can't seem to attract a relationship-worthy guy, chances are you're guilty of one (or more) of the 5 most common online dating mistakes women make!
Jump to wherever you'd like to start using the links above, or check them all out.
Online Dating Mistake #1: Falling Into The Selfie Trap
Selfies go hand in hand with social media. They are such an integral part of our culture now there's even a dedicated term for the compulsion to whip out your phone and snap one: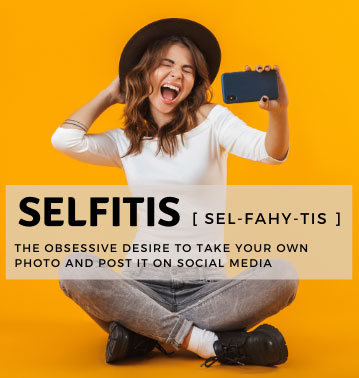 Selfies are fine for Instagram, Facebook, and the like. But if your dating profiles frequently feature an all-selfie lineup, you're likely making it harder to meet quality guys.
Here are 3 reasons why too many selfies can be an act of self-sabotage on dating apps:
#1: A constant stream of selfies evokes negative feelings in the viewer.
According to a research study, people whose Instagram feeds featured a lot of selfies were almost uniformly perceived as:
Less successful
More insecure
Less likeable
Less open to new experiences and
The perceptions of people who shared photos of themselves taken by someone else were just the opposite - the viewer's feelings were positive. While that study used Instagram, the findings are likely just as applicable to dating apps.
As the study's lead author observed,
It shows there are certain visual cues, independent of context, that elicit either a positive or negative response on social media.
#2: You seem one-dimensional.
Variety is the key to an engaging photo lineup.
To attract a quality guy who's interested in more than just your appearance, you need to give him more than just your appearance to go on.
Give him a glimpse of your personality, hobbies, social circle, and real-life habitats. Whatever makes you unique also makes you memorable and authentic.
Speaking of authenticity…
If any of your selfies are heavily edited, whether it's giving yourself flawless, cartoonishly perfect skin with an app like Facetune or you're surrounded by a cloud of sparkles and rocking cat ears, that's a mistake.
31% of people automatically swipe left on obviously filtered dating pics, and 70% of singles who responded to Plenty Of Fish's "Pressure Points" study found them deceptive.
A quarter of them thought they make you seem insecure and superficial too.
Those are three words likely to chase high-quality men away, so why risk it?
#3: It makes messaging harder.
There's a reason guys seem to either not send a message at all, or default to lame openers like "hey" or "how are you?"
It's hard to know what to say, especially when there's no inspiration to be found in your pics and you left your bio blank.
Profile photos showcasing a hobby, a trip, or your adorable dog make it easy for men to message you. All they have to do is ask a question about what's in the pic, and the conversation is up and running.
This is especially important on apps like Hinge that let users comment on specific profile content. If you expect the guy to do all the "chasing", having an all selfie lineup is a big missed opportunity.
Want to make your photo lineup look even better? Check out these 7 secrets for a prettier profile pic!
Online Dating Mistake #2: Taking The "I'm So Over This" Approach
Almost half of singles surveyed think it's harder to date now than it was 10 years ago, and that's despite dating apps helping you make connections.
And 67% of people said they're not happy with the state of their dating lives. So if you think dating is frustrating, you're not alone.
But keep those frustrations out of your dating profile.
Cynicism, bitterness, annoyance - those negative emotions can derail a positive first impression.
If he's on a dating app geared toward finding a serious relationship, odds are he'll eventually check out your bio even if he swipes right initially just based on your pics.
Why risk poisoning a positive first impression?
Even if you've had it *up to here* with dating apps, presenting yourself as a positive, happy, fun person to be around is a much more effective strategy than coming off like someone who's angry and bitter about being single.
To attract high-quality men, let him know you bring just as much to the table as you expect him to.
As for what to say in your dating profile, Include a few hobbies, what you do for a living, things you enjoy doing with friends. Just enough tidbits to give him an intriguing glimpse of your life.
This short dating profile for women hits all the right notes:
There are many other ways women inadvertently communicate they're not feeling the whole dating thing.
Here are 3 common online dating errors women should avoid making in their profiles:
#1: Using cookie-cutter quotes instead of a photo.
Even if it has a deeper meaning for you, it likely won't resonate with him. And if it hints at past relationship drama, it has no place in your profile. Save the visual fluff for your Facebook and Insta.
That's not to say you can't effectively incorporate a positive quote into your bio. You just need to use it in a way that makes it relevant to you.
In other words, make sure it's highlighting an aspect of your personality or lifestyle. Like this:
#2: Redirecting a match to an Instagram or Snapchat account.
This gives the impression you're just on the app to boost your following, not actually meet someone.
And besides, if you're not putting the effort into this profile, why would they put the effort into searching for your other profiles on social media?
#3: Not filling out your bio at all.
Sure, guys are all about the pics.
But you're not trying to attract just any guy - you want to find your perfect match. Taking the 'lazy' approach to your profile says a lot about how seriously you take online dating.
Even a super short profile, when done right, can make a big impact:
Online Dating Mistake #3: Having A One-Dimensional Profile
You learned about the drawbacks of having a one-dimensional photo lineup. But a one-note profile can also make relationship-worthy guys think twice about messaging you.
For example, if you've got kids you likely consider them the most important thing in your life.
And while you should mention them in some way, whether it's in your bio or in your "stats", don't make them the sole focus of your profile.
For starters, he's going to date you - not them. Lead with what makes you a great catch and everything else will follow.
Being well-rounded and multi-dimensional is far more interesting than focusing on just one facet of your life, whether it's your kids, what you do at the gym, your zodiac sign, or your Myers Briggs result.
It also gives you more ways to spark a mutual interest with potential matches.
Aim for a mix of physical activities, hobbies, social life examples, food, travel, career - whatever applies to you.
But don't just list a bunch of personality traits and broad interests.
Lists tend to be boring...
Especially if you're not being specific about what you like or giving an example that demonstrates how you embody a particular personality trait.
Research shows sharing unique interests often leads to more online dating success.
Name a few places you've been (or anything on your bucket list). Have you trekked Machu Picchu? Explored every US state? Want to visit that Australian island full of adorable quokka creatures?
Details like those help set you apart from those who "love to explore new places" or even worse - "love travel".
41% of men think it's difficult to find people who share their hobbies and interests on dating apps.
Mentioning some of yours increases your odds of finding common ground with compatible men - plus it's a built in conversation starter!
And speaking of lists that turn guys off…
Online Dating Mistake #4: Presenting Your List Of Demands
It's fine to have a type - almost everyone does. But if your entire bio consists of requirements a guy must have to date you, you may be chasing away perfect match candidates.
A positive approach is almost always more attractive than a negative one. So for starters, describe what you do like in a guy, not what you don't:
A laundry list of "must haves" is basically a no-win scenario.
You're disqualifying guys you wouldn't want to date, but the catalog approach is probably turning off guys you would want to date too.
Statements like these can give the impression you're unapproachable, unfriendly, and high-maintenance:
"Don't talk to me if you're under 6'."
"I won't date Virgos."
"Must make me laugh and make x amount of money."
Those are all examples of what not to say on a dating site. You can use the dating app or site's filters to accomplish a lot of the screening for you, so there's no need to mention you're not attracted to short guys, etc.
Rather than focusing on the deal breakers, tailor your bio to attract the kind of man you want a relationship with.
Researchers have found the most attractive ratio of you vs him in a dating profile is 70:30. Start with what you're like, end with a description of what you'd like him to be like, and watch those quality matches roll in.
Online Dating Mistake #5: Playing Too Hard To Get
A little bit of mystique is good. But you need to balance the "chase" with keeping him interested. As researchers discovered, it can backfire if the other person isn't committed or invested in you (yet).
Keep in mind all you have are profiles, photos and messages at first. You're just starting to build up interest, commitment and investment - so the foundation is fragile.
And if he seems like a great catch, he's likely messaging other women at the same time, just like you're messaging probably messaging other guys.
You're both comparing your interactions with each other to the interactions you're having with other matches.
So if you're *all* about the chase, he may lose interest if he's not getting much from you in response to his messages.
If you want to get - and keep - the attention of a guy you like online, do these 3 things:
#1: Send the first message.
Over half of men on dating apps feel like they don't get enough messages, so if you're interested, why wait?
This is a cute, flirty first message you can send to any guy you like on a dating app:
If you don't get a reply after a day or two, follow it up with a message that gives the conversation a clear direction, like this:
#2: Hold up your end of the conversation.
Super short, one word replies will likely give him the impression you're not that interested.
Treat the message exchange the same way you'd approach a conversation at a party - give a detail or two about yourself, then invite him to share something about himself by asking a question.
#3: Be willing to move things off the app.
Endless message exchanges that don't seem to lead anywhere are just as frustrating for him as they are for you.
If he's someone you're interested in getting to know better, suggest a video chat or face-to-face date in a setting you're comfortable with.
Want To Stop Worrying About The Online Dating Mistakes Women Make...
And start meeting the right kind of guys, right now?
Let VIDA Select's team of dating experts help!
From crafting a profile designed to attract high-quality matches to handling all the back and forth messaging with a curated selection of men who all have relationship potential, VIDA does it all for you.
No more endless swiping, no more messages you wish you could unsee.
VIDA Select removes all the hassles of modern dating, so you can just focus on finally meeting men who check all your boxes.
Find out how it works here!
A 20-minute call with one of our matchmakers is all it takes to meet the love of your life.
If you're finally ready to meet your perfect match, book your confidential consultation with us now.
Click Here

About VIDA

VIDA is your very own team of matchmakers who are ready to introduce you to your ideal partner. Say goodbye to the hassle and frustration of modern dating - we'll tap into the world's largest database of eligible singles and match you with someone who has all the qualities you desire in a partner. Our team has already made lasting connections for thousands of clients like you, and we're ready to make you our next success story. All you need to do is schedule your free confidential consultation with us now by clicking on the button below.
Get Started Now