I hope you enjoy reading the blog post.
If you want to chat now about your matchmaking search, click here.
Best Ottawa Matchmakers In 2023 [Reviews & Cost!]
Ottawa's dating scene doesn't have to be a source of frustration - having a matchmaker introduce you to hand-selected, high-quality singles is one of the fastest ways to meet people with relationship potential.
But with so many Ottawa matchmakers out there, which ones are worth considering?
Start here, with this list of the 3 best matchmaking services in Ottawa!
Prior to launching her Toronto-based matchmaking company, Sofi Papamarko was a freelance writer specializing in dating and relationships. She initially got into matchmaking as a "side gig," but her dating agency quickly took off and she began playing Cupid full time.
Clientele
Singles living in Ottawa, Toronto, Hamilton and Burlington. She works with people from all demographics, and has a matchmaker at the Toronto location who specializes in LGBTQ+ matchmaking.
Cost
$799 - $20,000+
Contract Required
Yes
What To Expect
Potential clients can choose from 3 membership options, all of which include a year's worth of matchmaking and the chance to meet at least 1 to 5 Ottawa singles. With the highest level package, starting around $17,000, you get unlimited matches.
Unless you purchase one of the more expensive memberships, you'll be introduced to singles from her membership roster. The Platinum membership also includes "external" matching, meaning Papamarko and her team will scout for suitable candidates in and around Ottawa.
Papamarko believes in matching people on personality, first and foremost, which is one of the reasons she doesn't share photographs of matches prior to an introduction. It can take a bit for her team to find a perfect match for you, so it's not uncommon to wait a few months before your first date.
Additional Services
Dating coaching
Founded In
2013
Rebecca Cooper Traynor founded Match Me Peterborough in 2009. As her matchmaking service expanded, she acquired 4 other matchmaking services along the way and merged them all into "Match Me Canada."
Based in Toronto, she now helps singles all over Canada find their perfect match. She also works with a network of 30+ professional matchmakers in the US.
Clientele
Traynor's matchmaking service typically works with singles who are 30 to 65.
Cost
Varies per client
Contract Required
Yes
What To Expect
Joining the database as a potential match is free, however you'll only be contacted in the event you appear to be a good fit for a paying client.
Potential clients start with a $250 consultation, the fee for which is applied to your membership cost should you decide to sign a contract. Membership pricing depends on how many matches you'd like to meet, and whether you want to commit to 1 or 2 years of services.
You'll be meeting Ottawa singles from the Match Me Canada database. When a potential match is found, you'll receive an emailed description - but you won't see any pictures. If you decide you'd like to meet the person, you'll receive their phone number and it's on you to call and schedule a date.
You can typically expect your first match after a month so or of signing up. If needed, Traynor's matchmakers will scout around Ottawa, or contact one of the other matchmaking services in their professional network.
You'll be encouraged to meet in person with each match at least 3 times, as that will help the two of you get to know each other better.
Additional Services
Dating coaching, image consulting, health & wellness coaching
Founded In
2009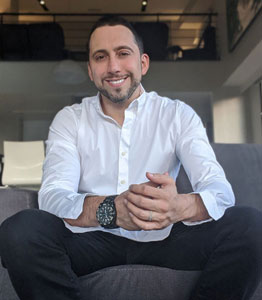 With access to more high-quality singles than other Ottawa matchmakers, VIDA Select offers modern matchmaking that's perfect for career-minded singles who want to find their "happily ever after."
Clientele
VIDA's clientele includes professionals from all backgrounds, such as CEOs, investors and entrepreneurs, typically in their mid 20s to late 60s.
Cost
Clients can choose from a range of monthly matchmaking packages within 3 levels of service. Package cost is highly correlated with how many hours should be dedicated to your search, taking into account how many geographic areas you'd like included, what your "perfect match criteria" are, etc.
$995/month is the starting point for Basic matchmaking packages, with Premium packages starting at just $1595/month. Elite packages begin at $2395/month. On average, VIDA clients meet someone special in just 3 months!
Contract Required
No
What To Expect
Like the other Ottawa matchmakers on this list, potential VIDA clients start with an initial consultation to see if the service is a good fit. With VIDA, this pre-screening is free, and can be done via the phone or internet.
All of VIDA's pay-as-you-go monthly matchmaking packages include unlimited matches.
And you'll get to review photos and profiles for each one. That means you won't have to compromise on your ideal partner criteria - you'll only be meeting Ottawa singles you consider to have true relationship potential.
Thanks to VIDA's elite matchmakers, the average client stops service within the first few months to explore a promising relationship!
Get started here!
Additional Services
Dating coaching, photography, professional photo retouching, style/image consulting
Founded In
2009
Ready To Call Ottawa Matchmakers? Read This First!
Considering a matchmaking service not listed here? Check out this handy list of important questions to ask them before making your final decision: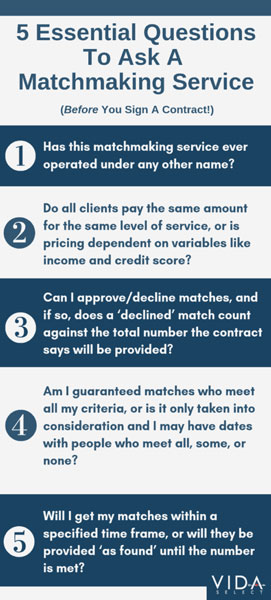 That should give you a general idea of how a service operates, and what you can expect if you sign up.
Most matchmaking services Ottawa matchmakers aren't like VIDA Select. They require you to sign a contract committing you to 3, 6, 12 months or more, and pay for it all up front!
You haven't even gotten a taste of what the service will actually be like, and the contract language often makes it difficult (if not impossible) to get a refund in the event you're not happy with your decision down the line.
Why not try an elite matchmaking service that's so confident in its matchmakers, they don't require a contract at all?
If you want to finally meet your perfect match, click here!
All product and company names are trademarks™ or registered® trademarks of their respective holders. Use of them does not imply any affiliation with or endorsement by them.
Why Choose VIDA Select?

Since 2009, thousands of clients have discovered true love thanks to VIDA Select's fresh, modern approach to matchmaking – which has finally thrown blind dates and long-term contracts out the window. This isn't your grandmother's matchmaking!
Instead of working with a single matchmaker using a small rolodex of potential partners, VIDA Select's matchmaking team taps into the world's largest database of available singles. We'll quickly identify the matches who check all of your boxes so you can finally experience true chemistry. Are you ready to become our next success story? Schedule your complimentary consultation now by clicking the button below!
Get Started Now