I hope you enjoy reading the blog post.
If you want to chat now about your matchmaking search, click here.
Patti Stanger: Best Millionaire Matchmaker For You?
One of the most famous celebrity matchmakers, Patti Stanger made matchmaking a topic of discussion for millions of viewers via her popular Bravo show The Millionaire Matchmaker. More recently, she starred in We TV's Million Dollar Matchmaker.
But she's not just a TV personality - she's also a bona fide elite matchmaker. And you're likely reading this because Millionaire's Club made your shortlist and you're looking for Patti Stanger reviews.
Our team has reviewed over 200 matchmaking services, diving deep into their processes and operations, success rates, and client experiences. Our reviews are built on extensive research and our keen understanding of the matchmaking landscape.
Patti Stanger Review Table of Contents
From how she got started to a peek at her approach to matchmaking, this short bio has all the information you need to help determine if Patti Stanger is the best matchmaker for you!
A Third Generation Matchmaker
Both Stanger's adoptive mother and grandmother were matchmakers, so she followed in the family tradition. It wasn't her planned career path, as she'd always dreamed of being a screenwriter in Hollywood and got her BFA in Film. But as she explained to Parade,
Matchmaking is a calling, not a job. It's like breathing; it is that instinctive, plus I know how hard it is to find love, so I feel I'm here to serve.
According to Stanger, she's always had a gift for it - she was actually in 7th grade when she made her very first match. She found her best friend a date for a local church dance, and the priest came over and told her she was a natural matchmaker.
He said, you need to make this like a business - because the boys are on one side and the girls are on the other and they weren't talking. I would grab guys and girls and I would grab guys and girls and put them together. I was doing it because my friends wanted to meet the boys and they were shy.
Her friend and the boy she matched her with went on to date all through junior high and high school.
Prior to launching her elite dating agency Millionaire's Club in 2000, Stanger spent five years working as the Direct of Marketing for one of the biggest dating services at the time - Great Expectations.
In addition to matchmaking, Stanger is also known for dispensing dating and relationship advice, whether it's through her website PattiKnows.com, her published books or her guest appearances via various media outlets.
Stanger recently shared some of her tips for surviving the singles scene.
Patti Stanger's Approach To Matchmaking
When Stanger first decided to start her own matchmaking service, she dated through a few different services. She took notes on what they did right and what they did wrong. She then took what she had learned at Great Expectations, and applied it all to Millionaire's Club.
As she explained in an interview with LA Style Magazine, the secret to matchmaking is all about being available. "The secret sauce to be a really good matchmaker is to have 24/7 customer service - then things will fall into place."
Stanger said she built her business model around providing everything clients needed to find a successful relationship, like dating coaching and feedback. Not only that, but she and her staff are "on call" 24/7, 7 days a week.
How Much Does it Cost To Hire Patti Stanger?
Of course, that sort of personalized attention comes with a price tag.
So how much does Patti Stanger charge? Her matchmaking services start at $45,000 and range north of $100,000 for a year-long Millionaire's Club membership.
Their Bronze, Silver, and Gold packages include unlimited dating in the US and Canada for a year and are all under six figures.
The platinum package costs $120,000 and includes unlimited dating globally for that year. There may be additional prices for add-on services and additional fees for international advertising.
Paying clients are introduced to singles from within Stanger's database. She also has a partnership with MillionaireMatch, a popular online dating site for millionaires.
To work directly with Stanger rather than her matchmaking staff, add $35,000 to your package price. Stanger limits the number of client's she'll work personally with to around 10 per year.
The Patti Stanger Exclusive package will cost you $258,000 plus expenses.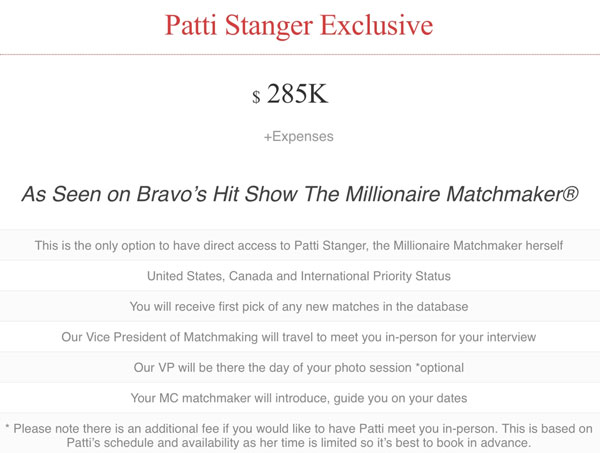 If you want your pick of the "best" matches in her virtual Rolodex, you can pay an additional $30,000 for "Priority Status". Only 5 men in each city per year can purchase this upgrade, which gives them the "first right of refusal" for matches in their location.
There's also an upgrade available for millionaires who would like a "personalized" search done on their behalf. That means they aren't just limited to profiles in Stanger's database, which costs an additional $35,000.
Both men and women can join Millionaire's Club as a paying member - provided they are millionaires, as her website states. The entire cost of your matchmaking package must be paid before the service will begin, via check or wire transfer. Stanger doesn't offer refunds or membership transfers.
Joining Stanger's database of eligible singles is free, provided you pass the screening process.
Want even more details about what to expect if you sign up? Check out our Millionaire's Club review!
Is Patti Stanger And Millionaire's Club The Right Matchmaking Service For You?
Stanger herself gets no shortage of press, which is unsurprising given she's her own brand. But when it comes to Millionaire's Club reviews, those are few and far between. And that's not a bad thing, given her service caters to millionaires who likely value their privacy.
So when it comes to deciding if Patti Stanger is the right matchmaker for you, budget and how you feel about contracts are likely going to be two deciding factors.
Paying clients commit to a year's membership in Millionaire's Club, payable in full upfront before your matchmaking service even begins.
That's a fairly typical contract stipulation for high-end matchmaking, but if locking yourself into a binding contract and paying up front for a deeply personal service you haven't even gotten a taste of yet gives you pause, there are other options.
VIDA Select offers elite matchmaking service at a fraction of the price, and without a long-term contract. Instead, clients pay each month, with the ability to pause, stop and restart their matchmaking service at any time.
VIDA's elite matchmakers have been helping millionaires, industry leaders, celebrities and other discerning singles find their ideal partners for over a decade by selecting highly compatible matches from a nearly limitless pool of singles.
Why not see what VIDA can do for you?
To see if you qualify, tap here to get started!
All product and company names are trademarks™ or registered® trademarks of their respective holders. Use of them does not imply any affiliation with or endorsement by them.
Why Choose VIDA Select?

Since 2009, thousands of clients have discovered true love thanks to VIDA Select's fresh, modern approach to matchmaking – which has finally thrown blind dates and long-term contracts out the window. This isn't your grandmother's matchmaking!
Instead of working with a single matchmaker using a small rolodex of potential partners, VIDA Select's matchmaking team taps into the world's largest database of available singles. We'll quickly identify the matches who check all of your boxes so you can finally experience true chemistry. Are you ready to become our next success story? Schedule your complimentary consultation now by clicking the button below!
Get Started Now