I hope you enjoy reading the blog post.
If you want to chat now about your matchmaking search, click here.
Perfect 12 Reviews: Can They Really Find Your Perfect Match?
Simona Fusco wears a lot of hats. She's been acting and modeling since she was 8, and has appeared in magazines like Esquire. You may even recognize her as the "Hot Girl" in TV's Entourage.
But if you're thinking of hiring her matchmaking agency Perfect 12, you probably don't care how beautiful she is - you care if her matchmaking service can deliver results. That's why you're looking for Perfect 12 reviews, right?
From the biggest industry players to the small boutiques, our team of matchmaking experts has reviewed over 200 services. Our insight comes from comprehensive research, real customer reviews, and a deep understanding of the matchmaking landscape that stretches back 14+ years.
Perfect 12 Review Table Of Contents:
Keep reading to learn more about what Perfect 12 offers and what real clients are saying about it!
Behind The Scenes At Perfect 12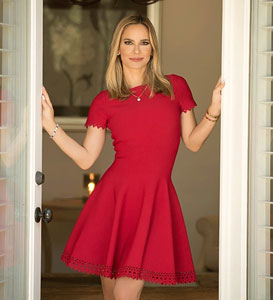 This boutique matchmaking service is headquartered in Beverly Hills, but Simona works with clients all over the US.
She only brings on a limited number of paying clients each year, and claims to work with each of them personally.
She launched Perfect 12 in 2008, after having gotten into several long-term relationships via a matchmaking service.
But she said during an appearance on The Morning Blend that she thought the dating agencies she used lacked a "personal touch," and that's why she chose to limit how many clients she takes on every year.
When asked, "What does a personal matchmaker do?" during an appearance on Delphine's Circle, she replied,
"We custom tailor memberships to our clients based on their specifications. So we match them with people that are in our database – that have been hand-picked in our database – but we also recruit for them."
Perfect 12 claims to have a 90% success rate, but they are also very picky about who they accept as members.
Who Are You Meeting?
Fusco explains that Perfect 12's client list consists of successful, high-caliber singles - from models and celebrities to entrepreneurs and hedge fund managers.
And when it comes to their database, their tagline claims they are called Perfect 12 because "on a scale of 1 to 10, our women are a 12". So, what makes their women a "perfect 12"?
In an interview with Marco Derhy, Fusco describes what makes a woman right for their database of singles:
"Physical beauty is essential for a woman to become a member of Perfect 12; however, a Perfect 12 offers much more than just a pretty face. She is intelligent, well-educated, sophisticated, classy, financially independent and successful in her own right."
But as a paying client your search isn't just limited to the database. Fusco has said she'll "scour all of the US for my clients to find that special someone."
So how much will the search cost you?
The Perfect 12 Price Tag
Singles can join Perfect 12 either as paying clients or a database member. The first step is filling out a consultation form. You'll provide basic contact information, upload 3 photos, and also answer questions like these:
Once you've submitted the form, a representative will be in touch to schedule a consultation to see if you qualify for membership.
If so, you'll spend 20 to 30 minutes filling out an online profile form, which will then be added to Perfect 12's nationwide database.
As a free member, there are no guaranteed matches - you'll only be matched with paying members when you meet their criteria.
The first step to becoming a paying member is filling out a similar contact form, where you'll provide contact information, upload a photo, and answer a few basic background questions:
Next, you'll have an initial consultation with Simona. As she mentioned in an interview, that costs around $1,000. If it seems like a good fit, you can then choose from three levels of service:
Gold
Platinum
Carte Blanche
Perfect 12 says they're a confidential matchmaking service, and they mean it. Their prices aren't listed online, and aren't mentioned in any of their reviews or interviews with Simona.
Based on similar luxury matchmakers such as Enamour, Patti Stanger's Millionaire's Club, and Janis Spindel's Serious Matchmaking, expect Perfect 12 costs to start somewhere between $25,000 and $250,000, depending on the level of service you're interested in.
The matchmaking service offers several other personal services as well, from coaching and concierge date planning to relationship and image consulting.
Perfect 12 Reviews
Perfect 12 doesn't have many online reviews.
This luxury LA matchmaking service has a 4-star rating on Yelp, based on 13 reviews.
Many of the 5-star reviews were from women who had profiles included in her database, and reported a positive experience meeting Perfect 12 clients.
This 5-star reviewer praised the quality of her matches in her original 2018 review, then updated it in 2021 to say she was approaching her 3-year anniversary with one of them:
A few male clients also left glowing Perfect 12 reviews, like this man who said he hit it off with his first introduction:
There were also a few 1 & 2 star Perfect 12 reviews on Yelp. One of them was from a woman upset that her match's age had been misrepresented:
There are quite a few more "not currently recommended" Perfect 12 reviews, the majority of which were positive.
Perfect 12's Google profile shows has a 4.0-star rating, this one based on 8 reviews.
Some were similar or identical to reviews left on Yelp, but there were a few different ones as well. This client said that he met women who fit what he was looking for:
And this reviewer had a positive experience working with Fusco:
The handful of negative Perfect 12 reviews did not appear to be from people who had actually tried the service.
Is Perfect 12 Perfect For You?
There are plenty of elite matchmaking services that cater to professional LA singles, so it's a point in Simona Fusco's favor that she's been in business for so long. If you've got the budget, she may be a great option for you.
But if you want to investigate more affordable choices - or you're simply uncomfortable signing a contract and paying up front for an as-yet-untested service, why not add a matchmaking service like VIDA Select to your list of options?
Whether you're looking for the cream of the crop in LA, or you want to meet the highest quality people in other cities, VIDA's matchmakers know exactly how to leverage the largest source of eligible singles in the world.
And you get the convenience of paying by the month, instead of having to commit to a long-term contract. No worries about paying for time you won't actually require! The average VIDA client starts feeling those sparks fly within the first few months of signing up.
Intrigued? Why not talk with one of our elite matchmakers - the initial consultation is quick, totally free, and 100% confidential. To get started, simply click here!
All product and company names are trademarks™ or registered® trademarks of their respective holders. Use of them does not imply any affiliation with or endorsement by them.
Why Choose VIDA Select?

Since 2009, thousands of clients have discovered true love thanks to VIDA Select's fresh, modern approach to matchmaking – which has finally thrown blind dates and long-term contracts out the window. This isn't your grandmother's matchmaking!
Instead of working with a single matchmaker using a small rolodex of potential partners, VIDA Select's matchmaking team taps into the world's largest database of available singles. We'll quickly identify the matches who check all of your boxes so you can finally experience true chemistry. Are you ready to become our next success story? Schedule your complimentary consultation now by clicking the button below!
Get Started Now