I hope you enjoy reading the blog post.
If you want to chat now about your matchmaking search, click here.
Can A Professional Matchmaker Find You Love? (& Is It Worth The Cost?)
If you've landed on this page, you're probably wondering if using a professional matchmaker is the right move.
Maybe your career doesn't leave you enough time to get out and find someone you want to share the rest of your life with. Or maybe you're tired of sinking so much time into online dating, only to strike out when it comes to meeting high-quality singles.
Whatever the reason, you've come to the right place. The good news is yes - a professional matchmaker can find you love.
And if you're wondering, "Is a matchmaker worth the money?" the answer is also yes.
The trick, of course, is finding the right matchmaker for you. Hiring a professional dating service isn't a decision you can take, or make, lightly.
Not only are you investing money, you're also investing your time and your trust in a service to help you through a deeply personal process. So when it comes to finding your ideal partner, you first need to find the perfect matchmaker for you.
From the smaller independents to the big industry players, our expert team has reviewed over 200 matchmaking services. Our insight comes from comprehensive research, real customer reviews, and a deep understanding of the matchmaking landscape thanks to over 14 years in the industry.
Professional Matchmakers Come In 31 Flavors
Not all matchmaking services were created equal.
Since it's a highly unregulated industry, there are some shady operators out there. Some pave the way to your wallet with empty promises and promotional offers, others are much better at making slick sales pitches than actually finding you a good match whom you'd actually want to date.
A little due diligence goes a long way, so you'll want to do some research before signing on the dotted line.
Start with figuring out what type of matchmaker is the best fit for you and your relationship goals:
"Millionaire" Matchmakers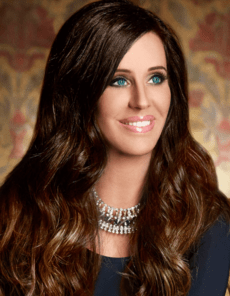 These elite dating services for professionals are typically high profile, with prices to match.
You may recognize some of the names from this list of NYC's Top 5 Millionaire Matchmakers, like Patti Stanger of Bravo Network fame, or Amber Kelleher-Andrews from TV's "The Bachelor".
High-end, exclusive matchmaking fees can range in cost from $25,000 all the way up to a cool million, and typically require committing up front to at least 12 months worth of search time.
Upscale matchmaking services like Barbie Adler's "Selective Search" or Janis Spindel's "Serious Matchmaking" ensure you're only meeting intriguing, intelligent, and attractive singles.
You may go on more dates for a lower cost with a larger, franchised service like Tawkify. But those services aren't necessarily the best matchmakers for single professionals, as they cast a much wider (read: less discerning) net.
Franchised Matchmakers
Matchmaking services like Tawkify are popular, nationwide franchises with locations in major cities around the US.
While the brands may be well known, the quality of the matchmaking service depends on which affiliated office you sign on with. Also, the matchmaker you're assigned to could certainly have a large impact on your experience.
Matchmakers at more affordable matchmaking companies like these generally have dozens of other clients at any given time. So expect less personal attention.
Niche Matchmakers
There are professional matchmakers who specialize in specific areas, such as Jewish or Christian dating, or companies who promise you'll only be dating models, singles over 40, etc.
As with niche dating sites, opting for a matchmaking service with a narrower pool of eligible singles could add months, if not years, onto your search. Make sure they truly have enough matches to keep you busy with dates until you find "The One," or it likely won't happen.
Boutique Matchmakers

Other matchmakers, like Amy Laurent or Amy Van Doran in New York and husband/wife duo Cristina & Andrea Morara in LA, are considered "boutique" operations. These smaller companies are literally one or two person shows.
On the plus side, your matchmaker will get to know you and your perfect match criteria very well, and often give you dating tips or offer dating and relationship coaching.
On the downside, it might take awhile before you actually meet someone as their databases are often smaller than those of larger companies.
While it's common to assume that smaller = more personalized service, that often isn't the case. After all, how much of your matchmaker's time and attention you get directly depends on how many other clients she has.
Modern Matchmakers
There are a handful of professional matchmaking services, like VIDA Select, that put a modern twist on traditional matchmaking.
Instead of having one matchmaker assigned to 25+ clients, VIDA's expert matchmakers take a team approach to finding your ideal partner.
You'll have a convenient point of contact, with the power of a full team of specialists working around the clock to identify high-quality matches for you to meet.
But that's not the only thing that sets VIDA apart. With VIDA, you'll never have to sign a long-term contract.
You pay only for the services you need, on a monthly basis, and can stop or pause your membership at any time.
With more traditional matchmaking services, year-long contracts are the standard. That means you're paying the same price, whether your search takes 1 month or 12.
Remember, when you've signed a lengthy contract and paid it all up front, you have little recourse if you're dissatisfied with the quality of your introductions or the service you're receiving.
The ability to put your search on hold is also a key consideration in choosing a professional dating agency. If you're considering hiring a matchmaker that requires a 12-month contract, make sure they have some "pause time" built into the contract.
That kind of flexibility is important, because you might feel a spark with one of your introductions and want to see where the relationship goes. Or you might get a temporary work assignment overseas, or need to take a break from dating to deal with a family or personal issue.
Life can be unpredictable, and you want to work with a matchmaker who understands that.
Choosing The Right Matchmaker For You
Once you've identified some intriguing matchmaking services, you'll want to schedule a phone consultation. Most dating agencies have a number you can call, or a form you can fill out on their website to request a call.
But first, do a little pre-interview introspection. You'll likely be asked about broad topics ranging from your life goals to your current dating situation and what type of relationship you want.
Putting some thought into questions like these will not only save some time, but it will also ensure you're hiring the matchmaker who's most compatible with your dating and relationship goals and objectives.
Do Some Introspection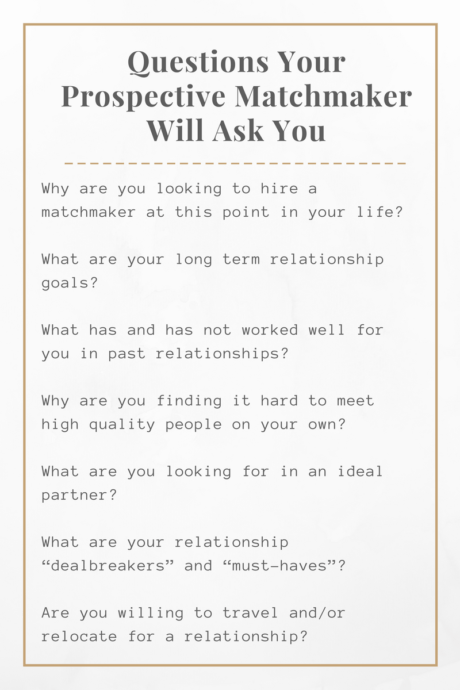 When you're doing the phone consultation, don't treat it like a one-way conversation. The questions need to flow both ways. Sure, the matchmaking service is interviewing you.
But remember, you're also auditioning them.
Asking questions is crucial, because the answers you get will give you a taste of your matchmaker's communication style, her professional manner, and how good she is at "getting" you. You'll also get an idea of the type of service and the results you can expect should you hire them.
For instance, if you're talking with a company that has a low number of eligible singles in your area, you may not be allowed to "pass" on matches. Some agencies even refuse to show you a picture of who you're meeting.
That means you can expect a fair amount of frustration as you meet dates you don't feel attracted to once you're face to face, and can't imagine dating.
Direct questions like these will help you form a crystal clear picture of exactly what you're getting for your money:
Typically, you'll get the best results by opting for a professional matchmaker that has access to a sizable database of interesting singles, shows you photographs, and allows you to accept or decline a potential match before an introduction is made.
Oftentimes a matchmaking service will say they want to focus on compatibility, rather than physical looks, when it comes to long-term relationships.
And that's why they don't share photos.
But in many cases, they take that stance because they're simply not confident they'll be able to get you on all the dates if you have too much control over who you meet.
Find Your Ideal Partner, The Modern Way
VIDA Select's team of professional matchmakers has access to the largest database of eligible singles in the world, and you're in control of the process every step of the way. You pay only for the time you need, and you can stop or pause your service at any time.
And most importantly, you pre-approve every single match. That means no blind dates! You'll be the gatekeeper of the dating process - and will only meet people you're physically attracted to and interested in learning more about.
Want to explore VIDA Select's approach further to see if it's the right way for you to meet your ideal partner?
Simply click here to get started!
All product and company names are trademarks™ or registered® trademarks of their respective holders. Use of them does not imply any affiliation with or endorsement by them.
Why Choose VIDA Select?

Since 2009, thousands of clients have discovered true love thanks to VIDA Select's fresh, modern approach to matchmaking – which has finally thrown blind dates and long-term contracts out the window. This isn't your grandmother's matchmaking!
Instead of working with a single matchmaker using a small rolodex of potential partners, VIDA Select's matchmaking team taps into the world's largest database of available singles. We'll quickly identify the matches who check all of your boxes so you can finally experience true chemistry. Are you ready to become our next success story? Schedule your complimentary consultation now by clicking the button below!
Get Started Now