I hope you enjoy reading the blog post.
If you want to chat now about your matchmaking search, click here.
Rose Matchmaking Reviews: Cost, Complaints, Praise & More!
Born on Valentine's Day, Jamie Rose made her first successful match at the young age of 16. So it's no wonder she says she was destined to be a matchmaker.
Today she calls herself Houston's "millionaire matchmaker," but does she actually have what it takes to find your perfect match? These Rose Matchmaking reviews are packed with the 411 on this Houston dating service, so you can decide if she's "The One" for you!
Meet The Matchmaker: Jamie Rose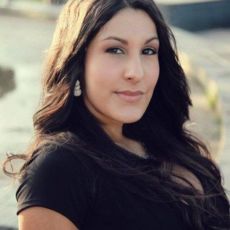 A Cherokee Indian, Jamie Rose believes that every person and every thing in life has a purpose, and that she's a "mediator of love."
As she recently told Voyage Houston, her clients come to her because it feels like the right time in their lives, and fate also plays a hand in helping her find them matches.
She got her "official" start in the matchmaking industry working for other matchmakers. She decided to launch her own business in 2008 so that she could bring the "human touch" she thought other dating services were lacking.
The Rose Matchmaking Process
This Texas matchmaking service has two offices. One is located at 5100 Westhimer Rd in Houston, the other at 3102 Maple Ave in Dallas.
Prospective clients undergo a background check and interview prior to joining.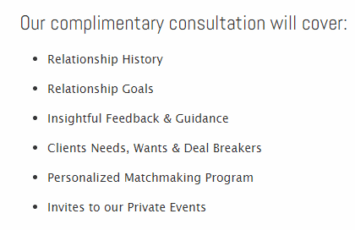 Once you've signed a contract, Jamie and her team will create a profile for you, which involves investing in pro photos.
Paying clients are matched with each other, so your profile will be added to the Rose Matchmaking database. That typically has between 200 and 500 clients in it, ages 21 to 82.
Then the matchmaking team, aided by an algorithm, will identify compatible matches.
You'll review the profiles of your potential matches, and vice versa. If both people say "yes" to the match, contact information is exchanged. Clients can also meet people at Rose Matchmaking members-only mixer events.
Jamie Rose also offers image consulting and date coaching, which can also take place in "real time" during the singles events.
As she said in this YouTube video about her boutique style of matchmaking, the events are ideal. They allow her to "make the introductions right on the spot, and then see how they mingle and interact together, look at body language, and it kills two birds with one stone."
How Much Does Rose Matchmaking Cost?
Jamie Rose takes on both men and women as paying clients, and her matchmaking packages range from $2,750 to $15,000+.
Membership prices vary based on the number of introductions you'd like, how specific your "perfect match" list is (read: how hard it will be to find someone who checks all your boxes), whether or not you want the matchmakers to go out and "scout" for matches versus pulling them from the database, and the length of your contract.
What People Are Saying About Rose Matchmaking
Jamie Rose's boutique matchmaking service has a 2-star Yelp rating. The recommended reviews are a mixed bag, ranging from 1 star to 5 star.
This satisfied client said his overall experience was positive, and he met someone special:
This client had a great experience working with Jamie Rose:

But other clients weren't as impressed with this Texas matchmaker. This client was unhappy with the customer service she experienced:

One said he only had 1 date so far, despite paying $8,000:

This client also only went on one date. She thought her matches didn't meet her specified criteria, and was frustrated she didn't have a dedicated matchmaker:
This Texas matchmaking service has a C+ rating with the Better Business Bureau.
There are 2 Rose Matchmaking BBB reviews, both 1-star. One was from a reviewer who also posted on Yelp, the other from an individual whom Rose Matchmaking responded to saying they had cancelled his membership due to "bad behavior" on his part.
2 complaints were on file, both of where had an "unanswered" status and listed no details.
On Angi, Rose Matchmaking has an overall 2.3-star rating based on 3 negative reviews and one positive. Although Jamie Rose responded to one of the bad reviews indicating they didn't have a client by that name.
Of the "real" customer reviews, the client who gave them an "A" had just signed up, but was happy so far:

The other two clients both felt they didn't receive the quality matchmaking service they were promised: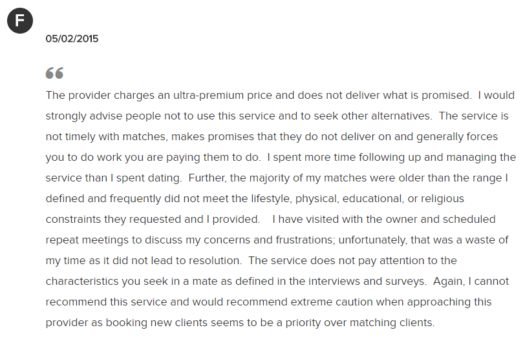 So should you make your mind up about Rose Matchmaking based solely on internet reviews? Absolutely not.
No matter which matchmaking service you're thinking about hiring, call them up, use these reviews as a starting point to ask a lot of questions, and trust your instincts.
There's No Shortage Of Matchmakers In Texas…
So it makes sense to consider all your options before committing to a contract.
Or perhaps you'd feel most comfortable with an elite matchmaking service that's so confident in their ability to find your perfect match, they don't even require a contract?
Enter VIDA Select.
Our pay-by-the-month structure means you can start, pause, or stop your service at any time - and with any reason.
And with access to a nearly limitless pool of eligible Texas singles near you, VIDA's matchmakers typically help clients make a "love connection" within the first couple months!
You pre-approve each match, so you go on dates confident you're meeting a high-quality, intriguing person who fits the description of your ideal partner - and they're already excited to meet you!
Intrigued? Take 20 minutes to talk with one of our elite matchmakers. It's free, confidential, and zero pressure. Just click here!
All product and company names are trademarks™ or registered® trademarks of their respective holders. Use of them does not imply any affiliation with or endorsement by them.
Why Choose VIDA Select?

Since 2009, thousands of clients have discovered true love thanks to VIDA Select's fresh, modern approach to matchmaking – which has finally thrown blind dates and long-term contracts out the window. This isn't your grandmother's matchmaking!
Instead of working with a single matchmaker using a small rolodex of potential partners, VIDA Select's matchmaking team taps into the world's largest database of available singles. We'll quickly identify the matches who check all of your boxes so you can finally experience true chemistry. Are you ready to become our next success story? Schedule your complimentary consultation now by clicking the button below!
Get Started Now