I hope you enjoy reading the blog post.
If you want to chat now about your matchmaking search, click here.
Samantha Daniels Matchmaker Review: Is Samantha's Table Worth It?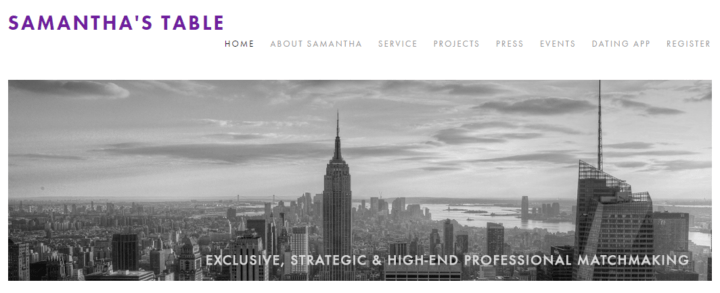 Samantha Daniels started Samantha's Table over 15 years ago, after deciding to turn her passion for playing Cupid into a business. But can this former divorce attorney turned professional matchmaker really find the love of your life?
This in-depth Samantha's Table review has all the details you need to know about this elite NYC matchmaker, from cost and complaints to what you can expect if you sign up.
When you read until the very end, you'll also learn about a modern matchmaking alternative to this one-woman show that will get you incredible results at a fraction of the price.
Samantha's Table In A Nutshell
Samantha Daniels' matchmaking service is based in New York City, where she lives. She also takes on clients in Los Angeles, where she maintains a residence in Beverly Hills.
If you don't live in one of those cities, you can still work with her in one of two ways:
Become a "Bi-City" Client.
This option is for people who travel to NYC or LA frequently, and want to meet people whenever they come through.
Request a "Hometown Search."
If you want to meet people in your own city, Samantha will bring her matchmaking services to you. She'll visit your location and curate a database of eligible local singles while she's there.
How Much Does Hiring Samantha's Table Cost?
Samantha's Table costs* are threefold:
$500 consultation fee
$50,000 for one year of matchmaking service
$75,000 success fee
(*Although every effort is made to keep the listed prices current, actual costs may vary).
You're guaranteed a minimum of 12 matches. Samantha claims to do all the matching herself, so she only works with a limited number of paying clients at a time.
Where Your Matches Come From
Samantha says she has roughly 40,000 people in her database, all of whom are either her friends, friends-of-friends, or people she's come across in her daily life, social networks, business networking, and trips abroad. She says she also adds people to her database via "6 degrees of separation."
Woman can also become part of her database by emailing photos and basic profile information. Women initiate contact via her website, or respond to "Matchmaking Alerts" that she puts out on Facebook.
These alerts basically describe what type of woman she's seeking for a particular client, and ask that singles fitting that description contact her:
The Matchmaking Service Experience
Prospective matchmaking clients have an initial 60 to 90 minute consultation with Samantha, either in person or on Skype. This consultation costs $500. You'll have the opportunity to describe yourself, your relationship goals, and what you're looking for in an ideal partner.
Be prepared to discuss what worked (or didn't work) in past relationships. You'll also share pictures of past significant others and celebrities you find attractive so that she can get a feel for "your type."
If you sign on, Samantha will get to work pulling matches from the database of contacts she's curated over the years. Whenever she finds a suitable match for you, you'll have the opportunity to say yay or nay based on a description of the person.
If you're intrigued, she will contact the match and see if the interest is mutual. If it is, she'll arrange a drinks and apps date for the two of you. You can choose the location, and Samantha will arrange it for you.
Prior to the scheduled date, she will give your cell phone number to your match, and vice versa, so that you can contact each other if something comes up last minute.
The next day, Samantha will get feedback from both you and your match. Then she'll share any feedback that she feels would be helpful for you to know.
Samantha's Table Reviews
Samantha Daniels is no stranger to media attention. She's a published author, very active on social media, and has made numerous TV appearances. Her matchmaking service has been written up in publications like Forbes and the New York Times.
But when it comes to user reviews, there just aren't that many. That's typically a good sign, as dissatisfied clients are far more likely to post negative reviews.
Yelp gives this dating agency 3 stars for its NYC location.
One of the three positive reviews was from a woman who joined Samantha's database of singles after attending one of the matchmaker's recruiting events. She was happy with the quality of her match:
Others weren't as happy with the Girl's Night Out experience:
Other Samantha's Table complaints included one client who felt Samantha was more focused on her media opportunities than she was on the actual matchmaking process:
Should You Take A Seat At Samantha's Table?
Samantha Daniels has been in the matchmaking business since 1999, so she's doing something right.
That being said, $50,000 is not an insignificant investment - and if she's successful, you're forking over an additional $75,000 "success" fee. While it's not unheard of for matchmakers to tack on a fee in the event of a marriage, it is rather uncommon.
Another potential drawback to working with Samantha Daniels is simply the demands on her time. She takes pride in selecting your matches by hand from her extensive network of contacts.
But while she's doing that, she's also recruiting at social events, contributing as a relationship expert to media outlets like Huffington Post, "working on her next book," and promoting her dating app, The Lounge. All that adds up to quite a lot on her plate at any given time.
If you want a NYC matchmaker who's 100% dedicated to finding your true love, you may want to consider other options.
At VIDA Select, It's All About The Matchmaking
Book deals, Facebook posts, and media appearances have certainly earned Samantha Daniels a place in the spotlight. But VIDA Select's matchmakers are hyper focused on just one thing: finding your ideal partner.
Without all those other distractions, our expert team of matchmakers get results fast - and at a fraction of the cost matchmakers like Samantha Daniels charge. In fact, clients typically feel that special spark within the first 3 months!
If you're serious about meeting The One, why not give VIDA a call today?
Simply here to schedule your totally free, 20-minute phone consultation with one of our expert matchmakers.
All product and company names are trademarks™ or registered® trademarks of their respective holders. Use of them does not imply any affiliation with or endorsement by them.
Why Choose VIDA Select?

Since 2009, thousands of clients have discovered true love thanks to VIDA Select's fresh, modern approach to matchmaking – which has finally thrown blind dates and long-term contracts out the window. This isn't your grandmother's matchmaking!
Instead of working with a single matchmaker using a small rolodex of potential partners, VIDA Select's matchmaking team taps into the world's largest database of available singles. We'll quickly identify the matches who check all of your boxes so you can finally experience true chemistry. Are you ready to become our next success story? Schedule your complimentary consultation now by clicking the button below!
Get Started Now