I hope you enjoy reading the blog post.
If you want to chat now about your matchmaking search, click here.
Meet Sameera Sullivan! [Elite Matchmaker Profile]
If you're considering hiring Sameera Sullivan Matchmaking, then it makes sense to do a little research on the founder. From how she got her start to her philosophy, dating advice and more, this profile has everything you need to know about matchmaker Sameera Sullivan!
Meet Matchmaker Sameera Sullivan
Sameera Sullivan started her service back in 2012, but she's always had a penchant for giving out dating advice and coaching. As she shared in an interview with BizWomen, "My friends would call me at 3 o'clock in the morning…and my mom said, 'You should charge people.'"
Her professional background prior to matchmaking was in the air/naval/space industry. While she was working as a national executive recruiter, she got a call from another recruiter - one who asked if she'd be interested in working for a matchmaking service.
After accepting the position, she said she fell in love with the mission - but thought a more personalized approach would work better. As she started working with a handful of her own clients, she began getting word-of-mouth referrals and decided to strike out on her own.
In 2012, she launched Lasting Connections with a focused mission of helping "high net worth individuals." She later rebranded as Sameera Sullivan Matchmakers.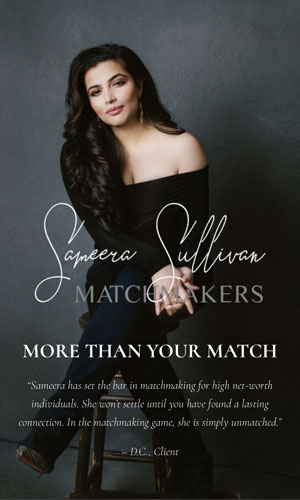 Taking the client-focused approach she thought was missing from the service she had worked for, Sullivan personally takes on only 10 clients or so a year. As she explained in an interview, she doesn't agree to help just anyone.
"I have to feel that I connect with my client, and if I feel I can help them, I will take them on.If I don't feel I can work with them, I will refer them out. I am not for everyone! "
While she started out as a one-woman show, her service has expanded to include a team of 12 matchmakers. Each of her matchmakers generally works with 8 to 10 clients every quarter.
Sullivan's service is based in Houston, Texas, with offices in Dallas as well as New York City, Phoenix and Scottsdale. Her reach also extends into Northern and Southern California. Sullivan spends her winters in Arizona, then splits the rest of her time between Texas and New York.
Sameera Sullivan's Matchmaking Philosophy
Sullivan encourages her clients to date many different women in the beginning to identify what qualities they are looking for in a partner.
"A lot of the time, what people think they want in love isn't what they actually want, so it's important to try out different things in the beginning," Sullivan said to the Observer.
She works hand in hand with her clients, working to understand their relationship histories, dating journey and roadblocks. Her master's degree in adult psychology helps her understand what type of matches to choose for each client.
As she explained in an interview with D Magazine, "My background and intuition help me to ask the right questions, and really get insight into someone's brain. That's the key to someone's matchmaking."
She also shared that it's important that clients be receptive to feedback and self-improvement:
"They have to be open to coaching, because they need to listen to me for me to help them."
Sullivan is no stranger to giving singles dating advice, as she's often interviewed as a relationship expert.
Here are 3 of her best dating tips from around the web!
What It Costs To Hire Sameera Sullivan
This exclusive matchmaking service costs anywhere from $25,000 to $250,000+. Pricing depends on factors like complexity of your search and matching criteria, how many cities you're open to dating in, and how you'd like your matches to be sourced.
Sullivan offers single city searches, or you can opt for a regional, coastal, national, or international one. Her "luxury" package options can include personalized recruiting events via social media. A non-identifiable description of you is posted, and interested women can apply for screening as a potential match.
The entire package cost must be paid up front, and includes a year's worth of active matchmaking and a year's worth of "hold" time. The hold time can be used to see where things go with a promising match.
Clients meet women from Sullivan's database who have been pre-screened and personally interviewed by the team. She also has a network of recruiters across the US that scout for matches in venues like sporting events, charity galas, coffee shops, gyms, etc.
Her recruiters also utilize their own network of friends, and women also approach the service via word of mouth or referral to join the database.
This professional matchmaker says she doesn't believe in blind dates. Her team will share photos and detailed information about each woman with you. Then once you've approved a match, some information about you will be shared with her.
Want to learn more about Sameera Sullivan Matchmaking? Check out our matchmaking service review!
All product and company names are trademarks™ or registered® trademarks of their respective holders. Use of them does not imply any affiliation with or endorsement by them.
Why Choose VIDA Select?

Since 2009, thousands of clients have discovered true love thanks to VIDA Select's fresh, modern approach to matchmaking – which has finally thrown blind dates and long-term contracts out the window. This isn't your grandmother's matchmaking!
Instead of working with a single matchmaker using a small rolodex of potential partners, VIDA Select's matchmaking team taps into the world's largest database of available singles. We'll quickly identify the matches who check all of your boxes so you can finally experience true chemistry. Are you ready to become our next success story? Schedule your complimentary consultation now by clicking the button below!
Get Started Now