I hope you enjoy reading the blog post.
If you want to chat now about your matchmaking search, click here.
San Francisco Matchmakers Top List: 10 Best Services! [2023]
With men outnumbering women 4 to 1 in Silicon Valley, dating in San Francisco can be a frustrating experience. Hiring one of the many San Francisco matchmakers could be the answer... but figuring out who is the best one can be a challenge.
You've landed in the right place. From the big industry players to the small independent boutiques, our team of experts has reviewed 200+ matchmakers and their services. Our insight comes from over 14 years of first-hand industry experience, comprehensive research, real customer reviews, and a deep understanding of the matchmaking landscape.
Start here, with these top 10 Bay Area matchmaking services!
Enamour offers modern matchmaking for selective singles who want to meet someone truly special. The elite matchmaking team employs the strength of AI, state-of-the-art recruiting technology, and relationship psychology to pinpoint highly compatible matches.
Clientele
Accomplished, selective singles seeking a more bespoke matchmaking experience.
Cost
Enamour's matchmaking services begin around $20,000.
What To Expect
The process begins by applying through the website, or scheduling a consultation. If you're a good fit for the service, you'll be paired with a dedicated matchmaker. She'll be with you every step of the way, and will learn all about you and your preferences during an information gathering session.
During this call, she'll get to the core of what's most important to you in a long-term relationship. Once she's profiled your ideal type of match, the search begins!
You'll meet carefully vetted singles from Enamour's curated, invite-only database. But your matchmaker truly leaves no stone unturned, because Enamour also uses sophisticated scouting methods to search far and wide for candidates.
Every potential match is screened, either in person or via video, to ensure they're a good fit for your ideal partner criteria. Your matchmaker will ask all those potentially awkward 2nd and 3rd date questions, so you don't have to!
The post-date feedback session gives you the opportunity to refine the search. Your matchmaking also checks in with each match, giving you valuable insights into your own dating process. Enamour has all the tools you need to make the best possible impression, including personal styling, dating coaching, and more.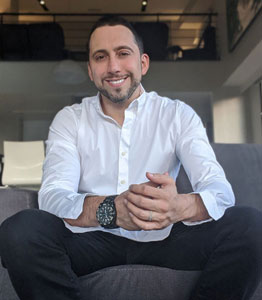 Dating in the San Francisco Bay area can be frustrating, but with VIDA Select's team of experienced matchmakers it can be a whole lot easier to meet elite singles - and more affordable! Founded in 2009, VIDA Select has helped thousands and thousands of singles meet someone special.
Clientele
Relationship-minded men and women from their mid-20s to their 60s.
Cost
VIDA Select offers 3 levels of matchmaking services, with the price of each monthly package highly reflective of the number of hours that should be used for finding highly compatible, incredible matches.
Your matchmaker will take into account factors like the complexity of your 'ideal partner' criteria, the number of areas you'd like to match in, etc. when recommending the best package for you.
Basic matchmaking packages start with a monthly investment of just $1195. Premium packages start at $1795 per month, and Elite options begin at just $2595 per month. On average, a client meets someone special in just 3 months!
What To Expect
Unlike the other matchmakers on this list, VIDA doesn't require a signed contract. VIDA is unique in that it delivers executive matchmaking services but lets you pay month-by-month - that means you only pay for the time you actually need.
And since VIDA utilizes the largest database of eligible San Francisco singles, you could be just a month or two away from meeting your perfect partner!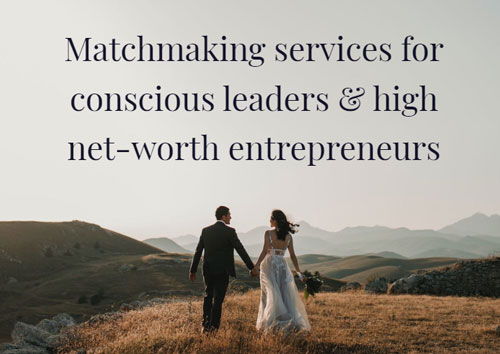 Launched in 2002 by Leslie Wardman and Taylor Wade, this elite matchmaking service is headquartered in San Fran, with locations across the US, Canada, Mexico, and the UK.
Clientele
Ambiance Matchmaking only accepts a limited number of clients at any given time, generally successful professionals in their 30s to 60s who are seeking a serious relationship.
Cost
Matchmaking packages start at $25,000 and can range over $100,000, with the cost depending on whether you want a local, national, or international search.
What To Expect
Because Wardman works hand-in-hand with each client, she only takes on 20 new clients at one time. Potential clients are screened, with only 4.07% of those who applied accepted in 2020.
Wardman and her team identify compatible matches from the Ambiance database of over 10,000 eligible singles. Potential matches are further screened and interviewed to ensure they're a good fit for what both people are seeking. Once compatibility is determined, the first date is planned.
Matchmaking contracts are 12 months, with up to 12 months of "pause" time if needed. You can generally expect to meet 1 to 2 matches each month.
Further Reading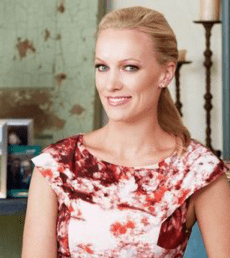 Often called the "Silicon Valley Cupid," Amy Andersen's exclusive matchmaking service helps men and women in the tech industry find love. Andersen's service was founded in 2003.
Clientele
Tech professionals and executives looking for "The One."
Cost
$45,000 - $500,000, and men under age 31 can become "referral clients" and placed in the database of eligible singles for free, but are not guaranteed to be matched with paying clients.
What To Expect
Potential clients apply via the website, and if you look like a good fit for Linx, you'll be contacted for a 90-minute consultation at the cost of several hundred dollars. There are a variety of membership options to choose from, all of which include a 2-year contract and 4 months of "hold" time.
Further Reading
The Bevy (by Greta Tufvesson & Nikki Lewis)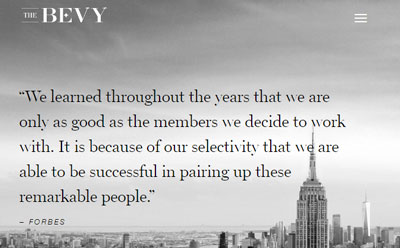 This bi-coastal dating service has offices in LA and NY, and now operates in San Francisco as well. It was founded in 2014 by Nikki Lewis and Greta Tufvesson.
Clientele
"Discerning" men and women between 23 and 60 years old seeking long-term relationships.
Cost
Prices for men generally start around $25,000. Women may join for free, provided they pass the screening process.
What To Expect
Most of The Bevy's clients come via referral, but you can also fill out the contact form on the website. You'll have several consultations with your matchmaker to go over details like your background, relationship history, life goals, perfect match criteria, etc.
You'll be matched with singles in The Bevy's database, but you won't get to see what they look like prior to the date. You can also attend members-only events where you can mingle with other members.
Further Reading
Talia Goldstein's national matchmaking service calls LA home, but Three Day Rule has a professional matchmaker based in Silicon Valley too. Goldstein started the service in 2013.
Clientele
Both men and women, ranging from their 20s to 60s.
Cost
To meet at least 3 matches over the course of 3 months, it's $5,900. Meeting at least 6 matches over 6 months is $9,500. 6 months of "VIP" matchmaking services starts around $18,500. The longer memberships also include a pro photo session.
There's no fee to have your profile included as an eligible Silicon Valley single, but you may not ever get matched with anyone.
What To Expect
Paying clients are matched with other paying clients in the San Francisco area, or "free" members from within the database. Three Day Rule also has a partnership with online dating sites OkCupid, Match.com, ChristianMingle, and JDate, so you'll likely find some of your matches were recruited from there as well.
You'll be shown a profile, pics included, of each match. If it's someone you'd like to meet in person, you'll be given their contact info so you can call to arrange a first date.
Further Reading
This mom/daughter matchmaking team calls San Francisco home, although they work with a network of matchmakers across the country and internationally. Jill Kelleher founded the service in 1986, with Amber Kelleher-Andrews coming on board later on.
Clientele
Men and women who are ready for marriage.
Cost
If you only want to search in SF, matchmaking services start at $30,000. If you want your search to extend nationally, that starts at $45,000 - and an international search costs $150,000 to over $300,000.
What To Expect
No matter the scope of your search, membership contracts last 1 to 3 years and include up to a year's worth of "hold" time. Your matchmaker will match you with people from their 50,000+ strong database.
Both you and your potential match will be given a description of each other, and if there's interest on both sides phone numbers are exchanged.
A boutique San Francisco matchmaker, Shannon Lundgren specializes in helping Ivy League singles find love. She's an Ivy Leaguer herself, with an MBA from Harvard Business School.
She started Shannon's Circle in 2012 while working as an executive at Wells Fargo, and has been matchmaking full time since 2021.
Clientele
Highly educated, professional singles. Lundgren works with both men and women as paying clients.
Cost
Matchmaking service packages begin at $10,000. Contracts are customized to each client's circumstances, and typically run for 6 or 12 months.
What To Expect
Prospective clients start with a consultation. If you decide to move forward with Lundgren's services, you'll meet compatible singles from her internal database.
She also sources potential dates via her matchmaking and personal networks, and also does "targeted outreach" depending on your package level.
Shannon's Circle also offers dating coaching and other concierge services.
Further Reading
Even though this mother and daughter team is based out of NYC, they work with clients in the US and around the globe, and also have a presence in San Francisco. Janis Spindel founded the service back in 1993.
Clientele
Marriage-minded men.
Cost
Women can pay between $250-$1,250 for the chance to pass the screening required to join the database of eligible singles, and potentially be matched with paying clients.
Membership prices for men start at $25,000 and top out at $1,000,000, depending on the scope of the matchmaking service you want.
Contracts also include an up-front signing fee that varies by client, but starts at $65,000. Should you get into a relationship with a match, you'll also be on the hook for a finder's fee of the same amount. A relationship equates to dating for 12 months, becoming engaged, or moving in together.
What To Expect
Contracts span a 12-month time period and typically include at least one match per month. The first step is meeting with Janis or Carly, typically over a meal, so they can get to know both you and your dating preferences. You'll be matched with women in the Serious Matchmaking database.
Further Reading
Millionaire matchmaker April Davis is based in Minneapolis but runs 16 different locations around the country - including one in San Francisco. Her service was founded in 2010.
Clientele
Both men and women, typically professionals and executives, who are seeking a long-term relationship.
Cost
$2,800 to $100,000 for an "active" search or you can be listed in the LUMA database for free - but there's no guarantee you'll ever be matched with a paying client.
What To Expect
After a face-to-face interview, you'll be paired with a matchmaker who will also be working with up to 19 other clients at the same time. She'll search through the singles in the LUMA database and will arrange dates with the matches she feels are compatible. If the two of you hit it off, you can choose to exchange numbers during the date.
Further Reading
All product and company names are trademarks™ or registered® trademarks of their respective holders. Use of them does not imply any affiliation with or endorsement by them.
Why Choose VIDA Select?

Since 2009, thousands of clients have discovered true love thanks to VIDA Select's fresh, modern approach to matchmaking – which has finally thrown blind dates and long-term contracts out the window. This isn't your grandmother's matchmaking!
Instead of working with a single matchmaker using a small rolodex of potential partners, VIDA Select's matchmaking team taps into the world's largest database of available singles. We'll quickly identify the matches who check all of your boxes so you can finally experience true chemistry. Are you ready to become our next success story? Schedule your complimentary consultation now by clicking the button below!
Get Started Now