I hope you enjoy reading the blog post.
If you want to chat now about your matchmaking search, click here.
Sarasota Singles Reviews [Cost & Real Customer Experience!]
Thinking about hiring this Florida dating agency? You probably have a lot of questions, like how much the matchmaking service costs, where they're located, and what past clients thought of their experience.
These Sarasota Singles reviews have all that, and more!
From the small independents to the big players, we've reviewed over 200 matchmaking services. Our insight comes from 14+ years in the industry, comprehensive research, real customer reviews, and a deep understanding of the matchmaking landscape.
Local Singles, Not So Local Company...
You may have noticed there's no local address for Sarasota Singles on the website. That's because they're owned by a national company that's based out of Broken Arrow, Oklahoma.
According to a WINK news investigation, Romance Pros International also owns Naples Singles, Tampa Singles and DC Singles:
The owner of Romance Pros, William Broadbent, has quite a few other matchmaking services under his ownership as well, according to the Better Business Bureau: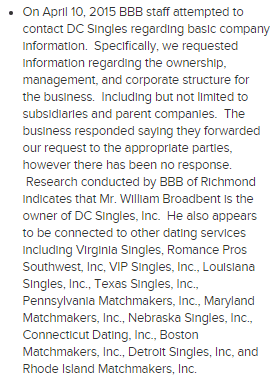 It's actually a longer list than that - there are at least 100 similar websites in the US and Canada.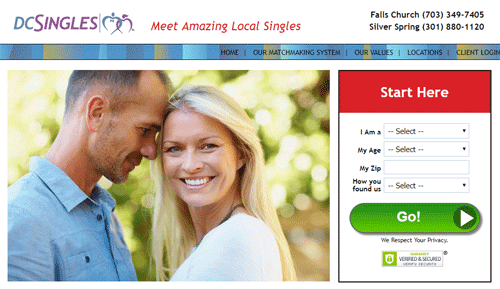 That being said, you'll be matched with singles in Sarasota - but it may not be by a local matchmaker.
Signing Up For Sarasota Singles
The first step to signing up is either calling the number on their website, or filling out this simple contact form:
Clicking the green "Complete" button also grants them permission to share your personal contact information with third party service providers, as outlined in the Privacy Policy you probably didn't read:
The above paragraph exempts Sarasota Singles from the "Do Not Call" list, as well as any of those third party service providers they share your personal information with. It also lets you know you can expect an increase in personalized ads on social media sites like Facebook.

This paragraph lets you know you'll be contacted by other providers of direct marketing services. Which likely means the parent company of all those "local" matchmaking websites is also in the business of selling your personal data.
But assuming you do go ahead and share your info, you'll then see a form with questions like these that will help your matchmaker learn about you:
Filling out the form isn't a requirement, though. You can also just wait and go over your background, relationship history and goals, etc with the matchmaker when she gets in touch with you.
She'll make arrangements to meet you in person, and that's when you'll get definitive answers about cost, matchmaking process, contracts... Basically all the important details that aren't listed anywhere on the website.
Once you've signed the contract, you'll be matched with other Sarasota singles in their database. They provide contact information and you can arrange to meet your date. While you receive some basic background information, you won't get to see photos.
Here is how a Sarasota Singles matchmaker explained the matching process in a response to a BBB complaint:

How Much Does Sarasota Singles Cost?
According to some of the reviews you'll read in just a bit, Sarasota Singles is somewhat flexible when it comes to the final price tag. But being open to negotiation also means you're likely to experience some very persuasive sales pitches.

You may also find the price is affected by factors like your credit limit/score and your present financial state. Customers reported spending between $1,000 and $7,000 in Sarasota Singles BBB reviews.
Once the cost is settled, you'll sign a contract for the matchmaking services. Make sure you fully understand everything that's put on paper, as that's what will end up being legally binding.
Sarasota Singles won't provide a refund after 3 business days. Being on the same page before picking up the pen is essential.
As the matchmaking service explained in this response to a BBB complaint, there are no guarantees when it comes to the frequency and time frame of the referrals. And they may not match your criteria:

What Real People Are Saying About Sarasota Singles
When it comes to Google reviews for Sarasota Singles, the news is good - they have a 4.0 star rating.
This customer was happy to find her soulmate via the Sarasota dating service:
These two customers also met someone special: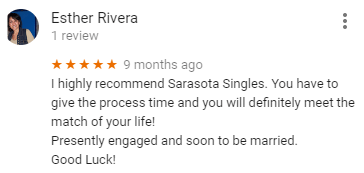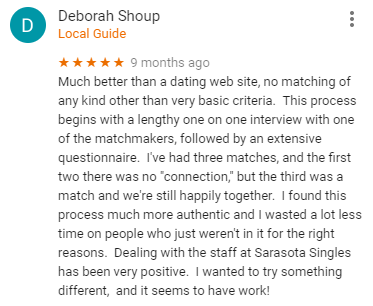 This customer thought the match quality could improve but was otherwise satisfied: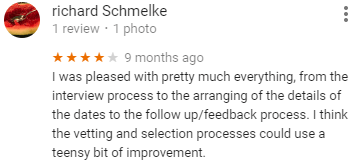 This customer, on the other hand, wasn't happy with the matchmaking and gave them only 1 star:

Sarasota Singles Yelp Reviews
But when it comes to Yelp, the news isn't as good. This Florida dating service only has a 1-star rating, based on 4 currently recommended Sarasota Singles reviews.
This reviewer likened the initial consultation to buying a used car, and ended up leaving without signing up: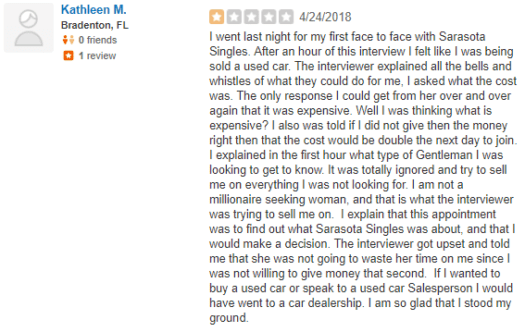 This customer signed up after being reassured there were plenty of compatible people in the local singles database for him to meet. But that didn't end up being the case:
The one not currently recommended review was from someone who thought her matches were low quality. She didn't think they meshed with the criteria she provided during her initial consultation: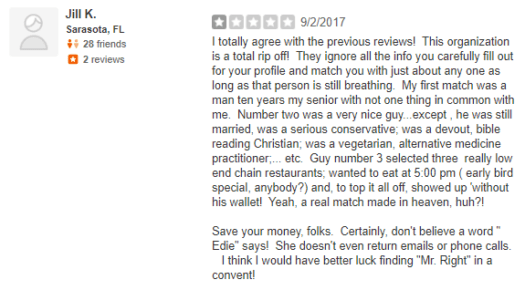 Sarasota Singles BBB Reviews
The Better Business Bureau combined Sarasota Singles with Tampa Singles and Naples Singles, since they're all owned by the same company.
They have an overall "F" rating, 4 negative reviews, and a total of 31 complaints.
Many of the Sarasota Singles complaints had to do with the quality of the matches, like this one: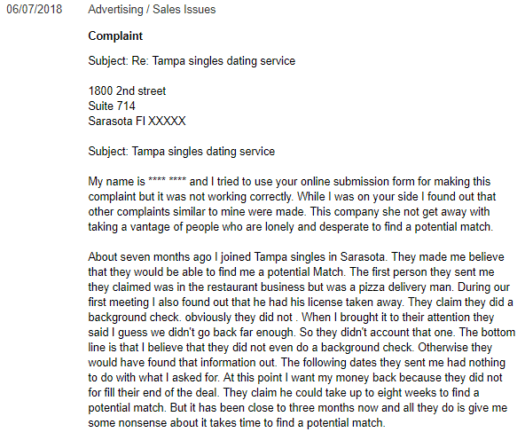 This customer also felt her matches were low quality, and wasn't happy with the customer service either: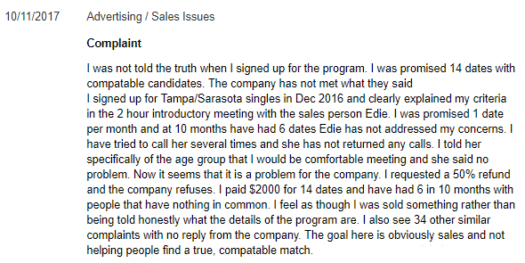 This customer reported difficulty reaching her matchmaker. She was also unhappy with the quality of matches she received (review edited for length):
Sarasota Singles also had numerous negative reviews on Pissed Consumer.
Common complaints being lack of matches, low quality matches, and promises made during the sales pitch that never came to fruition: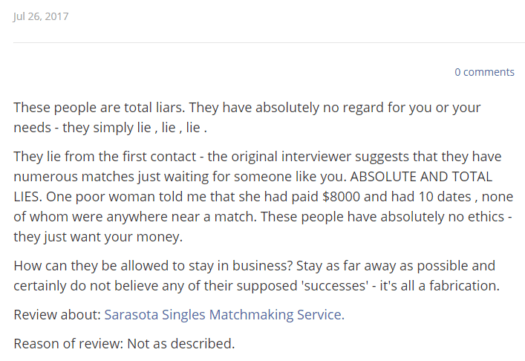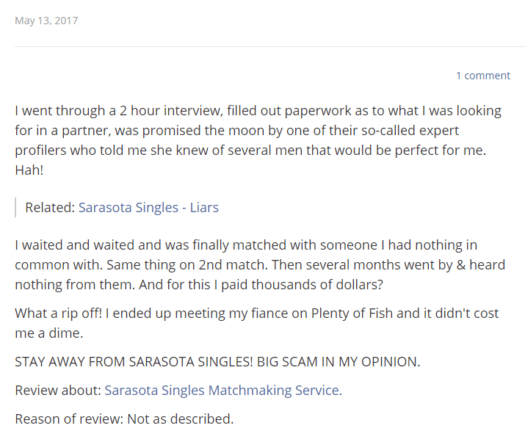 Internet reviews are a great resource when it comes to helping you create a list of questions to ask your matchmaker before committing to a contract. But they shouldn't be the only deciding factor.
As with any personal service, you'll want to consider multiple options and trust your instincts. Are you comfortable with the prospect of blind dates, and with signing a contract for a non-refundable service you haven't gotten a taste of yet?
If not, maybe you should think about a matchmaking service like VIDA Select, where contracts aren't required and you get to see a full profile - including photos - of your potential matches before you agree to meet them.
The Easiest Way To Meet Your Soulmate In Sarasota
With the biggest dating pool of high-quality Sarasota singles you'll find anywhere, VIDA's elite matchmakers will hand select matches that hit every mark on your "ideal partner" checklist.
You have the power to say "yes" or "no" to each one. And you get unlimited matches so you don't have to worry about compromising your standards. VIDA understands you're serious about finding your soulmate, and that's exactly what we'll help you do.
You'll also get to date on your schedule.
VIDA is pay-as-you-go, meaning you'll pay only for each month that you want service. No risky, long-term contracts here!
Monthly prices for basic matchmaking packages start at $1095. Premium matchmaking packages start at only $1695 per month, and Elite options begin at just $2595 per month.
The cost of each package depends on the level of service you select, and price is highly correlated with the number of hours that should be devoted to your search for compatible matches each month. The average VIDA customer finds their "someone special" within the first several months of service.
Want that to be you?
Just click here and set up your free, 100% confidential 20-minute consultation right now!
All product and company names are trademarks™ or registered® trademarks of their respective holders. Use of them does not imply any affiliation with or endorsement by them.
Why Choose VIDA Select?

Since 2009, thousands of clients have discovered true love thanks to VIDA Select's fresh, modern approach to matchmaking – which has finally thrown blind dates and long-term contracts out the window. This isn't your grandmother's matchmaking!
Instead of working with a single matchmaker using a small rolodex of potential partners, VIDA Select's matchmaking team taps into the world's largest database of available singles. We'll quickly identify the matches who check all of your boxes so you can finally experience true chemistry. Are you ready to become our next success story? Schedule your complimentary consultation now by clicking the button below!
Get Started Now