I hope you enjoy reading the blog post.
If you want my team to just do your online dating for you, click here.
Secret Benefits Profile Tips [Attract Hotter Sugar Babies!]
VIDA Select's dating specialists have represented hundreds of clients on sugar dating apps and sites, so we know what approaches work best when it comes to finding mutually beneficial relationships.
There are two strategies for optimizing your Secret Benefits profile to attract the type of sugar babies you want to meet most.
First and foremost, you need to stand out in her search results. Secret Benefits only displays a few key elements of your profile, and this package needs to be compelling.
Then, once you have her attention, your profile needs to make you seem like a worthy option to pursue.
We'll reveal both strategies in this post, so you can attract the best sugar babies on Secret Benefits! 
Strategy #1: Stand Out In Her Search Results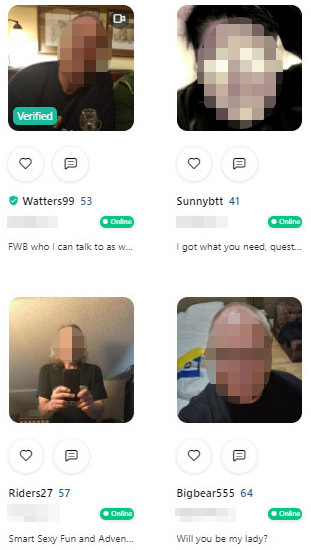 As you can see, your primary photo takes center stage when she's scrolling through all her sugar daddy options. It also displays your username, age, location, tagline, and a verified badge.
This is all the information she has to decide whether to click on your profile or leave you behind. This short package must be compelling enough to capture her interest, so she wants to learn more about you.
That little green verified badge can instantly draw her eye, and it lets her know that you're legit. Taking the extra step to verify your profile can make a big difference in the results you get on Secret Benefits, so it's worth the time.
To verify your profile on Secrets Benefits:
Go to your Profile
Tap on "Verification" in the Profile menu bar
Follow the prompts to record a video of yourself saying the provided words
Now let's take a look at each element that appears in her search results.
Your Primary Photo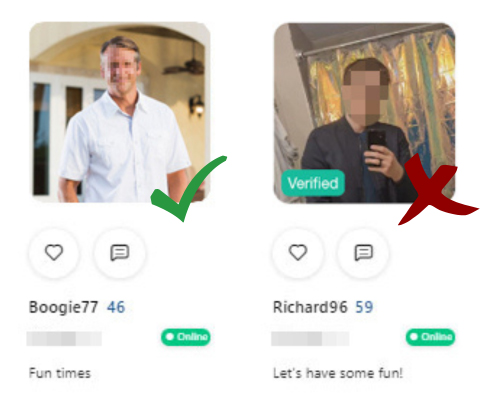 Secrets Benefits is all about selling a lifestyle. She's got a vision in her head of the type of sugar daddy she's looking for, and your primary photo needs to instantly align with that.
You don't need to choose a photo where you're rocking a suit at a cocktail party. But you at least need to look well put together in an enticing environment.
This is not the dating site to lead with a blurry, out of focus, poorly lit photo. The image you choose needs to be crystal clear and taken in flattering light.
For your primary photo, follow these guidelines to optimize how your profile appears to her when she's searching:
Be the only person in the frame - you don't want to make her guess who you are.
Choose an image where you "pop" - a distracting background takes the focus off of you.
Avoid selfies - it can be tricky to get a flattering angle without a lot of practice, and research has shown selfies aren't always as well received as a photo taken by someone else.
Headshot > full-body shot - you want that instant connection that comes from strong eye contact and a clear view of your face.
For more expert advice, check out these science-backed tips on choosing the right image for your dating profile!
Your Username
You want to get your username right the first time, because Secret Benefits won't let you change it later. Your username is an opportunity to show off a facet of your personality, so don't let it go to waste.
Secret Benefits usernames have a 15-character limit, so that's not a lot to work with. But you can still hint at your lifestyle, hobbies, etc. in an intriguing way:
JustAddTapas
PassportReady
AdventureSeeker
NatureAndWine
On_Island_Time
For more username examples and a full rundown on how to write an attractive one, check out these tips! But for now, here are some quick do's & don'ts:
Do:
Focus on an attractive trait. Your username can be a tool to highlight it!
Reflect your lifestyle. Are you big into travel? Fancy dinners? Adventure?
Make it instantly readable. If she has to decode it, she may just skip to the next guy.
Don't:
Be lame. If you have to add something like "123" after a username, it's been overdone (we're looking at you Loverboy and GenerousGuy).
Write gibberish. A name like xXxtreme or iiSK8T3R might seem cool to you, but it's an eyesore in her search. Hard pass.
Be random. Your username should tie into the overall theme you're building in your profile.
Your Tagline
Your tagline is like a headline for your profile. It has a 100-character limit and at least part of it displays in her search results.
Don't phone in the tagline. This is another opportunity to build intrigue, and make her want to keep exploring your profile.
Headlines like these work well for Secret Benefits, because they help "sell" the lifestyle your sugar baby is looking for:
Let's throw a dart at the map…
Passport required.
Adventure wanted, inquire within.
For more tagline inspiration, check out this quick guide to writing dating profile headlines!
Strategy #2: Make Your Profile Compelling To Sugar Babies
Now that you have caught her interest, you want to keep it with a compelling profile! Unlike mainstream dating sites such as Match, Tinder and Hinge, sugar dating websites aim to connect attractive women with generous men.
Your profile needs to deliver on that premise in a way that's genuine and authentic to you. If your profile hints at a lifestyle you can't manifest in person, it's not going to do you any favors in the long run.
Online user reviews of sugar daddy sites are full of cautionary tales of scammers, bots and fake profiles. Verifying your account helps assure potential matches that you're legit, and so does having a profile that looks like you invested time and energy into crafting it.
There are 3 main components of your Secret Benefits profile: the rest of your photo lineup, the "What do you have to offer" section and the "What are you looking for" section.
Let's focus on what she sees first.
Distinguish Yourself With Intriguing Photos
You want your photo lineup to offer her a taste of your lifestyle.
Choose photos that showcase activities you enjoy doing. Hiking, travel, dinners, fancy cars, sporting events, a day at the beach… whatever you do in your spare time that you'd like to include her in.
Include a variety of images. If you use an all-selfie or an all portrait-style pro photo lineup, you risk looking boring and one note.
Unless this is your first online dating rodeo, you already know it's important to select images you look good in. But also keep in mind, she'll likely be examining the background of each photo, looking for clues that you are who you say you are.
The backdrop of your photos needs to look good too. Poorly lit bathrooms, messy bedrooms or kitchen, etc. are not going to win her favor.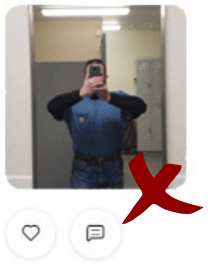 Every image you choose needs to support the narrative that you're a sugar daddy worth pursuing.
Which brings us to your written bio…
Turn Your Secret Benefits Profile Into A Sugar Baby Magnet
Photos are the most important aspect of your Secret Benefits profile, but the written component can have a big impact as well. She'll likely be scrutinizing that before agreeing to meet you in person.
There are two main written components: describing yourself and describing what you're looking for on Secret Benefits.

What You Have To Offer
What you write here needs to be congruent with what you're portraying in your photo lineup. If it's not, she'll worry that something about you is "off".
For instance, let's say you put, "I'm an avid traveler who's always up for an adventure" in your bio. But your photos are all selfies taken in your living room. She's not going to buy what you're selling. Your photo lineup needs to support the narrative.
Details matter, because listing specifics make you seem more authentic. For instance:
Instead of a cliche line about being an adventurous traveler, describe a recent trip you took. You want her to draw the conclusion that you're an adventurous traveler, versus you just telling her you are.
Mention your occupation in your bio, because financial stability is an important quality in a sugar daddy. The key here is describing what you do in a meaningful and attention-grabbing way, like this:
Sharing something you love about your professional life is more interesting (and believable) than simply writing "I'm an investor" or something like that.
Here is an example of a compelling sugar daddy profile:
What You're Looking For
One mistake a lot of guys make on sugar sites is using this section to describe all the physical attributes they're looking for in a sugar baby. But even on a platform that's geared toward a more "transactional" outcome, focusing on superficial details will likely turn women off than on.
If you have a particular "sugar baby look" in mind, use the search filters to screen for your preferred body type, age, height, hair color, piercing, tattoos, etc. If you are too direct by writing a list of requirements, you likely won't hook her interest.
Instead, describe the type of woman that you want to make a connection with. Personality and character traits, interests… mention the non-superficial qualities that are important to you.
Focus on the qualities you are looking for in a sugar baby. Do you want someone who is down to Earth? An advanced snowboarder? A beach bum or fitness guru? etc. These details will resonate with her far more than a wishlist of physical attributes will.
Those are the main components of your Secret Benefits profile, but there are still a few things you can do to optimize it.
An incomplete profile could be a red flag. With so many fake accounts and scammers to contend with on sugar sites, the more you can do to look like you invested time in completing your profile, the better.
In the "About" section, you can include all kinds of details about yourself. This is important, because it will directly affect how many search results you show up in.
There are options to select information based on your physical appearance and lifestyle: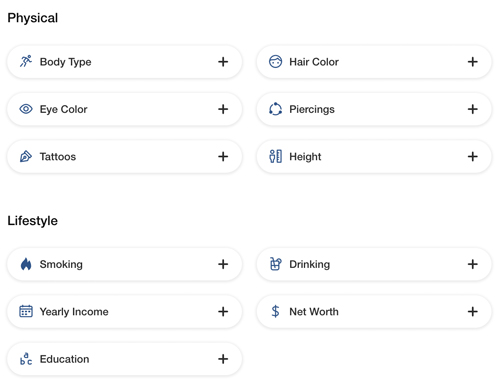 You can also include up to 5 "interests" on your profile, which is another opportunity to share insights into your personality and lifestyle.
If there is a particular hobby or activity you'd like to do together, it's a good idea to list it here.
Starting to seem like a lot of work?
It can be, especially if marketing yourself on a dating site isn't something you have a lot of practice with. But if you want to attract the best sugar babies with your profile, time and effort is required.
So why not hire a team of dating experts who already know exactly what works and what doesn't when it comes to the world of sugar dating? VIDA Select can not only optimize your Secret Benefits profile for you, we can also manage your entire account.
Sugar baby screening, messaging… all of it. Let us do the hard part, and you enjoy dates with beautiful sugar babies! Find out how it all works here.
Want us to do your online dating for you?

Hey, I'm Ally, VIDA Select's Director of Matchmaking.
We take all the frustration, hard work and hassle out of modern dating!
Imagine your very own Dream Team of highly skilled dating experts searching for the very best local matches, sparking their interest, and arranging all the dates for you.
Wouldn't it be nice to finally stop swiping and start dating higher quality matches so you can meet someone special?
We've helped thousands of singles just like you since 2009, and we're ready to make you our next success story!
What are you waiting for? Take the next step now…
See If You Qualify