I hope you enjoy reading the blog post.
If you want my team to just do your online dating for you, click here.
Secret Benefits vs Seeking [Which Sugar Site Is Best?]
Delving into the world of sugar dating? If you are interested in finding a sugar baby, you've likely come across two of the major players in this field: Secret Benefits and Seeking.
Both of these dating sites cater specifically to sugar relationships, and they're two of the most popular sugar dating sites out there. Neither one is free for men to use, so it's important to make an informed decision when it comes to Secret Benefits vs Seeking. 
But don't worry - VIDA Select's team of dating experts have been helping clients navigate their sugar dating journeys since 2009. We've managed thousands of profiles, sent countless messages, and understand the ins and outs of both platforms.
Our first-hand experience will serve as your guide, providing valuable insights to help you decide which sugar daddy site is the best fit for you.
Secret Benefits Vs Seeking Table of Contents:
Let's dive in and help you make the best choice!
Secret Benefits vs Seeking: The Basics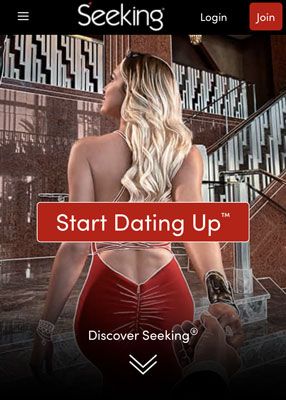 Of the two sugar sites, Seeking has been around a lot longer. It was founded in 2006 by Brandon Wade. A serial entrepreneur, he also owns two other niche dating platforms: MissTravel and WhatsYourPrice.
Back when it originally launched, Seeking was called "SeekingArrangement." In those days, it was purely a sugar site. Beautiful women generally joined as sugar babies, while "generous" older men joined as sugar daddies.
But in 2021, SeekingArrangement rebranded as Seeking. While the platform still welcomes those looking for a mutually beneficial relationship, it also changed its vibe to appeal to those looking for a more traditional long term relationship.
With its tagline of "Start Dating Up", Seeking positioned itself as a luxury dating site geared toward attractive, successful singles.
Seeking operates in over 130 countries around the world. For more background info about Seeking, check out our Seeking review!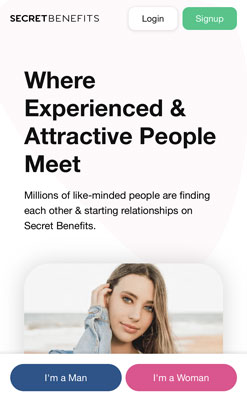 Secret Benefits, on the other hand, launched in 2016. It's marketed as an exclusively sugar dating site, but you will still find women looking for more traditional dating as well, open to both casual and long-term connections.
That being said, women are predominately on Secret Benefits looking for a sugar situation.
Secret Benefits doesn't yet have quite the same reach as Seeking - it's available in the US, Canada, Australia and the UK. Want to learn more about how Secret Benefits got its start? Check out our Secret Benefits review!
The Quick Verdict: Seeking has been around longer, is available in more countries, and according to many online sources has more active users.
Now, let's take a look at one of the biggest differences between Seeking and Secret Benefits: the payment setup.
Secret Benefits vs Seeking: Cost
Men need to pay to fully use both dating sites, but how it's structured is completely different. This is likely to be the deciding factor for you, because it's all going to come down to how you prefer to pay.
In terms of upgrading, Seeking operates like many dating sites. You can do some things for free, like signing up, creating a profile and taking a look around.

"Successful Members", who are generally affluent and generous men, must upgrade to a Premium membership to send messages. That costs $109.99 for a single month, or you can invest in a 3-month subscription for $289.90.
There is also the Diamond membership option, which costs $274.99 per month.
If you're signing up as an "Attractive Member" (aka the sugar baby), you can send messages for free. There is also a premium membership level for sugar babies, which costs $19.99 for a single month or $44.99 for 3 months.
More on the premium features included with each membership coming up!
Secret Benefits, on the other hand, does not have a monthly subscription option. It's free to sign up for a standard account. But for men, most of the features you'll need to use require spending credits.
There are 3 package options to purchase these credits:
Introductory Package: $59 for 100 credits ($0.59 / credit).
Elite Package: $169 for 500 credits ($0.34 / credit).
Best Value Package: $289 for 1,000 credits ($0.29 / credit).
The more credits you buy at once, the less expensive each credit is. How fast you'll blow through them depends entirely on how actively you use the site.
Many actions require 10 credits per use, such as starting a message exchange with a sugar baby, sending a photo in your message, browsing anonymously, viewing a "secret album", etc.
Sugar babies can use the site for free, but only if they meet the minimum profile and photo requirements (for instance, uploading at least 6 images).
The Quick Verdict: Determining which sugar dating site is better will likely come down to which payment structure you're more comfortable with.
Purchasing credits on Secret Benefits could end up being cheaper than a monthly subscription on Seeking, but only if you don't plan to send a lot of messages or photos.
At 10 a pop, those credits may disappear quickly. It may also add an extra layer of frustration to spend credits only for your message to go unanswered or the exchange fizzle out before you can arrange a date.
Premium Features Comparison
Let's start with…
Secret Benefits Features
Compared to some other dating websites, Secret Benefits does not offer a ton of features.
This is what you can do for free:
'Like' profiles you are interested in
Verify your profile via video
Hide your from all users if you want to take a break
Create a secret album & grant access to it
Access the search filters
Doing just about anything else on the site requires credits if you're signed up as a sugar daddy.
Secret Browsing: Sugar daddies can go incognito for 24 hours, meaning she won't know you checked out her profile
Sending Photos: You can include photos in your message exchange, but each photo requires spending 10 credits to send
Sending Messages: You'll need to spend 10 credits to unlock a conversation with any sugar baby you want to communicate with
Watch Secret Albums: Unlocking each album of private photos you want to view costs 10 credits.
Become A Top Admirer: Similar to sending a rose on Hinge or a Super Like on Tinder, making yourself a "Top Admirer" of a particular sugar baby is a way to stand out.
While it may not be feature-heavy compared to other platforms, it does have a very straightforward user interface. The clean design makes it easy to navigate.
Secret Benefits does not have a companion mobile app, but it does have a mobile-friendly website.
Seeking Features
Sugar babies on Seeking can do just about everything for free, provided basic requirements like completing a profile are met. But purchasing the "Attractive Member" premium membership for women includes the ability to hide the primary photo.
For men, free Seeking features include:
Sending up to 10 messages (after that, you'll need a paid membership)
Browsing profiles using the basic search filters
Viewing public photos
Adding a profile to your favorite list
Sending likes
Seeking Vibes
The Seeking Vibes feature allows members to post "in real time". Your Vibes content can be a photo or video, and it will be public to members within 250 miles of your primary location for 24 hours.
The Vibes feature launched in late 2022 as a way to give users a more "authentic" glimpse into someone's daily lifestyle.
Seeking Premium features for "Successful Members" include:
Hiding certain information, like your primary photo, last login and country.
Sending and receiving messages.
Including up to 3 locations on your profile.
Turning on read receipts for messages
Unlocking the advanced search filters
Boosting your profile for more visibility
Knowing who is paying to use the site
If you spring for the Diamond Level membership, you'll get all the premium features plus:
A profile badge
Profile customization options
Profile boosts
Access to "VIP rooms" to chat with other Diamond members
Unlike Secret Benefits, Seeking does have a companion dating app that you can download from Google Play.
This sugar site doesn't currently offer a Seeking iPhone app via the App Store, although they do offer a Progressive Web APP (PWA) for download on the Seeking website.
The Quick Verdict: Seeking and Secret Benefits are fairly comparable when it comes to premium features. Again, it comes down to whether or not you think being charged per use is something you're comfortable with.
Secret Benefits VS Seeking: Online Reviews
Let's take a look at how these two sugar dating sites stack up across various review platforms.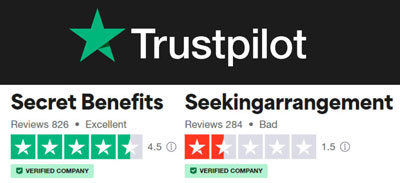 On Trustpilot, the winner is clear: Secret Benefits has a 4.5 rating, while Seeking only has 1.5 stars.
A full 82% of Seeking's Trustpilot reviews are 1 star, compared to only 6% of Secret Benefits reviews.
On sitejabber, SecretBenefits has a 4.08 star rating, based on 384 user reviews. Users awarded 3.5 stars overall for both service and value, and 4 stars for quality.
Seeking has a 3.33 star rating on sitejabber, but it's only based on a handful of reviews. Users gave it 3 stars for service and quality, but only 2 stars for value.
On Reviews.io, Secret Benefits has a 4 star rating, based on 45 reviews. 76% of reviewers recommend this sugar dating site.
Seeking comes in ahead on this review platform, with a 4.9 rating based on 22 reviews. A full 95% of reviewers recommend it.
Quick Verdict: With an average of 4.19 stars across all 3 review platforms, Secret Benefits is the winner in this category. Seeking has an average rating of 3.24 stars.
When it comes to user reviews, you probably already take them with a grain of salt or two. Your experience may vary according to who's using it in your area, but comparing the ratings can give you some helpful insights into which sugar site might be the best one for you.
Which Sugar Site Is Best?
VIDA Select's team has successfully arranged dates on behalf of clients with high-quality sugar babies on both sites. You'll need to decide for yourself if you'd rather go the pay-per-use credit route or purchase the membership for a month or two.
But whether you choose Seeking or SecretBenefits, one factor remains the same: Sugar dating is *all* about how you market yourself.
That means you need a strong profile paired with a compelling photo lineup if you want to attract the attention of the best sugar babies.
If you don't happen to have a marketing background, packaging up your lifestyle in an authentic yet compelling way can be hard. Most guys aren't even sure how to do this on a regular dating site, never mind the sugar angle!
But don't worry - VIDA Select's team has helped thousands and thousands of clients find the relationship they're looking for, and we can help you too. Go here to learn more!
Want us to do your online dating for you?

Hey, I'm Ally, VIDA Select's Director of Matchmaking.
We take all the frustration, hard work and hassle out of modern dating!
Imagine your very own Dream Team of highly skilled dating experts searching for the very best local matches, sparking their interest, and arranging all the dates for you.
Wouldn't it be nice to finally stop swiping and start dating higher quality matches so you can meet someone special?
We've helped thousands of singles just like you since 2009, and we're ready to make you our next success story!
What are you waiting for? Take the next step now…
See If You Qualify