I hope you enjoy reading the blog post.
If you want my team to just do your online dating for you, click here.
Seeking Reviews (2023) - Is This Luxury Dating Site Legit?
Seeking is a legit dating site with interesting and attractive users in over 130 countries. But is the right choice for you? This Seeking review has all the details you need to decide!
Seeking Review Table of Contents
Use the links to jump around, or start right here at the top!
Seeking's Shifting Brand
In 2006, founder Brandon Wade launched SeekingArrangement, which grew into one of the most popular sugar dating websites out there.
He rebranded the site as Seeking in 2021, with more of an emphasis on long term relationships and less focus on connecting beautiful sugar babies with generous sugar daddies. Wade stepped down as CEO of Reflex Media and Seeking.com in June of 2022, with COO/CTO Ruben Buell taking his place.
These days, Seeking markets itself as "a luxury dating site for successful and attractive singles" - with a tagline of Start Dating Up.
You can still find plenty of singles who are interested in sugar dating, but you'll also find matches looking for more traditional relationships as well.
Seeking Reviews Round Up
On TrustPilot, the reviews aren't great. Seeking.com has 2.0 stars, and a separate TrustPilot entry for SeekingArrangement.com has a 1.5-star rating.
In both cases, the most common complaints about the Seeking dating site are the high number of fake profiles, scammers and escorts encountered by users.
Other users expressed frustration that their Seeking account had been removed with no explanation, or that it wasn't easy to cancel a paid subscription.
On Google Play, the Seeking app has a 3.8 star rating, with 5-star reviews outnumbering 1-star reviews.
Some users were able to meet people successfully, while others complained of glitches and problems logging in.
Many of the negative reviews also mentioned the number of fake profiles the user felt they encountered.SiteJabber gave SeekingArrangement 3.5 stars, based on 2 user reviews. One user thought it was a great place to meet experienced sugar daddies, while the other reviewer found it too expensive.
Seeking Review Verdict
If you're looking for a mutually beneficial relationship, Seeking is still a good place to find it.
And while it may not look the same as when it started, the dating site has been around since 2006 and has a strong user base. If you don't have a virtual dating assistant to do all the screening for you, it may take a little longer to find the hidden gems amongst the fake profiles - but they are there.
Seeking Pros & Cons
Like any dating site, Seeking has its advantages and drawbacks.
Pros:
If you're worried about clients, colleagues, etc. seeing your profile, Seeking is a dating site you can use discreetly as long as you invest in a premium membership.
Sending messages requires a paid membership, which theoretically cuts down on the number of fake profiles.
Seeking has a profile verification feature, which costs $50 for the background check. That earns you a profile badge, which is a great way to attract more potential matches.
Cons:
Per numerous user reviews across various platforms, many of the non-paying user profiles are bots, inactive or scammers.
Seeking now advertises itself as a site for 'successful and attractive' singles. But unlike platforms like Raya, The League and The Lox Club, there are no requirements to prove it. Anyone can create a profile for free.
It's expensive compared to more mainstream (and more popular) dating sites like Match.com.
Seeking Cost
Seeking is a free dating site in that you can create a profile, browse around, and check out profile visitors for free. But if you want to message anyone with no restrictions, you'll need to purchase a premium membership.
This is where you'll see remnants of Seeking's sugar roots.
Successful Members
For "Successful Members" (usually men), Seeking costs $109.99 for one month, or $289.90 for 3 months. Paying users can send and read messages, hide their public profile photo, last login date and country, and have up to 3 locations for their profile.
It also includes read receipts, more profile visibility, advanced search filters and the ability to see which members use the site for free, and which ones pay.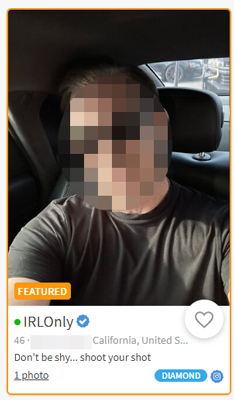 There is also the Diamond Subscription, which runs $274.99 per month. The Diamond level includes a badge displayed on your profile, as well as more profile customization options and profile boosts.
Diamond status unlocks access to the "VIP rooms" where you can chat with other members. The background check is a VIP requirement, so you know you'll be chatting with other verified members there.
Attractive Members
Seeking also has the option of signing up as an "Attractive Member". Attractive Members, usually women, can send messages for free. But only if these three conditions are met:
Your profile is 100% completed (there will be a green checkmark next to each section)
Your profile has been approved. This can take up to 2 days.
You have a public photo displayed that has also been approved.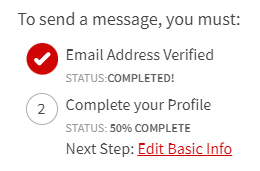 If you want to hide your primary photo, you'll need to purchase a premium Attractive Member subscription.
It's $19.99 for one month, or $44.99 for 3 months. If you're a woman looking for "Successful Members" and sign up with an .edu address, you'll get a free premium upgrade.
Getting Started On Seeking
Creating your Seeking account is simple. You choose your gender, then select whether you're interested in meeting men, women or both.
Then you'll need to specify which type of member you're looking to meet - Successful or Attractive.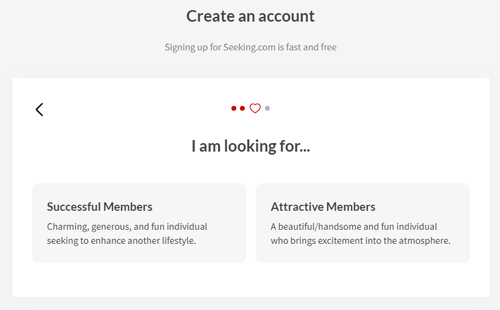 Next, provide an email address, choose a password and enter your birthdate, and you're up and running.
You can also sign in via Facebook if you prefer.
Creating Your Seeking Profile
For guys signing up as "Successful Members", keep in mind this is a site geared toward "dating up". In other words, she's got high expectations and you want to get her attention.
Choose your primary photo wisely. Not only do you want to look your best, but you also want your surroundings to instantly make her want to join you there.
There's also a section devoted entirely to financial information.
While it can be tempting to overstate your spending habits, resist that urge.
The whole point is meeting her in person. If what she gets in person doesn't match what you packaged up online, you probably won't even get the chance to kiss her goodnight.
Next is the main profile, which only has two sections: "About me" and "Seeking." You'll want to highlight all your best traits, but not in an obnoxious way. Bragging is a major turn off.
Instead, focus on showing - not telling. Describe your last trip abroad, your favorite 5-star dish, etc. If she can imagine what spending time with you will be like, she's more likely to respond to your message.
These "elite" profile tips will help you attract the most beautiful women on Seeking.
4 Sure-Fire Ways To Attract The Hottest Sugar Babies
Whether you're looking for a sugar baby or a relationship on Seeking, use the following tips to get the best results:
#1. Use copy/paste messages to save time
Why waste time writing individual messages to every woman you are interested in when copy & paste messages have proven to be more successful and take far less time?
Try sending a message like this:

It hits all the right notes:
Asks her a question so it's easy to answer
Sparks a vacation fantasy
Sets you apart from the competition
Create one great message like the one above, then start sending it out to every woman that piques your interest.
#2. Choose photos that illustrate your lifestyle
It's always a good idea to use your online dating photos to paint a picture of your lifestyle, but this is especially relevant when using a luxury or sugar daddy type site.
The girls on this site want to know that you're not all talk, so use your photos to demonstrate what life would be like if she were dating you.
Seeking Vibes is a feature that lets you post videos or photos "in real time," which is an authentic way to give her a glimpse of your lifestyle. Vibes content is public to "members of interest" within 250 miles of your primary location for 24 hours.
#3. Stand out in her search results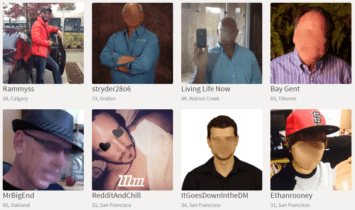 On Seeking, usernames stick out in her search results. You want her to notice yours for a good reason.
Usernames that start with the letters A-M are more attractive to women because names higher up in the alphabet are associated with higher levels of success overall.
Go here for more essential tips on choosing a username.
#4. Use the headline section to your advantage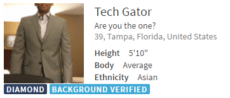 A lot of guys waste the opportunity to catch her eye with an intriguing headline, opting instead for something lame, boring or desperate sounding.
Why not give her a hint of what you've got to offer with a headline like "Pack your bag, our plane leaves in an hour". Attention-grabbing headlines leave her wanting to know you more, not less.
The Fastest, Easiest Way To Find The Gems On Seeking (Or Any Other Dating Site)
Seeking might not be purely sugar dating anymore, but you'll likely still spend a lot of time sifting through coal on your quest to find a diamond.
But when you've got a virtual dating assistant on your team, finding intelligent, interesting, and beautiful matches is easy. We do the hard part, you show up for the dates. It's that simple.
Contact us today to find out how we can find you the woman of your dreams!
Want us to do your online dating for you?

Hey, I'm Ally, VIDA Select's Director of Matchmaking.
We take all the frustration, hard work and hassle out of modern dating!
Imagine your very own Dream Team of highly skilled dating experts searching for the very best local matches, sparking their interest, and arranging all the dates for you.
Wouldn't it be nice to finally stop swiping and start dating higher quality matches so you can meet someone special?
We've helped thousands of singles just like you since 2009, and we're ready to make you our next success story!
What are you waiting for? Take the next step now…
See If You Qualify