I hope you enjoy reading the blog post.
If you want my team to just do your online dating for you, click here.
Seeking Reviews (2022) - Is This Sugar Daddy Site Legit?
Since you're looking for Seeking Arrangement reviews, you're likely in the market for a "mutually beneficial" relationship. And sugar daddy dating sites are the best place to find one.
But with all the scams out there, you know not every sugar daddy site is legit. So is Seeking (AKA as SeekingArrangement) worth your time and money?
If you don't have a virtual dating assistant doing all the hard work for you, some research before handing over your credit card is in order.
Our Seeking reviews have got everything you need to know to decide whether or not this sugar daddy dating site makes sense for you!
Pros:
Men can create a profile and send up to 10 messages for free.
Detailed search functions make it easy to narrow your results.
It's completely free for women. College girls who register with an .edu email address even automatically enjoy a premium membership.
"Sugar babies" vastly outnumber "sugar daddies."
As a man, reading and responding to messages requires a paid membership - which means less competition for you, and tons of hot women who sign up for free.
Cons:
There are a lot of fake profiles, scammers and prostitutes.
Though the women on this site may be physically beautiful on the outside, they don't always possess the same inner beauty. After helping a client get dates on this site per his request, one of the females from our team once said, "Using this site was like taping a $100 bill to the ceiling in a room full of crackheads." There are plenty of Seeking Arrangement horror stories out there, so proceed with caution.
Seeking Reviews Verdict:
Seeking is one of the better sugar daddy dating sites out there, and a great place to meet woman who may other be out of your league.
If you're looking for a "quick fix" to end your dry streak, you can find very hot "one-night stands" here. You might even be able to find a quality "arrangement" for a short-term mutually-beneficial relationship.
What Other People Are Saying
On SiteJabber, this sugar dating site got an overall score of 24%. The reviews were a mixed bag, ranging from comments like "A cesspool of professional prostitutes" to "It's what you make of it."
Here at VIDA, our team has found both those comments to be pretty accurate - but that's a problem plaguing just about any sugar site. While the site definitely has more than its fair share of escorts and prostitutes, you can find hidden gems if you look hard enough.
Quite a few articles mention Seeking's "Sugar Baby University," which is the site's way of attracting hot college students looking to pay off their student loans.
Female students automatically receive a premium membership for free, so if you live near or travel frequently to a college town, the site is probably worth checking out.
For aspiring sugar babies, Seeking seems to be the site of choice to try first. The site even hosts Sugar Baby Summits for newbies. That's good news for you, since it means Seeking is actively recruiting "real" sugar babies.
Seeking Cost & Premium Features
Technically speaking, Seeking is free to join.
But there's a catch - men can only send 10 messages, and they can't read or reply to messages without upgrading. So to actually meet women on this site, you'll need a paid membership.
Seeking costs $90 per month when you sign up for a 3-month Premium subscription, or $99.99/month.
Women can purchase a Premium subscription to Seeking as well, which costs between $15 and $19 per month.
A premium Seeking membership comes with these perks:
The ability to hide your online status, the date you joined, and the country where you're located.
You can choose to not post a photo, which comes in handy if you're aiming for discretion. (A free membership requires an approved "public" photo). You can also hide your profile from search results.
Your profile displays your upgraded status in her search results.
You can list up to three locations.

Message read receipts.

Advanced search filters.
Seeking also offers a "diamond" level premium membership that can really skyrocket your results, but you have to jump through a few hoops first:
Must have 2 consecutive paid months of premium membership
Go through the background verification process, or submit a diamond application
Diamond members get all the premium membership perks, plus the diamond badge on your profile, up to 20x more responses from sugar babies, and prominent placement on her "dashboard". Diamond membership requires background verification via a tax return, and costs $250 a month.
Setting Up Your Seeking Profile
Setting up an account is easy. First, you have the option to choose a username and upload a photo.
Since you want to look like a sugar daddy who's got it going on, choose your photo wisely. Not only do you want to look your best, but you also want your surroundings to instantly make her want to join you there.
Next you put in your birth date, location, and other basic information. There's also a section devoted entirely to financial information.
While it can be tempting to overstate your spending habits, resist that urge.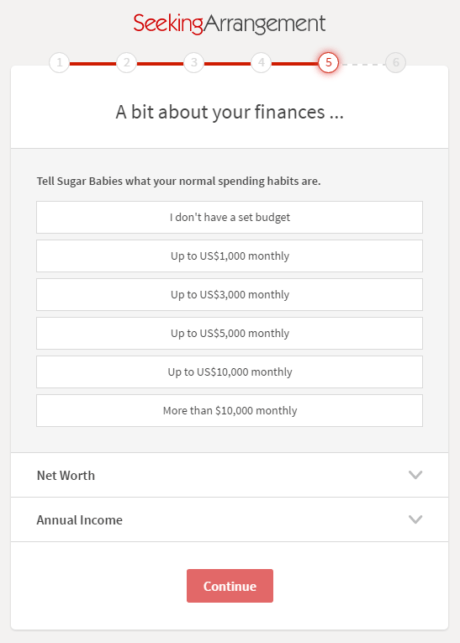 The whole point is meeting her in person. If what she gets in person doesn't match what you packaged up online, you probably won't even get the chance to kiss her goodnight.
Next is the main profile, which only has two sections: "About me" and "What I'm looking for." You'll want to highlight all your best sugar daddy traits, but not in an obnoxious way. Bragging is a major turn off.
Instead, focus on showing - not telling. Describe your last trip abroad, your favorite 5-star dish, etc. If she can imagine what spending time with you will be like, she's more likely to respond to your message.
This article has all the "elite" profile tips you need to attract the most beautiful sugar babies.
4 Sure-Fire Ways To Attract The Hottest Sugar Babies
If you decide to try and find an arrangement on Seeking, use the following tips to get the best results:
#1. Use copy/paste messages to save time
Why waste time writing individual messages to every woman you are interested in when copy & paste messages have proven to be more successful and take far less time?
Try sending a message like this:

It hits all the right notes:
Asks her a question so it's easy to answer
Sparks a vacation fantasy
Sets you apart from the competition
Create one great message like the one above, then start sending it out to every woman that piques your interest.
#2. Choose photos that illustrate your lifestyle
It's always a good idea to use your online dating photos to paint a picture of your lifestyle, but this is especially relevant when using a sugar daddy site.
The girls on this site want to know that you're not all talk, so use your photos to demonstrate what life would be like if she were dating you.
#3. Stand out in her search results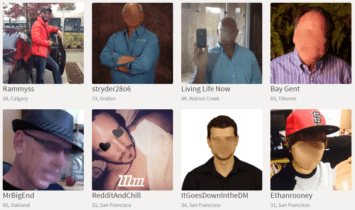 On Seeking, usernames stick out in her search results. You want her to notice yours for a good reason. Usernames that start with the letters A-M are more attractive to women because names higher up in the alphabet are associated with higher levels of success overall.
Go here for more essential tips on choosing a username.
#4. Use the headline section to your advantage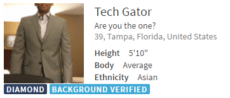 A lot of guys waste the opportunity to catch her eye with an intriguing headline, opting instead for something lame, boring or desperate sounding.
Why not give her a hint of what you've got to offer with a headline like "Pack your bag, our plane leaves in an hour". Attention-grabbing headlines leave her wanting to know you more, not less.
The Fastest, Easiest Way To Find The Gems On Seeking (Or Any Other Sugar Daddy Site)
As with any sugar daddy dating site, you'll spend a lot of time sifting through coal on your quest to find a diamond.
But when you've got a team of dating experts, finding an intelligent, interesting, and beautiful sugar baby is easy. We do the hard part, you show up for the dates. It's that simple!
Contact us today to find out how we can find you the sugar baby of your dreams.
Want us to do your online dating for you?

Hey, I'm Ally, VIDA Select's Director of Matchmaking.
We take all the frustration, hard work and hassle out of modern dating!
Imagine your very own Dream Team of highly skilled dating experts searching for the very best local matches, sparking their interest, and arranging all the dates for you.
Wouldn't it be nice to finally stop swiping and start dating higher quality matches so you can meet someone special?
We've helped thousands of singles just like you since 2009, and we're ready to make you our next success story!
What are you waiting for? Take the next step now…
See If You Qualify