I hope you enjoy reading the blog post.
If you want to chat now about your matchmaking search, click here.
Meet Matchmaker Shannon Tebb [Shanny In The City Review]
Thinking about hiring Shanny In The City? It makes sense to check out Shannon Tebb reviews to decide if she's the best matchmaker in Toronto. After all, you're looking to find your perfect match!
Find out how she got started as a matchmaker, what to expect if you hire her, how much her service costs and more.
Shannon Tebb: Matchmaker & Life Coach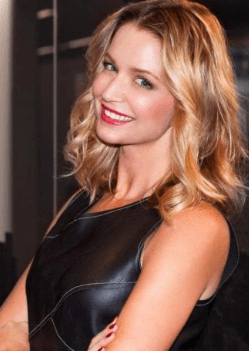 This Toronto matchmaker said she's a "small-town girl turned big city dating expert." She described observing her mom interact with other adults as she was growing up, and being fascinated by it.
I never played with Barbies — instead I was the kid sitting at the dinner table listening to my mom chat with her friend. I was always intrigued by that.
Her interest in relationships never waned, and she studied anthropology and sociology in college. She spent a lot of her time giving dating and relationship advice to her friends, and also became a certified Life Coach.
Tebb started thinking about turning her coaching into a paying gig, and the idea for Shanny In The City came to fruition after seeing the movie Hitch.
As she told DatingAdvice.com,
I wanted to do that, what Will Smith was doing, but in real life. I feel really passionate about helping men and women be better daters.
She launched her coaching service in 2010.
As she explained in an interview,
I was very passionate about helping singles get back into dating. I work with a lot of divorcees, people that maybe don't know how to navigate the dating world nowadays - everything has changed with online dating.
After hosting a number of social events around the city, she realized she had built up a large network of singles and used that database to transition into matchmaking.
She still offers dating and life coaching coaching as part of her services.
Here are Shannon Tebb's 3 best online dating tips for singles:
Her Matchmaking Process
Tebb works with professional singles, typically ages 25 to 60, in Toronto and the GTA.
As with most Toronto matchmakers, the first step for interested potential clients is filling out the online submission form.
You'll then schedule a consultation to discuss the services available. The consultation is free when done via a video call, or $125 when the interview is in person.
After the meeting, you'll choose which of the membership options is best for you and sign a 1-year contract. Shanny In The City matchmaking costs start at $1,575.
Once you've signed up, you'll be introduced to Toronto singles from the Shanny In The City database. As she explains,
I try to visualize the two singles together. I believe you can match on paper, but there also has to be that level of chemistry and sparks and excitement. If I can kind of see two singles together, that's a good chance that it's going to be a great match.
Tebb presents one match at a time, and when there is mutual interest she exchanges phone numbers on your behalf.
She recommends a progression of chatting on the phone, then a video date, and then if both you and your match are comfortable with it, an in-person date.
You can also add on coaching services like her "Wingwoman" program, where Tebb or one of her team accompanies you on a mock date.
They evaluate how you present yourself and offer strategies for improving the impression you make.
A 2 ½ hour coaching session is $350. Her life coaching sessions cost $175 for 60 minutes.
Shanny In The City Reviews
Shannon Tebb is no stranger to social media, dispensing dating advice on platforms like Twitter and Instagram. She has also been a featured dating expert on shows like Modern Girl's Guide To Divorce.
But when it comes to reviews of her matchmaking service, you won't find too many. On Google, Shanny In The City has a solid 4.5-star rating based on 35 reviews.
Many of the positive reviews were for her coaching services:
Tebb also received 5-star Google reviews for her matchmaking service:
With mainly positive reviews, it seems Shannon Tebb's matchmaking process is a good fit for many.
But is it right for you?
Deciding which matchmaking service to hire isn't just about reviews, it's also about how the service fits with your expectations and needs.
Ask yourself how you feel about committing to a long-term contract with a predetermined number of matches. Are you comfortable with the odds that your perfect match also signed up with Shanny In The City?
Or would you rather also consider a matchmaking service like VIDA Select that has direct access to a huge pool of eligible Toronto singles?
The Best Way To Meet Your Perfect Match
VIDA Select combines the personal touch of boutique matchmaking with all the efficiency modern tech has to offer.
Instead of relying on a limited internal database, your personal matchmaker hand-selects incredible, highly compatible singles from Toronto's largest dating pool.
No more compromising on match quality!
And with VIDA, you pay-as-you-go. All of the matchmaking service options are month to month, so you don't have to worry about scheduling hold time or paying for matchmaking service you don't need when you hit it off with a match.
Stop and start as needed, and date on your schedule.
Why not see if VIDA Select is the right Toronto matchmaking service for you? Click here to learn more!
All product and company names are trademarks™ or registered® trademarks of their respective holders. Use of them does not imply any affiliation with or endorsement by them.
Why Choose VIDA Select?

Since 2009, thousands of clients have discovered true love thanks to VIDA Select's fresh, modern approach to matchmaking – which has finally thrown blind dates and long-term contracts out the window. This isn't your grandmother's matchmaking!
Instead of working with a single matchmaker using a small rolodex of potential partners, VIDA Select's matchmaking team taps into the world's largest database of available singles. We'll quickly identify the matches who check all of your boxes so you can finally experience true chemistry. Are you ready to become our next success story? Schedule your complimentary consultation now by clicking the button below!
Get Started Now