I hope you enjoy reading the blog post.
If you want my team to just do your online dating for you, click here.
Speed Dating In Boston: The Complete Guide For 2023!
Tired of swiping left or right on an endless procession of profiles? Speed dating could be the dating app alternative you're looking for! 
This Speed Dating Boston Guide has everything you need to get started:
Let's get started with one of the big questions that probably brought you here…
Does Speed Dating Actually Work?
Much like dating apps, speed dating is built around first impressions. But because you're face to face instead of staring at a screen, you get a taste of their personality too.
This gives you a more realistic and well-rounded idea of what someone is actually like, something you can't really experience on a dating app.
If meeting a dozen or so singles in a very short amount of time appeals to you, then give speed dating a try to see if you enjoy it.
How Does Speed Dating Work?
Speed dating allows you to scope out potential matches without the pressure that comes with a more traditional, longer first date. For many people this can be a positive and rewarding experience, and it's relatively inexpensive (more on cost coming up!)
Most Boston speed dating events follow a similar pattern:
Preregister
Show up and go on a series of "mini-dates," usually lasting between 5-10 minutes each
Whenever the timer goes off, the men often move on to the next table where a new woman waits (or sometimes the women swap too)
The process continues until everyone meets
Participants take note of anyone they're interested in seeing again, and turn over the list to the organizer at the end of the event
Of course this format can vary depending on the company hosting the event and/or the venue. But participants can generally expect to meet 7 to 15+ singles in rapid sequence.
How Much Does Speed Dating Cost in Boston?
While some Boston speed dating events are free, that's not typically the case. Speed dating costs differ depending on the type of venue, the neighborhood, and what company is hosting the event. In Boston, you can expect to pay anywhere from $20 to $60+ for entry fees. 
Food and beverages, especially of the adult variety, may or may not be included in the ticket price.
Virtual speed dating events tend to be less expensive, with prices typically in the $20 to $25 range.
Where Can I Find Boston Speed Dating Events?
In-person speed dating events usually take place in bars, bistros, cocktail lounges, coffee shops, or similar locations around Boston. The point is to use a casual setting that helps participants relax as they get to know one another. 
Two places that have hosted these events in the past include Scholars American Bistro and The Greatest Bar.
If you're not quite ready to try it IRL yet, Bumble offers an in-app speed dating event every Thursday at 7 pm.
If you are interested in meeting Boston singles for face to face dates, these speed dating groups could be worth checking out:
Those companies facilitate speed dating events in multiple cities, they're not local to Boston. You can also find speed dating events listed on websites such as Eventbrite and Meetup.
Once you've found an event you want to register for, use these speed dating tips to make sure you successfully match with singles you're interested in!
7 Expert Boston Speed Dating Tips
Is speed dating worth it? Yes - if you end up matching with the people you'd like to see again. But no matter how short a date is, it's still a first date - and those can be stressful.
Don't worry - these 7 speed dating tips will help you handle meeting each potential match with confidence!
#1: Come Prepared With A Few Go-To Questions
You know that magical feeling when you naturally click with someone and the conversation flows? That doesn't always happen. It's essential to have a handful of small-talk and creative questions in mind to keep your potential match engaged.
Some speed dating event organizers provide questions to participants, but not all of them. Taking a few minutes to brainstorm a few of your own can help you avoid any awkward pauses.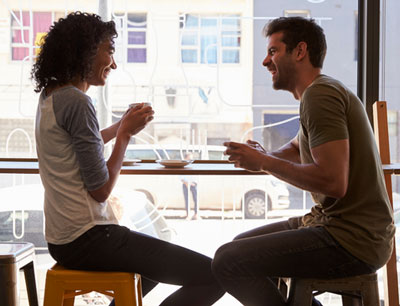 The key is coming up with good speed dating questions to ask. Questions that are unmemorable or too obscure can backfire. You want a nice balance between creative, memorable, fun to answer and personality revealing.
Here are a few speed dating questions to get started:
What's your biggest passion in life?
What was your favorite movie as a kid?
What was the first concert you ever went to?
What is your dream job?
If you could have any superpower for a day, what would you choose?
Those are good examples of questions that will get the conversational ball rolling. Then you can ask follow-up questions like these that allow you to share your career and lifestyle goals, and learn theirs:
What do you want your life to look like in 5 years?
What's something you've always wanted to learn, but haven't had time for yet?
If you could work remotely from anywhere in the world, where would you live?
These deeper questions can help you assess whether your date has qualities you consider attractive or essential in a partner.
#2: Be Authentically You
You want your "best" self on display in any dating situation, but it needs to be an authentic version. Be truthful about your dating goals, relationship needs, occupation, etc.
According to research, a "be yourself" dating strategy helps facilitate successful long-term relationships. It can help to jot down a list of highlights you'd like to share with your dates, similar to the type of elevator pitch you'd use to introduce yourself at a job interview.
#3: Telegraph Confidence
Speed dating is all about matching. If you don't get selected by your dates, you won't get their contact details. Confidence feeds into attraction, and the good news is anyone can exude a confident vibe.
You just need to be mindful of your body language. Having good posture, maintaining eye contact, and smiling while holding a conversation are all ways to project confidence, even if you're not necessarily feeling it on the inside.
Open body language and expansive postures, like stretching out your arms or legs, or lengthening your torso, are perceived as more attractive than restrictive postures.
Examples of restrictive postures and closed body language include crossing your arms or legs, slumping in your chair, and avoiding direct eye contact.
#4: Stay Engaged
Speed dating is all about first impressions, which is both an advantage and a disadvantage. The advantage is you get to experience all the visual cues that play such a big role in chemistry - how they laugh, how they sound, their vocal inflections. You get to know your dates on a level you simply can't on dating apps.
But your succession of dates is also evaluating you, which means it's pretty easy to stress out about the first impression you're making. So much so that you might end up disengaging from the conversation while you think about what to say next, how you're presenting yourself, if you're saying the right things, etc.
Active listening techniques, where you're mindful of what the other person is saying as they say it, can help prevent you from falling into that disengagement trap. And more importantly, research has shown it will make you more socially attractive.
In a nutshell, active listening is a communication technique that involves focusing fully on and responding to the words and body language of your potential matches.
Paying attention to what they're saying and how they're saying it shows that you're present for the conversation and engaged in the process - and that's essential if you want to leave the event having made genuine connections.
#5: Go Beyond Your Type
Coming into a speed dating event with the right mindset can help create a positive experience for both you and all your dates.
Many singles have a "type" or specific physical features they naturally gravitate towards. But in a speed dating scenario where you're getting to know multiple people in a short amount of time, staying open and receptive can make it a more successful experience.
When you're making your decisions at the end of the event, separate your true dealbreakers from your wish list. The dating experts over at Bumble have suggested that having a strict 'ideal partner' checklist might be holding you back when you're swiping, and that's a perspective to also keep in mind when you try speed dating.
#6: Be Considerate
All your interactions are timed, so it's important not to monopolize the conversation. Aim for a 50/50 split, where you're sharing information about yourself but also giving your potential match an opportunity to do the same.
Keep an eye on the time so you make the most of each segment.
Don't push anyone for their contact information during your chat, or ask whether they are marking you down as a match. It will likely make your date feel awkward, and you seem insecure. Follow the rules of engagement!
#7: Follow Up With Your Matches
When the event organizers let you know you did match with one or more people, contact them in a timely manner. Some speed dating companies share phone numbers, some share email addresses.
Check out these tips for starting a text conversation, and then put that contact information to good use! Don't wait for them to make the first move, because you risk losing the opportunity.
Want More Dates With Boston Singles?
Speed dating in Boston can be an efficient way to meet new people, especially if you're burned out on dating apps. After all, you'll be meeting 10 to 15 potential matches at one event!
But the potential downside is most speed dating events don't curate your matches beyond a certain age group, and maybe a shared faith.
If you want first dates with highly compatible singles who are already excited to meet you, you're going to love VIDA Select's modern matchmaking service.
With VIDA, you have a team of dating experts handling every aspect of online dating on your behalf, from profile creation to messaging. All you need to do is show up for first dates with carefully curated matches. It's that easy!
Want us to do your online dating for you?

Hey, I'm Ally, VIDA Select's Director of Matchmaking.
We take all the frustration, hard work and hassle out of modern dating!
Imagine your very own Dream Team of highly skilled dating experts searching for the very best local matches, sparking their interest, and arranging all the dates for you.
Wouldn't it be nice to finally stop swiping and start dating higher quality matches so you can meet someone special?
We've helped thousands of singles just like you since 2009, and we're ready to make you our next success story!
What are you waiting for? Take the next step now…
See If You Qualify