I hope you enjoy reading the blog post.
If you want to chat now about your matchmaking search, click here.
Meet Talia Goldstein [Is Three Day Rule Right For You?
Curious about the founder of Three Day Rule? If you're thinking about hiring Talia Goldstein and her matchmaking service, digging a little deeper into her dating philosophy and approach to finding love is a savvy move.
From the small boutique services to the big industry players, we've reviewed over 200 matchmaking services. Our insight comes from comprehensive research, real customer reviews, and an in-depth understanding of the matchmaking landscape.
This quick matchmaker profile has all the details you're looking for!
Meet Matchmaker Talia Goldstein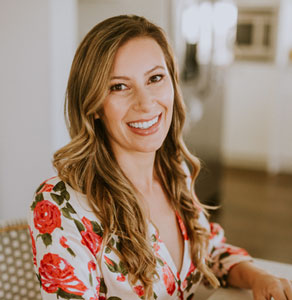 In an interview, Talia Goldstein shared that matchmaking is something she's always gravitated towards.
"In high school I would throw these blind date parties, and when I was working as a television producer I was setting people up for fun."
Working as a TV producer for E! True Hollywood Story in 2012, she quickly built up a reputation as her office's resident dating expert. As she explained in an interview with an alumni publication for Tulane University,
"I would sit in my cubicle, and people would come up all day and ask for relationship advice."
She ultimately left her producer role, deciding to officially set up shop as a professional matchmaker. Part of her mission to help people find love involved hosting single's mixers. Goldstein's parties started small, around 20 people or so, but within a few months started attracting hundreds of singles.
"They were all successful, interesting people, and I realized that there must be something missing in the market if they were paying to attend my singles events."
Pooling her industry contacts and singles network, she launched Three Day Rule in Los Angeles. The name is a nod to the dating etiquette around waiting 3 days to call a date, popularized by the comedy "Swingers".
That was back in 2013, and over the years Goldstein has expanded her matchmaking company to include a network of 50+ matchmakers and offices in Boston, Chicago, Dallas, NY, Orange County, Philadelphia, San Francisco, San Diego, Scottsdale, Silicon Valley, and Washington DC.
She has also solidified her reputation as a relationship expert. Check out 3 of her best dating tips from around the internet!
Talia Goldstein's Matchmaking Process
In a chat with Women On Topp, Goldstein explained that her matchmakers take a hybrid, "tech-enabled" approach to pairing clients.
Three Day Rule uses a computer-based algorithm to recommend potential matches from their free member database. Matchmakers then review and vet top choices to determine the best matches for each paying client.
"We're able to make introductions between two people who might normally swipe right past each other on an app based on something as trivial as height or age range, which allows for a ton of new opportunities."
Clients receive a bio and photo of each selected candidate, and that's considered an "official" match. It's up to you if you want to pursue the match, or wait for the next one. If you would like to meet them in person, Three Day Rule's matchmaking team helps arrange the date.
Afterwards, the matchmaker gathers post-date feedback from both people to find out how the date went. Clients benefit from this perspective, as it gives them a chance to improve their dating habits and behaviors if needed.
As Goldstein explains in an interview with Inside Out Movement, "Feedback is invaluable because you don't get that in the real world. We know exactly what's happening on the dates and how we can help our clients get better at dating."
How Much Does Hiring Talia Goldstein Cost?
Joining the Three Day Rule match pool is free.
However having a profile included in the database does not guarantee you'll ever meet someone, because no active search is done on your behalf. A matchmaker only gets in touch if you happen to meet a paying client's criteria.
For guaranteed matches, you'll need to purchase a matchmaking package.
There is both a 3-month and a 6-month service option. The 3-month package costs $5,900 and includes a minimum of 3 matches. The 6-month package comes with a minimum of 6 matches.
Three Day Rule also offers "VIP" memberships, which start at $18,500 for 6 months of service.
All matchmaking service packages include a photoshoot and 2 dating coaching sessions. Coaching sessions can also be purchased separately in blocks of 1, 2 or 10.
Goldstein feels the hands-on aspect of matchmaking is one of the biggest advantages working with a matchmaker has over online dating:
"Online dating is great, but you don't really learn about yourself through the process. Matchmaking is a 360-degree view of you and your dating life."
Curious about how Three Day Rule's price tag compares to other matchmakers? Go here!
Becoming A Three Day Rule Client
Three Day Rule works with busy professionals who are seeking a committed relationship.
In one interview, Goldstein described her clients as "catches", adding "They're social, educated, independent, savvy. They love the idea of having a gatekeeper who sends them on fewer better dates."
Signing up starts by filling out the online contact form, which is followed by an in-person consultation.
This interview is an opportunity to talk about yourself and what you are looking for in a partner, and it lasts about an hour. You'll also learn about all the membership options, and sign the contract if you decide Three Day Rule is the right service for you.
For more information about Talia Goldstein's matchmaking service, including what clients are saying about their experience, check out our Three Day Rule review!
All product and company names are trademarks™ or registered® trademarks of their respective holders. Use of them does not imply any affiliation with or endorsement by them.
Why Choose VIDA Select?

Since 2009, thousands of clients have discovered true love thanks to VIDA Select's fresh, modern approach to matchmaking – which has finally thrown blind dates and long-term contracts out the window. This isn't your grandmother's matchmaking!
Instead of working with a single matchmaker using a small rolodex of potential partners, VIDA Select's matchmaking team taps into the world's largest database of available singles. We'll quickly identify the matches who check all of your boxes so you can finally experience true chemistry. Are you ready to become our next success story? Schedule your complimentary consultation now by clicking the button below!
Get Started Now