I hope you enjoy reading the blog post.
If you want to chat now about your matchmaking search, click here.
Texas Singles Review - Is This Dating Agency A Scam? (Real User Reviews)
Not sure if Texas Singles is the right matchmaking service for you? This Texas Singles review has everything you need to make an informed decision.
When you finish reading this short article, you'll know the pros, cons, costs, user reviews, and common complaints about this Texas dating service.
From the big industry players to the small boutiques, we've reviewed over 200 matchmaking services. Our insight comes from 14+ years of industry experience, comprehensive research, real customer reviews, and a deep understanding of the matchmaking landscape.
Shall we get started? Let's begin with the basics.
Ownership & Locations
This Texas matchmaking service is owned by the same company that runs a host of other matchmaking sites, like Mature Singles Only and Tampa Singles.
The company currently rents 3 office spaces in Texas. There's Texas Singles San Antonio, plus two Austin locations.
How Much Does Texas Singles Cost?
Texas Singles doesn't list its prices online since they vary.
The price you'll be presented depends on your specific relationship goals and financial situation. But you can safely expect to spend at least a few thousand dollars. Yelp reviewers reported pricing between $1,400 and $20,000 for matchmaking services.
The Texas Singles dating service does not offer a guaranteed number of matches per month. They only promise to "actively search" for compatible matches on your behalf.
The Matchmaking Process
The matchmakers at Texas Singles want to meet with you face to face for an initial consultation (a.k.a. in-person sales pitch).
You can call them directly to schedule an appointment, or enter some basic information online and wait for a phone call.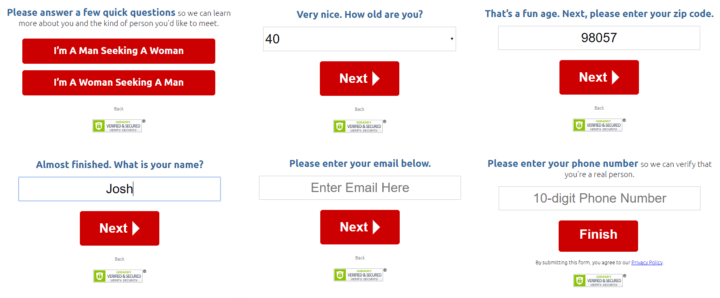 It's likely the information you provide initially will be sold to other outlets, such as advertisers and telemarketers. It's disclosed in the privacy policy. You know, that tiny link that almost no one clicks.
Here are two tidbits that you probably missed:


After answering the initial 6 questions, you'll have an opportunity to provide more information about yourself and your relationship goals by answering questions like these:
Filling out the longer form isn't mandatory. You can save that discussion until you're speaking with a consultant on the phone.
But either way, you'll definitely want to ponder the questions. Having your relationship desires and goals clear in your mind will save you time during the interview.
If you choose to move forward with a membership, Texas Singles will compile a profile and list it in their database.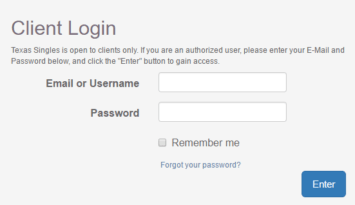 Next, you'll be matched with other paying clients. When a suitable match is identified, you'll receive an email notification. You then log into the "client's only" section of their website and check out your match.
The Texas Singles website advertises "Mutual Agreement Matching." It promises to only set you up with matches where the interest in meeting is mutual.
However, the matchmaking service does not guarantee that your match will actually agree to meet you in person:
Texas Singles Reviews
Texas Singles has overwhelmingly negative reviews across multiple review sites like Yelp and the Better Business Bureau.
Yelp gives this boutique matchmaking service a 1.5 star rating, and has just a handful of 5-star reviews sprinkled among the 1-star entries.
The positive reviews reported that using the service resulted in a serious relationship:

But the rest of the reviews paint a very different picture. Texas Singles complaints included poor quality of matches, lack of matches, and disorganized staff. Many reviewers accused the company of being an outright scam: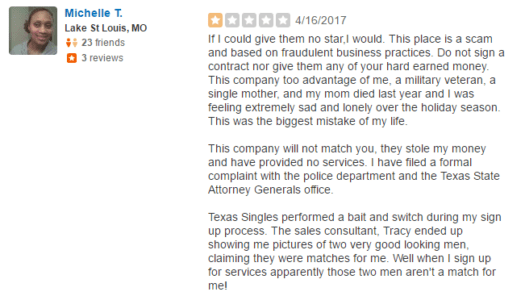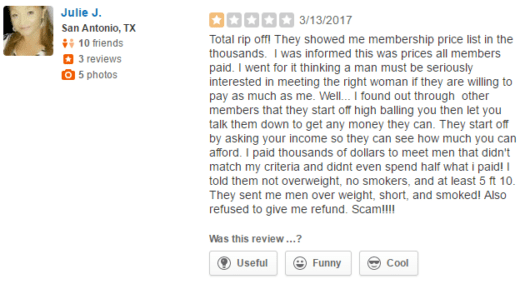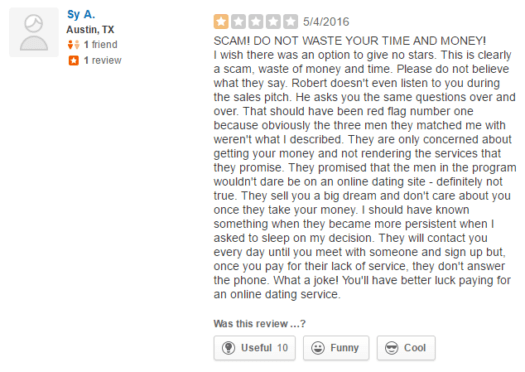 The Better Business Bureau gives Texas Singles an A grade. It has a single 1-star review, resulting in an overall 1-star rating. The reviewer was upset because it had been 5 months since signing up and he hadn't gotten a match yet.
There are also 4 complaints listed with the BBB.
Ultimately, it's up to you to decide if this Texas dating service is the right service for you.
However, negative reviews across multiple websites and a lack of client testimonials on their own website should be a reason to proceed cautiously when thinking about hiring a matchmaking service.
A More Modern Approach To Matchmaking
The search for your ideal partner can be a bumpy road if you don't have the right matchmaker on your team. That's why it's so crucial to weigh your options first.
One major pitfall of traditional matchmaking is that services are typically restricted to making matches only among current members. This can be extremely limiting because the likelihood of your perfect match also using their service is very slim.
This is why VIDA Select takes a new, modern approach to matchmaking.
Our team of matchmakers actively leverage the world's largest database of eligible singles in search of your ideal partner. Because we're not constrained to our own client-base for matches, we can set you up with someone who meets all your actual criteria.
Better yet, when you give VIDA a try, you will only go out with those whom you choose to meet. You'll never be forced to go on another awful blind date again. You can finally start enjoying dating again, knowing you will experience true chemistry with those you choose to see.
Right now, you can schedule your free, no-obligation consultation with a matchmaker ready to find you the love of your life. Don't put your love life on hold another moment.
To find out more and schedule your confidential consultation today, just click here.
All product and company names are trademarks™ or registered® trademarks of their respective holders. Use of them does not imply any affiliation with or endorsement by them.
Why Choose VIDA Select?

Since 2009, thousands of clients have discovered true love thanks to VIDA Select's fresh, modern approach to matchmaking – which has finally thrown blind dates and long-term contracts out the window. This isn't your grandmother's matchmaking!
Instead of working with a single matchmaker using a small rolodex of potential partners, VIDA Select's matchmaking team taps into the world's largest database of available singles. We'll quickly identify the matches who check all of your boxes so you can finally experience true chemistry. Are you ready to become our next success story? Schedule your complimentary consultation now by clicking the button below!
Get Started Now