I hope you enjoy reading the blog post.
If you want my team to just do your online dating for you, click here.
Inner Circle Dating App Review 2023 [Is It Worth $10/week?]
If you're well-educated, ambitious, successful, and checking out Inner Circle reviews, chances are you're not too optimistic about meeting your ideal match on Tinder.
You'd like a more curated list of matches who are kinda, well, more like you. That's what sparked your interest in The Inner Circle.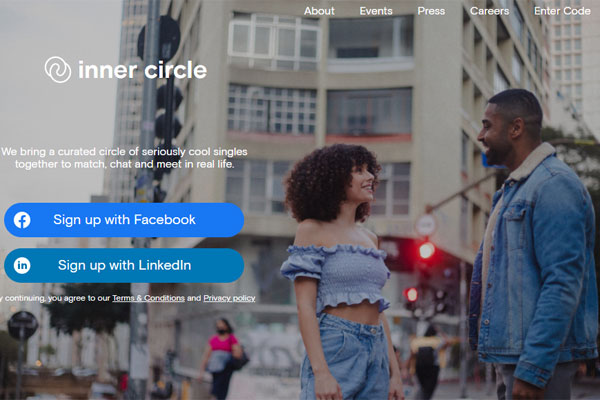 This Inner Circle dating app review has everything you need to know to decide whether it's worth your time and money.
Jump straight to a particular section, or go from the top:
Let's get started!
The Inner Circle Cities - Is It Available In Yours?
Currently, The Inner Circle dating app is available in over 200 major cities around the world, including:
Amsterdam, Barcelona, Berlin, Brussels, Buenos Aires, Cape Town, Copenhagen, Dubai, Helsinki, Hong Kong, Istanbul, Kuala Lumpur, Kyiv, London, Madrid, Manchester, Melbourne, Milan, Montreal, Moscow, Oslo, Paris, Reykjavik, Rio de Janeiro, Rome, Sao Paulo, Singapore, Stockholm, Sydney, Toronto, Vienna, and Zurich.
Inner Circle US cities/states include:
Atlanta, Austin, Boston, Charlotte, Chicago, Columbus, Dallas, Denver, Detroit, Hawaii, Houston, Indianapolis, Jacksonville, Las Vegas, Los Angeles, Miami, Nashville, New Orleans, New York, Orlando, Philadelphia, Phoenix, Pittsburgh, San Antonio, San Diego, San Francisco, San Jose, Seattle, and Washington DC.
(Not available where you live? Check out The League instead.)
The Inner Circle will expand to more North American cities soon. After the number of NYC users nearly doubled within a month of the app's launch, it would seem likely.
Who Gets Accepted Into The Inner Circle?
As The Inner Circle's co-founder Michael Krayenhoff told Business Insider,
At the end of the day we are looking to create a close network of like-minded, inspiring singles who are kicking ass in their profession. Whether they are from the creative or corporate world, it's about having that ambition and zest for life. And it's these qualities that makes The Inner Circle work for our members around the world.
Translation: Only the successful and attractive need apply.
In general, users tend to be corporate types, although Krayenhoff said the user pool in New York included "lots of founders and creatives."
The app's founder David Vermeulen has said the Inner Circle's "ideal user" is 25-45 years old, well educated, and has an "inspiring and ambitious profession."
The average age of the users on the app is 30 years old.
In an interview with Huffington Post, Vermeulen said the elite dating app employs a team of 4 people working full-time to vet the 4,000 new applications they receive every day.
Of those, 50% get approved, the other 50% join the waiting list that spans 10+ countries and has already hit the half a million mark.
So how do you increase your chances of being in that coveted first group? Here's how to become an Inner Circle member, straight from the horse's mouth:
Create a profile via LinkedIn or Facebook
Verify that your education is listed on those social media profiles
Have friends or connections that are already Inner Circle members
Upgrade to premium, as the additional features will give you more access
According to Vermeulen:
The goal of The Inner circle is focused on the quality and the people who are a bit more serious. We also focus more on people the like-minded people that are ambitious, and inspiring.
Inner Circle Cost
Downloading the app is free, but you'll need a "Full" membership to see all your messages. Inner Circle costs $39.99 for 1 month, $79.99 for 3 months or $119.99 for 6 months. (Cost may vary by location.)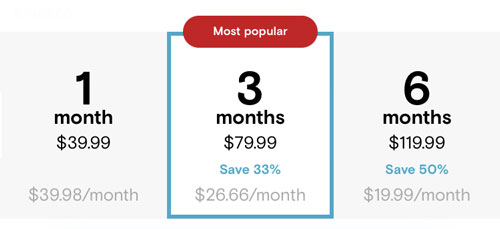 Benefits of a full membership on Inner Circle include:
Invisible Mode, which only shows your profile to people whom you've "liked"
Potential to see and interact with all members
Filter by all criteria
Full messaging capabilities
See everyone who has already liked you
Unlock the three advanced search filters: Nationality, Industry & Compatibility
Access to "member's only" events, both on and offline
Unlimited likes
Download the Inner Circle app for Android or iOS, or use the Inner Circle website.
How Does Inner Circle Work?
To get started, log in to the app via Facebook or LinkedIn. You can also sign up for Inner Circle on the website, but you'll still need to connect either Facebook or LinkedIn.
Once you've entered some basic information, you'll be added to the waiting list: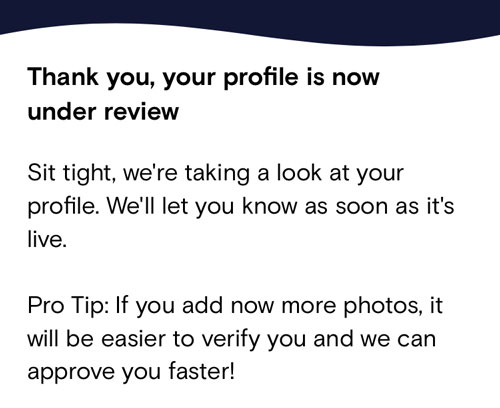 Inner Circle waiting list time varies, but it can stretch into weeks and there's no way to skip the verification process. While you're on the waiting list, make sure to finish setting up your profile using the tips below - that will increase your odds of getting in.
When your virtual number is called, your profile will be vetted by The Inner Circle team, and standards are high. If you're deemed successful and attractive enough, you're in.
Similar to apps like Bumble and The League, Inner Circle offers you profiles of local singles to either "Like" or "Pass". If it's a mutual "Like", you can start exchanging messages.
Inner Circle offers several feeds to browse for matches: all members, currently online, new and nearby. The full membership gives you free rein there.
Free members can filter their match feed by location, education, smoking habits, and whether or not they have kids. The advanced filters that a premium membership unlocks let you add nationality, career industry, and compatibility.
Inner Circle displays keywords on your profile as a way of sharing various interests with other users: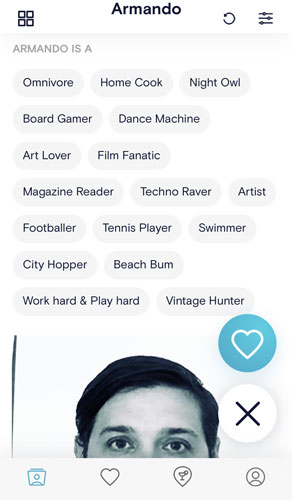 Make sure you add your own compatibility badges by answering the compatibility questions on the profile screen: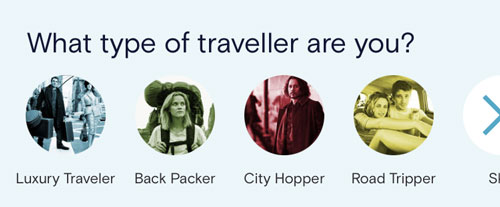 You also have the option to change the city you are searching in, which comes in handy if you're traveling to another "Inner Circle city."
When there's not a pandemic on, Inner Circle also has an "Events" section where you can check out exclusive invitation-only events hosted by the app, with an option to buy tickets.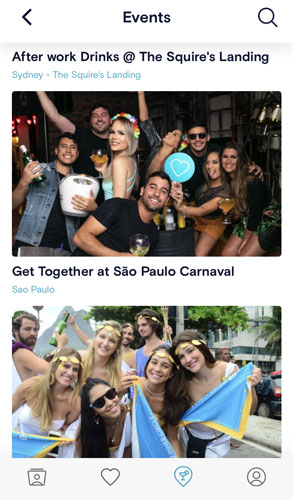 These events aren't your typical single's night at your local club and tickets sell out fast. Worried that it'll be a sausage fest? Don't fret: women buy the most tickets.
The Good, The Bad & The Final Verdict
Pros:
Potential users go through a vetting process

, so once you're in, you'll find only intelligent, successful, and intriguing local singles.
You have the option to search for singles in other cities.
The app hosts exclusive parties and monthly events in larger cities like New York and London. In light of the pandemic, they've switched to virtual events in some locations.
According to the app's founder, women outnumber men on the app.

You can comment on a potential match's photos, letting you send a message *before* you've matched.
Cons:
It's an "exclusive" dating app, meaning not just anyone makes it past those velvet ropes. That translates to a much smaller user pool than you'd find on apps like Tinder or Bumble.
It can take weeks before you're cleared from the waiting list and actually able to start swiping.
Viewing your messages requires a paid subscription.
The app is only available in a handful of cities, most of them international.
Inner Circle Dating App Review Verdict:
There's no denying Inner Circle users are the cream of the crop. If you're a young(ish) single professional in one of the cities where it's available, it's likely worth trying...
Once you're up on running on the app, these 4 Inner Circle dating app tips will help you attract the matches you're most interested in meeting!
Tip For Success #1: Make Sure To Log In On Sundays
According to the app's internal data, Inner Circle has the most users on Sundays. And the very best time to use Inner Circle is on Sunday evenings. Activity surges between 9 and 11 pm, so that's your prime window for matching, messaging and setting up a date!
Tip For Success #2: Focus On Your Photos
You already know that your photos can make or break you on a dating app. Inner Circle is no different. On an elite app like this, it's not just a matter of how good looking you are. If you're not attractive, you're not making it past the waiting list.
When everyone on an app is good looking, you need to concentrate on what your photos say between the lines.
It all boils down to a process called "thin slicing." In a nutshell, people make a series of micro judgments about you as they scroll through your photos.
Everything counts, from your posture to your clothing to what you're doing and the place you're doing it in. All those subconscious impressions merge into the all-important first impression.
It's important to understand what your photos are signalling. That's a fancy word for what your photos convey without you having to spell it out. For instance, a photo of you heliskiing shows that you're in good physical condition and can afford a helicopter lift to your favorite powder.
Limit yourself to 3-5 photos. Less than 3 and it's difficult to showcase all the facets of your personality, but with 5+ it's difficult to look equally attractive in each one.
Inner Circle allows users to comment on a photo and send it with a "like," so choosing photos that encourage interaction can really boost your match rate.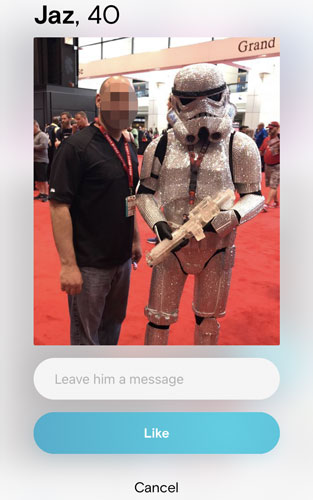 For a complete primer on choosing your strongest dating app photos, check out this photo advice!
Tip For Success #3: Nail Your Profile
Setting up your profile is straightforward, with 5 sections to fill in:
About me
My favorite cities
The best place to go
I spend my free time
First date idea
Basic profile info includes your vital stats like age, location, nationality, job title, industry you work in, education level and school, height, and whether or not you have children or smoke.
All the written sections of your profile have a 250-character limit.
Resist the urge to resort to a boring list. Pick a few of your most attractive traits, and write a sentence or two that illustrates how you embody them. Apply that advice when completing the remaining sections, too. For instance, for "My favorite cities," don't just dash off something like "Versailles, Miami, Rio and Chicago."
Including a few words about why each destination is a favorite gives her an enticing glimpse into your life. So that boring list of cities transforms into this:
The "Best place to go" section is another area where you can create attraction. Guys, choose a place that she'd want to imagine herself visiting, and describe an activity you like to do there.
You can appeal to her natural instincts by listing an activity that highlights qualities which research shows women find irresistible, like bravery, courage, and a willingness to take risks:

Apply the same logic to the "I spend my free time doing" section. Paint a picture of an active, full, interesting lifestyle, and she'll be eager to return your message.
You can also add a conversation prompt that asks your potential matches a question as a way of breaking the ice.
Link your Instagram, share trip destinations, and your favorite hangout spots as a way to round out your profile.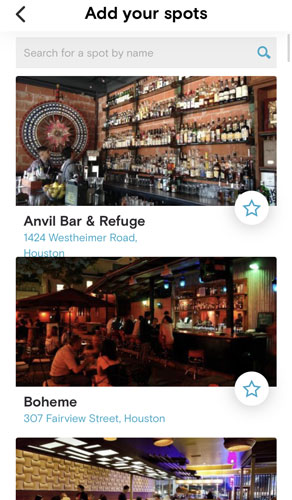 Tip For Success #4: The Absolute Easiest Way To Meet Intriguing Singles On Inner Circle
Ultra-exclusive apps are a great way to meet the kind of top-tier matches you deserve, especially if you're looking for a long-term relationship.
But that exclusivity doesn't come easy. Your profile, photos, and messages all need to shine, because you're up against people as successful and attractive as you are.
Chances are you don't have that much time to devote to the care and feeding of your Inner Circle account. After all, you didn't get to where you are in life by playing on your phone all day, right?
That's where VIDA comes in. Our team of online dating experts handle everything for you, starting with a 100% customized, intriguing profile written by a top-notch professional.
We'll choose your best pictures, set up your account, and even handle the back and forth messaging with the matches you're most interested in meeting.
All you need to do is show up for the dates! Click here to learn more...
Want us to do your online dating for you?

Hey, I'm Ally, VIDA Select's Director of Matchmaking.
We take all the frustration, hard work and hassle out of modern dating!
Imagine your very own Dream Team of highly skilled dating experts searching for the very best local matches, sparking their interest, and arranging all the dates for you.
Wouldn't it be nice to finally stop swiping and start dating higher quality matches so you can meet someone special?
We've helped thousands of singles just like you since 2009, and we're ready to make you our next success story!
What are you waiting for? Take the next step now…
See If You Qualify