I hope you enjoy reading the blog post.
If you want my team to just do your online dating for you, click here.
The League Profile Examples For Guys [10 Bios That Work!]
If you're still on The League's wait list, it could be your bio is holding you back.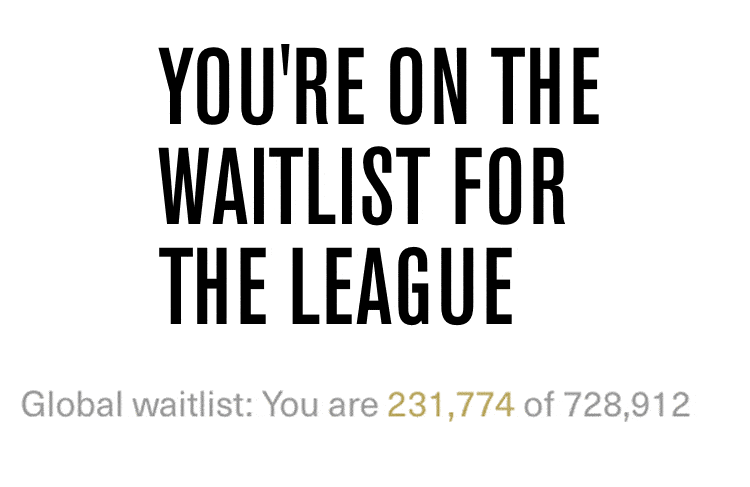 Or maybe you made it past the vetting process, but 'good enough' just isn't impressing the incredible women you really want to match with.
You're up against some stiff competition on this exclusive dating app, but don't worry - the 10 League profile examples you're about to get will make her eager to match, message and meet you!
Be Instantly Intriguing
One of the easiest ways to get noticed on The League is having a bio that sounds genuine and authentic to you. In other words - don't be generic:
She'll take one look at that and probably think, "That could literally be any guy on here." Not a great foot to start off on, right?
Specific details make it easier for her to imagine spending some time with you, and when she starts thinking along those lines, you're already that much closer to making a connection.
And let's face it - details make your profile way more interesting.
Compare the yawn-inducing bio above to these far more attractive League profile examples: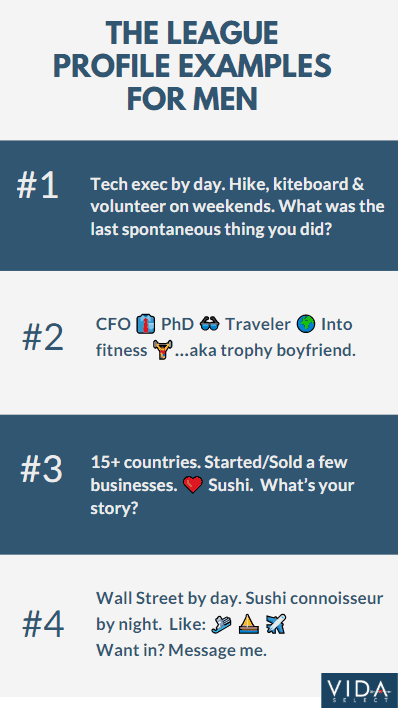 Any time you have limited real estate - in this case up to 190 characters, everything you mention needs to serve a purpose.
For instance, in the #1 League profile example above, she learns you're upper management, in shape enough to handle physically demanding hobbies, and you're civic minded.
That paints a pretty attractive picture in just two short sentences.
The #3 League bio example combines a sharp business sense with a passion for travel, not to mention the ability to financially swing all those trips. Translation: very datable.
Those 4 profile examples are uber effective not only because of what they say, but also because of what she's reading between the lines.
The key to success on The League is subtly conveying you have a successful career, financial stability and active/interesting hobbies. In other words - you're the same kind of Total Package you're hoping to meet.
Include Her In Your League Bio
You may have noticed that most of the League profile examples above asked her a question at the end. In marketing speak, it's a Call To Action (or CTA) - and it's an effective technique to use in dating profile.

Like most dating apps, The League doesn't have a specific section where you describe the kind of woman you're hoping to meet. You can set your match preferences, of course, but she's not seeing those.
So from her perspective, your bio is all about you, unless you take an extra step to include her. And that can really help give your results a boost, because studies have shown the most effective dating profiles are roughly 70% about you, with the remaining 30% focused on her.
Engaging her by asking a question not only makes her feel included in your bio, it also gives her a simple first message idea. Initiating a conversation just got much easier for her, because all she needs to do is answer the question.
Since The League has such a short bio, simple questions or statements like these work well:
What's your story?
When's the last time you did something spontaneous?
How about you?
Your turn…
Emoji are tremendously helpful here, as they're not only colorful and eye catching, but they also convey a complex meaning in a single character.
So you could ask questions like:
So tell me… ? or ⛷️?
?️ or ⛰️?
? or ??
You can also pack a lot of intriguing detail into your League bio using emoji. If you're stuck on what to write, simply follow this easy template and swap in whichever emoji are appropriate for you:

A Little Wit Goes A Long Way
The League is a fairly "serious" dating app - you have to jump through hoops to use it, you get a limited number of matches per day, and subscribing so you get more matches isn't cheap.
She's not on it looking for a hook up - she's seeking quality.
Plus, all your vital stats are pulled from LinkedIn, so there's a decidedly "business" vibe - at least compared to apps like Tinder.
But all that doesn't mean you can't use a bit of humor in your League bio!
Humor makes a great addition to any dating profile because women can't help but find funny guys attractive. It's human nature, at least according to science.
The key, of course, is getting it right. Humor done wrong can dispel all that attraction your photos built up with a quickness.
References to sex, either outright or camouflaged by mentioning how great you are at "sensual massages," are a no go. Guns, violence, weapons, drugs… also taboo, even if you're making a joke.
Here are a few good League profile examples with subtle humor that appeals to almost anyone: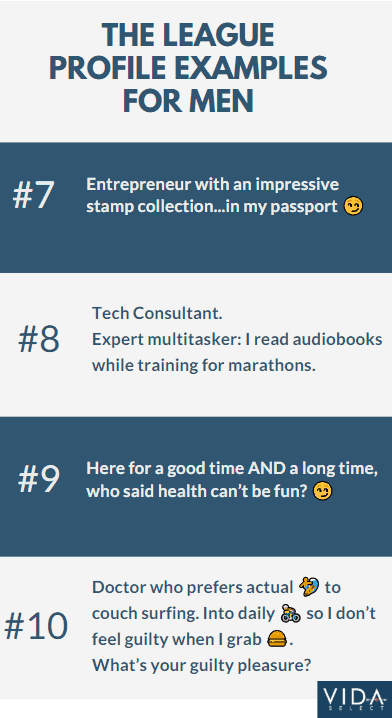 Showing her you've got a sense of humor by including a witty tidbit in your bio is far more effective than telling her you're a funny guy.
In fact, that "show, don't tell" philosophy is one you'll want to use across all your dating profiles - it's a much more attractive way to present yourself online.
So instead of describing yourself as adventurous, "prove" it by describing an adventurous hobby you enjoy, or trip you took. Telling her you like to paint portraits or take your camera out to capture the perfect sunrise makes more of an impact than simply writing "I'm artistic."
Get the idea?
Stick To The Bright Side
Individual words have a lot of power, particularly when she's not reading many of them. Words associated with negative emotions will often make her feel that negative emotion to some degree, often enough to color her overall perception of you.
Take this real life League profile example:

Out of 19 words, 2 aren't very pleasant. "Sarcastic" has a negative ring to most people, and who wants a boyfriend that's into eavesdropping, even if it's just occasionally?
If she's not really feeling your photos, even tiny strikes against you could cost you the match, or be the reason she's not responding to your message.
Avoid taking up valuable space by mentioning something you don't do, as that could also resonate in a way you didn't intend. For instance:
Instead of implying that your glory days are behind you, why not focus on all the athletic things you currently do?
First impressions are crucial - if you fail to make a good one, she'll move on to someone who does.
PRO TIP: Staying positive isn't only important in your League bio, it's important in your photos too. Studies have shown people have a subconscious tendency to mirror whatever expression they see on someone else's face - so if you're smiling in your primary League photo, she'll feel the urge to smile as well. But it works for all the emotions - if you lead with a photo where she perceives you as looking anxious, upset, broody or even angry - guess how she'll start to feel?
Incorporate "Power" Words
Words can have more than just an emotional impact. Some seemingly neutral words can automatically boost your attractiveness too.
Wired magazine figured out the most attractive hobbies guys can mention in a dating profile, and came up with a "Top 7" list, in order of popularity:
Surfing
Yoga
Skiing
Golf
Biking
Hiking
Running
This is directly in line with the "show/don't tell" philosophy - when she reads that you're into yoga and surfing, she'll likely check off 'health conscious' and 'physically fit' in her mind.
Other studies have shown that vegetarians get up to 52% more messages, while vegans get up to 62% more. If that describes you, mention it!
And while "nice guys" haven't historically gotten a lot of street cred in terms of where they finish, they do tend to get more messages on dating sites.
These words can give your response rate a boost: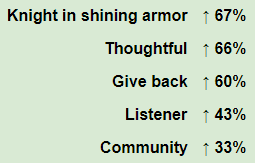 Of course no discussion of words would be complete without a reminder to watch your grammar. Typos, misspellings, and the like can be the kiss of death on a short dating profile, and an elite dating app like The League practically demands perfection.
In fact, dating site Plenty of Fish conducted a survey and discovered over half of the respondents would choose bad sex over bad grammar - and that's on a dating site not exactly renown for having high standards!
Singles on The League are even more discerning, so proofread your profile as if your dating life depended on it, because basically it does.
Want An Incredible League Profile With None Of The Work?
Exclusive dating apps attract high-quality singles, all of whom have high expectations.
Everything from your bio and photos to your messages has to stand up to scrutiny if you want to meet incredible women - and that takes time, effort, and energy.
If you're the type of successful, busy guy The League was created for, you likely don't have those resources in abundance. That's why so many guys like you turn to VIDA Select.
Thanks to VIDA Select's professional team of dating experts, you can focus on the end result - dates with amazing singles - and skip all the tedious parts in between.
Let us write your profile, choose your photos and write all your messages - we know exactly what works and what doesn't when it comes to the science of building attraction, because we let data take the lead on everything we do.
Intrigued? Click here to see what our modern matchmaking service can do for your love life!
Want us to do your online dating for you?

Hey, I'm Ally, VIDA Select's Director of Matchmaking.
We take all the frustration, hard work and hassle out of modern dating!
Imagine your very own Dream Team of highly skilled dating experts searching for the very best local matches, sparking their interest, and arranging all the dates for you.
Wouldn't it be nice to finally stop swiping and start dating higher quality matches so you can meet someone special?
We've helped thousands of singles just like you since 2009, and we're ready to make you our next success story!
What are you waiting for? Take the next step now…
See If You Qualify