I hope you enjoy reading the blog post.
If you want my team to just do your online dating for you, click here.
The Lodge Social Club Reviews - A Legit Elite Dating App?
Editor's Note: The Lodge Social Club app appears to be no longer available for download. Try one of these exclusive dating apps instead!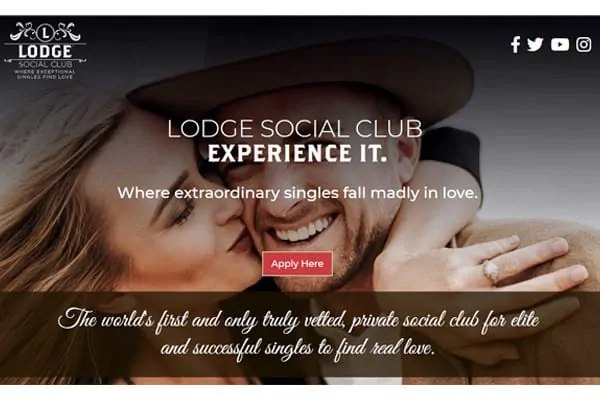 Developed by The Love Architects founder Kailen Rosenberg, this exclusive dating app promises a "triple vetted" dating pool, complete with background checks for members.
Sounds intriguing, which is probably why you're looking for The Lodge Social Club Reviews, right?
Our team of dating experts has been in the industry since 2009, optimizing profiles, swiping, and messaging on behalf of the clients we represent online.
We've seen first hand how all the dating apps and sites have evolved over the years, and we understand the unique benefits and drawbacks of each one. This enables us to guide singles toward the platform that best suits their dating goals.
This short article will give you an idea of what this elite dating app is all about!
A Different Approach To Elite Dating
Kailen created The Lodge Social Club with an eye towards authenticity. As she told City Pages,
My goal is to literally clean up the dating world, both on and offline.To create a community that is online of singles where single people no longer have to say, 'All the good ones are taken.'
All prospective members must complete an in-depth, 80+ question survey to determine what type of person you are when it comes to relationships.
Called the "Real Reveal," it takes around 20 to 30 minutes. The questions are in 3 sections: Soul, Chemistry, and Ego.
Your answers will help the app determine what type of personality you have, what you're looking for, and other insights that will be helpful to the matching algorithm.
It will also determine which of these 3 categories you fall into:
Ego Mate
Soul Mate
Life Mate
Once you've answered the questionnaire, you're eligible for the lowest membership level (more on that coming up). But your profile will show that you haven't been thoroughly vetted.
To gain access to the higher membership levels - and verified status - you must consent to a background check to make sure you don't have any criminal history or issues with identity theft.
The Lodge Social Club Cost & Membership Levels
Here is the price tag and benefits of each membership level:
Bronze: $45 per month, with a notation on your profile that you're not vetted. Bronze members also don't get full access to the app's features.
Platinum: $60 per month, plus an additional $100 annually. This level of membership includes the results of your "Real Reveal" survey, "vetted" status, unlimited matching and access to exclusive member pop-up events.
VIP: $10,000 to $25,000 annually. This membership includes everything from the other level, plus matchmaking services via a "personal love designer." You'll get a Facetime or Skype interview which covers your questionnaire results, plus coaching, feedback, hand-selected matches and invitations to exclusive events.
The Lodge Social Club offers a free trial of sorts - you'll get the second month free once you've paid for the first month of service.
The Lodge Social Club Events
Vetted members will receive invitations to social networking events held all over the world.
As Kailen explained,
It is a private social club and a pop-up experience along with an app. It's a place where the members can meet each other face to face in like-minded, value-conscious environments. It's the best of all worlds.
The type of event varies by location, and can be a small(ish) gathering of 40 or so members or host hundreds.
The events are often associated with high-end luxury brands. For instance, a pre-launch party in NYC featured "sponsored beverages" from brands like Absolut, and grab bags containing products from companies like Pur Brush and The Vintage Cosmetic Company.
The Lodge Social Club App Reviews
The Lodge Social Club is still in its infancy, so there aren't many reviews - or members - yet. It was still in beta testing in 2018, and at that time there were around 1,000 vetted members with around 6,000 more still in the vetting process.
Currently, the dating app has a 2.2 rating on the App Store, and a 1.2 rating on Google Play.
Many of the negative reviews cited various bugs on the app, such as not being able to sign up properly or getting stuck on "frozen" pages.
While the premise is certainly a good one, you may want to wait until the app officially launches and all of the bugs are worked out before giving it a try.
The Easiest Way To Meet Someone Special On Exclusive Dating Apps
Whether you're on The Lodge Social Club or another exclusive dating app like Luxy or The League, your profile has to hit all the right notes - and that takes work!
The bar is high, and marketing yourself effectively on a dating app takes a unique set of skills.
First you need to describe yourself in an attractive yet down-to-earth way, and put together the best possible photo lineup. Then the real work begins - carefully screening profiles, writing messages that compel responses, and building up enough attraction and momentum to lock in a date!
Have you got time in your busy schedule to make all that happen? Probably not. So let the dating experts at VIDA do it all for you!
Click here to find out how easy it is to finally meet your perfect partner.
Want us to do your online dating for you?

Hey, I'm Ally, VIDA Select's Director of Matchmaking.
We take all the frustration, hard work and hassle out of modern dating!
Imagine your very own Dream Team of highly skilled dating experts searching for the very best local matches, sparking their interest, and arranging all the dates for you.
Wouldn't it be nice to finally stop swiping and start dating higher quality matches so you can meet someone special?
We've helped thousands of singles just like you since 2009, and we're ready to make you our next success story!
What are you waiting for? Take the next step now…
See If You Qualify