I hope you enjoy reading the blog post.
If you want my team to just do your Tinder for you, click here to chat with me.
Tinder Explore: What It Is & How To Get More Matches With It
Curious about the Tinder Explore tab? You're in the right place! This short guide explains exactly how this Tinder feature works, plus how you can use it to get more matches!
Let's start with the basics…
What Is Tinder Explore?
Launched in late 2021, Tinder Explore is a hub within the app that houses all the interactive experiences like Vibes, Hot Takes, Festival Mode, Swipe Night and more.
It's also the place to go when you want to scroll through profiles of users curated around a common interest or dating goal. If you've ever wished Tinder offered more of a social media experience, you'll likely love using Explore.
As Tinder's CEO Jim Lanzone explained in a press release when the feature first launched, the Explore hub offers "more ways to have fun and interact with others virtually and more control over who they meet on Tinder."
How Do I Get Tinder Explore?
To open the Explore tab on Tinder, tap the Explore icon in the menu bar. It's the one with the magnifying glass and three boxes.

You can access Explore from both the mobile app and Tinder Online.
This is a free feature, so you don't need a Tinder Plus, Gold or Platinum membership to access it.
Welcome To Explore - How The Tinder Hub Works
The Tinder Explore tab essentially acts as a homepage. It's stocked with different categories of profile feeds Tinder's algorithm thinks are of special interest to you, based on choices you make within the app.
For instance, if you include the Dogs lifestyle badge and the Activism interest badge in your Tinder bio, you may see the "Social Causes" and "Pet Parents" categories on your Explore tab: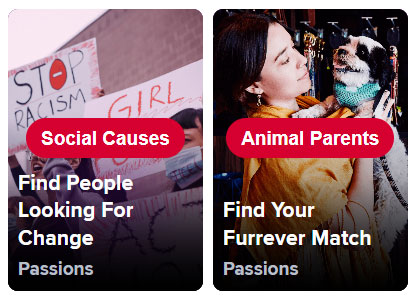 Of if your Interest badges include Cafe Hopping and Art Galleries, your hub might include the Creatives and Brunch Time categories:
In the Tinder Explore My Vibe section, you can join specific groups like Free Tonight, Coffee Date, Let's Be Friends or Looking For Love.
All the singles you'll encounter in each group have the same goal, whether that's finding friends, hooking up, dating casually or finding a committed relationship.
You'll know you're browsing the specially curated feed by the label at the top of the screen, and the colored border that surrounds the profiles: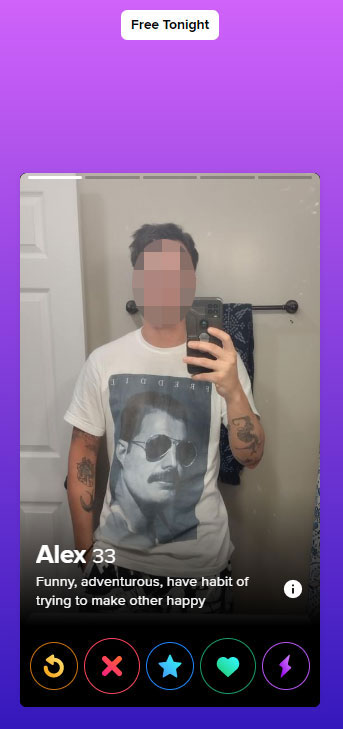 Tinder Explore also displays invitations to join any events or games that are happening (or about to happen) when you log in.
And if you're tired of encountering fake profiles on Tinder, you'll be particularly happy about the Photo Verified feed.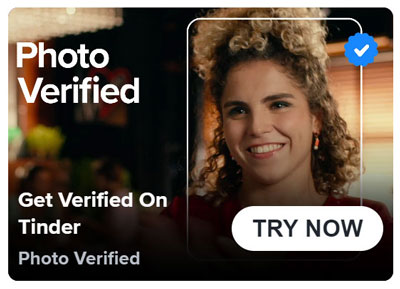 To be included in this feed, users must earn the verification badge. To get photo verified on Tinder, tap the "Try Now" button and follow the prompts.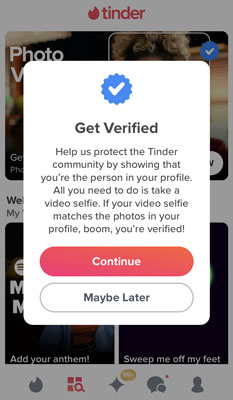 You'll be asked to record a short video selfie via the app. That footage will be compared to photos in your lineup. If they match, you get the check!
Once you've been photo verified on Tinder, you'll unlock this category in the Tinder Explore hub.
How Do I Use Tinder Explore To Get More Matches?
Here are 3 easy ways to use the Tinder Explore page to connect with more like-minded local singles!
Tip #1: Max Yourself Out
Since the profile feeds in each category are filtered around a specific criterion, you may find yourself running out of potential matches fairly quickly. Especially if you aren't in a major city.
For the best results, set your distance range to the maximum radius you're willing to date within. That will help you avoid the 'Tinder out of users' screen.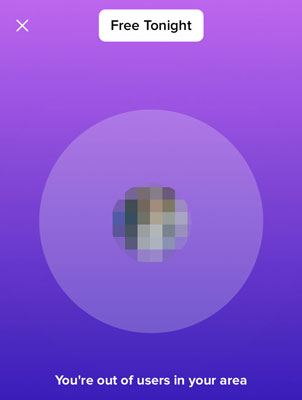 Tip #2: Get Interested
Many of the categories reflect the Interest (or in some markets, Passion) badges you've attached to your profile. If you haven't added any yet, get on it.
How add & change your Tinder badges:
Tap on the profile icon
Tap on the edit icon at the top of the screen
Scroll down to the Interests section
Tap on the arrow to bring up the menu
Select up to 5 badges to display
Tap Done
You can change your badges whenever you want. The good news is you have 175+ options to choose from, so that can be a great way to both instantly refresh your profile and change your Tinder Explore For You homepage experience.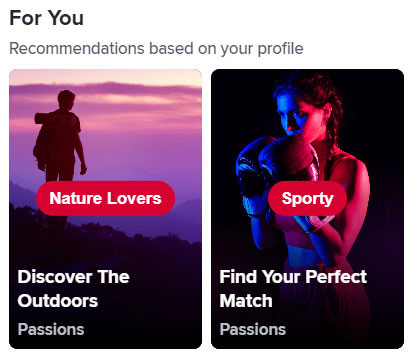 For You is the section where the app will display recommendations based on your profile. You'll find it right underneath the My Vibe display.
Tip #3: Tailor Your First Message
The various categories make figuring out what to say on Tinder a whole lot easier. You don't even have to read her profile to know at least one thing you've got in common.
And whether you're using Explore or not, the app helpfully highlights any interest badges that you've both displayed. That's another compelling reason to add a few to your Tinder profile if you haven't already.
Frame your message around the category you're scrolling through, and boom - instant icebreaker inspiration. Want some examples of great conversation starters? Check out these proven Tinder openers! You're sure to find one to fit the occasion.
And if you really want to up your Tinder game and start matching with relationship-quality singles, this Tinder Guide is packed with all the tips, tricks and research-advice you need to make it happen.
Want us to do your online dating for you?

Hey, I'm Ally, VIDA Select's Director of Matchmaking.
We take all the frustration, hard work and hassle out of modern dating!
Imagine your very own Dream Team of highly skilled dating experts searching for the very best local matches, sparking their interest, and arranging all the dates for you.
Wouldn't it be nice to finally stop swiping and start dating higher quality matches so you can meet someone special?
We've helped thousands of singles just like you since 2009, and we're ready to make you our next success story!
What are you waiting for? Take the next step now…
See If You Qualify