I hope you enjoy reading the blog post.
If you want my team to just do your Tinder for you, click here to chat with me.
Tinder Platinum Worth It? 2023 Cost, Features & How It Works
Wondering if Tinder Platinum is worth it?
This quick guide has the answers to all your questions! VIDA's team of dating experts have been using Tinder daily, ever since it debuted way back in 2012. We know this popular dating app from front to back, having logged hundreds of thousands of hours swiping, matching and messaging on behalf of our clients.
We know how to use all the Tinder features, including Platinum, to get more dates!
In this Tinder Platinum review, we'll break down what features you get, how much it costs, and exactly how it works. We'll even compare Tinder Platinum to Tinder Plus and Tinder Gold!
Tinder Platinum Review Table Of Contents
Navigate straight to what you're curious about in this Tinder Platinum review, or start from the top...
Tinder Platinum Features
Upgrading to Tinder Platinum unlocks two new features: Message Before Matching and Priority Likes.
Let's take a closer look at each one.
Message Before Matching
This Platinum benefit lets you include a message when you Super Like a match.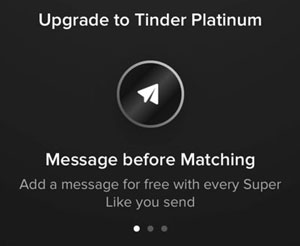 You have 5 Super Likes included in your premium subscription, which means you can send 5 ice breaker messages to matches before they've swiped on your profile.
That's a huge advantage, because what you say in your Tinder message could entice that user to swipe right when they may not have otherwise.
According to Tinder, using the Message Before Matching features boosts your chances of matching with that person by 25%.
Priority Likes
Tinder prioritizes likes and Super Likes from a Platinum subscriber, meaning your potential matches see your profile before the profiles of all the non-subscribers.
If you're in a city with tons of users, the Priority Likes feature could be game changing.
Tinder Platinum also lets you review all the "likes" you've sent in the last week.
Tinder Platinum Cost
A few factors affect how much you'll pay for Platinum benefits.
Tinder's pricing tends to be variable, so factors like your location and promotions running in your market partially determine the price.
But just to give you an idea, you can plan in the ballpark of $29.99 for a single month. The price per month drops depending on how long your subscription is.
Tinder Platinum Cost
1 month - $29.99
6 months - $15.00/month
12 months - $10.00/month
Tinder Plus vs Tinder Gold vs Tinder Platinum
Tinder Platinum is the premium subscription tier, so it's the most expensive. Also the most feature-heavy, given it includes all the perks of the two other options.
Besides price, the only difference between Tinder Platinum and Tinder Gold is the ability to message before matching and getting prioritized likes.
And the only difference (cost aside) between Tinder Gold and Tinder Plus is the ability to check out (and match with) everyone who liked you all at once, full access to your Top Picks, 5 weekly Super Likes and a monthly Boost.
Tinder Plus contains the rest of the premium bells & whistles, like changing your location and unlimited right swipes.
Check out this side-by-side comparison of Tinder premium benefits & cost:
Which Tinder Subscription Is Best?
Tinder Platinum is worth it when you're dating in an area where you face tons of competition for the best matches.
Success on Tinder means standing out in a good way. Your photos, your bio and your messaging skills are a huge part of that. But Tinder Platinum adds two more ways to scoot your profile to the front of the line.
Go For The Gold If...
You get a decent amount of quality matches.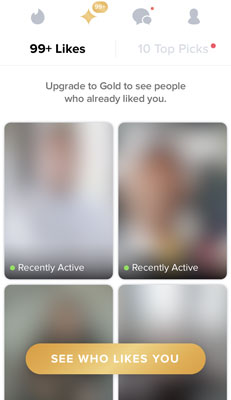 Matching en-masse via Tinder's "likes you" grid view saves you swiping time. And full access to all your specially curated Top Picks is a handy perk.
Stay With Tinder Plus If...
You find yourself frequently running out of profiles to swipe.
You can use Passport to swipe in cities within your dating radius, and it's a huge advantage if you want to date while traveling.
For many people, the privacy Tinder Plus offers users alone is worth the monthly investment.
Sure, limiting your profile's visibility to only the singles you swipe right on might impact your match rate. But Incognito Mode also saves you from potentially awkward moments if you live in a smaller town and have a more public-facing career.
How Tinder Platinum Works
Once you've upgraded, you can Super Like up to 5 Tinder users weekly, and send a message along with it.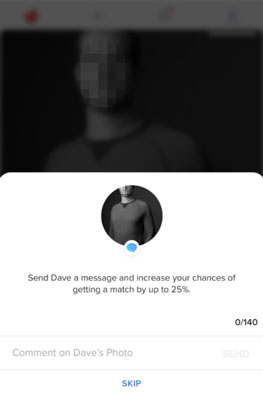 You have 140 characters to work with in your icebreaker, giving you ample space to make a great first impression. Use one of these proven Tinder openers and get that Tinder conversation started!
The second Tinder Premium benefit, prioritized likes, means anyone you like or Super Like sees your profile faster.
While exactly how Tinder determines your place in a user's card stack remains a trade secret, your geographic proximity to each potential match and your own internal rating likely play a huge role.
So for example, let's say you *really* want to match with Heather. If your Tinder profile is great and you're only a quarter mile away from her, she'll likely see your profile fairly quickly.
But if it's just average and/or you're across town, Heather may be swiping for a while before yours pops up. In the meantime, she's matching and messaging with tons of other guys.
Having your "like" prioritized helps overcome both distance and a low ranking (AKA Elo) score. The sooner someone sees your profile the better, which is the main advantage of the Priority Likes feature.
Of course, Tinder Platinum isn't a magical fix for mediocrity. Your profile still needs to be right swipe worthy to result in a match. If you suspect your Tinder ranking needs improvement, check out these Tinder profile tips and examples!
There's One Thing Upgrading Won't Change...
Whether you use Tinder for free or invest in a premium subscription, Tinder is still a double opt-in dating platform. In other words:
You've got to actually match with the people you want a chance of dating.
Tinder Platinum gets your profile in front of them faster, but ultimately the matching ball is in their court. If you're not sure how to optimize your profile to attract the type of singles you want to meet, Tinder gets frustrating quickly.
And if you match - your messaging strategy needs to keep her interested long enough to build up to a "Yes - let's take this off Tinder!"
It takes skill & effort to make Tinder a successful experience.
This handy Tinder Guide gives you a solid foundation of skills.
Or, you can let a team of Tinder experts overhaul your profile, create a Tinder strategy, and connect you with the incredible matches *you* want to meet. Why reinvent the wheel when VIDA Select can navigate everything for you?
And not just on Tinder - on all the dating sites and apps your dating specialists identify as the most strategic for you! Find out how it works - and why it works - by going here!
Want us to do your online dating for you?

Hey, I'm Ally, VIDA Select's Director of Matchmaking.
We take all the frustration, hard work and hassle out of modern dating!
Imagine your very own Dream Team of highly skilled dating experts searching for the very best local matches, sparking their interest, and arranging all the dates for you.
Wouldn't it be nice to finally stop swiping and start dating higher quality matches so you can meet someone special?
We've helped thousands of singles just like you since 2009, and we're ready to make you our next success story!
What are you waiting for? Take the next step now…
See If You Qualify