Not sure which premium Tinder subscription is best for you? Keep reading to find out the key features that set Tinder Gold apart from Tinder Plus, and the benefits you get at each level!
Tinder Plus VS Tinder Gold: The Two Key Differences
If the idea of firing up this popular dating app and instantly knowing which local singles have already "liked" your profile appeals to you, Tinder Gold is the way to go.
Upgrading to Tinder Gold has two main benefits over Tinder Plus:
You can instantly see everyone who liked your profile
Get up to 10 Top Picks every day
Tinder Gold Advantage #1: "Likes You" Feature
Thanks to a special grid layout, you can see at a glance all the people who swiped right on your profile since you last logged in. Returning the favor results in an instant match, meaning you can proceed straight to messaging.
If you're pressed for time, you can even auto-match with all of them with one quick tap – then decide who you want to message from your match feed at your leisure. No swiping required!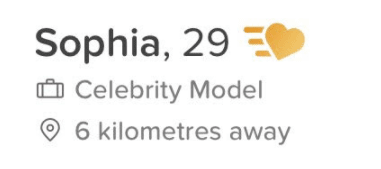 Tinder Gold users can still access regular old Tinder, if you want to see the entire card stack in your area. A yellow heart icon will appear on the profiles of those who have already swiped right on you.
Tinder Gold Advantage #2: Tinder Picks Feature
The other major difference when it comes to Tinder Gold vs Plus is the full access to your Top Picks. Gold subscribers are presented with anywhere from 4 to 10 profiles that Tinder picks out as highly compatible matches, which is great if you're in the market for a long-term relationship.
If you don't have Tinder Gold, you can only interact with one of your Tinder Picks each day.
Upgrading to Tinder Gold includes Tinder Plus, so you'll get access to all those bells & whistles. If you're already a premium subscriber, you can upgrade from Tinder Plus to Gold, or just purchase a Gold subscription directly.
Here are the premium features that come with Tinder Plus:
5 daily Super Likes – free users just get 1
Rewind – unlimited ability to undo your last swipe
Passport – you can change your location to any city in the world and start swiping
1 monthly Tinder Boost – your profile goes straight to the top for a full 30 min of increased exposure (also available ala carte as one of Tinder's in-app purchases)
Swipe ad free
Right swipes are unlimited – no more time restrictions!
Tinder Plus VS Tinder Gold: Price
If you're already a premium member, upgrading from Tinder Plus to Tinder Gold will only cost you around $5 more per month.
If you're purchasing a premium subscription for the first time, you can expect to pay around $29 dollars a month for Tinder Gold, and much less if you purchase a longer subscription. Your exact price will vary depending on your age and location.
Tinder Plus costs around $9.99 a month for those under 30, $19.99 a month for everyone older. Again, prices may vary slightly depending on which market you're in.
Is Tinder Gold Worth It?
If you don't live in a heavily populated area, Tinder Plus is better than Tinder Gold. After all, you'll find out who's already swiped right on your profile just by hopping on the dating app. If you're in a rural area where you don't get many matches, it won't take long to figure it out.
But if you're lucky enough to have a lot of matches, or live in a mega city where you're up against some stiff competition for the hottest matches, Tinder Gold is likely worth the investment.
The 'likes you' feature can save you a ton of swiping time, and having a selection of high-quality matches presented to you is perfect if you don't want to spend a ton of time on the app. (Don't want to spend any time on Tinder, but still go on amazing dates? Click here!)
Make Your Premium Subscription Worth The Money
Whether you upgrade to Tinder Plus or Tinder Gold, keep in mind neither premium option is a magic fix if you're not happy with the results you're getting now.
If you're not matching with the singles you want to meet most – or with anyone at all – take a hard look at your Tinder photos – especially your primary one.
You can get some expert Tinder help courtesy of this article, but start by making sure you're not committing one of these Tinder photo sins: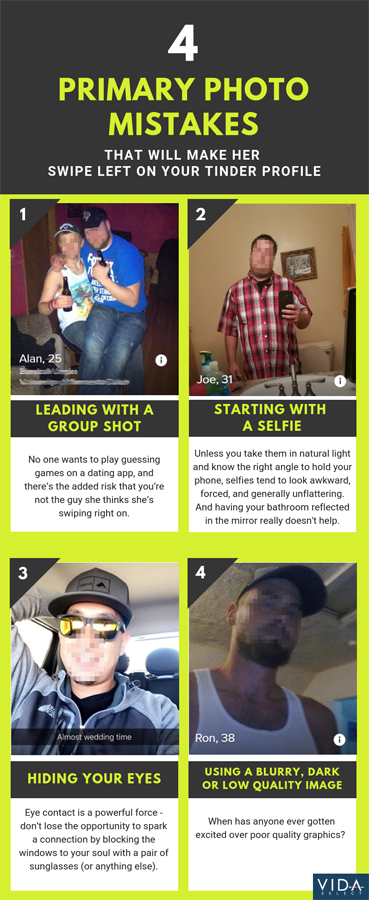 You may also need to amp up up your profile, and make sure you look like a hot prospect in print, too. Use of one of these great Tinder bio examples for inspiration!
But there's an even easier way to boost your match rate and conquer Tinder – have the dating experts at VIDA give your Tinder profile a total overhaul, and even handle all the messaging!
There's no faster way to meet the most attractive singles in your area, and you get to skip straight to the first dates. Click here to find out how.