I hope you enjoy reading the blog post.
If you want my team to just do your Tinder for you, click here to chat with me.
Tinder Priority Likes: Worth Paying For Platinum In 2023?
Tinder Priority Likes are one of the premium features that come bundled with a Tinder Platinum subscription.
That's Tinder's priciest membership tier, so it's no surprise you're wondering if Prioritized Likes are worth paying for.
This article has all the info you need to decide!
Our team of dating experts uses Tinder daily. We've been optimizing profiles, swiping, and sending messages on behalf of the thousands of clients we represent since this popular dating app launched in 2012!
This wealth of first-hand experience gives us a unique perspective on all of Tinder's features: we've watched them evolve over time, and we know the advantages of disadvantages of each one.
Keep reading to find out if paying for Tinder Platinum's Priority Likes feature is worth the money for someone in your dating situation.
Let's get started!
Tinder Priority Likes Explained: What They Are & How They Work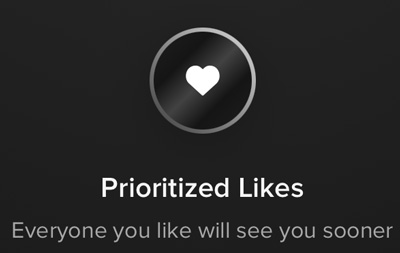 Tinder's Priority Likes feature means that your Likes and Super Likes are seen faster than those of non-subscribing Tinder users.
So if you subscribe to Platinum and Like a potential match's profile, your profile will pop up in her card stack before Plus, Gold or free users. It will also get priority placement in her "see who likes you" feed if she's a Gold or Platinum subscriber.
Depending on where you're using Tinder, that could be a huge advantage for you. More on that coming up.
How Much Do Priority Likes On Tinder Cost?
Plan on spending around $30 for a single month if you just want to try it out. The price drops to around $15/month if you purchase 6 months at once, or around $10/month for a full year's worth.
Right now, you can only unlock this feature by purchasing a premium Platinum membership. They are not offered on a pay-per-use basis, like Boosts or Super Likes.
The price of a Platinum membership on Tinder depends on a few factors, like subscription length and where you live. You may also catch a sale, so keep an eye out for any pop-up deals as you swipe.
Are Tinder Priority Likes Worth Paying For?
Whether or not Priority Likes are worth it depends on your particular situation. If you're living in a large metro area with a ton of other Tinder users, the answer is yes - they're worth it. 
Anything you can do to push your profile up in the ranks will likely pay off in more opportunities for users to right swipe your profile.
But here's the catch. Priority Likes only get your profile in front of potential matches faster. It doesn't guarantee a right swipe in return. Paying for Priority Likes on Tinder won't do you any good if potential matches pass on your profile.
So if you haven't put much thought into your Tinder profile or photos, you'll want to rethink that strategy before shelling out money for a Platinum membership.
Do yourself a favor and bookmark this Tinder resource - it's packed with all the links you need to boost your match rate, get more responses to your messages and enjoy more Tinder dates.
It's worth carving out some time to craft a compelling bio, but for now here's one way to instantly improve your Tinder profile:
Ax The Beige Flags
Beige flags are similar to red flags in that they'll increase the odds of her tapping "Nope". What warning do they signify?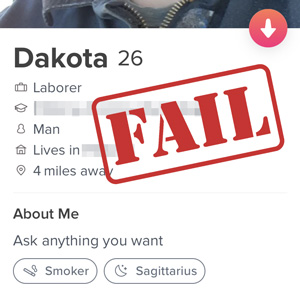 That she's checking out the profile of a potentially boring and bland guy.
From her perspective, if you can't even summon the energy to present your best self on a dating app - a platform that's *all* about making potential connections - what does that say about the type of person you are?
Either you've got nothing interesting to say about your life, or you're going to put similarly low effort into the dating process.
Neither is an attraction option, which is why she'll likely swipe left.
Beige flags can be lines that tell her nothing descriptive about you, like "Ask me anything" or its equally annoying cousin, "I'll finish this later."
They can also be statements that apply to 99.9% of singles, like "I love learning new things and trying new restaurants."
Who doesn't?
Take out the clichés, and replace them with useful information. Specific details about your hobbies, interests and passions in life are far more likely to spark a connection (and a Tinder conversation) than generic, bland statements.
Want More Likes on Tinder, Without The Work?
A Tinder Platinum subscription can certainly help you get more results on Tinder, but only if your profile is right-swipe-worthy. Unfortunately, paying for Tinder doesn't guarantee you'll start meeting incredible matches in person.
If you want to give yourself every possible advantage, why not outsource Tinder to the experts at VIDA Select?
It's a 100% "done for you" modern dating service, and it's by far the easiest way to put the phone down and start meeting high-quality matches.
Intrigued? Go here to learn more.
Want us to do your online dating for you?

Hey, I'm Ally, VIDA Select's Director of Matchmaking.
We take all the frustration, hard work and hassle out of modern dating!
Imagine your very own Dream Team of highly skilled dating experts searching for the very best local matches, sparking their interest, and arranging all the dates for you.
Wouldn't it be nice to finally stop swiping and start dating higher quality matches so you can meet someone special?
We've helped thousands of singles just like you since 2009, and we're ready to make you our next success story!
What are you waiting for? Take the next step now…
See If You Qualify