I hope you enjoy reading the blog post.
If you want my team to just do your Tinder for you, click here to chat with me.
4 Tinder Profile Examples For Men That Really Work
Describing yourself in an attractive way in 500 characters or less isn't a walk in the park, so a lot of guys don't even bother trying to write something good.
But that's a mistake. Unless you've got looks on par with Chris Hemsworth, a weak bio is likely turning off all those attractive women you want to meet:

See the difference?
If she's on the fence about your photos, odds are good your Tinder bio will be the deciding factor. Plus, she'll definitely get around to checking it out before you've exchanged more than a couple back-and-forth messages.
Want more Tinder matches that turn into Tinder dates?
VIDA's dating experts are here to help. We've crafted thousands upon thousands of Tinder profiles for clients over the years, and meticulously study which approaches work best.
These 4 Tinder profile examples are all material that's proven to be effective. How do we know? Because we not only write the bios, we also do the swiping, matching and messaging for all of our clients. We know these profiles are successful, because we set up dates with the matches they attract!
Tinder Profile Example #1: Take It Over The Top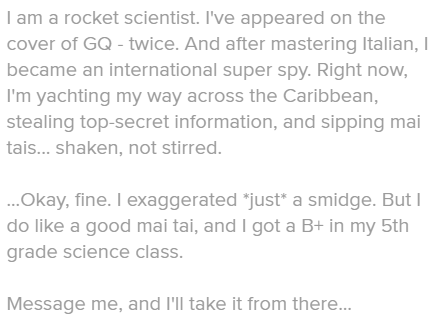 On Tinder, exaggerated humor combined with a cocky/funny attitude plays much better than it does on a dating site like Match.com. This style allows you to get creative and have a bit of fun with it.
While absurd and obviously not true, this bio is memorable and intriguing - especially if your photos aren't that strong. (And if they aren't, you need to read this article packed with tips for choosing online dating photos that get more dates).
But remember, humor is a subjective thing. Just because you and your bros think it's funny, doesn't she will.
You want right swipes, so make sure whatever you write makes you sound like a great catch.
Profile Tip: Over-the-top/cocky humor tends to work best for guys looking to date women in their 20s. If that's not you, don't worry - there are 3 different styles of Tinder profile examples coming right up!
Tinder Profile Example #2: Short & Sweet
You already saw one great Tinder profile example at the beginning of this article that's short and sweet, and here's another one:
This style of profile captures her attention with just a few words - and leaves her wanting more. Emoji were made for short dating profiles, as they're visually interesting and convey a more complex idea at a glance.
The words "I like to travel, surf, eat sushi, and go mountain biking" are less compelling than the same concept expressed in emoji form.
The key to success here is highlighting a few of your most attractive traits.
If you keep it short and she doesn't learn anything of substance about you, you're just shooting yourself in the foot.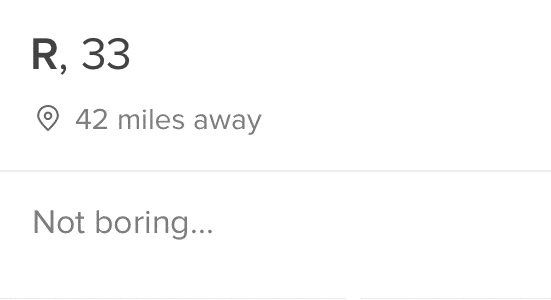 Profile Tip: If you're easy on the eyes and have strong, visually interesting photos, Short & Sweet is likely the perfect Tinder bio style for you. You don't need to go over-the-top with your bio when you've got it going on in your photos.
Tinder Profile Example #3: Down To Earth
This profile example shows how to highlight all your best "husband material" traits in a creative, attention-grabbing way.
If she's shopping for The One, you can bet she's interested in knowing about your career and hobbies. In fact, 73% of women listed "occupation/intelligence" as one of the most desired traits they're looking for in men on Tinder.
Make sure you're only highlighting attractive traits, though.
Negativity isn't hot, and if you call attention to a perceived flaw you think you have in a short dating profile, her first impression heads south quickly.
Profile Tip: If you're in your mid-30s and looking for a relationship on the more serious end of the spectrum, this is your go-to style. It also works for younger guys looking for something long-term. This style attracts the marriage-minded set, and yes - those women are definitely on Tinder.
Tinder Profile Example #4 -Adventure Story

When you focus on the most exciting aspects of your life, you leave her craving more details. The best Tinder bios evoke an emotional response in her, and this style does that in spades.
But it's crucial that this "Adventure Story" profile style works with your pictures. It's called congruence, and if you don't have it, she'll notice.
For example, if your profile talks all about your epic international adventures, but your photos are all bathroom selfies, she's going to feel like something about you is off. You just torpedoed your odds of getting her number, much less scoring a date.
Profile Tip: Assuming your photos can back it up, this is the one style that potentially could work for any guy. Tales of adventure are universally appealing - what woman doesn't get excited over a vividly described story packed with intrigue, travel, and a dash of danger?
Profile, Check. Next Up: Messaging!
Now that you've got 4 Tinder profile examples that really work, you need to start focusing on your messaging game.
Your profile will catch her attention, now you've got to hold on to it. But that's a subject for a different article. Specifically, this one - it's got 7 Tinder icebreakers that you're definitely going to want to try.
Or, you could sit back, relax, and let the Tinder experts handle everything for you. From profile writing to back and forth messaging, VIDA does it all - you just show up for the dates.
Click here to find out more!
Want us to do your online dating for you?

Hey, I'm Ally, VIDA Select's Director of Matchmaking.
We take all the frustration, hard work and hassle out of modern dating!
Imagine your very own Dream Team of highly skilled dating experts searching for the very best local matches, sparking their interest, and arranging all the dates for you.
Wouldn't it be nice to finally stop swiping and start dating higher quality matches so you can meet someone special?
We've helped thousands of singles just like you since 2009, and we're ready to make you our next success story!
What are you waiting for? Take the next step now…
See If You Qualify