I hope you enjoy reading the blog post.
If you want my team to just do your Tinder for you, click here to chat with me.
Tinder Smart Photos: How It Works & 3 Reasons Not To Use It
Wondering if you should try Tinder Smart Photos? You've come to the right place!
VIDA's team of dating experts use Tinder daily on behalf of our clients, and we've logged hundreds of thousands of hours swiping, matching, and messaging since the app launched back in 2012.
We've also set up countless photo lineups, and in this post we'll reveal how Smart Photos works. And even more importantly, we'll tell you when to use it and when it's a bad idea.
Tinder Smart Photos Review Table of Contents
Want to get the most out of this feature? Don't miss the 3 expert Tinder photo tips at the end!
What Does Tinder Smart Photos Do?
The premise is similar to Bumble's Best Photo feature. When Smart Photo is activated, the Tinder app automatically rotates your primary photo. It then records the number of right/left swipes each one receives while it's in that #1 spot, and automatically orders them by popularity.
Theoretically, that means your "best" Tinder photo always has the primary position.
According to Tinder, during the testing phase users saw a 12% increase in matches while using Smart Photos.
How To Turn Tinder Smart Photo On & Off
Tap the "Profile" icon at the top left of the screen
Tap "Edit Info"
Scroll down to "Photo Options"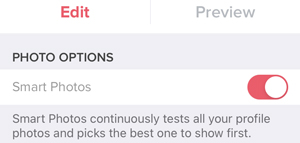 To disable Smart Photos, simply toggle it back off.
How Smart Photos Works
Smart Photos uses an algorithm that considers each photo's swipe right rate (SRR). That number is determined by the number of right swipes divided by the total number of swipes for each photo.
A Peek At The Algorithm
The main component of the algorithm is the decision between "explore" mode, where photos are tested to see which performs best, and "exploit" mode, where the most popular photo at the time is put in the 1st position to garner the most right swipes.
The algorithm also takes into account the number of impressions across all the photos in your Tinder profile. This pushes the most popular ones to the front of the line over time, and determines their sequence. That means your most right-swiped on photo will be in the primary spot.
If the data indicates a need for a swap, Tinder changes your photo automatically. You'll receive a notification the next time you log in. You'll also likely notice the change on your login page.
Does Tinder Smart Photos Work?
There are a few potential flaws in the process. For starters, some users don't right swipe their favorite picture - they just swipe on the last one.
If someone checks out all your photos before making a decision, they'd have to scroll back to their favorite Tinder photo and then swipe right for the info collected by the algorithm to be truly accurate.
Is a potential match going to take the time to do that? Most likely not - they're just going to swipe right (or left) on whatever photo is on the screen when they've made the decision.
Another Potential Problem...
Lack of data.
If your dating profile doesn't see a lot of action, your lineup will be based on a small set of data points. So if you live in a sparsely populated area, you'll likely get more accurate crowdsourced feedback from a site like Photofeeler.
That's not to say you shouldn't test out the Smart Photos feature, only that it's like not 100% accurate.
Get Smart About Your Tinder Photos
There's one more potential drawback to Smart Photos...
It will rank your photos, whether they're good or bad. So if you've got a terrible lineup and a few right swipes, your "best" photo still isn't very good - and your match rate still won't be very high.
If you want to actually get anywhere on Tinder, you need to start with strong photos. Then if you're not sure which one to choose as your primary, turn on Smart Photos.
When To Use Tinder Smart Photos
You're confident you have a strong photo lineup *and*
There are a lot of other Tinder users in your area so the algorithm has a wealth of data
When You Shouldn't Use Tinder Smart Photos
You haven't put much thought into your photo array. Tinder Photos doesn't weed out the bombs, it just puts them further back. But potential matches can (and will) swipe left based on one terrible pic.
There aren't enough Tinder users in your vicinity to get meaningful data for the algorithm to use.
Don't Just Rely On Tinder Smart Photos...
Use better photos.
Here are 3 ways to make your Tinder photos more attractive.
#1: Crank Up The Contrast
When a team of neuroscientists studied the reactions of test subjects swiping through Tinder photos, they discovered all the photos that were rated most attractive had a high degree of contrast.
In a nutshell, your image should pop out of the background, not blend into it: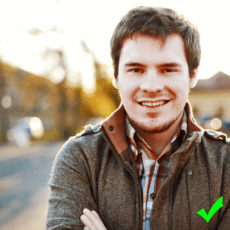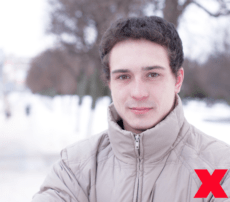 #2: Choose Uncomplicated Photos
When it comes to interpreting images, your brain prefers simplicity. In the study mentioned above, the photos deemed most attractive had a low cognitive workload. As that workload increased, the attraction level decreased.
That means skip photos that have a lot of visual clutter in the frame.
Instead, choose photos that are clear, instantly readable, and preferably taken with a high quality camera.
#3: Get Your Crop On
While you'll want to include at least one full body shot in your Tinder lineup, ideally your primary photo shows you (and just you) from mid-chest up.
Not only does that follow the "simple image" rule, but the traditional headshot proportions were consistently rated the most attractive in the study mentioned above.
To maximize the odds of forming a connection with the viewer, choose photos where your eyes are visible.
Eye contact is a powerful force, so use it to your advantage. In fact, it's such a powerful thing that hiding your eyes with glasses, your hair, or some other object actually makes you seem less trustworthy.
Want more Tinder photo advice?
Check out these 16 tricks to a more attractive profile photo - backed by science!
The Easiest Way To Get Better (And More!) Matches On Tinder
If you're ready to start meeting higher quality local singles on Tinder, but don't have time to spend optimizing your photos, why not see how the dating experts at VIDA Select can help?
We'll use our data-driven, proven-to-work photo ranking process to determine your most attractive lineup. But it doesn't stop there.
Want a professionally written, compelling, and irresistible Tinder bio? How about someone to handle all your messaging for you, up to and including setting up the dates with singles you're actually excited to meet?
VIDA can do all that, and more. Click here to find out how!
Want us to do your online dating for you?

Hey, I'm Ally, VIDA Select's Director of Matchmaking.
We take all the frustration, hard work and hassle out of modern dating!
Imagine your very own Dream Team of highly skilled dating experts searching for the very best local matches, sparking their interest, and arranging all the dates for you.
Wouldn't it be nice to finally stop swiping and start dating higher quality matches so you can meet someone special?
We've helped thousands of singles just like you since 2009, and we're ready to make you our next success story!
What are you waiting for? Take the next step now…
See If You Qualify