I hope you enjoy reading the blog post.
If you want my team to just do your Tinder for you, click here to chat with me.
Tinder Web: How To Use Tinder On A PC [Quick Start Guide!]
Not sure how to use Tinder Web, or find the Tinder login? Keep reading for everything you need to know about how to access your Tinder account on your computer!
How To Use Tinder On A PC
From your browser, go to Tinder.com to bring up the Tinder login screen.
Clicking on the "Login" button at the upper right.
Choose how you want to log in from three options: via Google, Facebook account or mobile number.
Enter your credentials and click "continue".
Provide any required access codes, and you're in!
If you have issues logging in to Tinder Web, ensure you have pop-ups enabled on your browser. Since it's a location based dating app, you'll need to share yours in order to use Tinder online.
Just click "Allow" when the browser prompts you: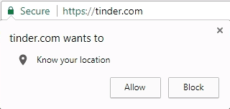 Navigating Tinder Web
Using Tinder online versus on the app doesn't effect your Plus, Gold or Platinum perks. You can also access the Tinder social features, like Vibes and Festival Mode, as well as paid features like Tinder Boost.
The user interface is optimized for your computer, which means you get a few extra options.
If you're stoked about Tinder Web because it looks like you're actually working versus swiping on your phone at the office, there's a built-in fail safe to keep you from getting busted.
Click on that little briefcase icon at the top left of the screen, and you're instantly transported to Tinder's work mode:
(Editor's note: Best to maintain a 360-degree situational awareness at the office, because that spreadsheet is fooling literally no one up close.)
How Tinder Online Is Different
While it's still the same swipe/match/message format, how you interact with Tinder Web is a bit different.
To check out your potential match's photos, click on the left of the current photo to see the previous one, or on the right to go to the next one: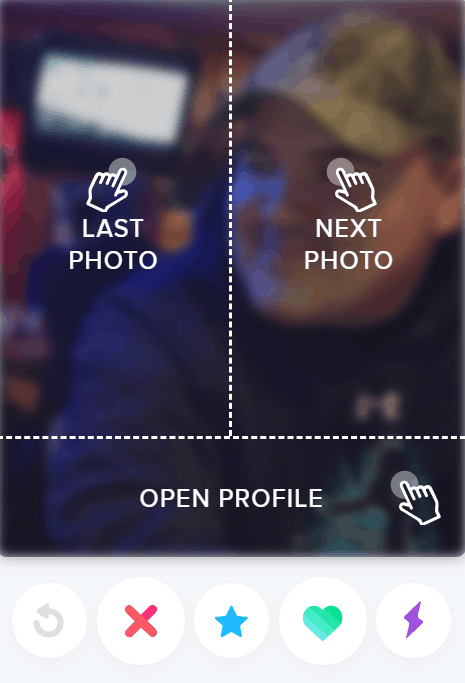 To see their Tinder bio and other particulars, click on the "info" icon on the lower portion of the picture.
You'll then be able to scroll down to read their Tinder profile. You can also check out their Instagram and Spotify if those accounts are linked.
To return to the condensed profile view, simply tap the arrow icon:
You can scroll through your match queue 3 different ways:
1. By clicking the various icons with your mouse
2. By using your mouse to click and drag the photos to the left of the screen for "nope," to the right for "like," and up for Super Like.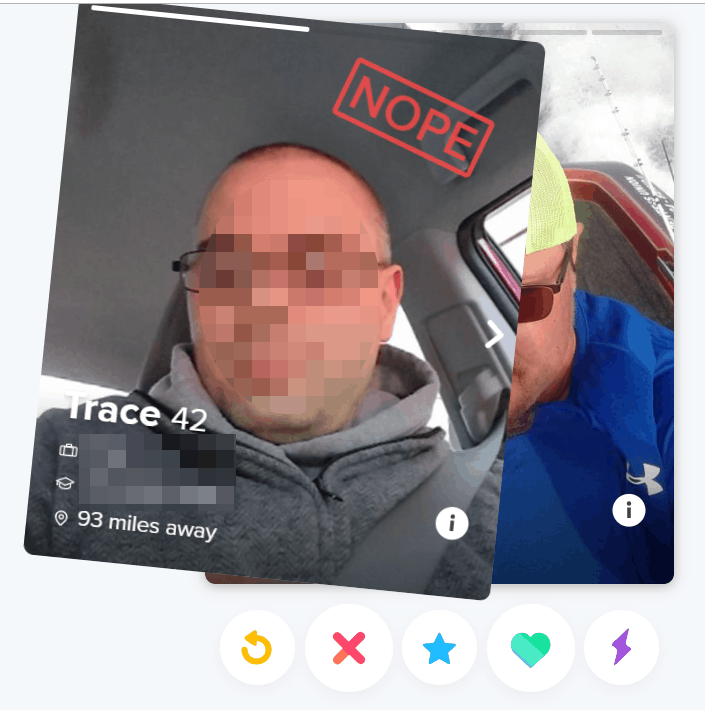 3. By using the keyboard shortcuts:
All of your existing matches are displayed in a grid on the left of the screen.
New matches are indicated by a red dot. You can access their profiles by clicking on whichever match you want to check out.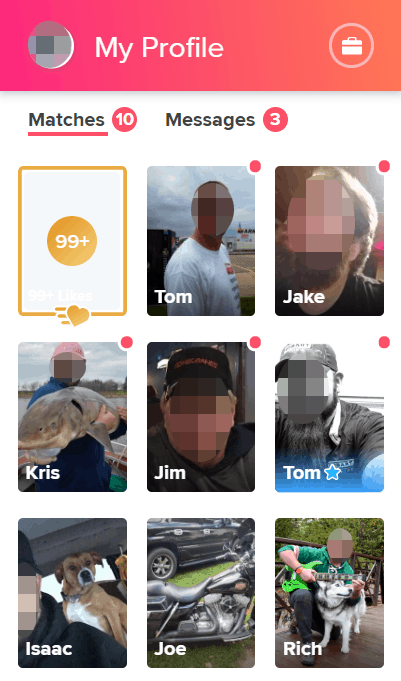 Messaging On Tinder Web
To access all your Tinder conversations, click on "Messages":
On Tinder Web, whether your click on one of your matches or one of your message exchanges, the messaging platform will be displayed in the middle of your screen.
To get out of that view and back to checking out profiles, click on the "X" to the right of the date the two of you matched:
Now, when you're exchanging messages, that match's profile will be displayed to the right. So not only will she see your primary photo, she can also easily check out the rest of your profile at any time.
Your primary photo on Tinder Web is front and center while she's reading (and hopefully responding) to your messages. Depending on the length of the Tinder conversation, that photo better stand up to repeated viewings!
Let's be honest. If she even "likes" the profile above to begin with, it probably won't be long before her mouse creeps toward that unmatch button - no matter how good his Tinder messages are.
Skip the bathroom selfies, and use this formula for the "perfect Tinder photo" formula. It's based on scientific research, so you know it's legit!
Trying To Find More Time For Tinder?
The average Tinder user checks in 11 times a day. And if you're motivated to leave singledom behind you, you could be logging in even more often.
All those minutes swiping and messaging add up quickly. And that's if you've managed to put together a profile that gets "liked" by singles you'd actually consider dating.
If you're not getting the results you want now, putting Tinder on a different screen may just increase your frustration - and diminish your self-esteem!
Researchers have found Tinder users reported significantly lower levels of satisfaction with their face and body. And low self-confidence can lead to a disastrous first date.
But what if you could bypass Tinder, and walk into first dates with the confidence that the incredible person you're about to meet is already into you?
Outsourcing Tinder to VIDA makes that possible! In fact, our modern matchmaking service can take over for you on any dating app or site you want to try - and we handle everything.
Profile writing, photo selection, even the messaging! All those things that frustrate you will be handled by a team of experts - you just enjoy the dates with amazing people!
Want to see how it works? Click here!
Want us to do your online dating for you?

Hey, I'm Ally, VIDA Select's Director of Matchmaking.
We take all the frustration, hard work and hassle out of modern dating!
Imagine your very own Dream Team of highly skilled dating experts searching for the very best local matches, sparking their interest, and arranging all the dates for you.
Wouldn't it be nice to finally stop swiping and start dating higher quality matches so you can meet someone special?
We've helped thousands of singles just like you since 2009, and we're ready to make you our next success story!
What are you waiting for? Take the next step now…
See If You Qualify