I hope you enjoy reading the blog post.
If you want my team to just do your Tinder for you, click here to chat with me.
Top 10 Tinder Tricks To Triple Your Dates [2023]
Looking for Tinder tricks because you feel like you're the only one striking out on this popular dating app?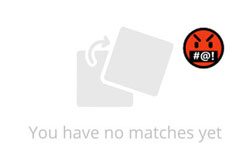 Get ready to up your game!
You'll go from no good Tinder matches to scoring dates with attractive women in no time.
1) Make Your Photos Bulletproof
When she's checking out your Tinder profile, she's noticing everything about your photos.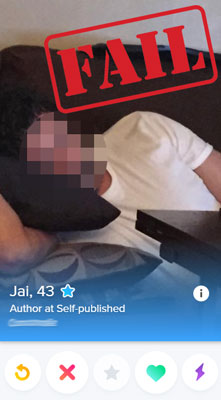 Thanks to a process called "thin slicing," she's making a series of micro judgments about every aspect of your photo. Everything gets noticed, from your clothing and expression to your body posture and surroundings.
All those little opinions combine like a judgemental Voltron to form her first impression of you. It happens within mere seconds, so strong Tinder photos are essential.
A group of neuroscientists set out to identify the formula for the perfect Tinder photo, which they did by analyzing the study participants' responses to different images.
They used an EEG, eye tracking, and behavioral responses to determine which photos were perceived as the most attractive, and what those photos had in common.
They determined these 4 traits make the most attractive Tinder profile photo: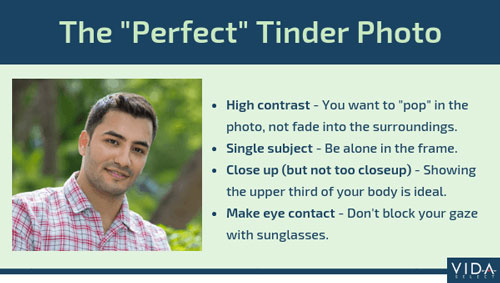 The good news is you don't have to look like you moonlight as a GQ model to take an attractive photo. You just need to know how to look desirable - and that goes beyond physical appearance.
Remember learning about Darwin in high school and wondering how you'd ever apply that knowledge to real life? That time has come - survival of the fittest applies to Tinder profiles.
So appeal to her subconscious desire to find a suitable mate by showcasing all your best traits in your photos. Darwin's theory goes hand in hand with another process called "signalling," which is the art of communicating something without spelling it out.
For instance, consider these 4 photos:
In this lineup, you've shown her you have the means to travel to interesting places, you clean up nice, you have cool hobbies and are physically fit enough to play outside, and you love dogs, so you must be a decent, trustworthy person.
See how signalling works? In other words, "show don't tell". But like anything you post for public consumption, it can end up backfiring.
Signalling works the other way too - as in you're sending a message you didn't intend. Tinder's sociologist Jessica Carbino calls it "improper signalling," and it can really bite you in the ass.
Here is an example of getting it catastrophically wrong. Let's say you like to hang out with friends and enjoy a few adult beverages. That's a good photo to include in your lineup, it signals that you've got friends and enjoy socializing - two attractive qualities to a potential date, right?
But these photos communicate completely different things:
On Tinder, pictures are worth way more than 1,000 words - so make sure you're saying something she wants to hear. Put yourself in her shoes for a moment - which setting do you think she'd enjoy more if she was there with you? (Hint - it's not the alcohol-soaked brofest in your backyard).
Remember, women are highly visual creatures - she's going to imagine herself in every frame, standing right next to you. You want to lure her in with your amazing lifestyle, not make her scared to meet your shirtless friends.
Here's a quick list of Tinder photo DONT'S, so you can make your photos worthy of a stellar first impression:
Don't use photo clichés that repel women:
This means save your tiger photos for Instagram, and if you have to use an ab shot, make it a classy one at the beach or the pool. Any setting is preferable to what's reflected in your bathroom mirror.
Don't make her play guessing games:
She doesn't have time to play "Guess Who." And if she guesses wrong, she's going to end up disappointed that you're not the dude she was hoping to meet.
Don't post pics you're not in:
This is especially true for your primary photo. She isn't here to date your two cats, your truck, or your tricked out scooter.
Don't pose with kids who aren't yours:
She will assume they are and swipe accordingly.
Don't choose photos that are too similar: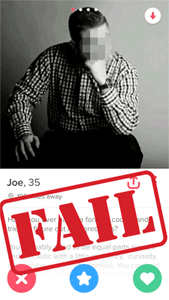 You're multidimensional, and using all pro portraits or 5 photos of you at different bars doesn't portray that.
Don't include pictures of boring, mundane activities:
No matter how good you look washing the dishes or spraying for roaches, she'll wonder why you don't have anything more exciting to share.
Don't post anything obscene, lewd, or otherwise objectionable:
Not only is it a good way to get your profile blocked, it's a good way to torpedo your match rate.
Need more help with your Tinder pics? Check out these expert tips on choosing your very best dating photos!
2) Make Data-Driven Photo Decisions
This dating app might be all about the photos, but that doesn't mean everyone should post as many as Tinder allows.
If you only have 3 really strong photos, just use those. Don't add 5 more "okay" photos and 1 weak photo just to hit the 9-picture limit.
Bad photos are more memorable than good ones, and one terrible choice could repel the women you want to attract.
Photo selection is a process where other people's opinions can make a huge difference between success and failure. If you want the best chances of Tinder success, you need to take this part seriously.
You could pull together a selection of your strongest photos, then ask your friends (preferably attractive female friends) how they'd rank them from strongest to weakest.
But it's probably easier to just spend some time on a photo ranking website like PhotoFeeler. You'll accomplish the same thing, and the bonus to using the internet is there's no lack of strangers willing to weigh in on your pics. The more female input you get, the better.
If you can't decide between two strong options for the primary photo spot, here's a data-driven way to break the tie: upload the first option to your profile, then see how many right swipes it takes to get 10 matches.
Ten is the minimum number of matches you should use to run your test, but the higher number of matches you use, the more statistically significant your results will be. Repeat the process with the other photo, and see which one piles up matches the quickest - there's your new primary photo!
Tinder's "Smart Photos" feature can also help you make the decision if you don't mind all of your photos being rotated into the first position.
In a nutshell, Tinder will alternate your primary photo, keep track of how many times you get swiped right on, then reorder your photo lineup to show the most popular ones first.
The app's internal data noted a 12% increase in matches for users who employed the Smart Photos feature.
Depending on the feedback you get, you may find your most attractive photo made an appearance on our "Don'ts" list. And that's okay - if a bathroom mirror selfie took top honors in the ranking, then go with it. But don't settle for using the best of the worse - make getting better photos your top priority!
3) Rock Out Your Bio (... And Include These Key Elements)
It's tempting to skip the profile text and just rely on your photos to get the job done. After all, what difference can 500 characters or less really make?
But don't take the lazy way out. If she's on the fence about your pictures, a profile that makes her smile or catches her attention could easily convince her to swipe right. And she'll probably check out your profile before responding to your message. So why miss a chance to impress her?
You can get away with a lot more over-the-top, cocky/funny attitude on Tinder than you can on mainstream dating sites like Match. Don't be afraid to be bold - the last thing you want to do is be boring.
The best Tinder bio for guys has 3 key elements:
It's attention-grabbing. You've got a lot of competition, so your profile has to catch her eye and leave her wanting more.
It paints an attractive picture. Just like with your photos, you want to make a good impression. Even if you're only using Tinder for a hookup, you still want her to think you bring a lot to the table.
It makes her smile. A sense of humor is almost universally attractive, and if your profile makes her laugh she'll remember it.
There are many different ways to tackle a Tinder profile, but we'll inspire you with a few examples. Then check these tips on how to make your bio irresistible!
Example #1: Over-the-top humor
Funny Tinder bios work well because women are instinctively drawn to guys with a good sense of humor. (Want more short & funny profile examples? Check out these witty Tinder bios for men!)
Example #2: Short and snappy
Treating your Tinder profile bio like a "Tweet" is a great approach if you're a really handsome guy with great photos. When your photos are doing the heavy lifting for you, you don't want to "oversell" yourself by going overboard with your bio.
Example #3: On the serious side
A clever profile that showcases why you're Boyfriend Material can help boost your number of matches, even if you're not the Brad Pitt of your generation. Taking a more Down To Earth approach also works well if you're looking for a longer-term relationship.
Example #4: Bold & adventurous
If you've got great stories to tell (and photos to back it up), this style can pack a lot of punch into 500 characters or less.
4) Don't Skip The Interest Badges!
Tinder lets you share up to 5 interests with potential matches by displaying them on your primary photo. (Editor's Note: Interests are called "Passions" in some areas.)
Adding these badges is an easy way to share more information with users, but it's also a strategic move. Tinder automatically highlights any interests she has in common with you.
Commonality can often spark a connection, and a mutual hobby makes it much easier for either one of you to start the conversation.
5) Power-Up Like Mario
Sure, Red Bull may not really give you wings. And upgrading Tinder probably won't instantly 'power you up' like Mario's mushrooms...
But for most of us, even a medium-strength boost in our Tinder results is worth at least $7.99.
After all, you've probably spent at least that much on a girl at a bar - while trying to ignite a flame of attraction but failing to produce a spark.
Here are the perks you get in exchange for your small investment in Tinder Plus:
Unlimited "Likes"
As an upgraded user, you can swipe until your fingers bleed. While regular Tinder users are limited to 100 Likes per 12 hours, you're able to Like all the profiles you can handle.
But there's one caveat - to get on the good side of the app's algorithm, you want to swipe meaningfully. That's because every time you swipe right on someone who then swipes left on you, your internal ranking takes a hit. Think of this ranking as your 'like-to-match' ratio.
Users with a higher 'like-to-match' ratio are rewarded with more visibility, and are shown to other users with a similarly high ratio. So if you're mindlessly swiping right on singles you're not interested in, you're risking your ratio for no reason.
"Passport" Feature
Tinder Passport allows you to instantly change your location to anywhere you want, which is huge if you travel frequently. Now you can initiate conversations and schedule dates before you've even stepped off the plane.
This will also come in handy if you live 15 to 45 minutes outside a major metro area, and you don't want your location to work against you with the city-dwelling women.
"Rewind" Button
As a Tinder Plus member, you can also hit the yellow arrow rewind icon that lets you go back and reevaluate the last profile you swiped.
Because swiping very quickly is the way to go, you're bound to swipe a few women in the wrong direction from time to time. There's also another powerful application for this feature that very few people know is possible, and we'll get to that in just a minute.
If it's in the budget, you can upgrade to Tinder Gold for even more premium benefits that can really boost your results. You'll get everything included with the Plus subscription, and:
Monthly "Boost"
Each Tinder Boost lasts for 30 minutes, during which your profile is pushed to the top of the card stack for singles in your area. Tinder Gold users get a free Boost each month, which can really pay off if you use it at the right time.
There's a flurry of activity on Tinder between 8 and 10 pm, so for maximum benefit use your Boost during the app's peak hours.
Who Likes You
Upgrading unlocks the ability to see a grid view comprised solely of the people who have already "liked" your profile. You can even match with all of them instantly.
All Your Top Picks
Tinder Picks are in a special feed of profiles that the app's matching algorithm has deemed super compatible. Free users only get 1 - you'll get them all.
5 Extra "Super Likes"
Super Likes let her know you're super into her in a way that's impossible for her to miss. Tinder tested the feature in various markets prior to rolling it out globally, and claimed that you are 3X more likely to match with a user you've "super liked", and conversations resulting from a super like last 70% longer.
Today, Super Likes are probably a bit too overplayed to work that well, but they're still effective in some scenarios.
Regular Tinder users get 1 free "Super Like" a week, but as a Tinder Plus baller, you've got 5 of these bad boys each week to use for our #6 Tinder Trick. (And if you upgrade to Tinder Platinum, you can also include a message each time you super like someone - you don't have to wait to match with them!)
Tinder Gold costs around $24.99 for a month, or less depending on your subscription length.
And springing for the top-tier subscription level, Tinder Platinum, unlocks that handy message-before-you-match benefit, plus all your likes get priority placement in her card stack.
Check out this comparison of all three Tinder subscriptions!
6) Use Our Secret "Super Like Hack"
There are a lot of questionable Tinder tricks, hacks and tips out there, but this one really works. Here's how to make those 5 Super Likes per week really count if you're a Tinder Plus subscriber!
First, like a girl in the normal way to see if you instantly match with her. If you do, then congrats - you've saved a Super Like. If you don't, simply use the "Rewind" feature to undo the Like and then Super Like her.
Before you start swiping, set your blend to "Most Popular" so you can use your Super Likes on the most attractive women. If you happen to exhaust all the possible "Most Popular" matches, switch to the "Recently Active" blend. You don't want to waste a Super Like on someone who rarely checks the app.
7) Don't Just Stand There… Make A Move!
But don't just send any message. Attractive women are faced with a never-ending barrage of "Hey" and "What's up." She can afford to be picky, so she's only going to respond to the best Tinder lines. If you want her to put the effort into responding, then put some effort into your message.
Don't let a match fizzle out because you didn't want to make the first move. She swiped right too, so don't waste the opportunity. And doing just that is surprisingly common. In fact, dating consultant CamMi Pham once logged an incredible 2,015 matches in 17 hours - but only around 30% of the men sent her a message.
That means unless she grabbed the conversational reigns, 70% of her matches went nowhere. In other words, simply breaking the ice is one of the most effective Tinder tricks for guys. It's half the battle.
The best Tinder conversation starters grab her attention, pique her curiosity, and make her want to respond to you.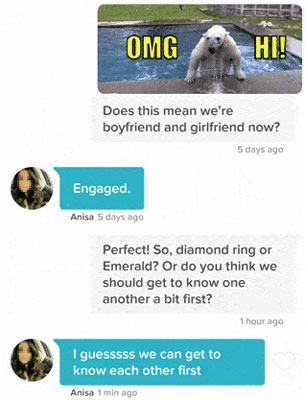 Here is another first message you can send to any of your matches:
Want more help? Check out these Tinder messaging tips!
8) Become Fluent In The Art Of Conversation
On Tinder, momentum is key. Your primary goal in any message exchange is moving things off the app before she loses interest or deletes her profile. That could mean getting her Facebook, phone number, or on a date with you.
If a message exchange turns into a chat conversation, you've got to strike while the iron's hot.
Remember, it's a conversation, not an interview. Keep it light and fun, and don't be afraid to be a bit over the top.
It is Tinder after all… It's better to take risks than it is to play it safe. You'll know when you've taken it too far and learn quickly from your mistakes.
Keep track of what lines work for you, and whip them out whenever you need them. No need to stress over being creative and witty on the spot when you can build an arsenal of go-to responses suitable for just about any occasion.
For example, if she says something like: "... I'm not sure how to respond to that."
Respond with: "It's ok, you don't have to say anything. Just tell me about yourself since your profile comes up a bit short. Netflix or Nightlife? Beach or mountain weekend? White, milk or dark chocolate?"
Always ask a question to keep the conversation moving forward. Posing questions like "So when's the last time you did something adventurous or spontaneous?" can naturally lead to asking her to meet up. Keep reading for techniques that will have her saying "yes" every time.
For a complete Tinder conversation strategy, check out this handy guide.
9) Ask Her Out Correctly
Convincing her to move things off the app can be tricky. You know she's not on Tinder looking for a pen pal, but you don't want to ask her out too soon and scare her off.
Here are some signs that will let you know when to ask her out on Tinder:
Then, once you're seeing indications she's in the right frame of mind, here's a list of "DO's" that will have her saying yes to a date in no time:
Ask for her number early in the interaction. That way, if her Tinder profile disappears, you still have a way to continue the conversation.
If she's in her early 20s or 30s, suggest "meeting up" rather than a "date." Meeting up has a more casual vibe, whereas date is a more emotionally loaded, high-pressure word. But if she's 35+ and looking for something serious, the opposite can be true. She'd rather invest her time in a real "date" than on something more casual.
Offer two choices - meeting up for coffee or drinks, for example.
Suggest meeting in a public place - that's safer for her, so she's more likely to agree to meet you.
These "DO's" really work, because VIDA Select's team of online dating experts analyzed thousands of conversations that led to dates for our male clients. Which brings us to the last of our Tinder tricks and tips…
10) Hire An Expert To Do It All For You
If you're like the average user, you spend 90 minutes a day on the Tinder app, checking it at least 11 times. That adds up to 10.5 hours a week - and that's on average. If you're above average, congratulations - you've basically turned Tinder into a part-time job. No wonder you're looking for Tinder tricks and tips!
Chances are you've got better things to do, so if you're spending all that time on your phone or laptop, endlessly swiping and hoping it pays off with a date, why not call in an expert to do it for you so you can skip right to the date?
That's where VIDA Select comes in. No matter what type of relationship you're seeking on this popular dating app, we can help you find it. Our Tinder experts handle all the messaging for you, with the gorgeous girls you really want to meet.
You'll meet more attractive women than ever before… And all you have to do is show up for the date!
Click here to learn more. Why spend another Friday night alone when you can "Netflix and Chill" with an awesome girl you really like?
Want us to do your online dating for you?

Hey, I'm Ally, VIDA Select's Director of Matchmaking.
We take all the frustration, hard work and hassle out of modern dating!
Imagine your very own Dream Team of highly skilled dating experts searching for the very best local matches, sparking their interest, and arranging all the dates for you.
Wouldn't it be nice to finally stop swiping and start dating higher quality matches so you can meet someone special?
We've helped thousands of singles just like you since 2009, and we're ready to make you our next success story!
What are you waiting for? Take the next step now…
See If You Qualify