I hope you enjoy reading the blog post.
If you want my team to just do your online dating for you, click here.
5 Badoo Profile Tips That Get You The Girl
With over 250 million users in 190 countries, Badoo is one of the most popular dating apps in the world, right up there with Tinder: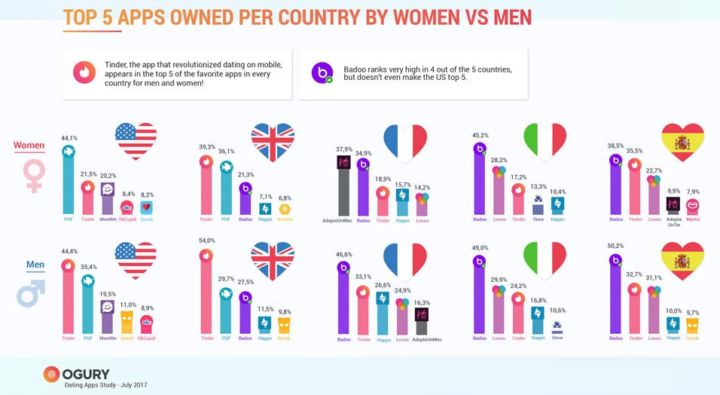 Badoo is most widely used in European and Latin American countries. But if you live in one of these regions, or you like to meet attractive women while traveling abroad, Badoo's certainly worth checking out.
According to the app's CMO, 91,000 singles delete the app every week, and select the "I met someone on Badoo" option as the reason why.
Badoo has the reputation of being an app for more casual hookups, although that doesn't mean you can't find a longer term relationship on it. But no matter what you're seeking, you'll need a strong profile to attract her attention.
These Badoo profile tips will get your profile noticed, and more importantly - get you dates.
1. Put Your Best Face Forward
On apps like Badoo with a swiping interface, she most definitely will judge a book by its cover.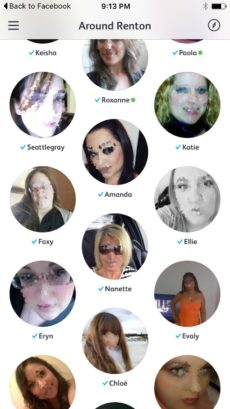 And having an awesome primary photo is especially important in the "People Nearby" section, where your pic is floating in a sea of faces.
If you want to catch her eye and score a chat session, your photo needs to command attention.
And since you're trying to attract women, it makes sense to ask a few what they think of your photos before loading them onto the app. Poll your female friends and get their honest opinion on your choices.
Badoo has its own photo feedback tool built into it, but you want to come out of the gate strong and start with your best pics.
PRO TIP:
Change up your Badoo photos fairly often. Once you've identified a core group of solid photos, rotate them on and off the app. This helps your profile's rank rise, and the higher it gets the more visible you are in the search results.
Need more help choosing online dating photos? You'll definitely want to check out this article for essential photo tips.
2. Share Your Interests
While it's tempting to skip a section that involves scrolling through a list of thousands of potential interests and hobbies, taking the time to choose some pays off.
Badoo matches users based on common interests, so you're limiting your options if you don't choose any. Don't just default to the first five or six - remember, these are topics that will likely come up in messages and future conversations, so pick things that actually interest you.
3. Put Some Effort into the "About Me" Section (Yes, She'll Notice)
Sure, Badoo is all about the photos, but why miss a chance to intrigue her with your bio? If she's undecided about your photos, an intriguing profile might convince her to start chatting.
Plus, a completely blank profile could leave her wondering why you don't have anything interesting to say about yourself. And she'll move on to someone who does.
But that doesn't mean you have to hit her with a wall of text, either. Aim to strike a balance. Don't leave any sections completely blank, but keep your answers short and sweet. Highlight your appealing qualities and focus on what makes you unique.
Here are two "About Me" examples to get you inspired:
Mentioning specific activities and destinations stimulates her imagination - she can picture herself on a trip with you, so she begins to associate your profile with pleasurable emotions.
Simply writing "I love travel" is boring, and won't pique her curiosity at all. Everyone loves traveling, hanging out with friends, and watching Netflix, so strive for something a little deeper.
Specific details are attractive - generalities are not.
For instance, here's the type of profile all those other guys (read: your competition) are writing: "I work in finance, and I like sports, wine tasting, and going out to eat."
Those are fine qualities, but attractive women will read that and move on to more intriguing options. But a profile like this will catch her attention and make her want to know more about you:
Once you're done writing your profile, make sure to spend a few minutes proofreading it. It may seem trivial, but proper spelling and grammar can make the difference between a 'like' and a hard pass.
To save time when creating your profile, go to Badoo's website and update your profile from a laptop. It's a lot less tedious than doing it on your cell phone.
4. Put Your Profile In the Spotlight
Badoo is free to use, but upgrading makes sense. For a minimal investment, you'll unlock premium features - called "Super Powers" - like these:
See who wants to meet you.

See who tagged you as a favorite.
Direct chat access to the most popular (AKA most beautiful) women on Badoo.
Undo "no" votes on the Tinder-like swiping feature, called "Encounters."
Invisible mode, for stealth browsing.
Women who show interest in you are more likely to return your messages - so if the interest is mutual, it's worth the investment.
There are other ways to boost your profile's exposure on Badoo, all of which have a "cost per use" associated with them. But spending a little bit of money here and there is totally worth it when the return on investment is a date with a beautiful woman.
Here are your options:
Rise Up:

Sends your profile to the top of the search results for all the users in your area. Try it once or twice if you're curious, but remember - the hottest women on the app get tons of messages already, so they don't need to actively search for guys.

Get Shown More:

This feature will show your photo to 100 new women who are using Badoo's Tinder-esque "Encounters." This can be a quick way to rack up matches.

Spotlight

: Arguably the best instant boost of all, Spotlight gets your photo in front of tons of women - just click the "Add Me Here" icon, and suddenly your face is right there at the top of her screen while she's hanging out in her inbox and browsing profiles.
One unique thing about this website/app is it gives its users awards called "Badoo Badges" for certain activities. Whether it's for completing your profile, being highly liked, or chatting with at least 10 people in a week, Badoo's awards assure visitors to your profile that you're an active, real, and responsive user.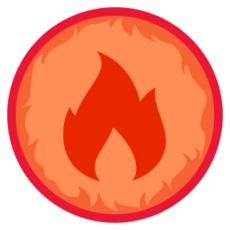 Although the idea of earning badges may remind of your time in the Boy Scouts, the distinctions could actually increase your popularity. For example, if your profile is tagged with a "Hottest" badge by getting over 25 chat requests in a week, she might send you a request just to see what she's missing.
5. Bring in An Expert
Not all of us can be Don Draper, effortlessly churning out words and pictures that make something look and sound amazing. And honestly, who even has the time to sit down and crank out the perfect dating profile anyway?
That's where we can help. Here at VIDA, we've been writing dating profiles for guys just like you since 2009. So we know a little something about how to make you look and sound your best.
We'll not only write your profile and choose your strongest pictures for you, we'll even handle the back and forth messaging with the attractive women you want to meet.
Why waste your valuable time trying to figure it all out for yourself when you can have the world's #1 online dating experts doing it for you? Click here and start meeting beautiful women today!
Want us to do your online dating for you?

Hey, I'm Ally, VIDA Select's Director of Matchmaking.
We take all the frustration, hard work and hassle out of modern dating!
Imagine your very own Dream Team of highly skilled dating experts searching for the very best local matches, sparking their interest, and arranging all the dates for you.
Wouldn't it be nice to finally stop swiping and start dating higher quality matches so you can meet someone special?
We've helped thousands of singles just like you since 2009, and we're ready to make you our next success story!
What are you waiting for? Take the next step now…
See If You Qualify