I hope you enjoy reading the blog post.
If you want my team to just do your online dating for you, click here.
Ultimate JSwipe Review: Best App For Jewish Dating? (2023)
In April 2014, appropriately during Passover, David Yarus founded what would soon be known as the Jewish Tinder. JSwipe, now owned by JDate, is still one of the first dating apps that springs to mind for Jewish dating.
A Star of David smiles at you when you right swipe, or frowns when you swipe left. Then when you match up with a cutie, you enjoy the best part: a celebratory hora dance and Mazel Tov!
Profiles on JSwipe are almost identical to those on Tinder, with one exception. You list how you identify (i.e. Orthodox, just Jewish, willing to convert, etc.) and whether or not you keep kosher.
If you're looking for a nice Jewish girl or Jewish guy grandma's guaranteed to love, you've come to the right place. There's no shortage of them on JSwipe. But there are a few crucial things you 100% need to know before you use this app…
JSwipe Pros And Cons
Like any dating app, JSwipe has it pluses and minuses:
PROS:
According to the app's internal data, the majority of you'll find on JSwipe are looking for a long-term .

90% of the app's users

are in their 20s, so if you're a Jewish millennial definitely give it a shot. The app's fastest growing demographic is 35+ year olds, so it really is worth checking out even if you are older.

The app is free to use, but you can choose to purchase additional "Super Swipes" to let her know you're really into her.

If you're looking solely to date Jewish people, there's no better place to start your search.
CONS:
Because the app has such a specific target market, the user pool is on the smaller side.

Unlike Tinder, matches on JSwipe expire in 18 days. The clock is ticking, so make sure you know when and

how to ask her out

.

Although available in more than 70 countries, the

majority of the apps users

are in larger cities like LA, New York, and Tel Aviv. So it might not be a good option for those living in smaller towns.

If you're looking for a more casual dating experience or one night stands, stick with Tinder.
JSwipe Review Verdict:
If your dream girl is Jewish and you live in or travel to large metro areas like NY or LA, give the app a try. But...
Be patient.
Using a niche dating site or app usually takes a little longer to get results due to the limited number of users. We recommend combining JSwipe with a more mainstream app Hinge or Bumble, or an online dating site like Match.com where you can filter for religion.
Looking for a more exclusive dating app? Check out this Lox Club Dating App review!
What People Are Saying About JSwipe
For the most part, the app has been favorably received in the Jewish community. Amy Shire, a writer and former reporter, spent a week on the app and spoke at length with friends using it as well. "[It] definitely gives off less of a hookup vibe than others," she said. "Almost everyone I spoke to said they have used JSwipe because they are specifically not just looking for a booty call."
Couple Samantha Rudnick and Michael Brand found "love at first swipe" on the app, and got engaged six months after they both swiped right. App founder David Yarus said he created JSwipe to bring people like Samantha and Michael together:
"I don't literally think you're going to swipe and be in love, but what we try to do is bring the most efficient, effective way of meeting eligible and interested Jews or people who celebrate the Jewish culture in your community or worldwide," he explained. "We've had … literally hundreds of stories about relationships, several engagements and one or two marriages so far."
A Quick JSwipe Tutorial
You can swipe through profiles one at a time, just like on any app similar to Tinder. Or you can check out multiple photos at once, displayed in a handy grid format, in the "Explore" section.
Tap on a picture that intrigues you, then tap "view profile" to learn more. There's also a way to view the most popular local singles, but you have to upgrade to "First Class."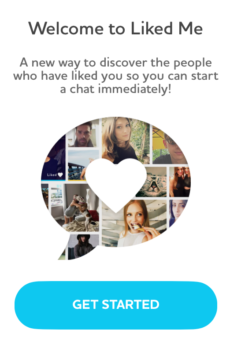 In that feed, you'll be shown all the top profiles (read: most right-swiped on) in your area. As a premium member, you'll also have access to the "Liked Me" section. That's where you can instantly message people who already liked you without having to swipe first.
No matter which section you're in, you tap the blue heart if you're interested, the red X if you're not, or the yellow star to use your free Super Swipe (free users get one per day).
Other JSwipe symbols include the blue thought bubble, which brings up your matches, chats, and the "Liked Me" screen, and the little purple envelope, which lets you send a "SuperNote" to someone without matching first.
Should You Pay To Play?
Downloading and using this Jewish dating app is free. Each user gets one "Super Swipe" per day, a concept similar to Tinder's Super Likes.
But if you want perks like access to JSwipe's "Most Eligible" feed, where you're only shown the most right-swiped profiles in your area, you'll need to upgrade to "First Class."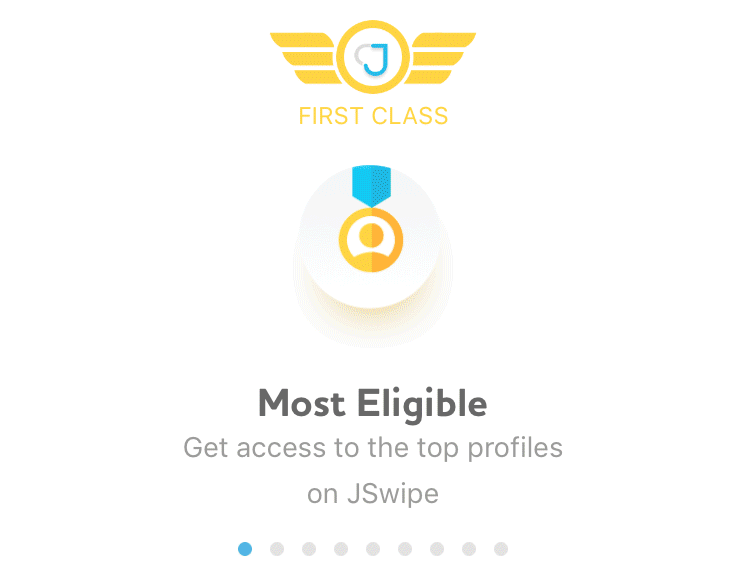 Here are all the features that come with JSwipe's premium membership:
Most Eligible - See only the most popular singles in your area
Liked Me - Instantly start messaging with users who already expressed interest in your profile
Boost Your Profile - Get twice the exposure
Explore View - No limit on how many profiles you can "like" in this section
Optimize Your Photos - Shows you which of your photos get the most right swipes
Change Your Location - Swipe through singles anywhere in the world
5 Extra Super Swipes + 1 Free Super Note
Message Read Receipts - See whether or not a match read your message
Undo - Lets you undo your last swipe as often as you want
This is how much JSwipe First Class costs:
Getting Started On JSwipe
JSwipe is beyond easy to use. This popular dating app is available for both iOS and Android. After downloading, you'll then register by signing into your Facebook. (Yes, Facebook is still required to use JSwipe.)
Next, choose between just Jewish, orthodox, traditional, conservative, reform, willing to convert, and other for the "Identity" section. Then clarify whether or not you are Kosher.
You can also filter your matches by Kosher (or not) and Denomination:
As well as search distance, age, and gender:
That's technically all you need to do to get started. But filling out your whole profile increases your chances of meeting high-quality Jewish singles. JSwipe allows you to post a handful of profile pictures and fill out a short description section.
Choosing Your JSwipe Photos
Don't upload any old social media pic just to fill a quota. The worst one is almost always the most memorable, and you don't want to hand someone a reason to head for that X.
Sticking with 2 strong pictures is better than using 2 good ones and 2 mediocre or bad ones.
If you're not sure which photos to choose, have opposite-gender friends rank them from most to least favorite. Assign each one a point value for where it was in the ranking, then add up the total point value for each photo across all the rankings. The lower the score, the better the photo.
Get as many rankings as possible. Data-driven decisions usually get the best results. You can accomplish the same goal (and avoid having to bribe all your friends with a drink) by posting the photos to an online ranking site like PhotoFeeler.com.
JSwipe has a photo optimizer that automatically shuffles the most swiped on pic to the primary spot. But the problem with using that on JSwipe (or any dating app with a similar feature) is it's limited to analyzing the photos you provide. If they're *all* mediocre, you'll still end up with a mediocre primary photo.
For even more tips about how to choose the best dating photos, click here.
You can also connect your JSwipe profile to your Instagram from the "edit profile" screen. Just make sure your IG photos are dating site appropriate!
Writing Your JSwipe Profile
Next up is filling out your profile. It's short, just like on Tinder.
Taking the time to write a few sentences could pay off if your photos alone haven't convinced her to swipe right. And a witty, engaging profile that makes her laugh also makes her want to know you better. And more importantly - return your message.
Since the women on this dating app are, as a general rule, a classier bunch than what you'd find on Tinder, put some thought into describing yourself and your lifestyle. Think of your profile as a marketing campaign. Pick out your best features, then highlight them.
For instance, if you're an adventurous guy who enjoys travel, write something like this:
"Meandering through Barcelona's open air markets. Exploring Rio's lush jungles. Touring the vineyards of Italy. You'll rarely find me watching the Travel Channel on TV - I'm too busy experiencing it all firsthand. Next up: taking a dip in Iceland's hot springs. Care to join?"
Your competition will say "I like to travel" - your profile shows that you enjoy it. Show is always more interesting than Tell. Don't sound like every other guy on the app, be creative!
For even more tips on how to write a short profile with a big impact, check out this article.
The Fastest, Easiest Way To Meet Incredible Jewish Singles
If you're new to online dating and don't know where to start, or you're too busy to spend time writing an attractive profile, choosing photos, then swiping and messaging matches, why not consider hiring a modern matchmaking service?
Our dating experts here at VIDA can help you decide which dating sites and apps are right for you, set up your profile from start to finish, and even handle the back and forth messaging. All you'll need to do is review your matches and meet your favorite ones on a date!
Want to find the partner you've been dreaming about? Click here to get started.
Want us to do your online dating for you?

Hey, I'm Ally, VIDA Select's Director of Matchmaking.
We take all the frustration, hard work and hassle out of modern dating!
Imagine your very own Dream Team of highly skilled dating experts searching for the very best local matches, sparking their interest, and arranging all the dates for you.
Wouldn't it be nice to finally stop swiping and start dating higher quality matches so you can meet someone special?
We've helped thousands of singles just like you since 2009, and we're ready to make you our next success story!
What are you waiting for? Take the next step now…
See If You Qualify